There's a whole lot of psychological factors that drive the movement of the stock market. 
Like the shocking news from President Trump that caused the S&P 500 to gap down overnight, prior to Friday's open. 

When I hear about events like this, I favor strategies that allow me to be flexible and nimble. 
That includes being able to play the market in both directions and also call an audible at a moment's notice. 
[Like the strategy I'm about to unveil here.] 
Because let's face it, on mornings like these there's a whole lot of "emotional trading" out there. 
A lot of traders would have taken Friday's news as a reason to buy puts that morning, in anticipation of even more selling. 
But my approach helped me override my emotions and snag a nice 20% win on SPY calls. 
I want to walk you through that trade in more detail today. 
Short-Term Trading Action Scored Me a Win on SPY Calls
In order to decide what action to take, I always look at what happened overnight, overseas in the futures market. 
That builds a context for my decision making. 
In a lot of cases, lots of red overnight in the futures market will indicate that the market will gap down and continue selling throughout the day. 
But that's not always the case. 
On Friday, the market gapped down big, but I thought that the market falling that far would attract buyers. 
That's why I immediately turned my attention to the short term trading action. 
It revealed during the pre-market that the S&P futures kept making higher lows, a sign of potential reversal. 
So I decided to go out on a limb and buy SPY calls Friday morning, a decision that probably surprised many of my subscribers…
What Got Me Bullish, When Nobody Else Was…
First things first, let's get a look at the longer-term picture. 
Here's the SPY chart of the past 3 months: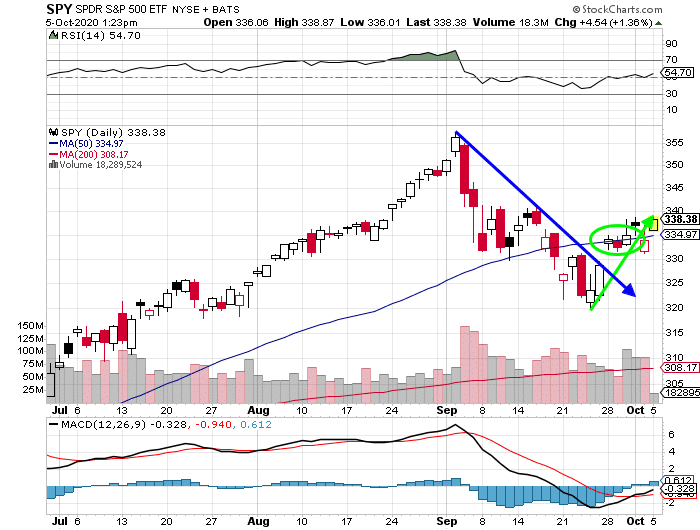 After a few nerve-wracking weeks, SPY finally started regaining some traction:
2 solid green days on the 24th and 25th of September – first notable strength/change of character
A nearly 5 point gap up the following Monday + break of the short-term downtrend, which held(!!!)
A culmination in a pretty classic "consolidate-and-go" pattern over the next few days with clean support at $332
At that point you would've been justified to have thought we're on the way up again.
Many people had and rightfully so.
Then late Thursday President Trump announced that he and first Lady Melania tested positive for coronavirus.
It was exactly the kind of news no long market participant wants to hear. 
Like President Trump or not, a lot of the market strength— both over the past few years and past few months— has been attributed to him. 
Any risk to him is itself enough to put markets in jeopardy…
Not even to mention, how much stronger the fears of the second wave and new lockdowns become, when the most powerful and protected man on Earth catches COVID.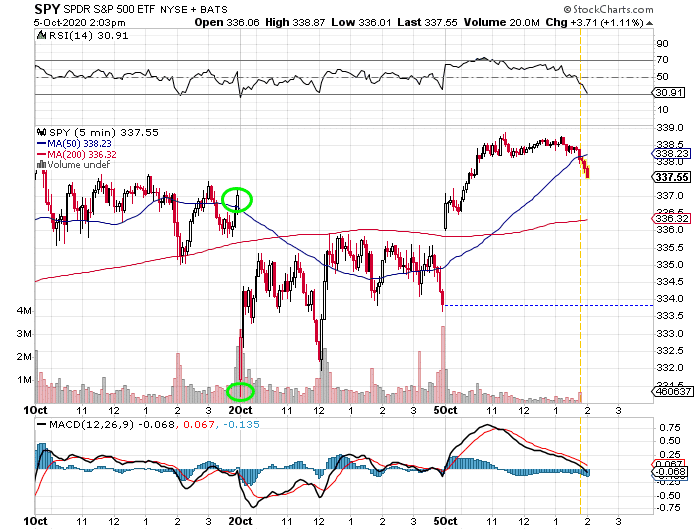 Markets reacted predictably— some people wanted out, others wanted to get short.
The morning did not look promising with SPY gapping down almost 2% or nearly 7 points.
From a technical standpoint, it also crashed right through $332, which many viewed as support. 
If your first intention was to sell, I can't blame you— so was mine. 
However, these types of purely emotional trades are exactly what drives biggest overreactions and precedes most powerful reversals. 
Having forced myself to sit tight and re-evaluate, I based my bullish thesis on the following:
The news wasn't great, but it was by no means an "apocalypse," nothing particularly material happened
We already exceed the normal daily move by several standard deviations and the market didn't even open yet – a sign of a possible overreaction
SPY was bullishly holding on to a couple technical: the 20 days MA and .786 Fibonacci level. Plus the VIX never exploded
If things were to fall apart, I could have shorted below $331, once weakness confirmed.
The stock didn't come crashing down off the open, which validated my thesis that the "apocalypse" was at least postponed. 
I decided that a rebound long against post-open lows of $331.25 would be my trade of choice and went with October 9th Calls, $337 strike— the price of the prior close.
I sent out an alert and entered myself around 9.55am with an average fill price of $3.10, as SPY pulled back into the $333 area. 
My short term target was $335+ or Fibonacci 1.27 extension. 
Fast forward some 20 minutes and my target got hit, which got me out at $3.72 or a 20% gain in less than half an hour.
Receive My Latest Trading Updates
Sometimes all it takes is one trade a day— like the one I just described— to have success in these markets. 
In fact, making more trades could be riskier.
That's why I'm about to unveil my Power of One strategy. 
I'll reveal how I set up my daily trade for huge upside potential (but never lose more than my initial stake). 
Register for my LIVE event on Thursday, October 8th at 2 PM ET here.