The IPO market took a hit when COVID-19 emerged.
And for a little while there, we weren't seeing much other than SPACs and biotechs going public.
But when one of the world's hottest unicorns decides to go public, you know that once again it's game on.
That company is AirBnB, and they just filed IPO paperwork.
Now, today's post is a little interesting.
Because I want to talk about AirBnB's trading prospects in relation to Zoom (ZM), which I just scored monster 600%+ gains on.*
Whereas Zoom has benefited greatly from the pandemic, AirBnB's business got absolutely crushed.
AirBnB Is Down, But Not Out
It's not surprising that AirBnB has struggled greatly throughout the pandemic and been forced to lay off nearly 2,000 employees.
The company's business model relies on allowing people to rent out their homes and rooms to travelers.
And now the main concern with AirBnB deciding to go public now is the continuation of the virus.
Whereas AirBnB was previously a $31 billion company before 2020, it's now down to $18 billion and faced with the difficult task of convincing investors.
Unless a vaccine arrives soon, it still may be awhile until people feel comfortable traveling again.
And with the onset of colder temperatures, COVID-19 cases could pick back again in the fall.
But we have to remember that AirBnB actually emerged out of previously dire circumstances.
The company was founded during the 2008 recession when smart phones and gig work were first catching fire.
Fast forward to today, and Apple (AAPL) just became the first company to reach a $2 trillion market cap.
There's no doubt in my mind that the AirBnB IPO will be helped up by sympathy plays if AAPL and other tech companies continue their relentless climb.
I'm Looking Out For Growth In AirBnB, Just Like Zoom
If there's one takeaway from my recent play in ZM, it would be the value of going long on strong growth stocks.
With ZM, I identified a pattern of growth based on its ability to successfully rebound numerous times off the 50 day moving average.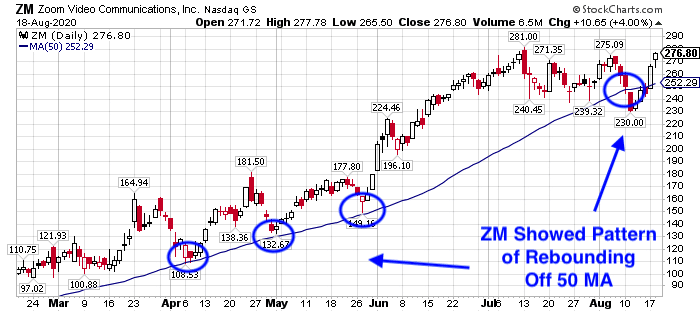 Whether or not, AirBnB will emerge as a growth stock remains to be seen, but I think it has potential.
It might actually surprise a lot of people by achieving an IPO price at the higher end of it's range.
The company has "low capital intensity," meaning that the company is spending less on its assets and bringing in more revenue.
Unlike a lot of other travel companies— like hotels, cruise ships, and airlines— AirBnB doesn't have a ton of overhead, since they don't own and maintain the rental properties.
If it does price well, I'll be looking for opportunities to potentially issue my green light signal.
My recent green light signal on ZM turned out even better than I had hoped.
The trade handed me 100% gains on the first half, 150% on the next quarter, 450% on an additional piece, and a huge 600%+ gain on the remainder.*
Now, I certainly don't hit grand slam trades like this everytime, and I take a loss from time to time too.
But there was a great learning opportunity from this particular trade.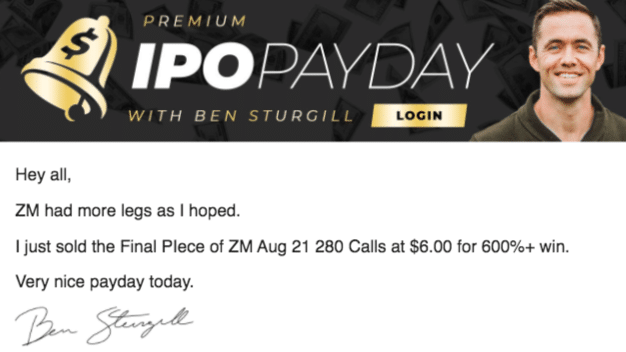 Learn How I'm Putting on More of These Great Trades
I currently have several more exciting IPO plays lined up on my watchlist.
In fact, I'm anticipating potentially jumping into at least one of them as early as Monday morning.
The IPO market is on fire right now and I'll also be passing along updates on the AirBnB IPO as it nears its public debut.
To see my watchlist and alerts and learn in real-time how I'm putting these IPOs into play, check out my premium IPO payday service here.
*Past performance is not necessarily indicative of future trading results, and the results presented in this communication is not necessarily indicative of future results, and the results presented in this communication are not typical. Investing in securities is speculative and carries a high degree of risk; you may lose some or all of the money that is invested.