I don't know about you, but I've been having a good time watching the opening of football season. 
All the players are fired up, and it has seemed to appear like the NFL has this whole COVID thing under control. 
All the coaches, refs, and support on the sidelines are wearing masks. 
But just as things were getting off to a hot start, a little bit of bad news just surfaced. 
As of Tuesday, the Titans and Vikings suspended activities following positive COVID tests.
That includes three players and five other personnel on the Tennessee Titans team— meanwhile, reports are still pending from the Vikings, their opponents from the previous week. 
For us as spectators, the question at this point is, "Did the NFL jump the gun on football season?"
As traders, the question is, "How will this affect the related stocks." 
Stocks in danger are Comcast (CMCSA), Fox (FOX), Disney (DIS), ViacomCBS (VIAC), (VIACA), AT&T (T), Penn National Gaming (PENN), and DraftKings (DKNG).
I happened to have taken two 100%+ winners on separate pieces of my position in DKNG just before the news hit.
So I want to talk a little bit about what I'm anticipating forward, given I still have money on the table. 
I also want to provide some pointers for defensive strategies, in the event things take a turn for the worse.
The NFL News Could Be Just a Minor Setback for DKNG and Related Stocks
As with all things, we can never be sure what the future holds.
If more coronavirus cases arise and the NFL decided to shut down activities altogether, expect some damage to related stocks in television and sports betting. 
However, this could also be seen as just a blip for stocks like DKNG, which sold off somewhat on Tuesday upon the news. 
In that case, traders who are rushing to sell shares in DKNG may be jumping to conclusions too quickly. 
After all, the NFL will be reluctant to cancel games. 
Specifically, the DKNG stock is still a recipient of the tailwinds of some major trends and good news. 
The trends include a continual loosening of previously restrictive wagering laws in the U.S, with an expected 38 states legalizing sports betting by 2025. 
Good news includes DKNG's major ESPN deal, which we covered here recently. 
It includes the fact that the opening week of the 2020 football season led to DKNG's biggest week of new signups since 2015. 
It also includes a sympathy play from Caesars Entertainment, which just made a $3.7 billion offer to acquire online sportsbook, William Hill.  
How I'm Trading DKNG
I really liked DKNG back in mid-September, but I was kicking myself that I didn't get in right away. 
It ran higher on news of partnership with ESPN, and broke a new high.
I thought that it could get back into the $50s.
But like a wise trader, I didn't chase… I waited for a pull back for DKNG. 
That came on September 15th, so I bought DKNG Oct 16 55 Calls at $2.40. 
Here's the chart…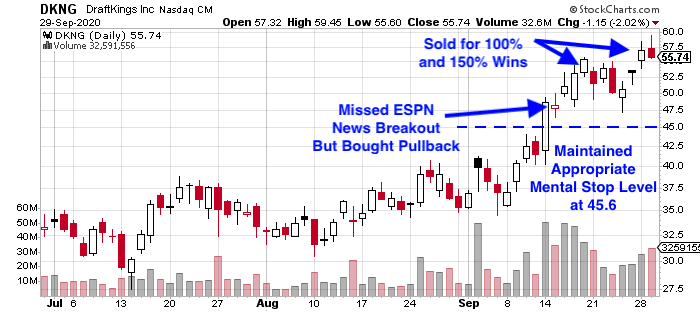 As a protective measure, I will make sure to respect my stop loss in DKNG moving forward, in the case that more NFL news hurts the stock. 
But it's been a great win so far, netting me 100% gains on the first piece…

And 150% on the second…

It just so happens that I alerted this DKNG trade to both my IPO Payday and Dark Pools Profits premium subscribers. 
Click below to learn more about either service.