Do you want a piece of the action in the next HOT electric vehicle company that comes to market in the same way as Hyliion (HYLN) and Nikola (NKLA)?
Then hear me out because I want to let you in on a little "secret" that you may not know about….
This year, a lot of private companies have been taking an unconventional route to going public— and if you all haven't figured out yet, it's time to take note.
They're going public via reverse mergers with special acquisition companies (SPACs), also referred to as "blank check" companies.
What is a blank check company?
Essential investors hand a publicly traded shell company a check to go shop for a new company to go public. It's a faster route to going public than the traditional IPO process, and it saves the company a lot of money.
And at least a few companies that have taken this approach turned out to be blazing hot— names like Virgin Galactic (SPCE), Draft Kings (DKNG), and Nikola (NKLA).
Check out what happened to NKLA…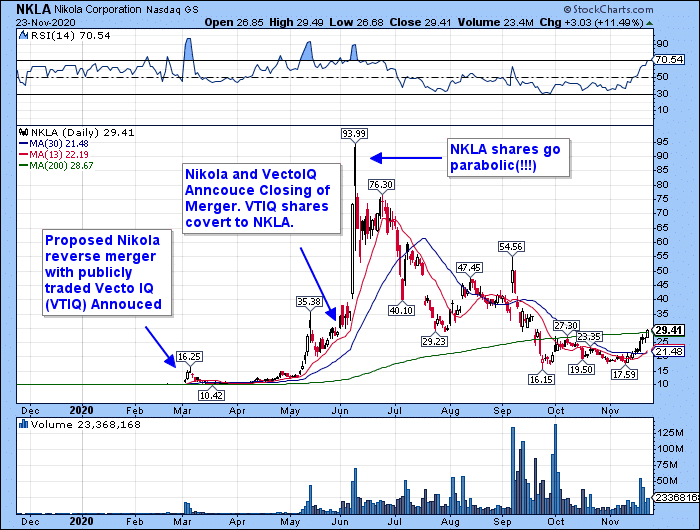 Well, I believe I've found what could have a parabolic move, similar to NKLA.
It's a manufacturer of electric vans and buses and it plans to go public via a reverse merger with a SPAC.
The SPAC itself has already been catching fire— it just caught my attention because of heavy trading volume and momentum.
I want to reveal it to you and how I'm interested in trading it.
Arrival Ltd., based out of London and founded in 2015, is a maker of electric vans and busses.
It was just announced last week that the company is in talks with CIIG Merger Corp (CIIC), a SPAC, with plans of acquiring and merging with Arrival.
CIIC hopes to raise $400M to $500M to enable the transaction for the Allow startup.
It happens to have one of the biggest financial backers in the business, Blackrock.
It scooped up $118 in funds from Blackrock, according to a statement last month.
The firm currently has a small factor in South Carolina. But it plans on building 3-4 more "microfactories," which will cost around $45 million to make and will produce 10,000 nits per year.
Other key investors in Allow include Hyundai Motor Co., Kia Motors Corp., and United Parcel Service Inc. Not only that, UPS has ordered 10,000 units which will feature some advanced features, such as automatic braking and lane-change warnings. This could put the company on the path to autonomous vehicle making.
BloombergNEF estimates that the sales will increase 2.3 million units in the U.S., Europe, and China by 2030.
How I'm Trading the CIIC Reverse Merger
CIIC Merger cop (CIIC) has already entered into a definitive agreement with Arrival (ARVL).
However, ARVL will not list in the NASDAQ until the closing of the transaction is complete.
Traders who purchase shares of CIIC now will have their shares converted into ARVL on that date, though it has not yet been announced when.
However, right now CIIC shares are on fire I'm looking for a possible entry.
Check out the setup…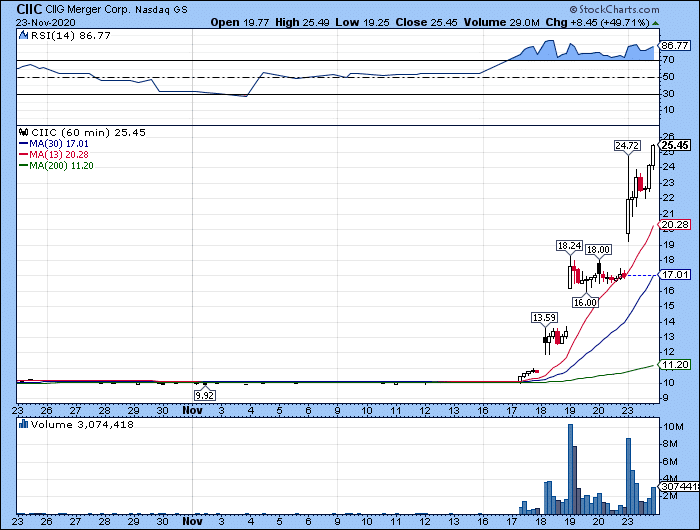 If you want to learn how I'm potentially trading CIIG Merger corp (CIIC) this week and its subsequent Arrival Ltd. (ARVL) shares once the merger is complete, I urge you to hop on this IPO Payday order form and join me today.