When you hear of the stock market, the first thing that comes to your mind might be the New York Stock Exchange or the NASDAQ Exchange
Of course, those are two of the largest and most popular.
But there is a shady and often murky part of the industry that many people have never heard of
Hidden from the public by the rich and the powerful, there are trades happening in the Dark Pools that are kept a secret
Until now…
I found a way to tap into these hidden markets and pull out huge profits on trades the hedge funds don't want you to see.
Ready to learn more about how this works?
The Dark Pools
When I first started trading I had a limited understanding of what Dark Pools were even used for.
It's time where I needed to figure out a way to trade the Dark Pools so I can pull down profits
Now how do I do this?
I started with these 4 questions that I had to answer first:
Are there trades in the Dark Pools

Is the Dark Pool volume larger than its average?

Are there any large single dark pool trades?

Are there any Intermarket Sweep Orders?
For the most part, my edge comes from reading order flow and monitoring the dark pool markets.
It all starts by scanning the Dark Pool markets for trades that are large block trades signaling that hedge funds are getting behind these stocks
And this is the exact strategy that I want to share with you, a a strategy that you can follow just by learning from the pros
This strategy is jam-packed with daily research of stocksand monitoring the trading activity on every stock..
My goal is to get into trades following the dark pool traders and exit with a 100% profit in just a few days!
Now, I know you are wondering… Does this even work?
Well, I think it does!
Just check out some of these wins from Dark Pool trades in the recent weeks
Now for me, I found that the more boxes that are checked off the list, the better signal there is for the dark pool scanner.
How I Rocked The Recent TWTR Trade
The dark pools may have given away the direction in TWTR recently
From looking at the scanner, I noticed that the stock was getting more trading action than usual. Something must be going on in this stock that has the hedge funds getting excited to put huge money into this stock
I started with these 3 questions that I had to answer first:
TWTR is hitting the dark pools for the first time in a while

The dark pool total volume seems to be in line with the average

TWTR is showing some large single block trades. A dark pool block trade is when millions of dollars worth of stock trading are trading at single clips from large traders and hedge funds
Some of the dark pool block trades were also intermarket sweep orders. An Intermarket Sweep Order (ISO) is an extremely aggressive order type used by hedge funds exclusively to find liquidity for a stock they want to buy
And after looking over my 4 criteria for a dark pool trade – that's exactly why I wanted a piece of the action in TWTR!
And this is what the stock chart showed me when all of those trades were going on.
Source: Thinkorswim
And my traders were given this alert right when I entered the trade myself

What happened with Twitter once I got into the trade?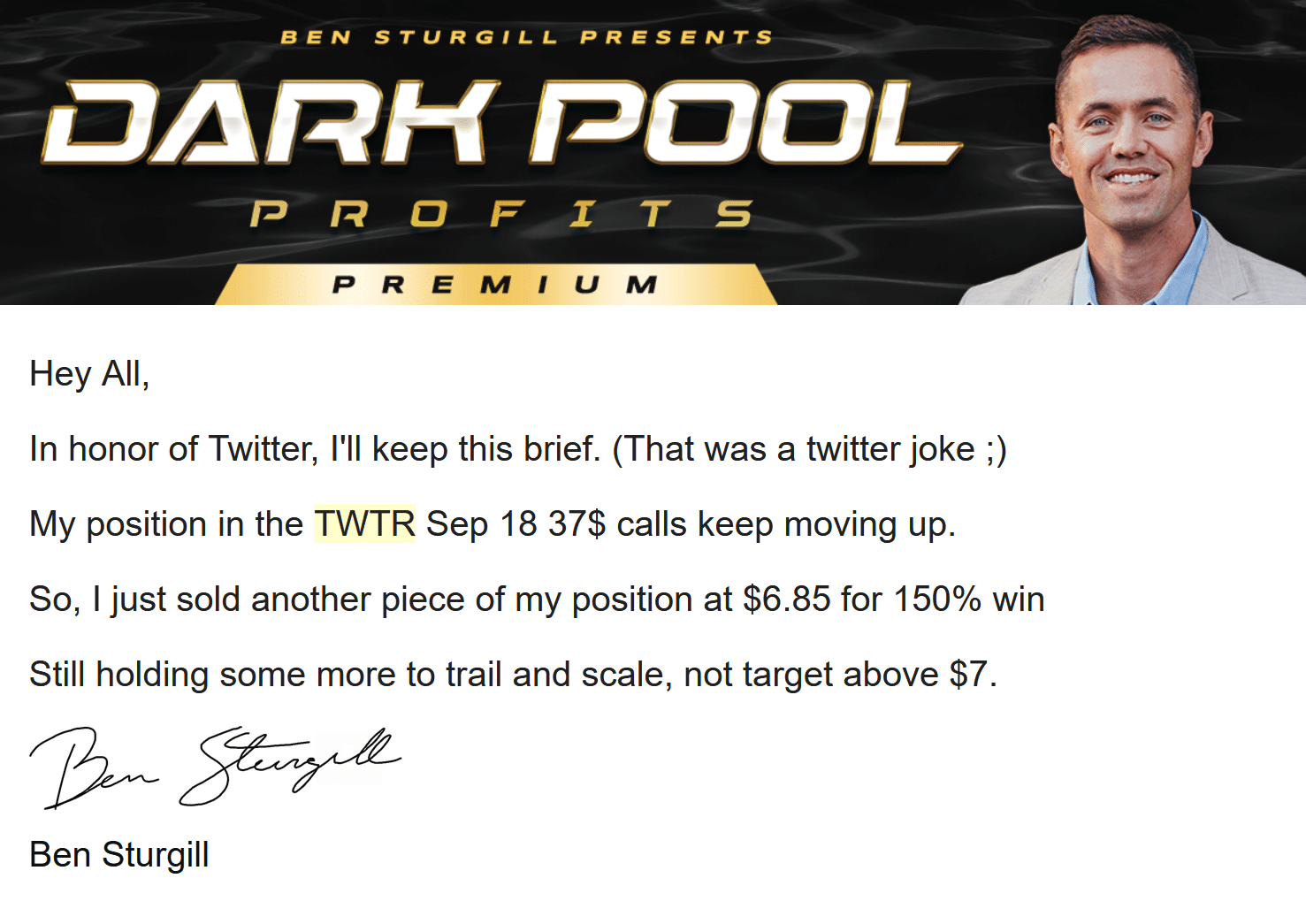 For this trade I was able to pull out 150% wins in the dark pools just by following along with the whales on this trade*.
As you can see, this stock just soared after the dark pool trades were seen hitting the tapes.
I continue to monitor the Dark Pools for more and more of this trading activity every single day
Now I want to show you exactly how this works
Click here to get started with learning how to monitor the stock market
Join me here and I'll explain how I trade this system daily
*Results presented are not typical and may vary from person to person. Please review our full disclaimer located at ragingbull.com/disclaimer.