If you want to be a profitable trader— just buy low and sell high in order.
Right?
Of course, that's easier said than done.
To become successful in the markets, traders need a defined edge.
My edge is spotting unusual trades that occur in the dark pools, or the "back alleyway exchanges" institutional traders go to get deals done.
I take my decades of experience as a trader and pair it with what the institutions ("big money players") are doing…
… All thanks to my scanner that sniffs out their moves.
I recently spotted a stock that continues to hit on my dark pool scanner…
Today, I'll share how I took advantage of the action and doubled my money fast.
The tech stocks from the 1990's and today are two totally different companies now.
What was once used to be considered high tech, is now outdated or sitting in a landfill somewhere in a pile of trash.
You see, tech comes and goes, but only a few have the chance to set trends and stay around longer than others.
And that's what I think about when I hear social media and tech being used together.
Unlike a real tech company (even though they may be using the same tech that's industry leading), they often provide other value-added services than just a hunk of metal being sold to customers.
And that's what I think about when I hear of Twitter (TWTR), Facebook (FB) and Pinterest (PINS).
When you look at those 3 companies in the "tech" space, they are not the same as Apple (AAPL) or even Google (GOOGL).
Social Media Leads The Way
You might be wondering why I think tech stocks will keep going up.
Consider the Invesco Tech ETF (QQQ), which is up a whopping 20% in the last 2 quarters.
There is this one saying when trading, "Always trade the strength", and I believe this is what is happening here.
One area of tech that is strong right now is advertising and social outreach.
Now that these have become the new trend in 2020, we need to think about what platforms are going to launch these industries forward. (Hint: It's not your typical FAANG stocks from the early 2000's).
One stock that is rocking earnings this season— and that has caught my interest due to higher than average Dark Pool volume— is a company in this exact social-media side of tech.
I love hunting for momentum patterns to trade— and this stock was not only forming one, but two of my favorite setups.
Back on September 18th I let subscribers know that I saw unusual dark pool activity in Pinterest (PINS) when it was trading at $37/share.
This stock interested me due to the recent momentum squeeze that was setting up in the chart pattern. The chart pattern was also a pullback into momentum moving averages as well, so I had fairly high conviction on this trade. I wanted to be long near $37 (in the consolidation area).
PINS in this case made a huge run from $37 to $45 in the week following the alert. It allowed me to capture phenomenal profits in the options market off of this trade, landing almost a 250% gains* or almost a money tripling return!
And when I saw it creating a bull flag or pennant chart pattern, I knew I had to play this for the breakout heading into earnings.
Here's the chart pattern below: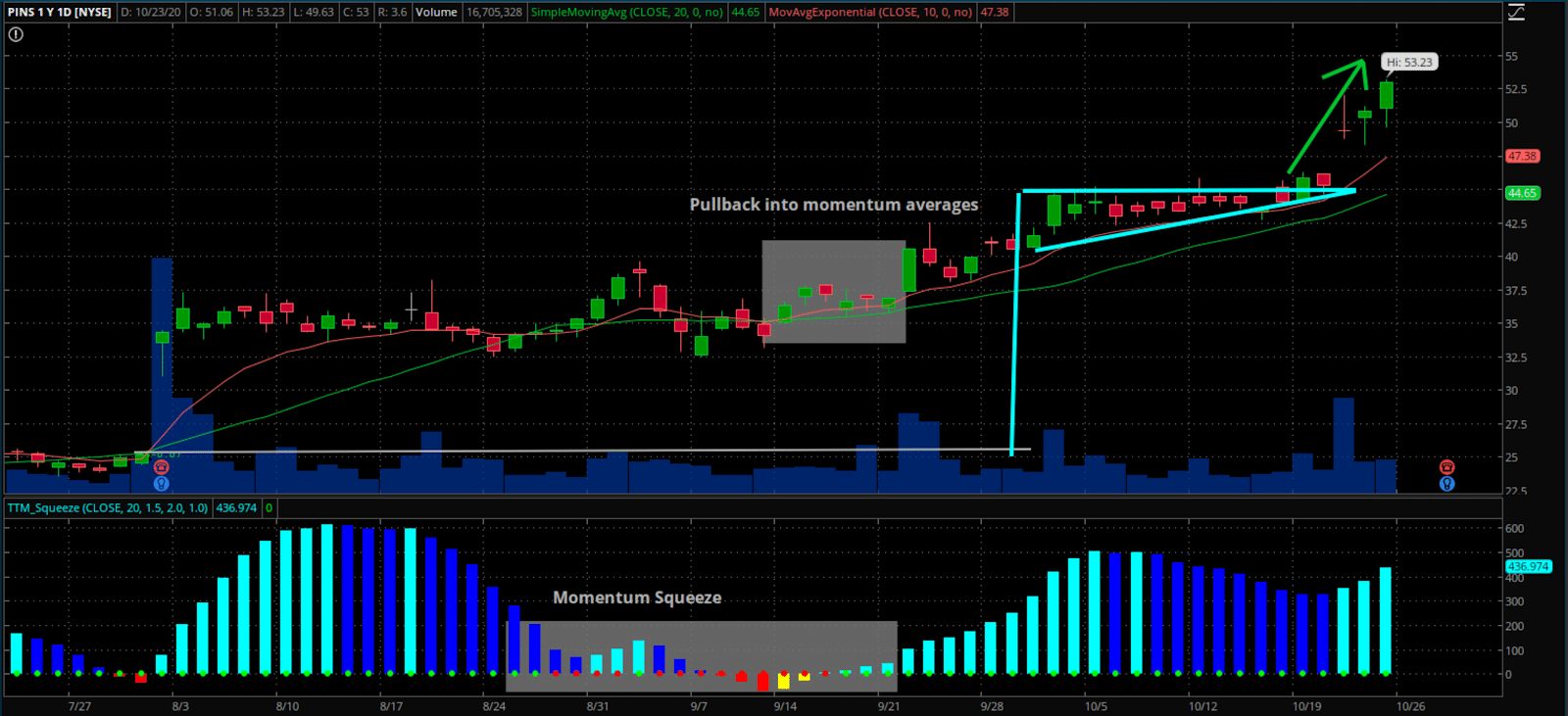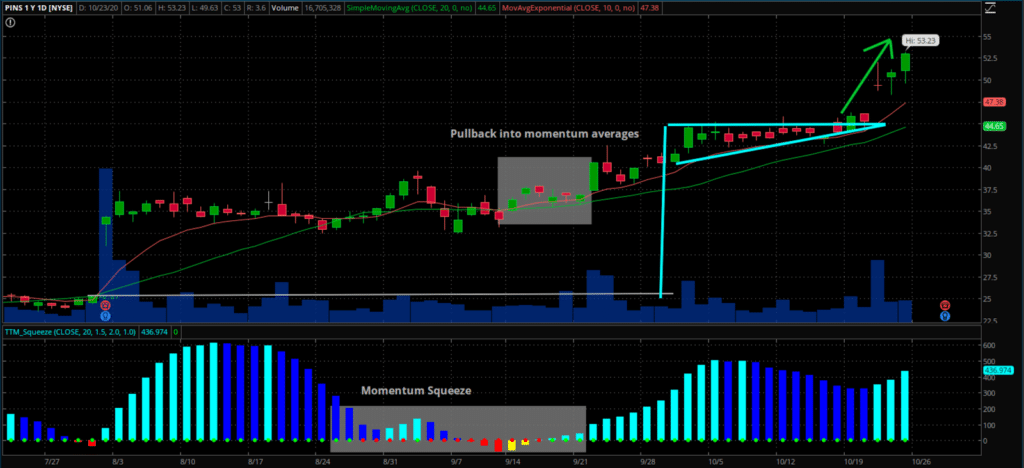 First, notice the flagpole, then notice the sideways, flag/pennant action going into the momentum moving averages, and finally notice the breakout
When everything was said and done, I sold my PINS Oct 16 $38 Calls at $7.60 on the first day of the breakout and bought some longer dated calls to capture the momentum that was about to come.
Keep Momentum On Your Radar
With these momentum plays, it's important to keep them on your radar even after you trade them, in my opinion. Another trader could hit the dark pools with buy orders or another pattern could always pop up, and that means another opportunity for me to potentially make money on this stock.
That's why I always create a master watchlist for possible dark pool trades that I want to keep an eye out for.
You see, if PINS decides to come back down into its moving averages or signal a momentum squeeze, I want to make sure I am watching this stock to jump in at the right time for more money tripling profits.
And you see, there is another stock that is showing the same pattern as PINS, and it's also in the same tech space.
Facebook (FB)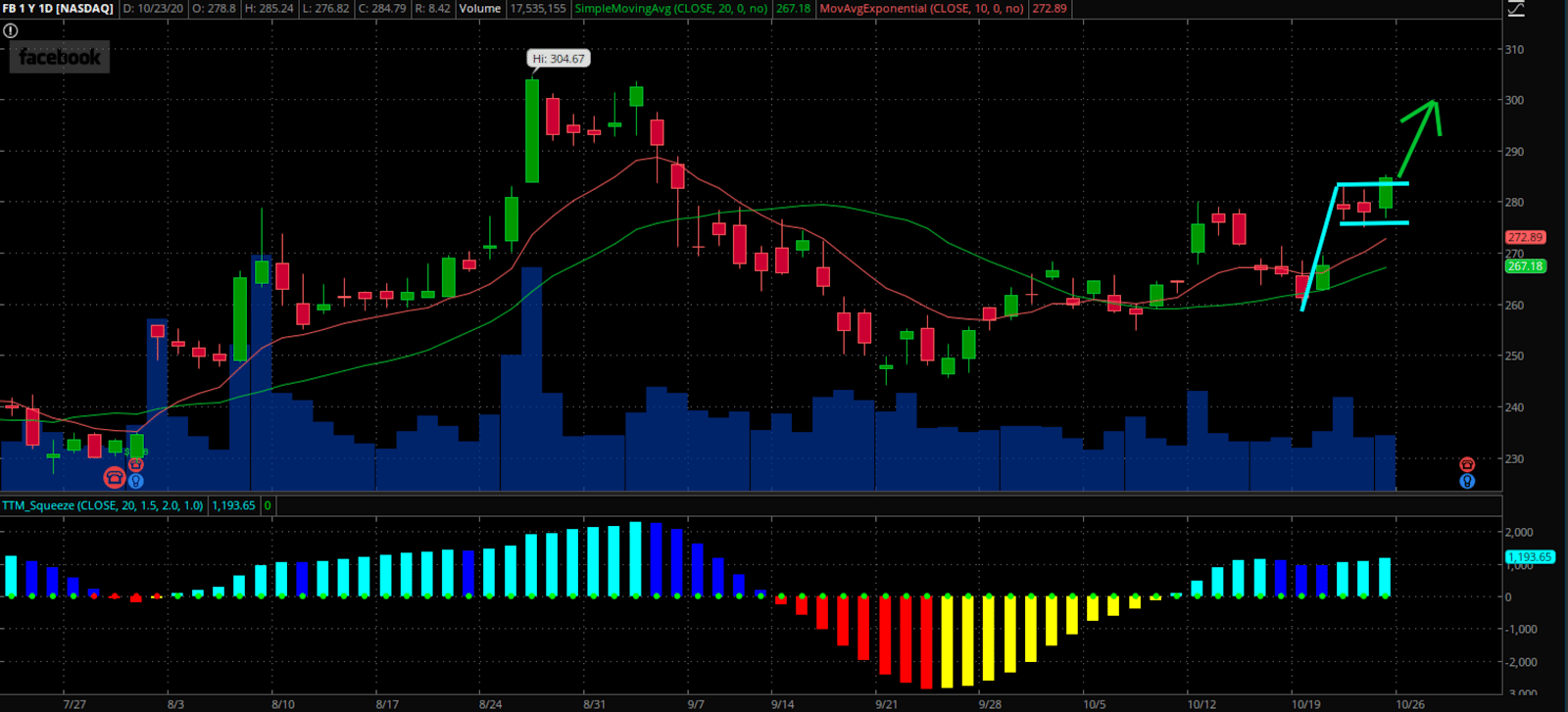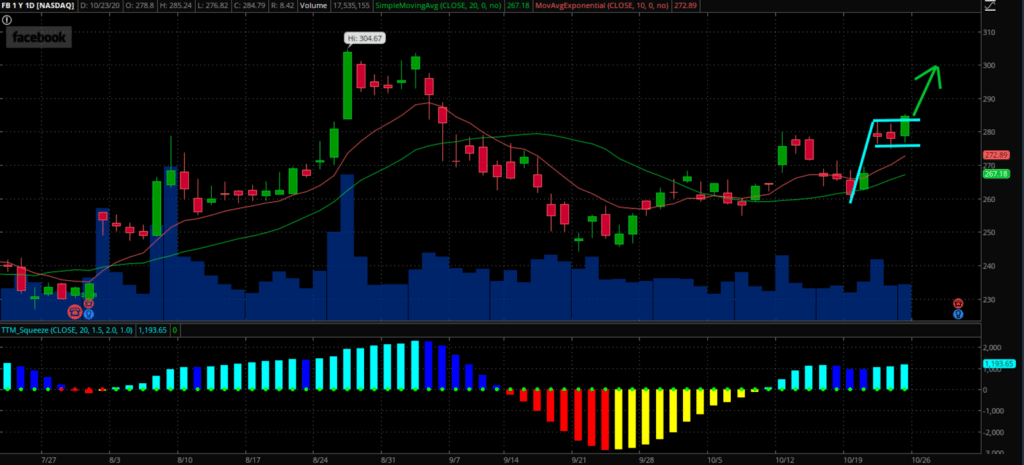 You see, FB is showing a flag/pennant set up, just like PINS did before heading into earnings.
This could lead to potentially huge market moves if this momentum pattern plays out the way it's looking like it could.
Now, I don't want to trade the stock just yet. I actually want to keep it on my radar for when large institutional traders place monster bets on this stock in the dark pools.
And once they signal they are buying FB, I will want to use my momentum indicators to give me entry points after I spot the dark pool trades going off.
Listen, understanding price action has been giving me my defined edge against other traders in this market.
I want to show you how I uncover momentum in any stock and trade them with confidence. That's why I put together this exclusive package.
You'll discover my three favorite patterns to hunt down momentum before the stock takes off.
You'll also be the first to know what stocks I trade right off of my watchlist.
Sign up to Dark Pool Profits here and learn how to trade what institutions are trading.