Are you questioning why I said to stop trading stocks?
Well, if you are scratching your head, stay with me for a minute while I explain.
First, I need to clarify – I am a stock trader! Except, not in the way you might think.
When you hear about stock trading, you probably think of those traders who chase momentum penny stocks trying to become millionaires overnight.
Sure, you may have heard of guys who were that lucky, or maybe you know of a couple yourself.
But when I trade, I make sure that I only focus on a single stock each day.
And since I've only focused on this one stock, I intimately know how it trades so I am not having to "learn" the stock each time I want to trade it
Just by trading one stock, I've got over a 90% win rate and average profits that are nearing 100%*
Don't believe me?
Just check out this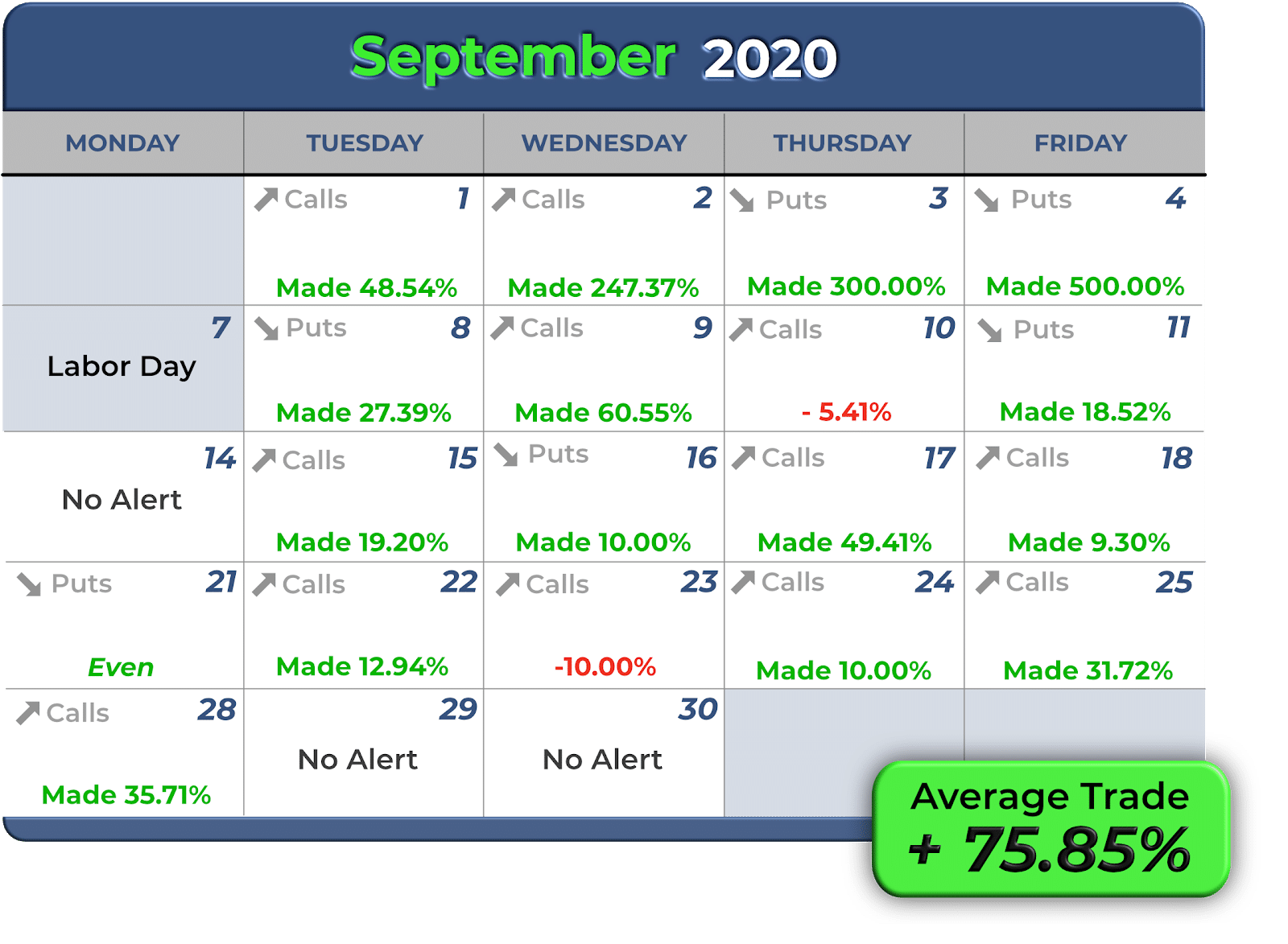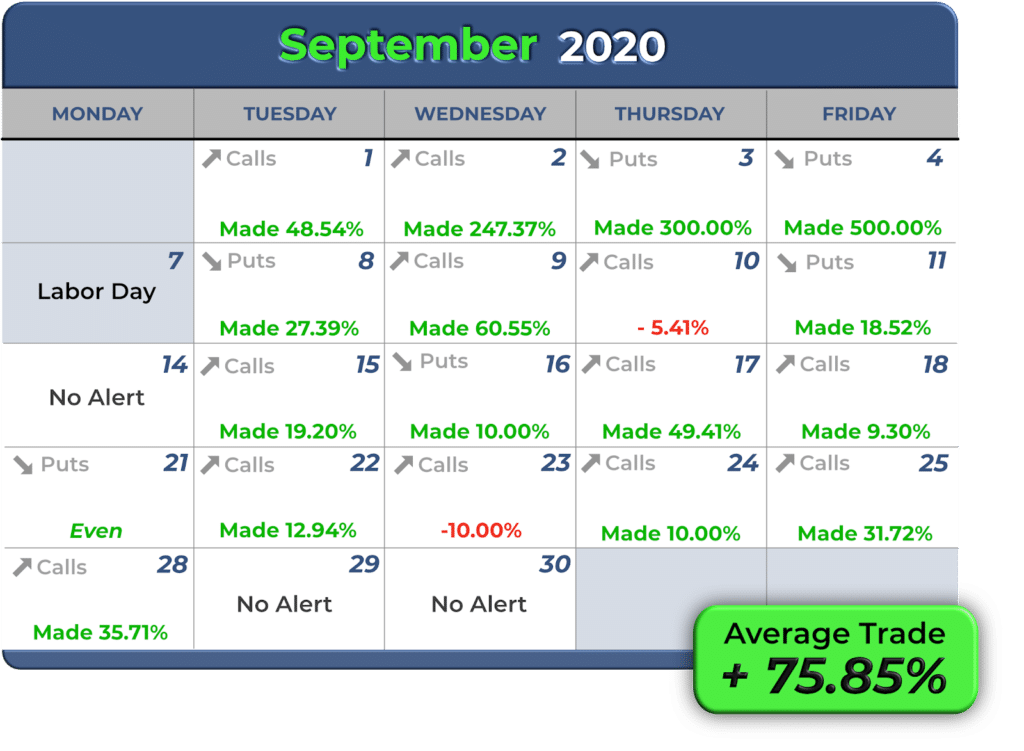 Now I challenge any stock trader to show me a trading record as steady and consistent as this.
And I'm willing to share my "secret" with you today.
Seriously, you don't want to miss this limited opportunity to learn how I made 500%, 300%, and 247% on some days in September, and achieved an average percentage return of nearly 76%

Remember when I said I like to only trade a single stock? I also promised I would tell you what I trade.
And my secret is that I never trade anything other than the SPY options!
[New to options? Just click here to learn how to trade options in as little as 1 day!*]
Why is that?
Well you see, I don't like having to monitor and try to become an expert of 3000 (or more!) unique trading strategies.
Since every trade acts differently, they are essentially individual strategies you need to learn in order to trade them consistently.
And I'm not a huge gambler. In fact, I only want to risk my money on things that I understand. But that's not what trading wild penny stocks is for me.
This style of trading is similar to hitting a jackpot at the casino, they are mostly just gamblers who get lucky every now and then.
So my edge comes from not being scattered by trying to pay attention to over 3000+ tradable stocks at any given time, I know exactly what I need to look at every single day.
You see, I'd rather be the master of one instead of the master of none. In stock trading, the jack of all trades typically is the guy that blows out his account.
Now let's break down the tools I use to trade the SPY each and every day
Global Market Research

Every day before you wake up, most of the world is already finished trading.
And at this point, TRILLIONS of dollars were already traded in the global markets along with manufacturing and other industrial services completed by major businesses worldwide.
What I look for in my pre market analysis is where the markets are heading and how much are they moving
The 5 Global Indicators in the pre market analysis:
World Markets

Crude Oil

Copper

VIX

Currencies
Now let's break down each one of these 5 global indicators and review the pre market trading session.
Reading The World Markets

The first thing I look at is the two world heatmaps, the grid from Finviz, and the global heatmap from CNBC.
Let's take a look at what these showed me going into the trading day.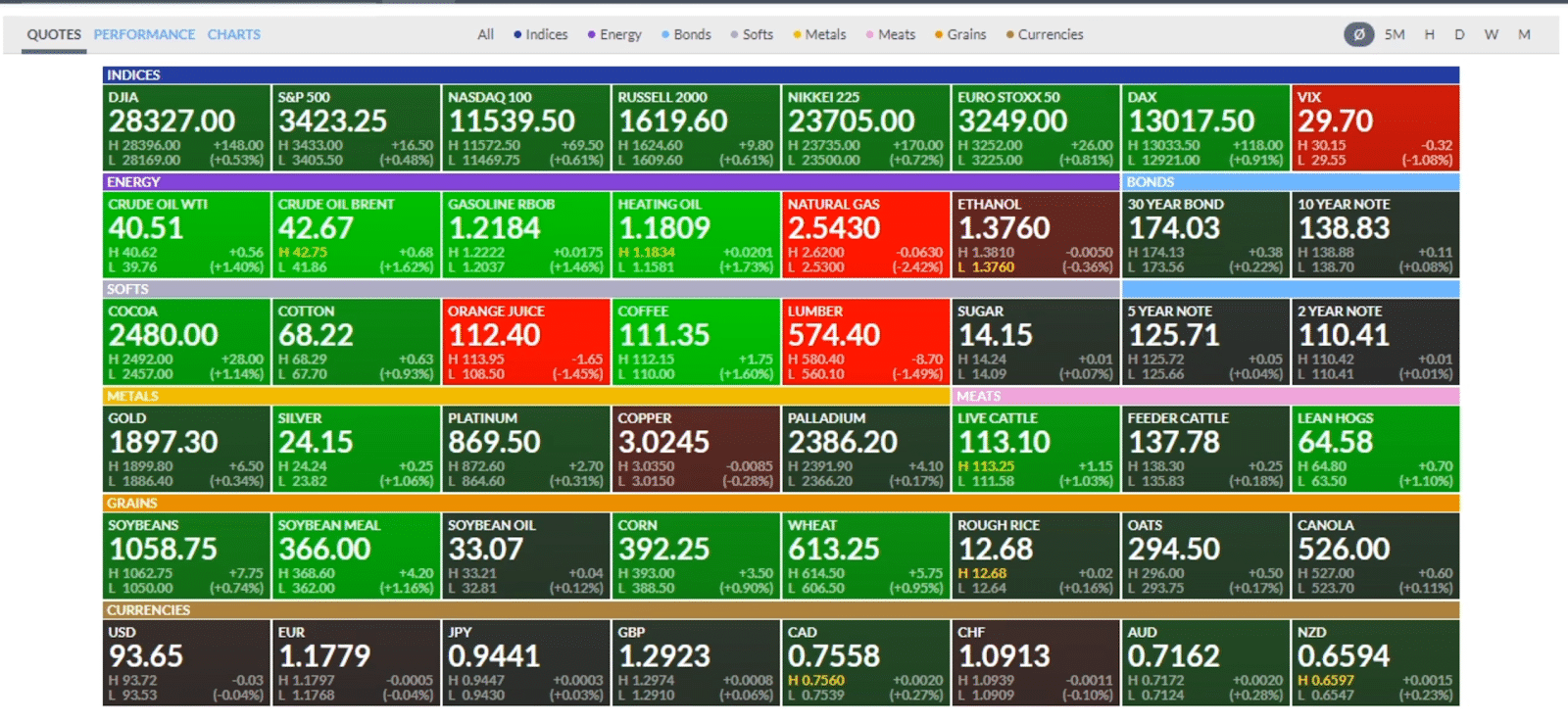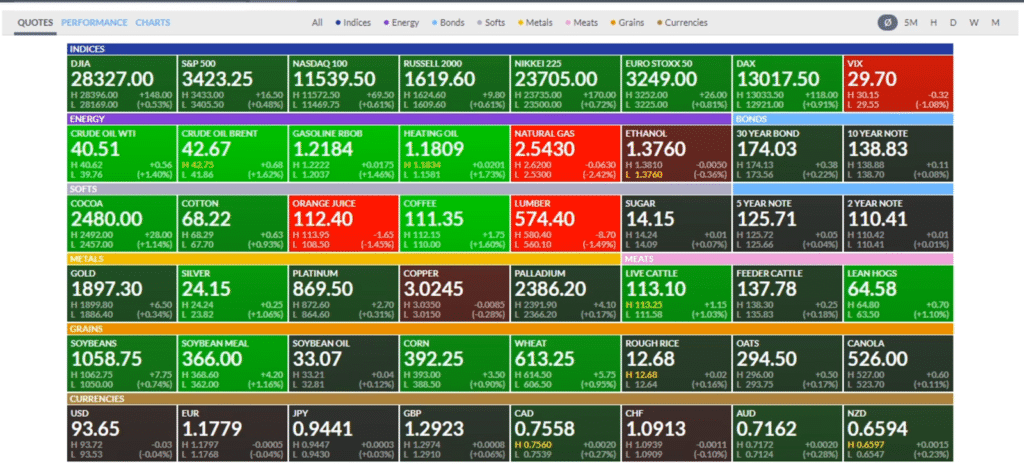 Source: Finviz
And here is the global heatmap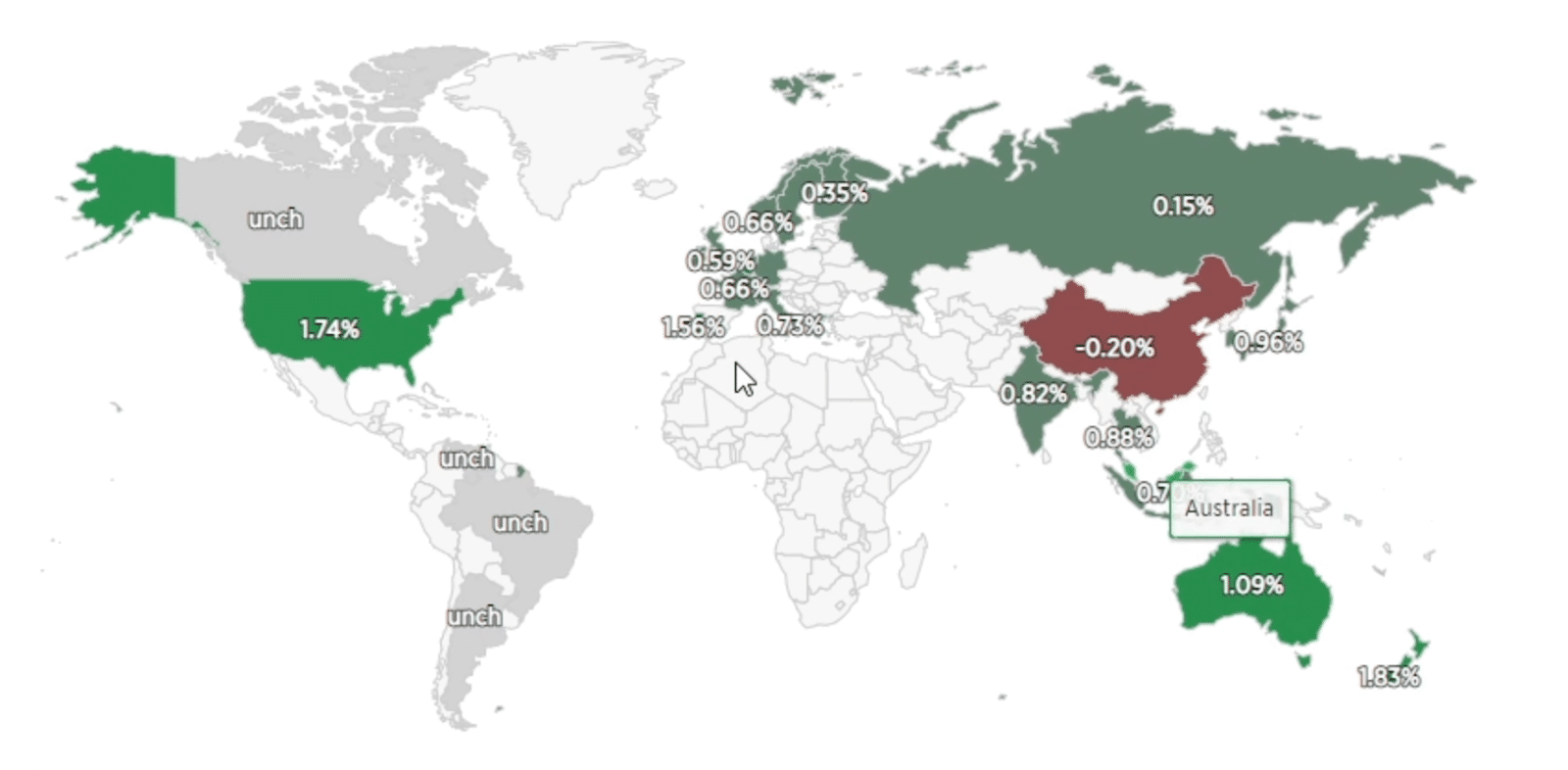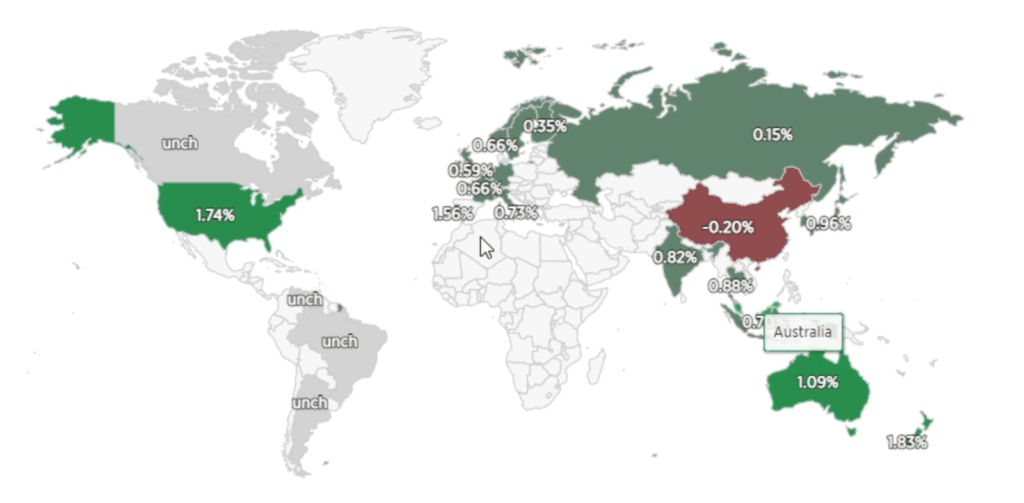 Source: CNBC
You see, just by quickly glancing at these two charts you can get an understanding of what the markets are doing for the day ahead.
Monitoring The Futures Markets

Equally as important as the global indices are the world futures markets.
In order for large institutions to move money around, they need a vehicle to transport it.
And that is where the futures markets come into play.
There are 3 major markets that I constantly monitor.
And then I mix in the VIX (or the fear gauge- which is technically not a tradable instrument) for a comprehensive view of the global outlook.
Crude Oil

Crude oil is one of the primary sources of energy for the entire global market.
And Crude oil is used in gasoline, electricity, and manufacturing of consumer goods.
That means it could be one of the only commodities that are in constant demand around the clock.
Since the global markets never sleep, something is almost always going to be demanding oil around the clock.
This includes transportation, shipping, and travel.
The bottom line… The more goods that are traveling around the world, the more we need oil to power out.
Copper

Because of copper's widespread applications in most sectors of the economy — from homes and factories to electronics and power generation and transmission — demand for copper is often viewed as a reliable leading indicator of economic health.
This demand is reflected in the market price of copper!
And that's why I always make sure to follow this metal in my pre market research
When copper goes up or down, what does this mean?
Generally, rising copper prices suggest strong copper demand and, hence, a growing global economy

When copper prices decline it may indicate sluggish demand and an imminent economic slowdown.
Global Currencies

The Australian Dollar and Japanese Yen are two of my favorite currencies to use as a market sentiment gauge.
Why is this?
Because if investors are fearful, they will flock into a safe-haven currency like the Japanese Yen
And if investors are not fearful, investors will head into assets that can generate additional income for them, such as the Australian Dollar.
VIX Volatility Index

The VIX is known as "the fear index" of the markets.
When the VIX goes up, the markets are fearful of a decline in the near future.
… and if the VIX goes down, the markets are comfortable with the trend and look to head higher.
Main points about the VIX:
Generally, rising copper prices suggest strong copper demand and, hence, a growing global economy

When copper prices decline it may indicate sluggish demand and an imminent economic slowdown.
Putting It All Together

This morning I looked at the global markets and put together a scoring for the day.
Here is the view of the global markets that I saw heading into the open.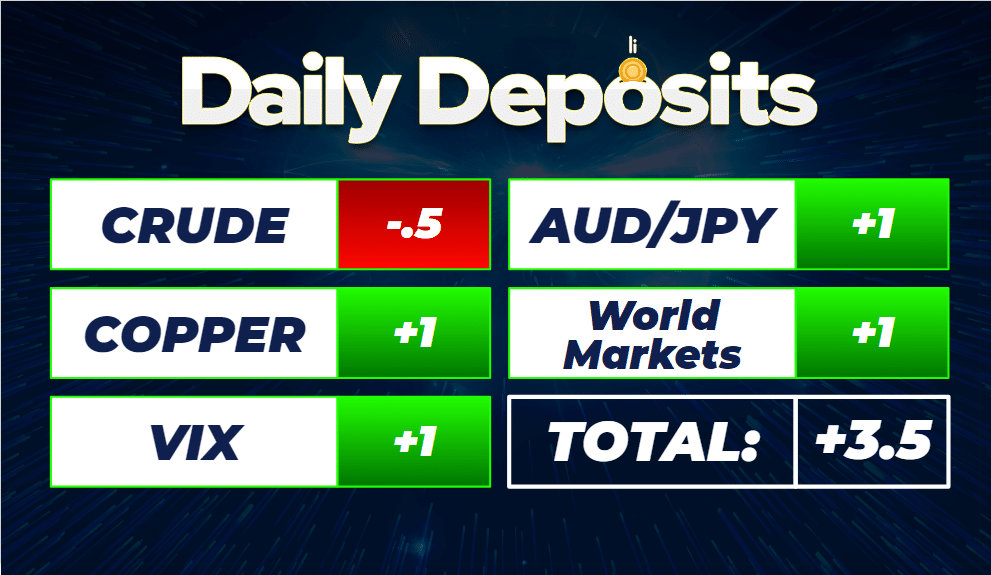 Here is what I sent to all members of Daily Deposits:
"Futures are all Green this morning. The SPY is currently sitting at 345.38 in the premarket. This puts the SPY at about $1.5 above where it closed yesterday. In regard to momentum Indicators this morning in the premarket charts at the moment we see that the 10 moving average line is above the 20 moving average line on the 5, 10 and the 15 min chart. Additionally we are seeing low volume this morning. So we have some momentum signals that are pointing to the upside."
Followed by a game plan for the day ahead: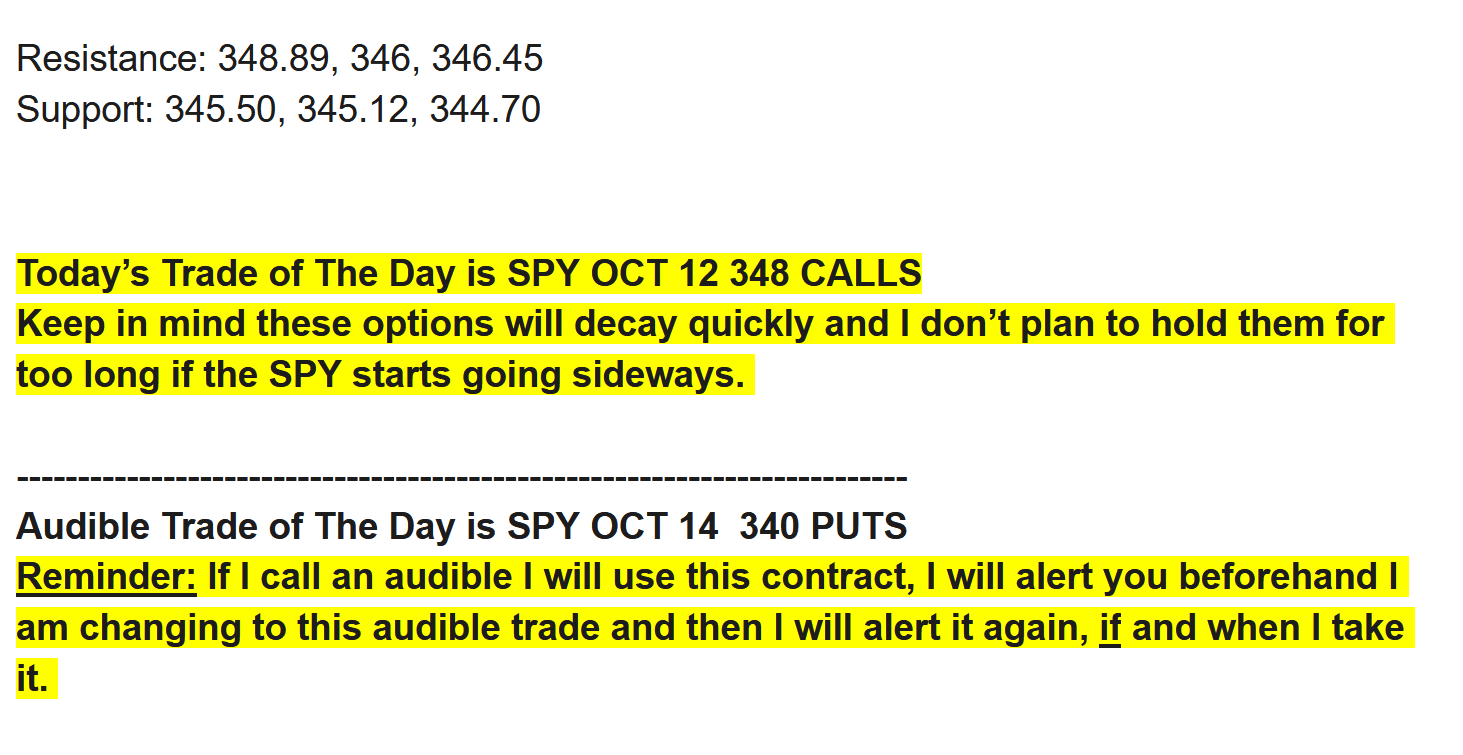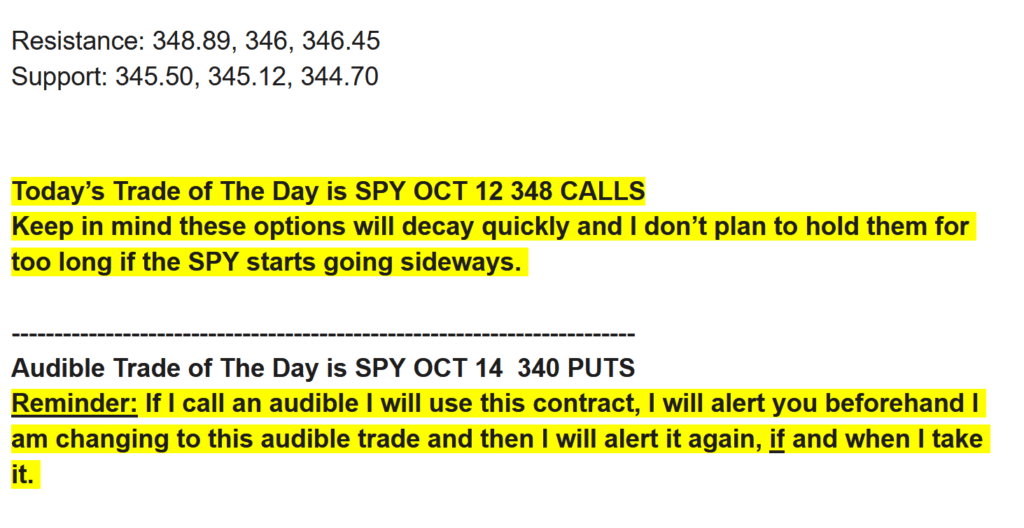 And every morning, subscribers get an email about how I plan on trading the markets for the day ahead.
So this way you learn exactly what I'm doing in my pre market research and how I plan to trade the markets every day.
And want to know how I did?
It was a huge day
I entered the trade at $.70 and exited at $1.26 for a whopping 80% ROI!
Wrapping Up

When I was just starting off, I noticed right away that I couldn't focus on what I needed to be a successful trader with so much noise and clutter in the markets.

And like many new traders, I got distracted by things that just didn't matter.
Finally, I was fed up with this mess, dumped out my trading drawer and started over to create a new system that was centered around my core beliefs
… a simplistic trading system based around a single symbol using only a handful of indicators.
I want to show you my powerful new trading strategy that was designed to help me declutter and organize my trading.
So if you're ready to learn more about The Power Of One…