There are many strategies out there that are focused on scanning for stocks that are in a specific pattern.
In fact, there are so many different technical patterns, a quick google search will cause your head to spin.
You see… traders change strategies like they change their underwear…
When in reality it's best to become the master at a single strategy!
I know you are skeptical… but just check out my trading record for last month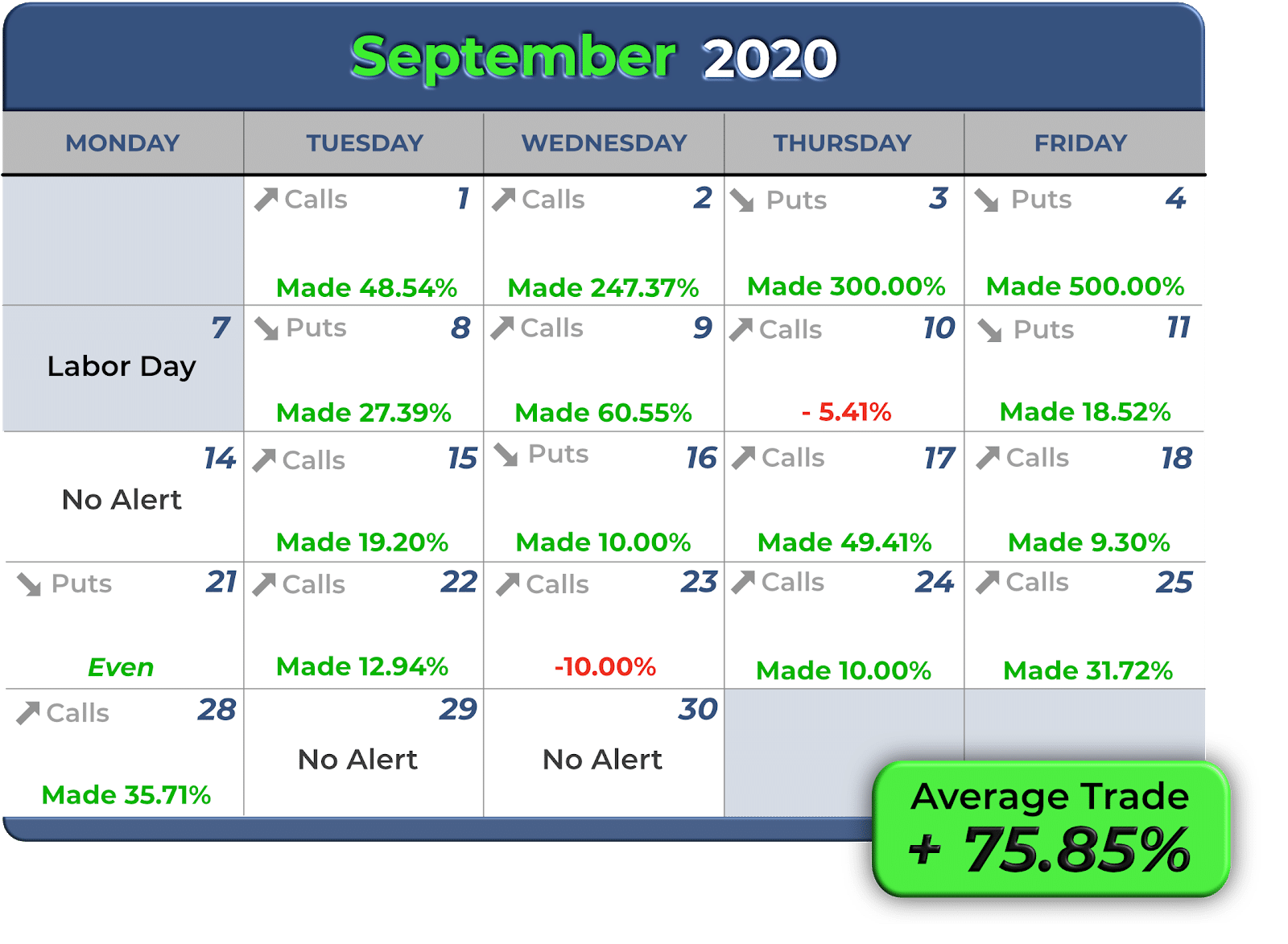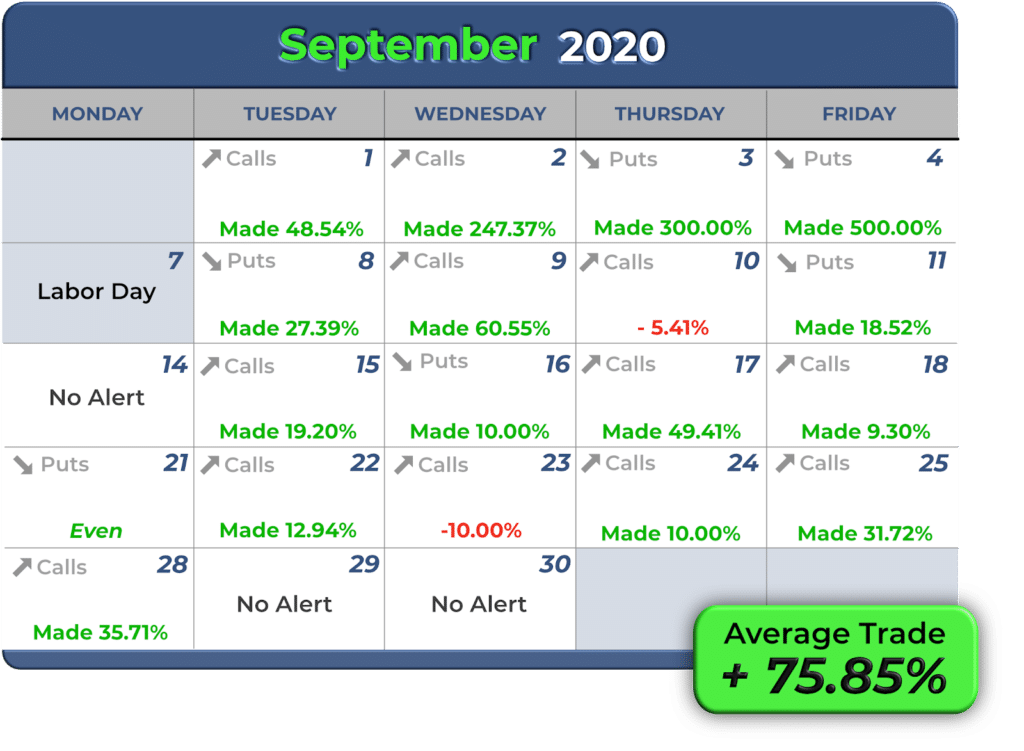 Because I trade the same strategy and don't flip-flop around!
And I'm immediately prepared to react when the major news hits!
But this is typically when other traders are scrambling and left holding the bag when the dust settles.
[Just like this one strategy I traded nearly every day during the market drop for huge gains!*]
Let's face it, if you are not on your toes, chances are you are not trading… you are only reacting to the markets!
And that's a losing strategy when you are trading from emotions, like many traders did today buying puts in fear of another collapse after the president's tweet yesterday!
But instead I rolled in a cool 41% on my SPY trade today…
Just check this out!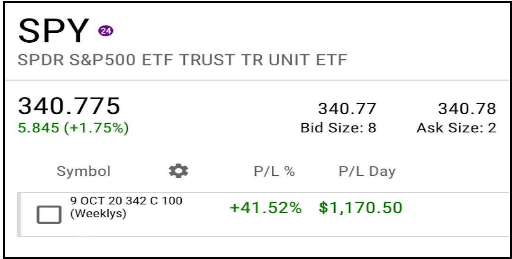 And my Daily Deposit trading strategy and approach helped me override my emotion and land this huge win!
Want to learn more?
[Join me tomorrow for my live webinar where I tell you everything you need to know to learn this strategy and start trading it for yourself]

In order to trade the US markets, I always look at the overseas and overseas markets before anything else.
Why?
Because many of those markets have gone through an entire trading day before the US markets even start trading.
And in many cases, a lot of green overnight in the overseas markets could indicate that the market will gap up and continue trading higher throughout the day.
Rewind To Last Friday

Now this might not always happen this clean… and that's why I've got an answer to that as well, and it's called the Audible Trade of the Day
For example, last week the market gapped down and instead of chasing puts (like you may have expected) I actually waited for my short term momentum indicators to point higher for a reversal trade
These short term momentum indicators revealed that during the pre-market, the SPY futures kept making new lows
But there was this one technical pattern I knew was going to cause the SPY's to trade higher.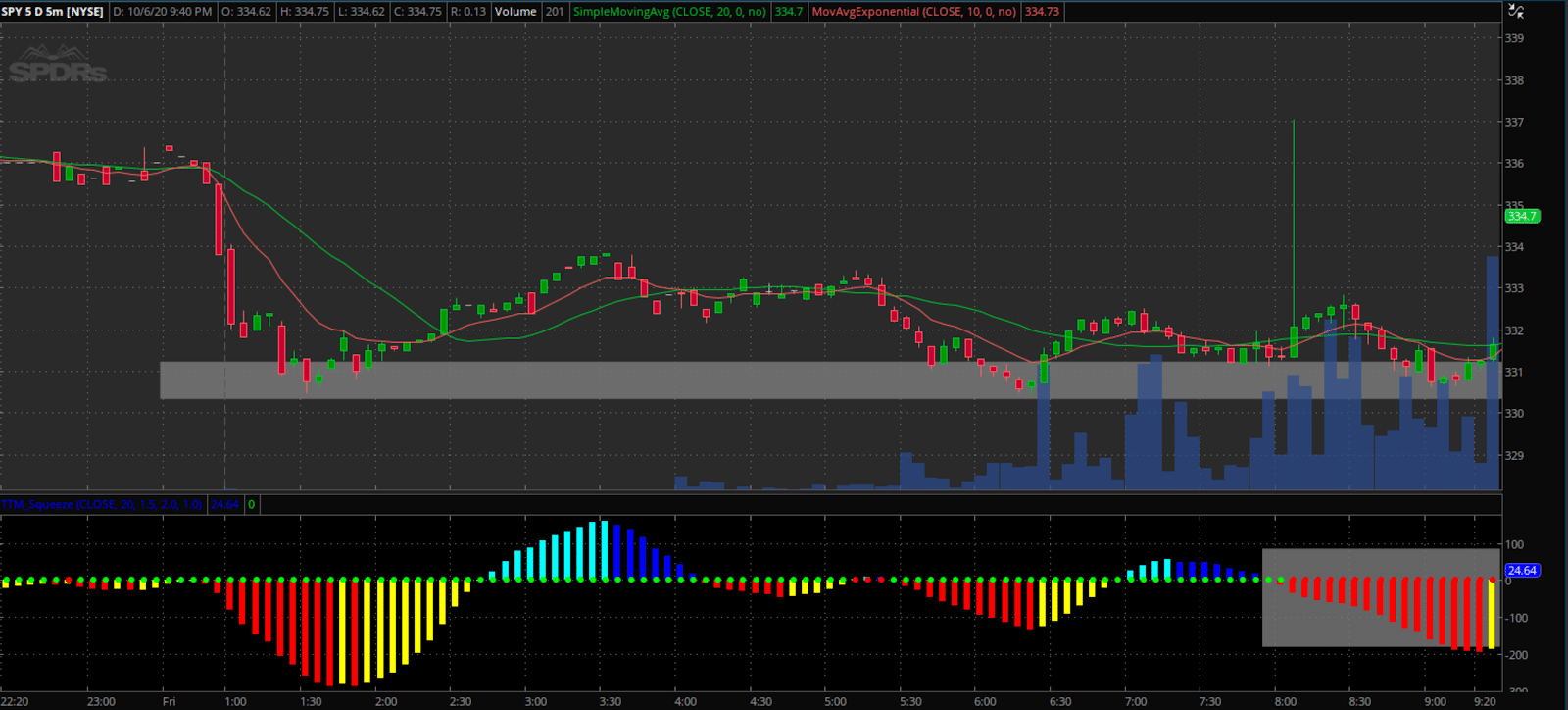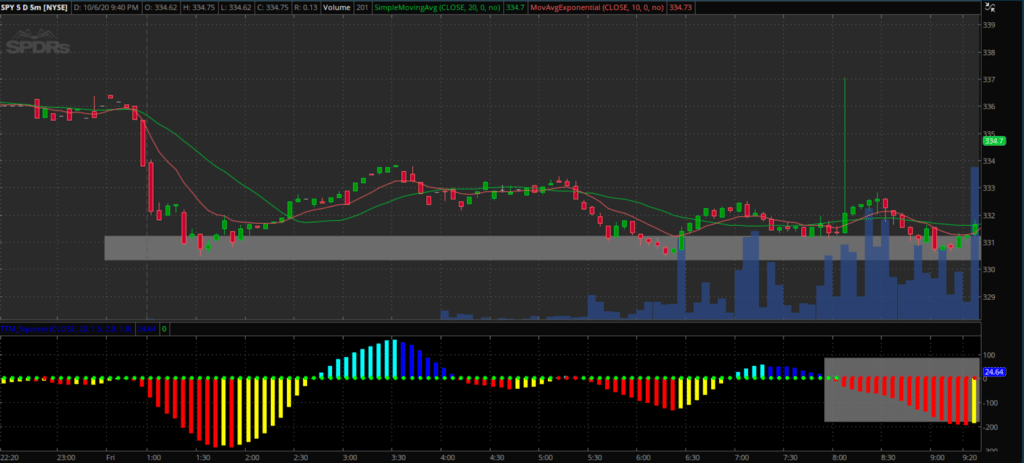 Source: Thinkorswim
Do you see what I see in the above chart?
Instead of breaking down lower, I actually could tell the SPY's wanted to trade higher!
And that is why I decided to buy calls instead of puts.
What Got Me Bullish Yesterday

Yesterday was a tricky day in the markets but I was still able to return a solid profit before the tweets came out about the economic stimulus package.
But let's dig into why I took the trade in the first place.
Here's the SPY chart for the last few months.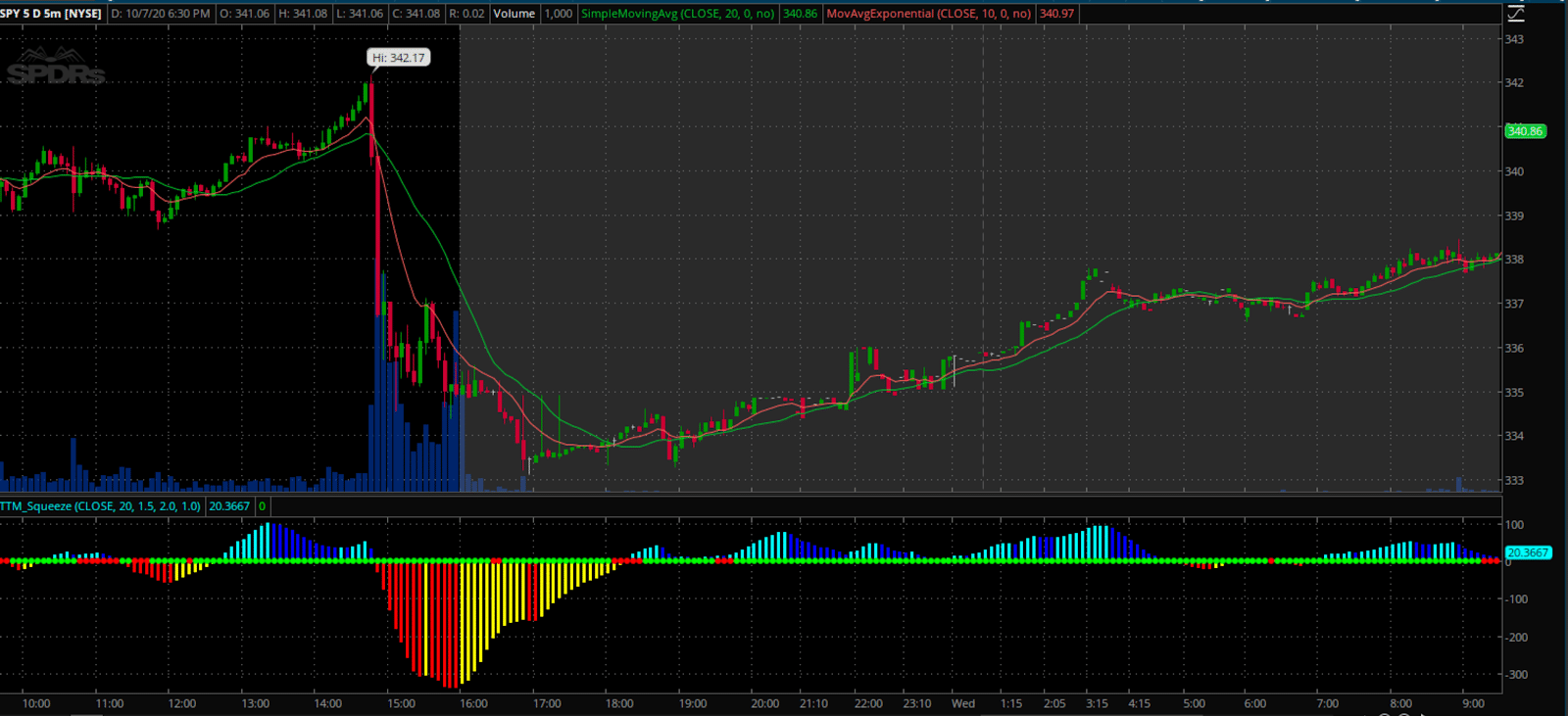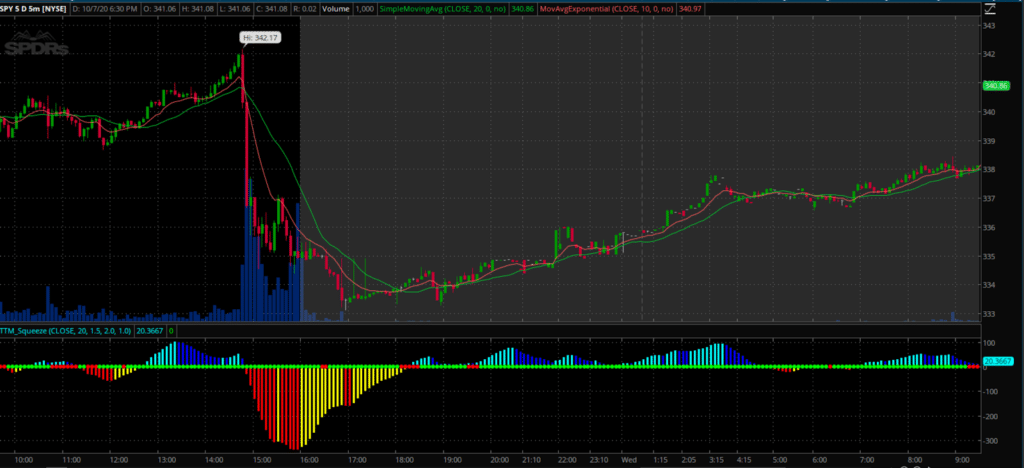 Source: Thinkorswim
Do you see what I see in the above chart?
Instead of continuing to trade lower, I actually could tell the SPY's wanted to trade higher!
But many traders are going to say, we are heading into a "Double Top" pattern, and this must mean the stock is going to fade… but that's exactly the opposite of what my pre market scanner is telling me!
So let's take a look at the daily chart next…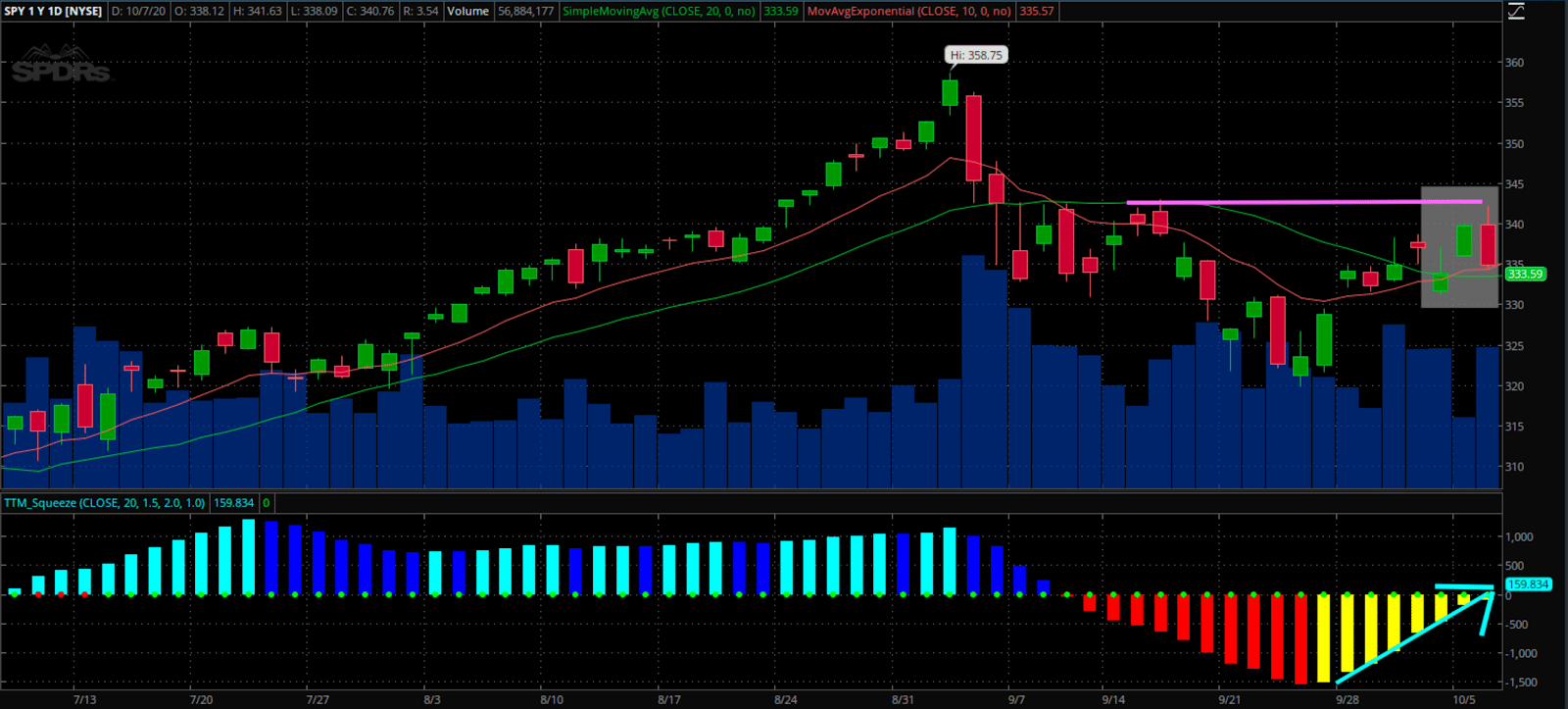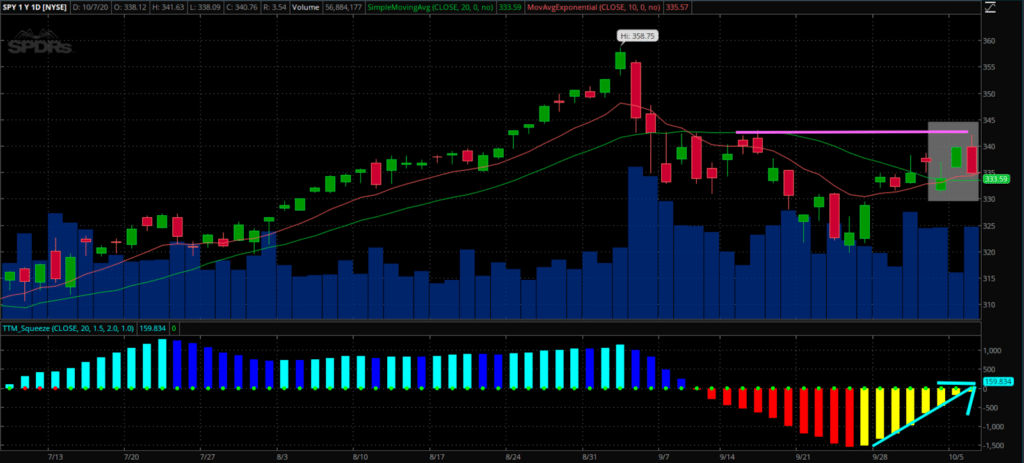 Source: Thinkorswim
Now there were a few things that caught my attention from the start.
The 9/25 bar signaled the bulls are back in charge, causing the SPY to gap higher in the following day

The 9/25 bar showed that momentum went from a strong red to a more moderate yellow, signifying there is a change in direction coming up

The two "Trend/Momentum Gauge" moving averages signaled a bullish trend and strength for the SPYs to head higher on

The Volatility Squeeze Indicator is signaling upward pressure on the stock and momentum is soon to kick into high gear

The SPY traded back into its "Trend/Momentum Gauge" moving averages that act as support for the stock
And right at the open I was quickly able to spot key technical levels and signals that showed me the trade was going to go higher instead of lower that day
You see, the market doesn't like giving that much information and wants to see a trader work for it.
[Find out more about my pre-market research here]
Why I Took This Trade

Now I know this is what you've been waiting to read about… why did I trade this?
Well let's take a look at a chart of today and break it down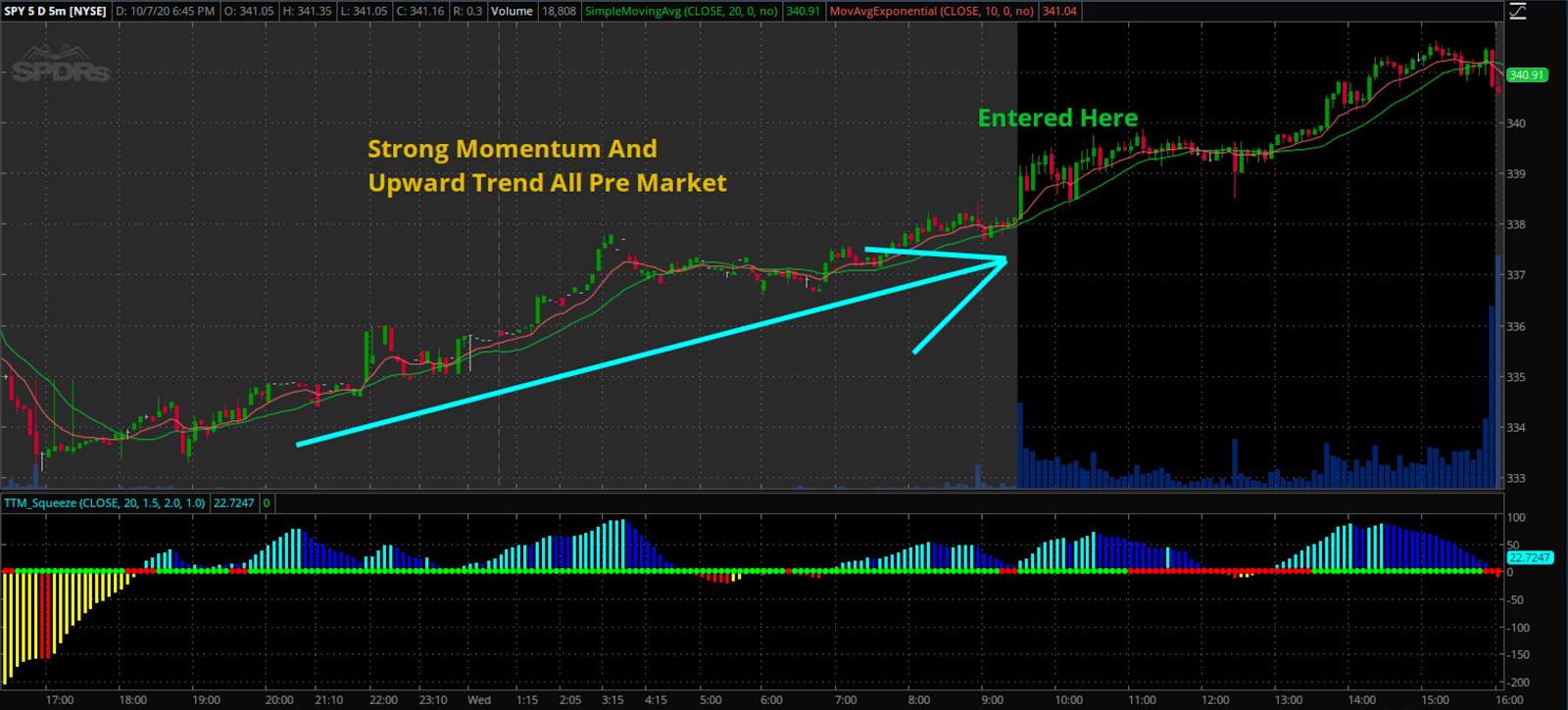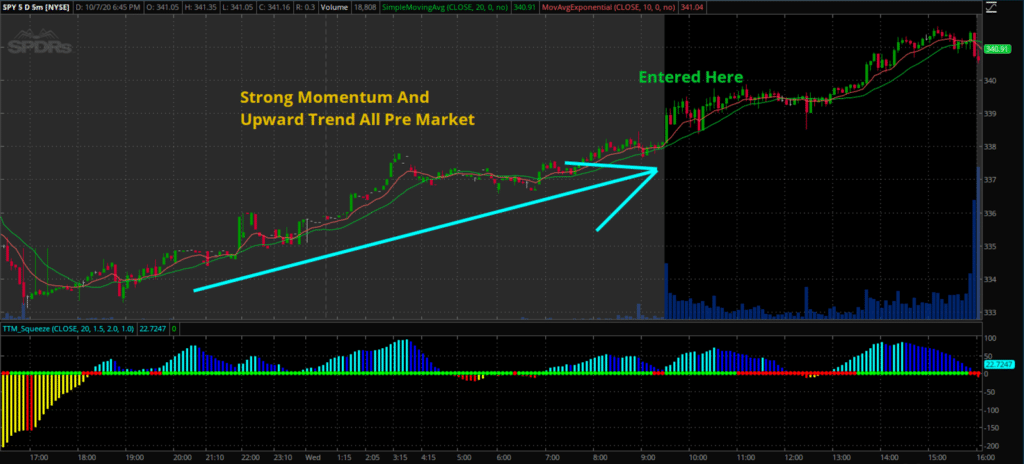 Source: Thinkorswim
Key points about this trade:
The market headed higher all pre market with the short-term trend indicating higher prices for the trading day ahead.

Daily Volatility Squeeze and Trend/Momentum indicators were finally starting to change direction and pointing higher. This let me know the momentum of the SPY was starting to go in our favor.

My proprietary 5-level signal for the overnight global markets momentum indicators showed me that traders were risk-on trading today.
Then once the stock didn't crash down but instead rocketed higher at the open, I knew it was time to get long!.
And that's when I sent out a buy alert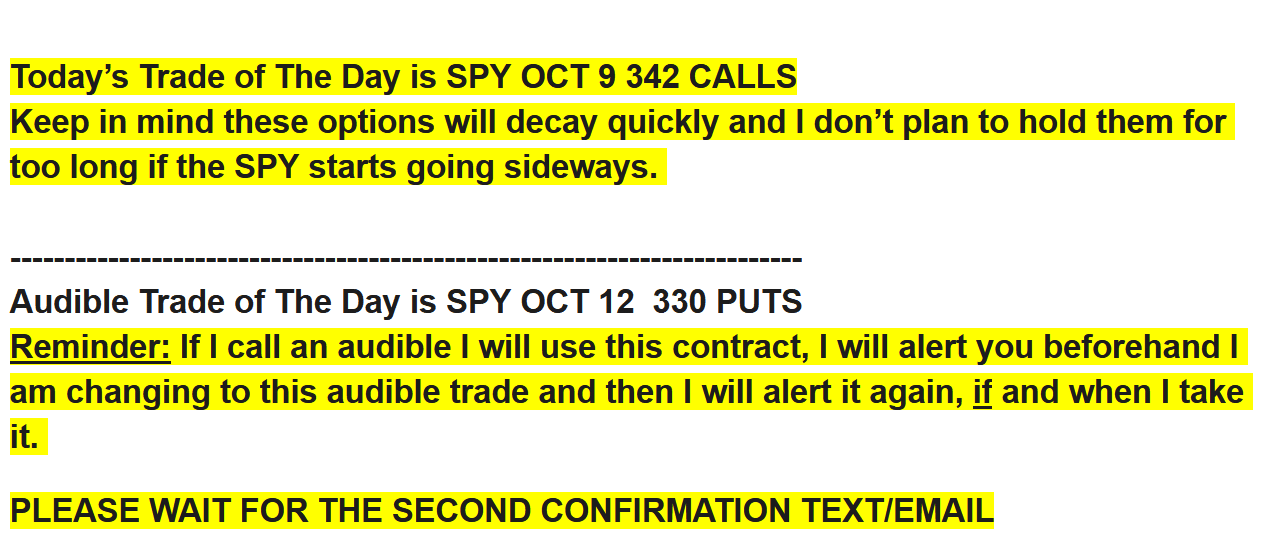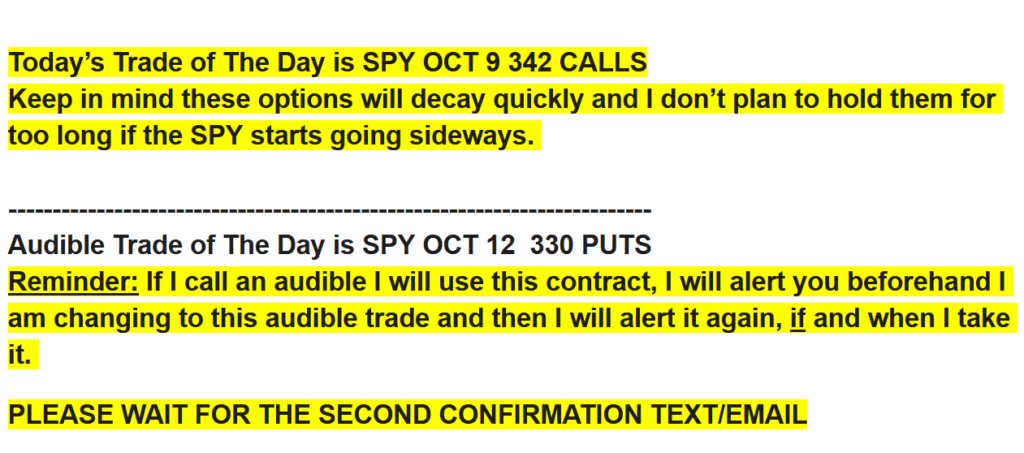 And by placing this trade I was able to pull down a solid 40% on this trade!
How Do You Get My Alerts

Before you complicate your trading strategies, clutter up your charts, and make your screens glow more than holiday decorations, you just need to remember one thing.
It just takes one trade per day to bring home huge profits
Which is why I'm doing a special offer where I reveal my Daily Deposits Strategy for you live
And I will talk about how I set up my Trade of the Day for massive gains and how I perform some simple and basic risk management to my trading account.
Before it's too late – Register for my LIVE event on Thursday, October 8th at 2 PM ET here.