The markets have been on fire since the government dropped trillions on the economy in March
And many people speculated about it coming to an end from a second wave of the virus that may cripple the nation.
Sure, there are now more restrictions being put into place and this leaves us with a lot of questions about the future of the markets
But now it seems like we are just going to go higher with bad news is good news pushing us higher.
And for some reason, the more negative news we get, the higher the market goes… it's bonkers.
But this one pattern in the SPY signaled there was a potential for a huge move to all time highs coming soon.
Now I want to show you how I spotted the play, and why it's important to pay attention to key levels and price action in this one ETF.
This Pattern Signaled A Massive Move In SPY
While there are many reasons the market moved higher
For me, I focused on the pattern that was setting up that let me know the SPY could rocket higher and test all time highs.
I know it's the same track on repeat at this point, but I see the same patterns over and over in the markets that signal higher prices
Here's what I sent out in the pre market before the move even happened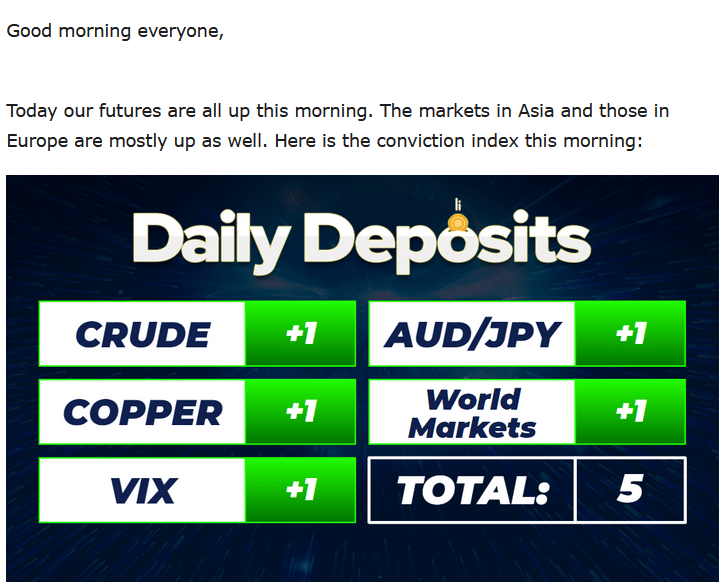 Of course, I broke it down even further
Here is my plan today, I'm planning to play it much like yesterday. We could see a potential breakout higher early which I might play long for a scalp trade or wait for a pull back to go long. The domestic futures are all above VWAP and the Macro indicators are bullish. So, I'm going to start with Calls as I watch how the price action opens up today.
Keep in mind there is a GAP mentality in play today as we are opening above yesterday's high meaning it might break higher or pull back some to fill the gap or at least half of it. So my plan would be to watch closely at the open to see which way it wants to break on the 5 or 15 minute range). I would look to get in for a continuation higher with volume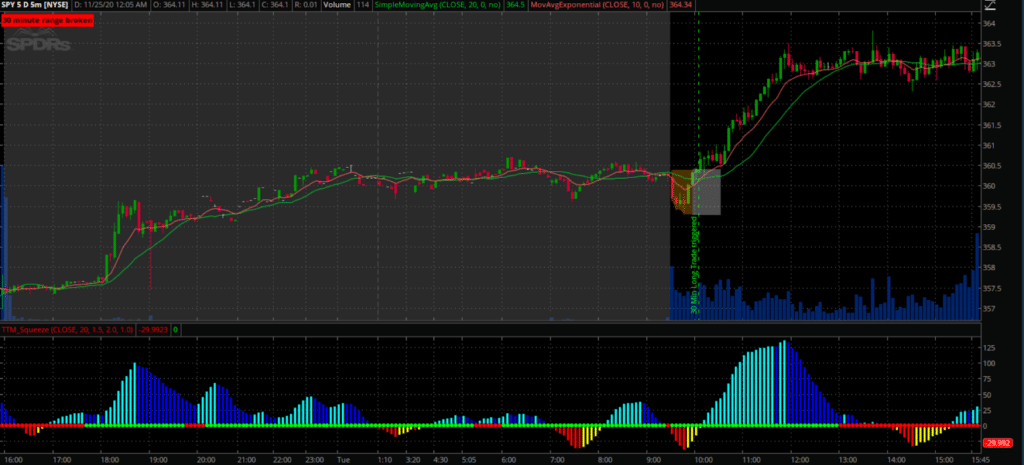 Source: Thinkorswim
My subscribers know which patterns I've found to be reliable, and let me tell you a little about this one
If you look, the pre market was in a strong uptrend, supporting the global overnight conviction index…
This is an extremely bullish signal! But, you don't want to buy just yet!
Instead, you want to wait for a confirmation of the trend, and this was done by waiting for the breakout of the morning trading range (seen in the shaded box between 9:30am to 10:30am.
When you look at trading a range breakout, you want these two signals to support the trade, which they did.
So, the breakout pattern let me know it had potential to run higher and test the highs
But, I also had in the back of my mind a few targets where I thought the SPY would go.
And one of them was the prior highs, as this is a strong technical target level when trading breakouts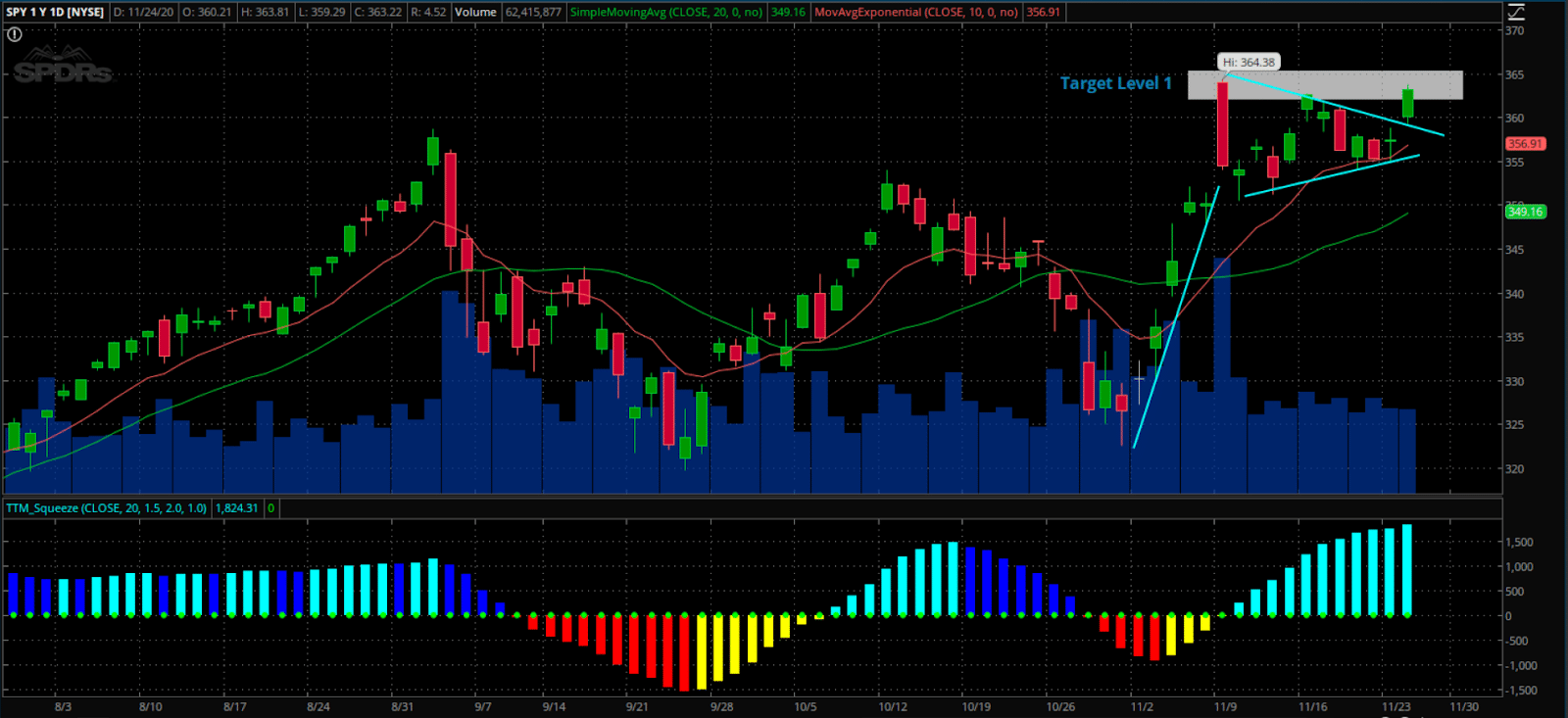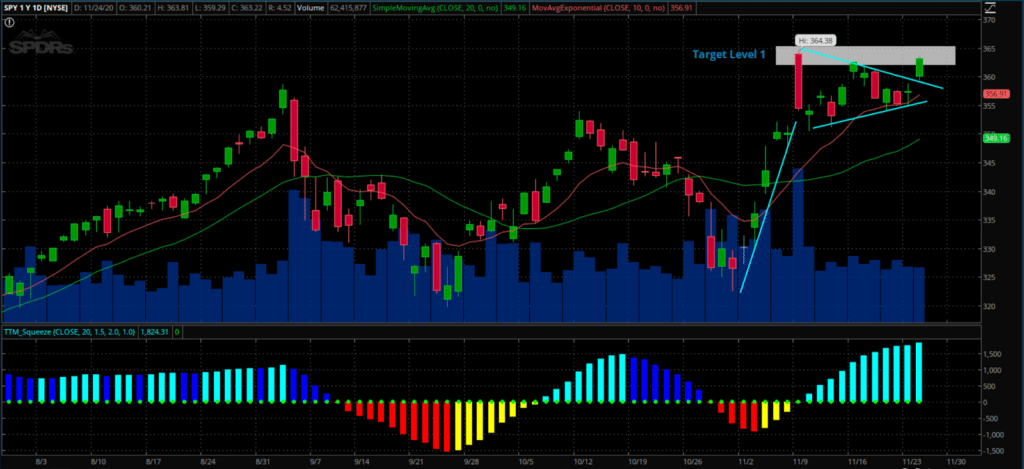 Source: Thinkorswim
Check out the chart in the daily SPY above. It broke out of the resistance from the bull pennant around $360 and just rocketed higher and is now testing the $365 level.
And when I traded this breakout, I was able to pull down money-doubling returns on this trade.
Now remember, just because there is a breakout possibly around the corner, I wouldn't chase the stock at these prices.
Instead, I'll be paying attention to my Conviction Index and range breakout indicators to set up the next entry level.
And if the SPY's push higher, there might be a triple top breakout coming soon.
If you want to learn more about chart patterns and how I utilize them to uncover breakout trades… then you'll want to attend this free training here
With how strong the market has been lately, I've been able to find steady returns during this period of chaos and confusion, and the best part, with a defined edge.
Sign up to Daily Deposits here