I am always asked how I find my trades… and I always say, "It's easy for me — I let them come to me."
You see, I monitor the dark pools for suspicious looking trades. This lets me know where some of the big money players are throwing down their bets.
Of course, sometimes, I'm just lucky when I choose to a stock trade.
Sure, there is some skill and market knowledge that I've gained over the years.
In reality, my best skills are knowing when to exit the trade.
Knowing when to exit separates the amateurs from the professionals.
What usually happens is the amateurs get greedy and want to keep pressing their luck…
But the elite traders get out knowing they got their profits.
And I've seen is this same problem with many new traders.
Here's the deal… I want to share with you a key trick that will turn your exit strategy on its head and start to land you better profits
The Right Way To Exit Your Trades
Traders… getting into a position is only half of the equation. The other half is how to actually get the heck out of a trade!
You see, you need to actually exit your position in order to make money!
And in my opinion, this is actually more important than the entry itself
They say…
"Amateurs try to perfect how to enter a trade… but the pros perfect how to exit them"
Let me tell you this… I believe that couldn't be more true!
And this one saying has saved me a ton of headache over the years…
Not having an exit strategy can turn a winner into a loser really quick… and I know that I never want that to happen
Now, it's very important to know that there is no "perfect" recipe that is going to fit everyone, and I believe that each trader should find what works best for themselves.
But this is what works for me and I want to show you how I used it to scale out of this trade not twice, but three times!
How I Scaled Out Of My FIZZ Trade
Traders … the last thing you want to do is exit your entire position right when things start to kick up a notch
And many times that's all I see from new traders
The second a trade starts to go in their favor they get nervous they are going to lose money and rip out their entire position
You see, many times that means they missed the entire move they were actually set up for
And that's not a way to successfully trade at all!
Instead, you want to average out of your trade and take profits as the stock continues to head higher!
Now, I can't actually trade for you, but what I can do is teach you exactly how I handle my exits and hopefully you can learn how to utilize this for yourself
Ready to take the next step and improve your exits and trade like a pro?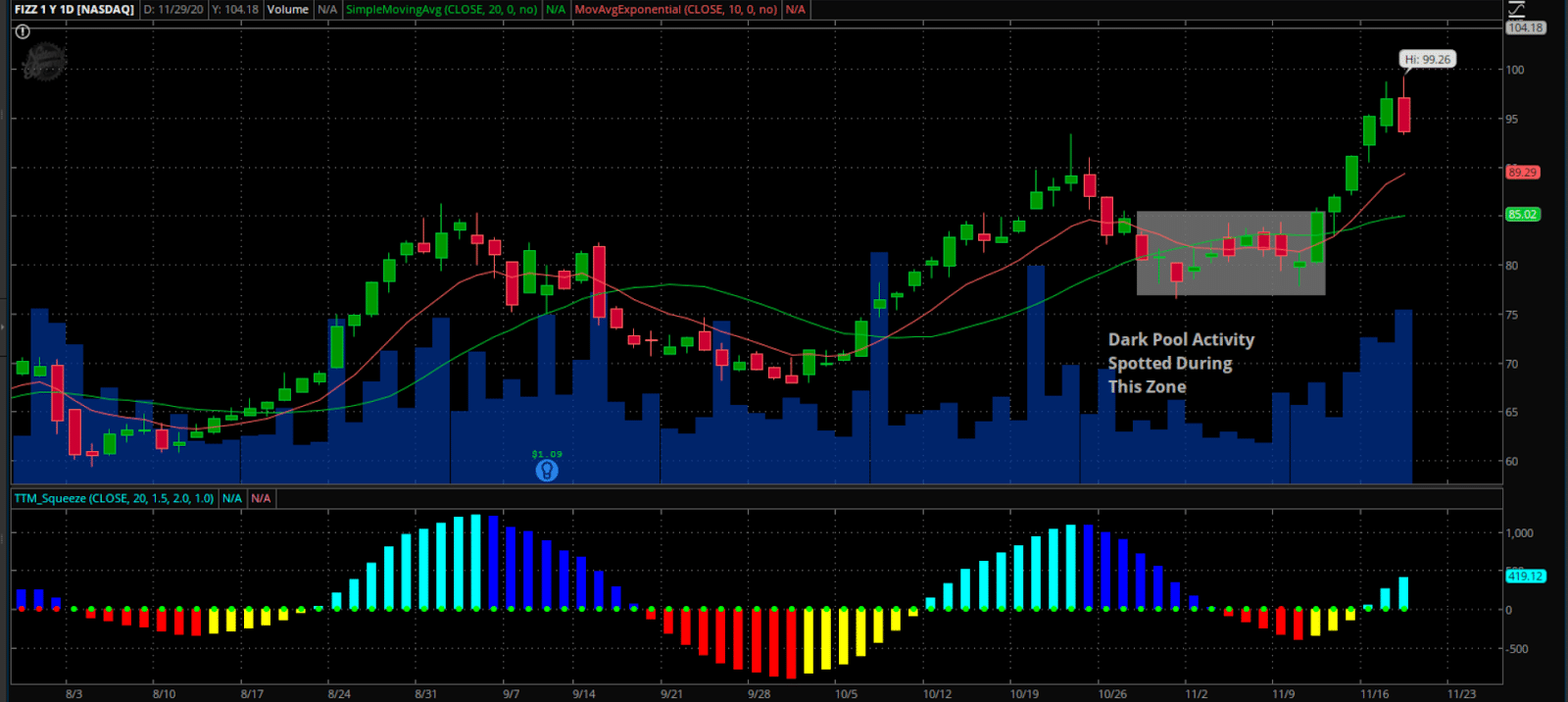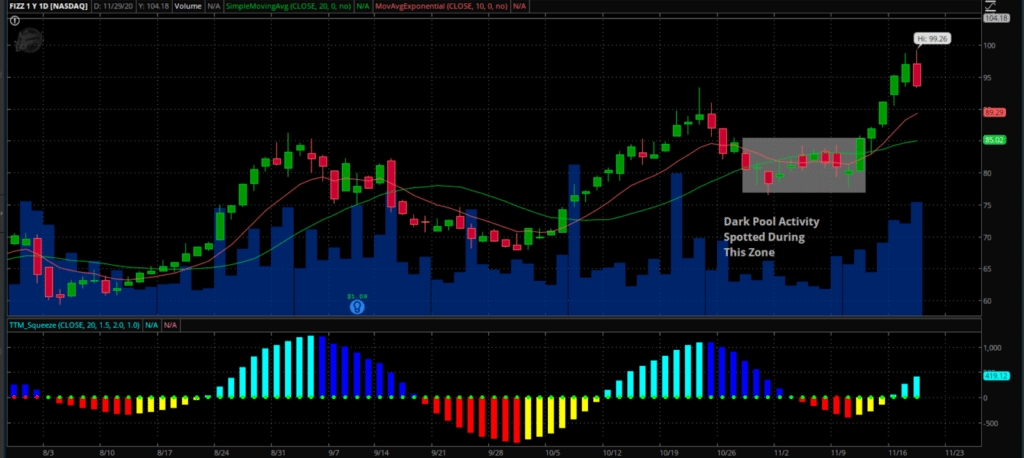 Let's take a look at a recent trade I took in FIZZ
I entered the Nov 20 $20 calls at $2.05 on 11/9/2020
And if I was to exit right when things started to work, I would have made sick profits of 46% profits
That's ok, it's almost 50% of my investment.
Well, you see… I didn't maximize my profit potential at all!
So what I did was actually scale out of my trade at predetermined levels as the stock continued to climb higher
What I did was take 3 exits on this FIZZ trade. Let's take a look at how this works
Exit 1 : $3.00 at 46% gains
Exit 2 : $4.10 at 100% gains
Exit 3 : $6.20 at 203% gains
Average profit : 116.33% gains!
Talk about a massive improvement over simplifying exiting at my first trade for 46% gains!
And that's simply done by averaging out a position instead of going all-in and all-out….
This is exactly what the pro's don't do when they trade!
It's called maximizing your profits… and in my opinion, it's a skill you must learn to use on every trade!
And without an exit strategy, you can turn a perfect Dark Pool trade into a loser if you screw up your exit.
Which is why I'll be hosting a live training session TOMORROW at 8 p.m. ET!
But this is only limited to all Dark Pool Profit Subscribers
And this is where I will be going over how to analyze a Dark Pool trade, how to select the best option for your risk levels, and how to manage your exits and profit targets.
This is a first and can't miss opportunity to get inside my mind and learn how I break down and analyze these trades each and every day
And as a Dark Pool Profit subscriber, you'll gain access to my LIVE WATCHLIST that I post the best trades I've spotted in the Dark Pools along with the exact option to trade
This is a brand new feature, a dynamic watchlist based on dark pool activity, in real-time.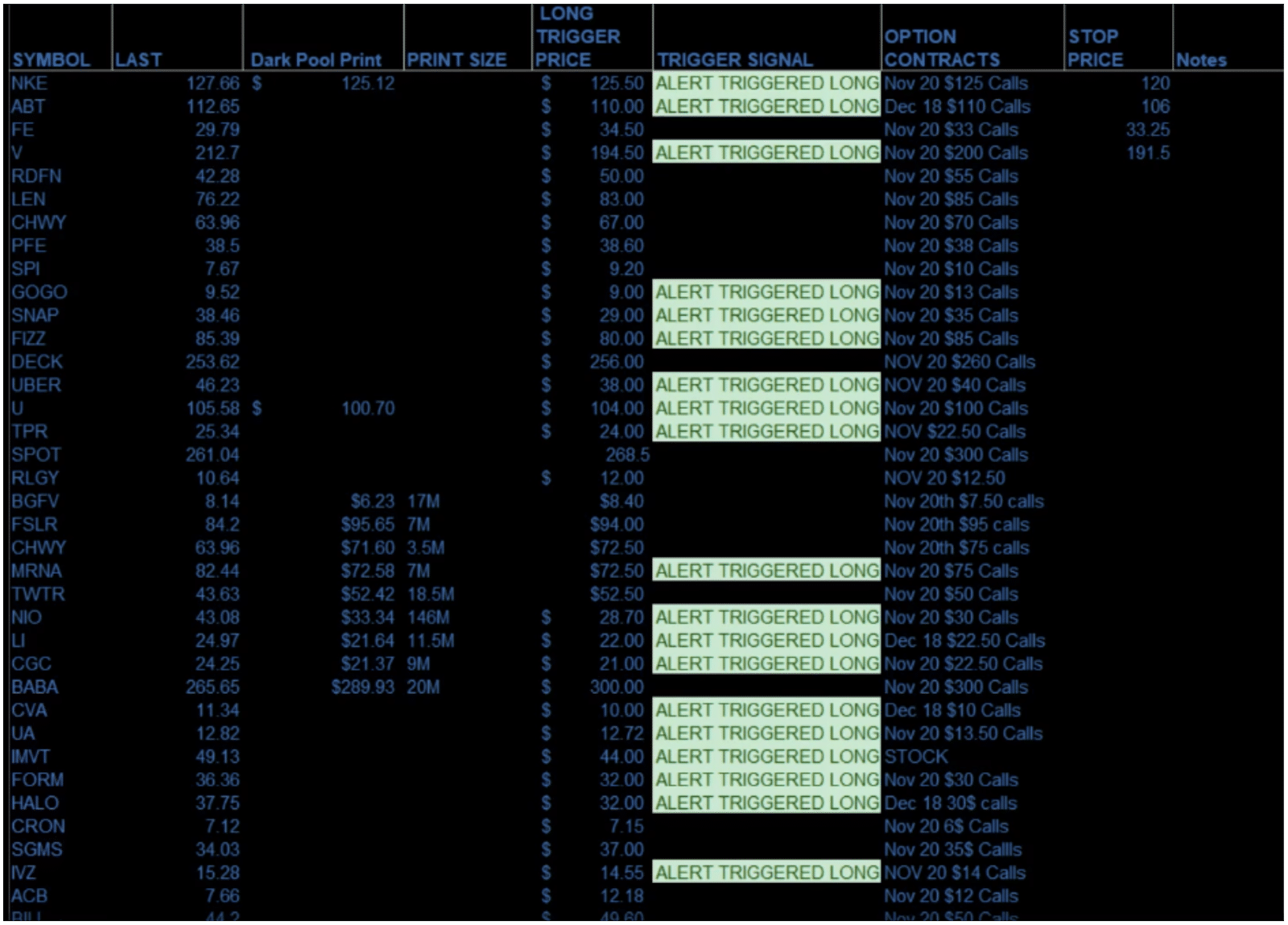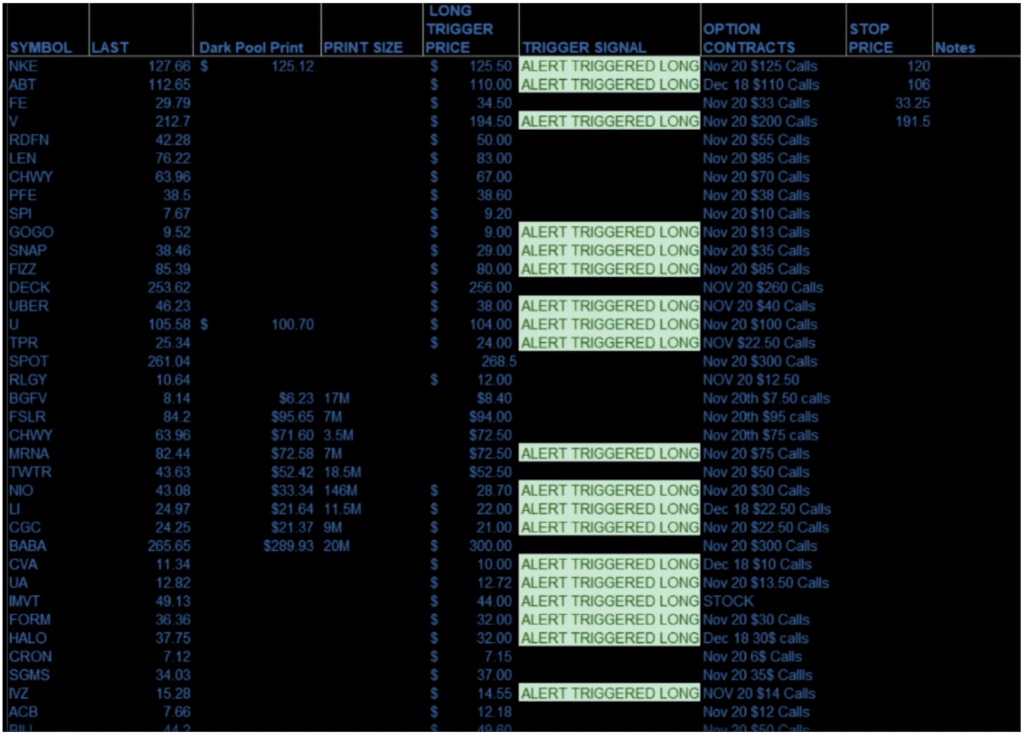 Why is this such a valuable feature?
First off, idea generation.
Second, I only take trades off the live watchlist.
This means you'll have a good idea of what I trade before I trade it.
Of course,Dark Pool Profits subscribers also get my daily watchlists and real-time trade alerts via email and the RagingBull app
I wanted to make this a no-brainer and give you something to take your trading to the next level