Have you ever thought to yourself…
What am I going to trade today?
It seems like an innocent question but it's really not that easy to answer once you get into the details
Maybe you like to trade breakouts, or reversals…
But let me ask you this…
What is your edge?
Unfortunately, you don't have one if you are guessing at technical patterns, like double tops.
Why's that?
Because one trader views this as a reversal and the other thinks it will break out to new highs.
So unfortunately that's not something that gives you an edge.
But one thing that will give you an edge is following the trend and momentum that the whales create …
And once they trade, playing along with the smart money they put into the markets.
So let me show you how to do this with my new custom scanner!
One thing that I noticed when I first started trading is that I just couldn't find stock to trade
I would stare at charts and never know what to do
And it definitely wasn't easy dealing with research and trading throughout the trading day
What I found was this:
I need follow the smart money

The pros don't trade in the public markets

Be careful of dumb money momentum

Is there earnings or a catalyst event in the future?
And when I started looking at what I was doing wrong, I noticed that I was not following the smart money, I was not paying attention to the dark pools, and I chased momentum.
In order to fix this… I need to focus on accuracy and timing.
I developed a strategy that targets the dark pools and finds the trades that the smart money is trading so I can tag along for the ride
How does this work?
Accuracy And Timing Is What Makes A Good Trade
Unfortunately, many new traders suffer from both of these issues… they enter a trade too late, and they enter a trade at the wrong price.
But with the right tools and having good accuracy and timing will put you in a position to make money
However one of the hardest parts is understanding which stock will pop off next.
And I've developed a way to analyze the dark pools and search for those exact times to enter my trades
You see, even though stock charts seem to work, I believe it's the dark pool volumes which drive a stock price in the future.
Another thing that drives prices is fundamentals, earnings, or other key announcements about the company.
And by time most traders see this move it's already too late!
The key to knowing what to trade is spotting these catalysts ahead of time before or right as the move is happening!
So here's a stock that hit my radar at 9 am this morning that I traded and wanted to share with you
GEVO INC (GEVO)
Catalyst : Large dark pool volume in the before 10am
Buy Zones : Pull back into the short-term moving averages
Profit Zones: 25%/50%/75%/100%/200% profit increments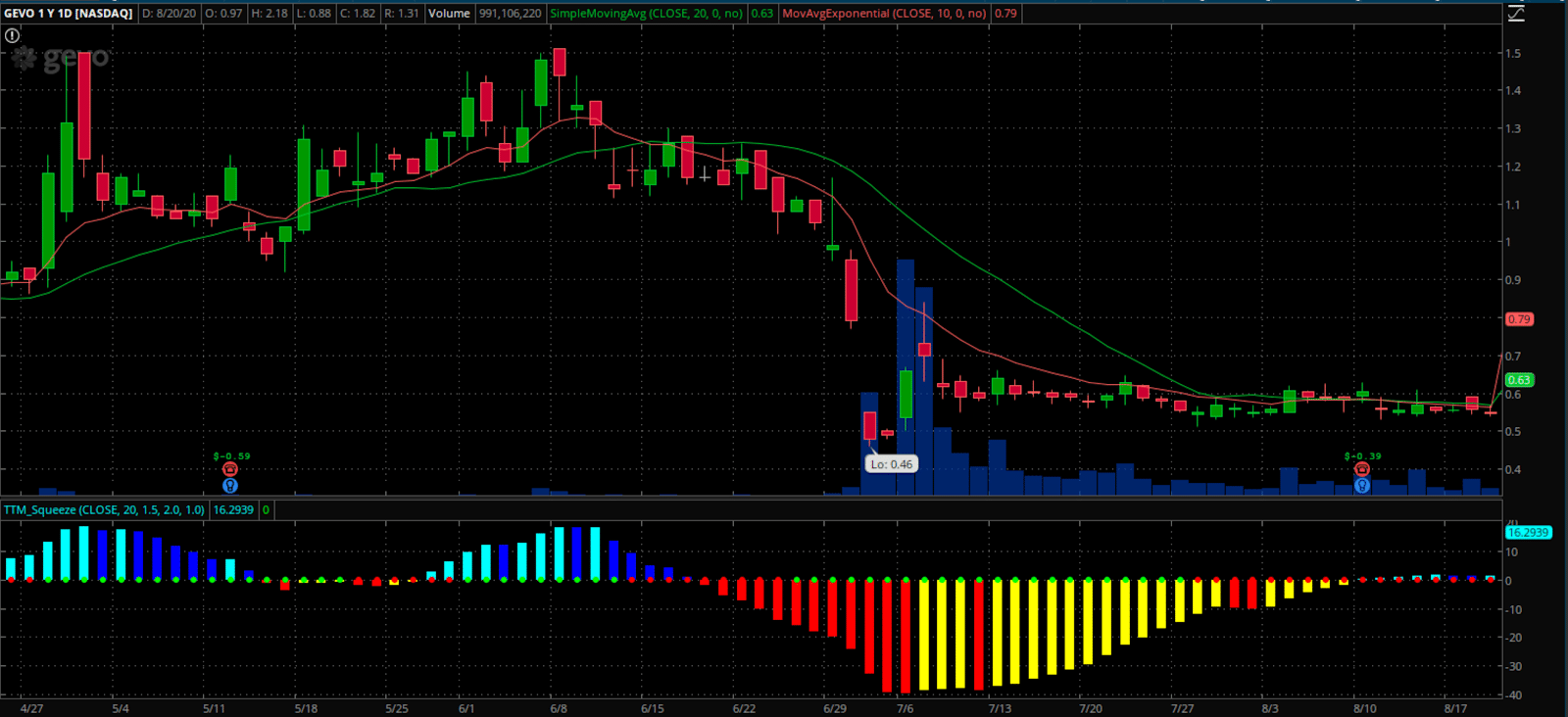 Source: Thinkorswim
This stock looks like it's a boring and sleepy stock since it's sell off a few months ago
Then this happened

Now looking at the 5 minute chart when the alerts started to hit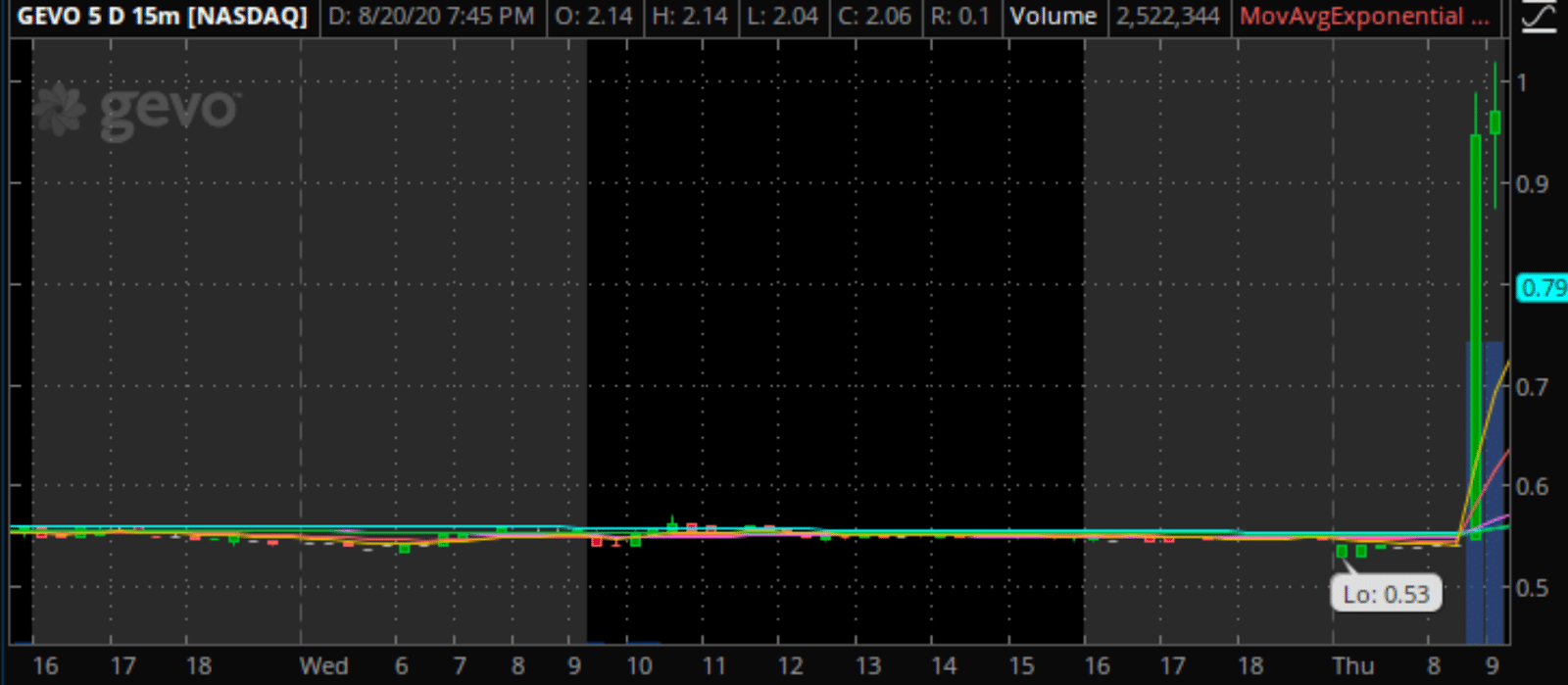 Source: Thinkorswim
You can see this stock already made a huge move in the pre market, but it's looking like it can still go higher based on the daily charts
It seems it was all based on this catalyst

Source: Thinkorswim
And if you take a look at the trading plan above you can get a quick idea how to handle this trade
But did you see how sleepy the stock was, and how it was primed to take off higher with the slightest interest?
And I laid out where I was going to buy, take profits, and have a hard stop in case things go badly.
So this checks off both boxes, accuracy and timing on this trade by following this alert.
We were able to know exactly what stock to trade and at what price, making it a perfect dark pools trade.If you're struggling to come up with ideas, then check out how I only trade the SPY and have won over 90% of the trades on the year