What a crazy time we are in these days
Markets go up on bad news, down on good news
And then, they go sideways when you expect a trend
That's enough to drive anyone mad.
But you see, in the Dark Pools, volume in king
And when volume comes into a stock, the market responds with a strong trend
Recently, a ton of volume came flowing into these three stocks and caused my Dark Pool scanner to alert me to this price action
Now, if these stocks gain any traction… it will be off to the races before you can blink
Which is why I am adding these 3 stocks to my Dark Pool watchlist, so I can keep a close eye on them and pick them up when the market tells me to.
Advanced Microprocessors (AMD: NASD)
AMD has proven they could design a new processor and compete with the big dogs.

Not only did they show up, they ate the lunch of INTL (their main competitor).

If AMD shows more price action in the Dark Pools during a pullback, it might be a top candidate on my watchlist going into earnings next week.

Update: AMD continues to prove they can lead the pack with industry-leading processors after their new lineup of CPUs was dropped this year

AMD was upgraded by the major banks, such as Wells Fargo, Goldman, and Barclays
Here's what I see on the chart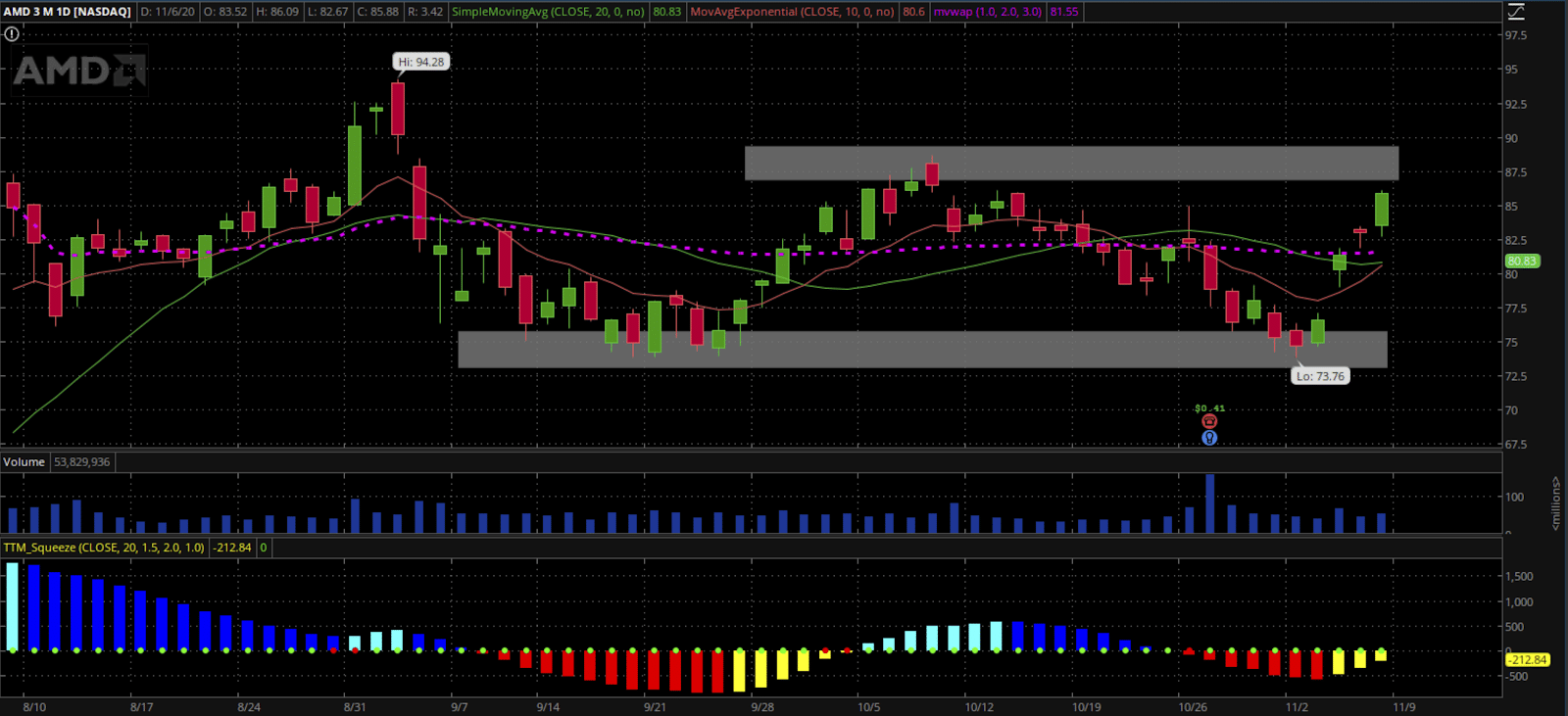 Source: Thinkorswim
In my opinion, that was a healthy pullback to enter the trade on.
And as a momentum trader, I want to see the upper resistance broken and retested before I enter this trade
Which is why it's got its place at the top of my watchlist.
NIO Limited (NIO: NYSE)
NIO has been on a hot streak lately, and I've been eyeballing where to trade this for a while now.
Here are some key points about NIO to consider:
UBS upgraded NIO from a Sell to Neutral

Morgan Stanley upgraded from Equal Weight to Overweight

JP Morgan upgraded from Neutral to Overweight

The EV market is only going to improve in the near future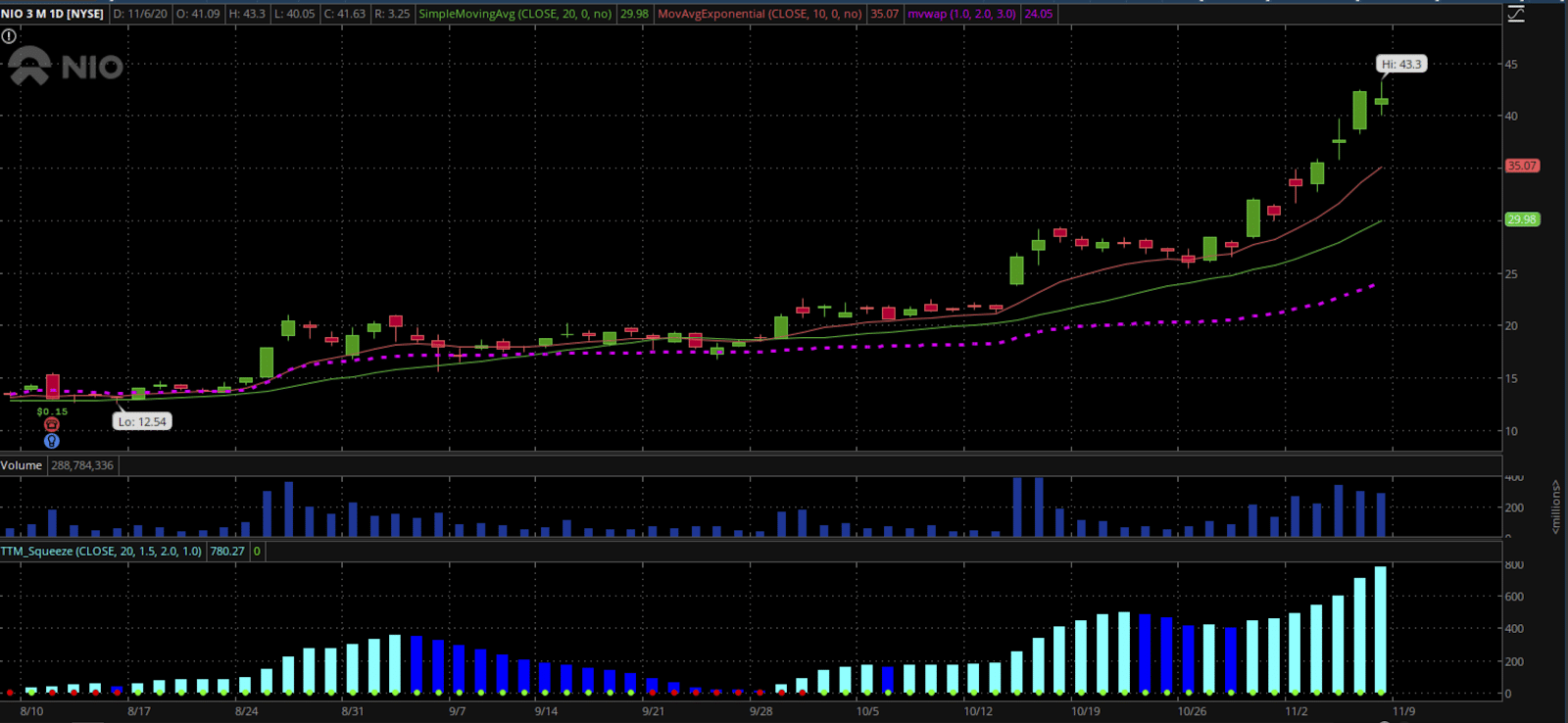 And the more the EV market is in the headline news, NIO is in the spotlight
Plus, if the elections favor electric companies over oil, this sector could erupt in the months to come.
So, it's time to put this hot EV stock on my watchlist and keep an eye on it for a chance to enter and ride the momentum higher
LI Auto (LI : NASD)
This stock is tied into the EV markets with the likes of TSLA and NIO.
LI designs, develops, manufactures, and sells smart electric sport utility vehicles (SUVs) in China.
It offers Li ONE, a six-seat electric SUV that is equipped with a range of extension systems and cutting-edge smart vehicle solutions. T
Li Auto was founded in 2015 and is headquartered in Beijing, China.
Now even though it's on my watchlist, it's got a lot of characteristics of an IPO trade.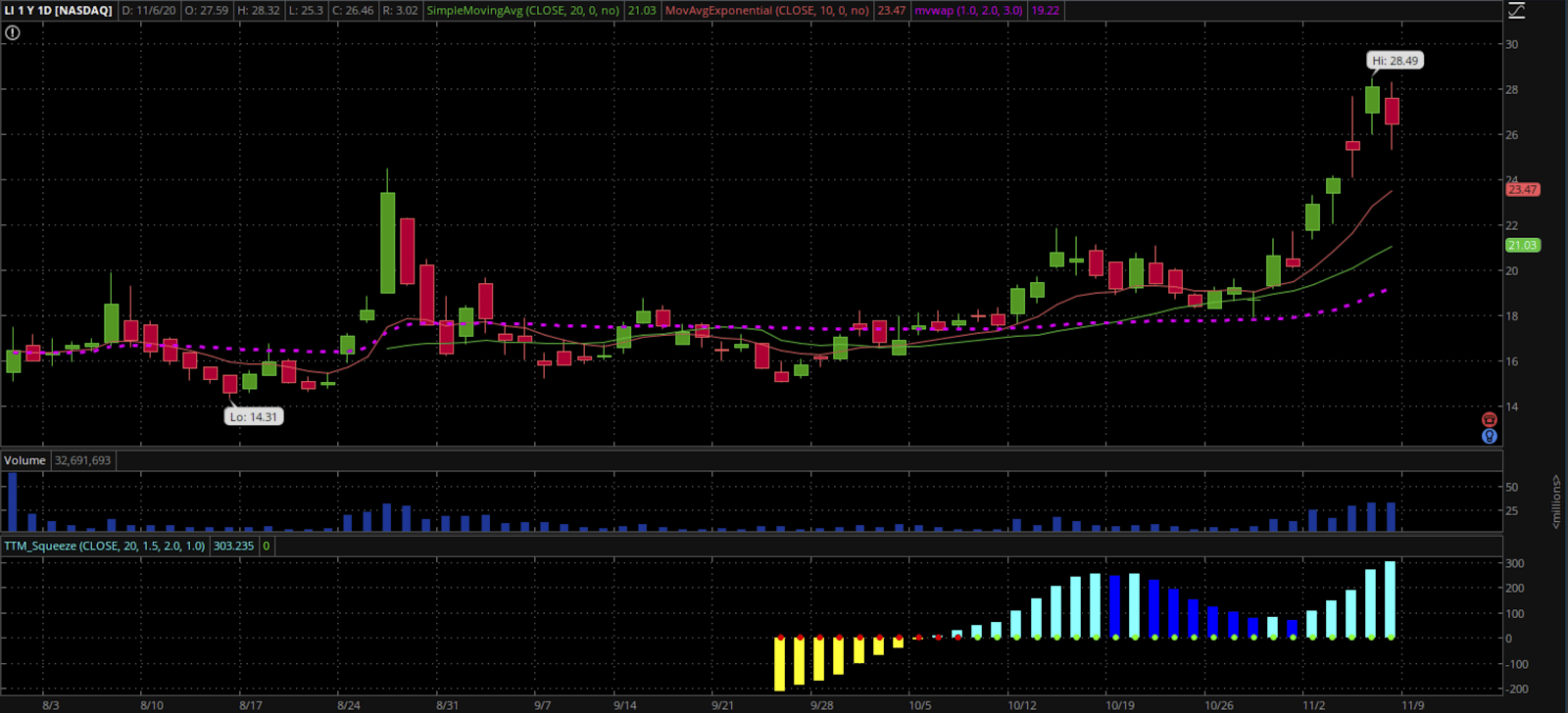 What I'm looking for:
A pullback into support levels now that its ran from its resistance breakout

Period of consolidation at the support level

Daily volatility squeeze to trigger
Once that happens I'll look to get long the stock, but only my Dark Pool Profits members will know if I make this trade
Learn How I'm Trading The Dark Pools
I'm expecting to see a ton of Dark Pool trading opportunities coming up after the election.
But regardless of whether I decide to trade NIO, AMD, or LI, or skip them entirely, there is a lot of opportunity to piggyback off of the "smart money" by monitoring the dark pools.
And so far this year, I've landed not only a bunch of 100% winners, but all the way up to a 500% winner just by following the order flow*
Now, I know this might not always happen, but in my opinion, I can put the odds in my favor by following the researchers who find these trades for the hedge funds.
Then all I need to do is sit back and watch the Dark Pool scanner each day as these trades hit.
And only when I find a trade that I want to be involved in, I will only be sending the alert to my Dark Pool Profits members.
So even though these 3 stocks are on my watchlist, that doesn't mean I will be trading them right away. I'll be sure to let premium subscribers know about my moves.
If you want to learn how to piggyback off of Wall Street's largest players, each and every day…. Make sure you join me at Dark Pool Profits