If you've been following my strategies for awhile, you know that volume is one of my favorite indicators.
For me, volume is to stock trading what turkey is to thanksgiving. It's the first essential ingredient that I look for in a great potential trade.
It's how I know that a stock can generate enough interest to serve up some tasty gains.
Why?
Because high trading volume means that a stock can gain enough momentum to form a trend.
High trading volume also means that I'm going to be able to exit a trade at the price I want.
If a stock doesn't have high volume, you might still see a huge move— but you may get stuck holding it because not enough traders want to buy it back, and you could lose a lot of money.
So if the volume isn't there, then something just doesn't smell right to me.
Today, I want to share 3 relatively recent IPOs that are showing high volume and great momentum I'm looking to ride.
p
Canaan (CAN)
Canaan is a computer hardware manufacturer based in China. The company specializes in Blockchain servers and provides solutions for bitcoin mining.

Read this article here about how I took 200% gains off MARA

*, a similar blockchain stock, by the way.

CAN is an especially hot stock right now because bitcoin is approaching all-time highs of $18,856 set in December of 2017 and could cross it any day now. That said, there's a lot of FOMO in this space right now and if bitcoin blows past ATH, we could see a parabolic move from CAN

CAN has an average trading volume of 2.82M and a current trading volume of 12,048,212 shares, which means that things are heating up right now.

Aside from the overall bullishness of bitcoin right now, there's another catalyst for CAN on the short term horizon. CAN reports 3rd quarter 2020 earnings results on November 30th. That's exactly a week from today, so there's still time left for a runup.

I'm interested in looking for a runup to CAN's previous $6 highs set in May. Though if bitcoin breaks past ATH, we could anticipate CAN to push higher with it. As always though, bitcoin is a high risk trading environment, so I'd be sure to have appropriate stops in place.

Data Dog (DDOG)
Datadog is a cloud services application provider that provides monitoring of servers, databases, and tools for enterprises.

DDOG has been on major runup this year, given that the pandemic has benefitted tech stocks and anything that supports online services. Most recently, however, positive vaccine news from Pfizer and Moderna has caused a major selloff in tech stocks like DDOG, providing us with some gorgeous buy-the-dip opportunities.

Datadog's fundamentals are still strong so I see no reason to avoid the stock. The company recently posted 3rd quarter revenues that increased 61% year over year to $155M and beat earnings estimates by $10M.

DDOG is currently trading at a high volume of 2,335,396 shares.

Over the past week, we've seen DDOG testing support levels just above the $80 level. The stock has been holding nicely and is showing signs of a potential reversal. I'll be looking for an initial move to $100, with potential to regain all-time highs at $115.

Peloton (PTON)
A company that probably nee

ds little introduction, Peloton is a company that sells at-home exercise bikes and media equipment.

PTON has been a real growth stock throughout the pandemic, their bikes have been selling out as people have looked for at-home exercise alternatives to gyms.

Check out how I timed an earnings move in PTON here.

With positive vaccine news from Pfizer and Moderna, PTON took a hit and sold off with increased optimism of a reopening of the economy. However, I feel that's a knee jerk-reaction and that PTON can thrive in a post-pandemic world. PTON trading volume is currently 17,231,855.

PTON has a strong revenue model that is based on monthly subscription services on top of the few thousand dollars that people pay for the bike. At the moment, holiday season is nearing and I think we could see an uptick in purchases of their bikes.

PTON has already been showing signs of a reversal, having dropped just below $100 and held nicely. I'll be looking for an initial move to $125 with a chance to regain all-time highs a bit later.

Join Me as I Trade IPOs in Real Time
You might not realize this, but I trade IPOs differently than most people do. A lot of people think about the IPO scene as a buy and hold investing opportunity.
But unlike most people, I'm usually not buying IPOs right out of the gate and chasing the hype. I like to wait for a history of price action— as well as demonstrated volume and momentum— before making my moves.
I also like to factor in catalyst events like earnings that have the potential to really move stocks.
Take, for example, this move in Pinterest (PINS) that I capitalized on last week…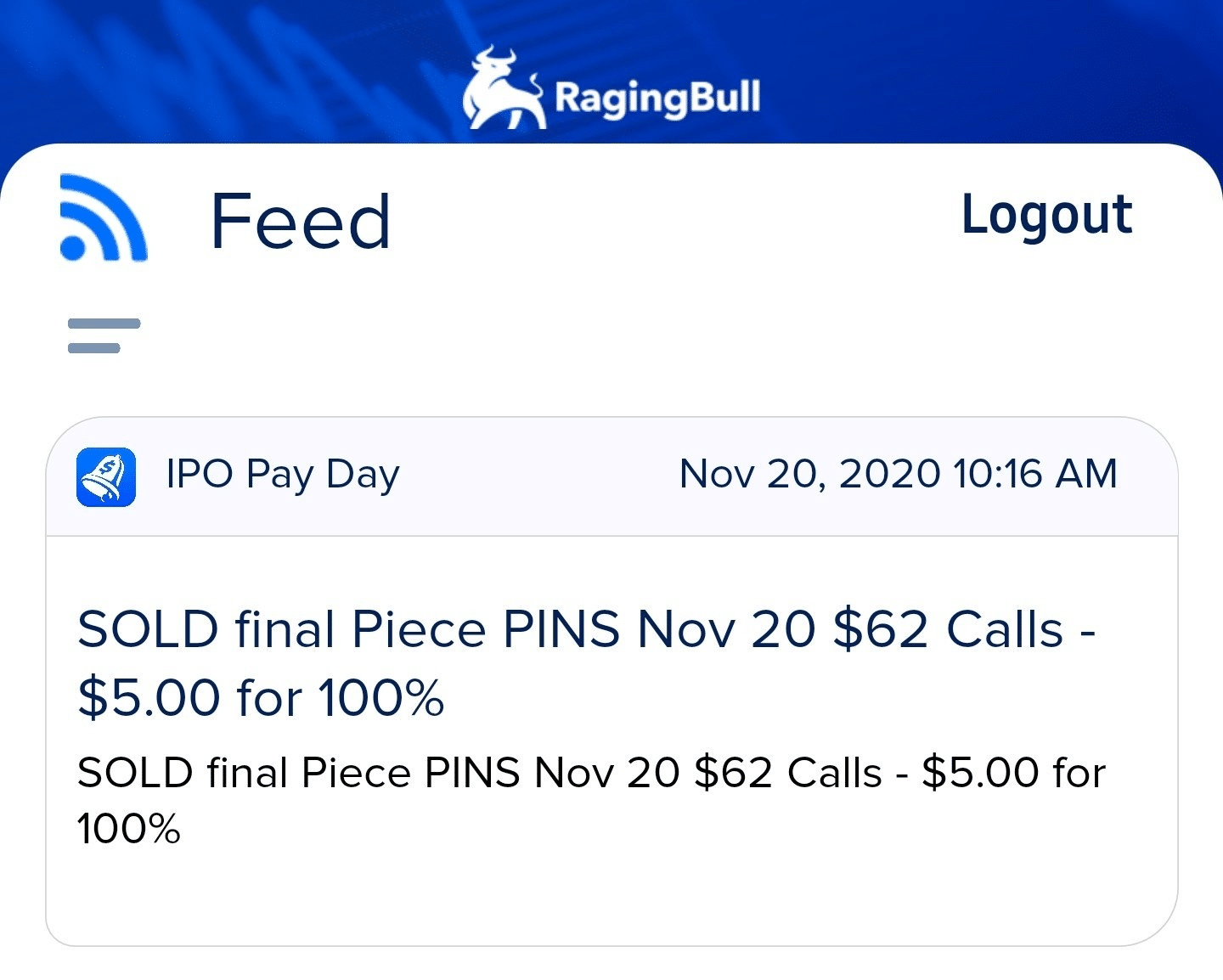 To learn how I'm trading recent IPOs through my alerts straight on the RagingBull, and to find out if I put on trades in CAN, DDOG, and PTON, join my IPO Payday trading service here.