It's that time of week where I give you my top picks out of the Dark Pools
Last week I landed haymakers left and right just by following the smart money
Check out how I wrapped up the week – reeling in a cool 200% winner in FIZZ.*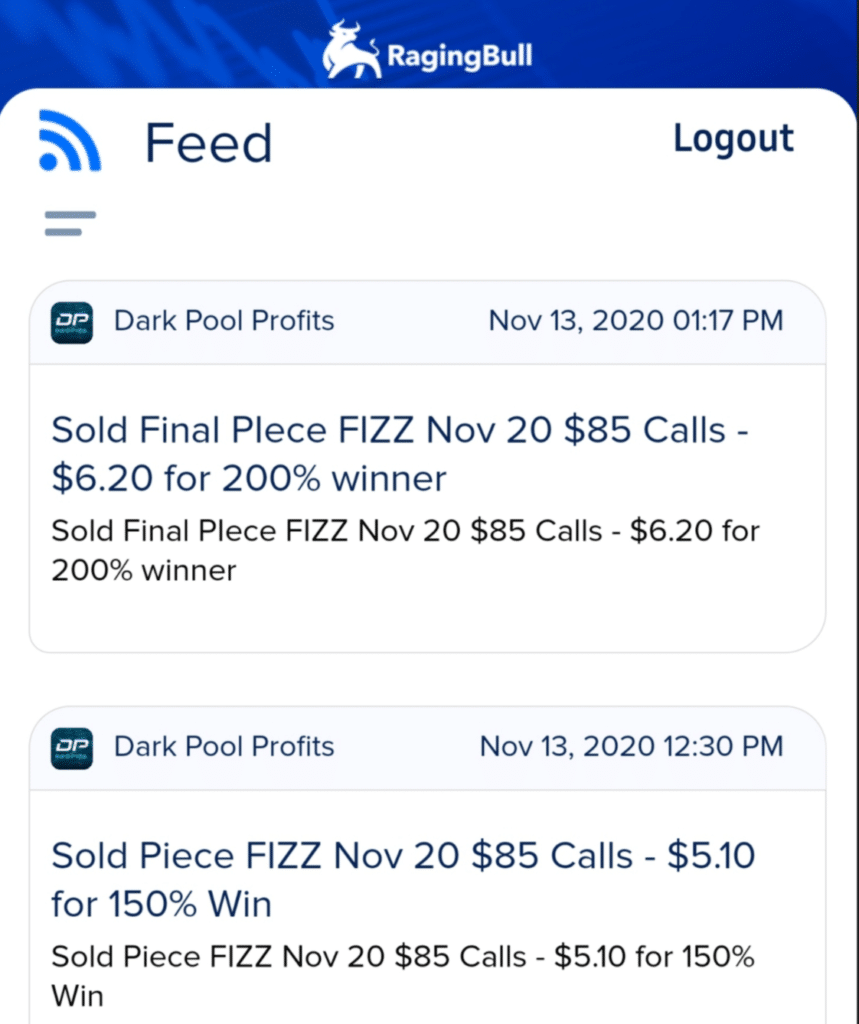 Now I hate to brag, but as I land win after win of triple-digit returns, I just can't hold it in any longer
You're missing out on a trading strategy that is focused on following the volume of the major institutions
Maybe you think these trades don't happen that frequently?Well… what if I told you that I land trades like this every week and every month?*
Now, I don't know what the future is going to bring, but I can tell you that the Dark Pools have been very profitable for me.*
In my opinion this is the only real edge you can get in the markets
So here is a list of my favorite stocks heading into next week
Chewy Inc. (NYSE: CHWY)
The company provides pet food and treats, pet supplies and pet medications, and other pet-health products, as well as pet services for dogs, cats, fish, birds, small pets, horses, and reptiles

It offers approximately 60,000 products from 2,000 partner brands.

With COVID-19, many people are adopting fur-babies into their families at record rates

These new additions to families need toys, food, and other products to support them now that many people still don't want to shop in stores

From a technical point of view, I want to see more consolidation near all-time-highs before entering a position

From an order flow and volume analysis, I want to see large institutions and traders coming into the stock. This means there is more than just retail interest in this stock, and this sized order flow can push a stock of this size higher
Here's what I see from the charts: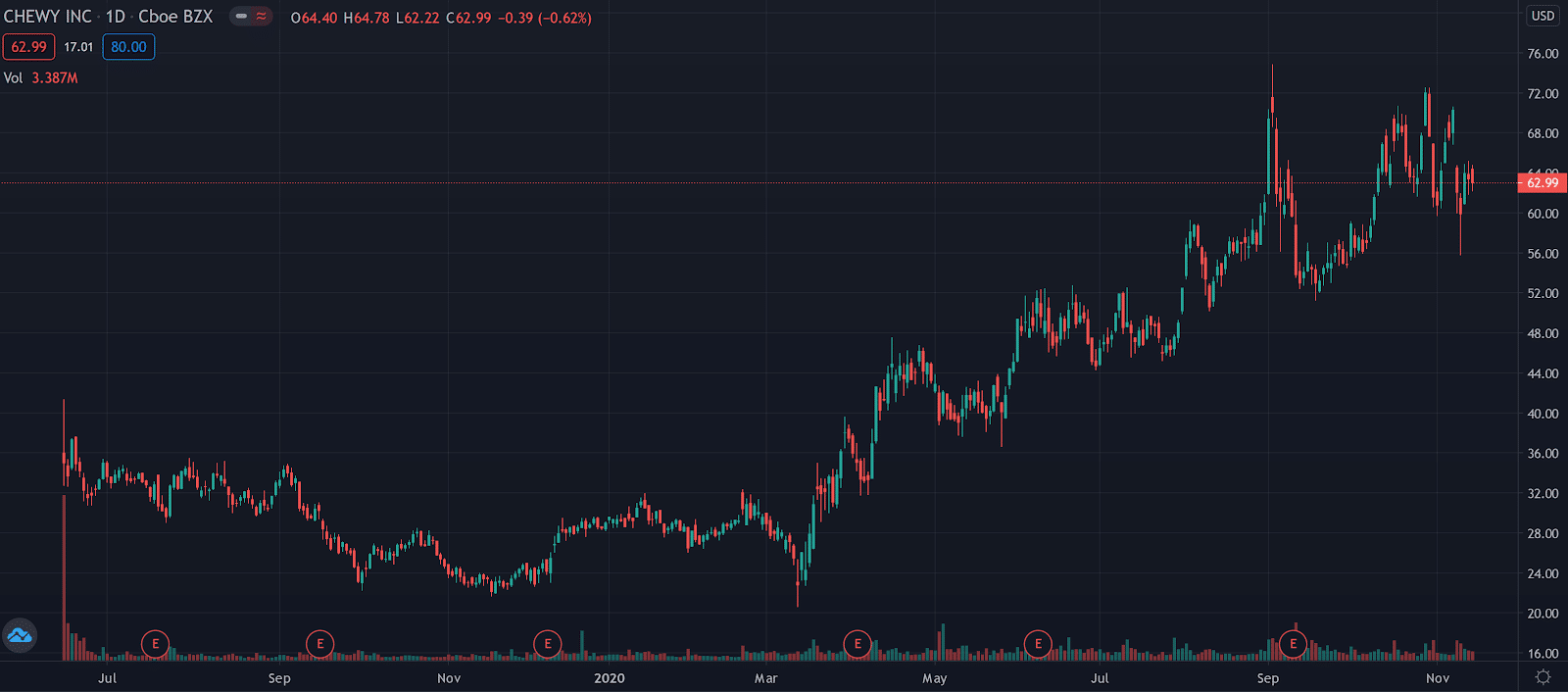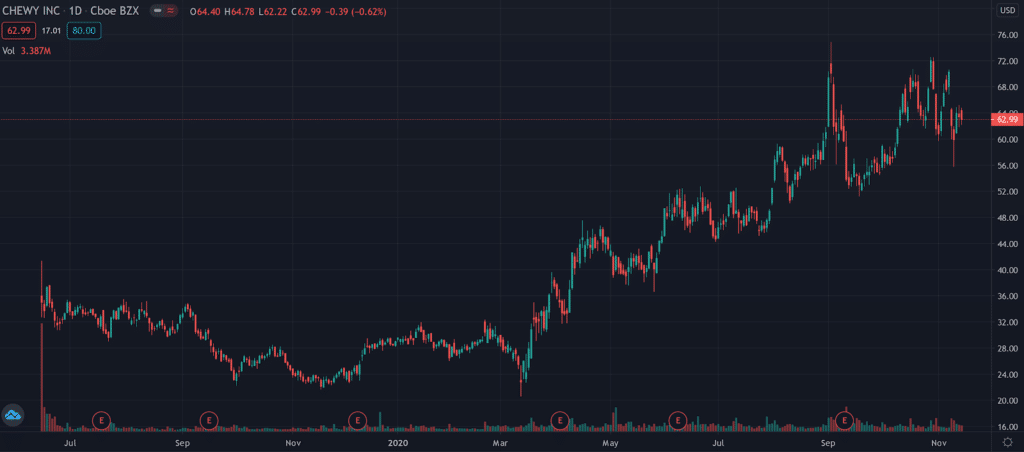 Uber (UBER)
UBER is actively engaged in self-driving car technology, under the company Uber Advanced Technologies Group, UberATG

Upgraded by major financial institutions in 2020, to outperform and buy ratings.

UBEREats is rapidly expanding due to the increased demand for takeout food delivery during COVID-19

UBER Eats could get a boost from its rival, DoorDash's IPO that is expected to by the end of the year

Technically, the chart looks strong and a break of all-time-highs could trigger a surge of momentum higher

I am waiting for a surge of institutional money to flow into this stock before taking any trade, otherwise, it could be setting up for a bull trap.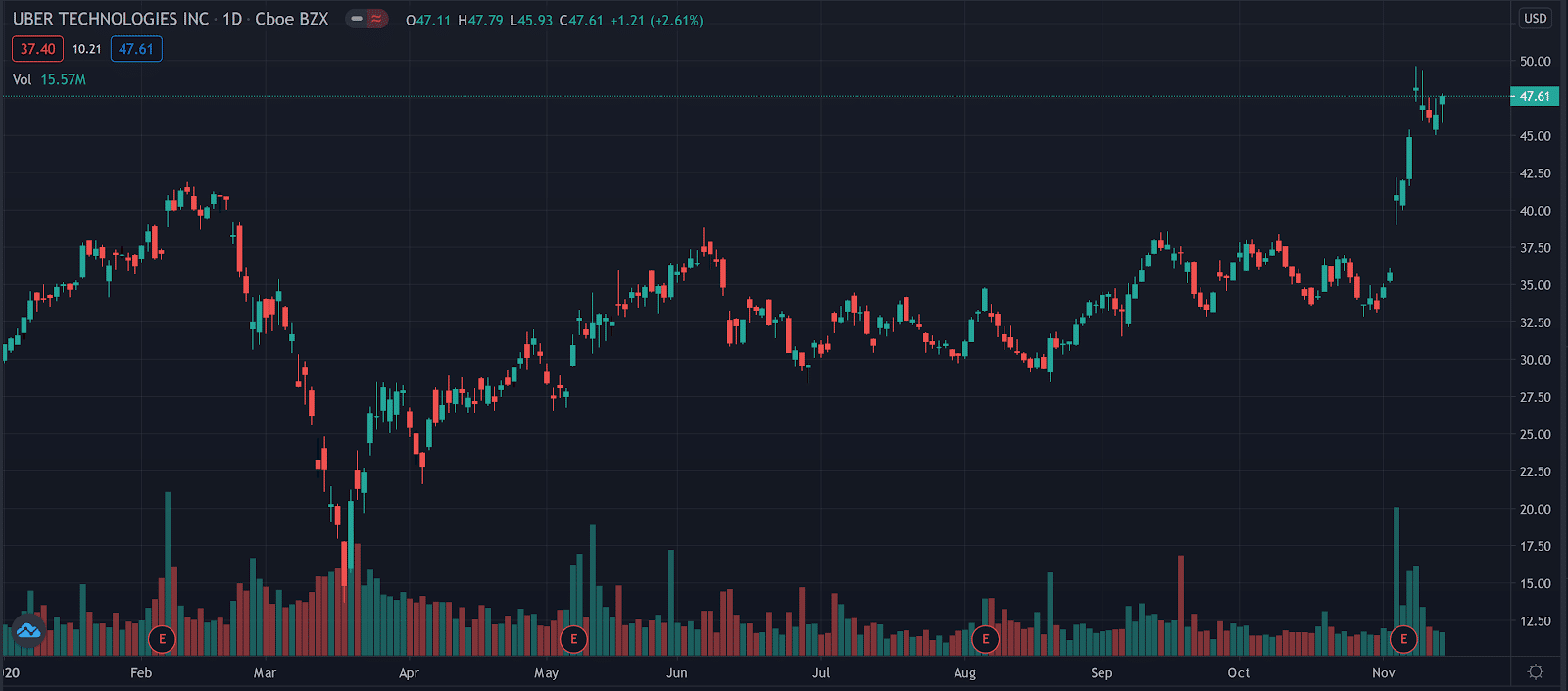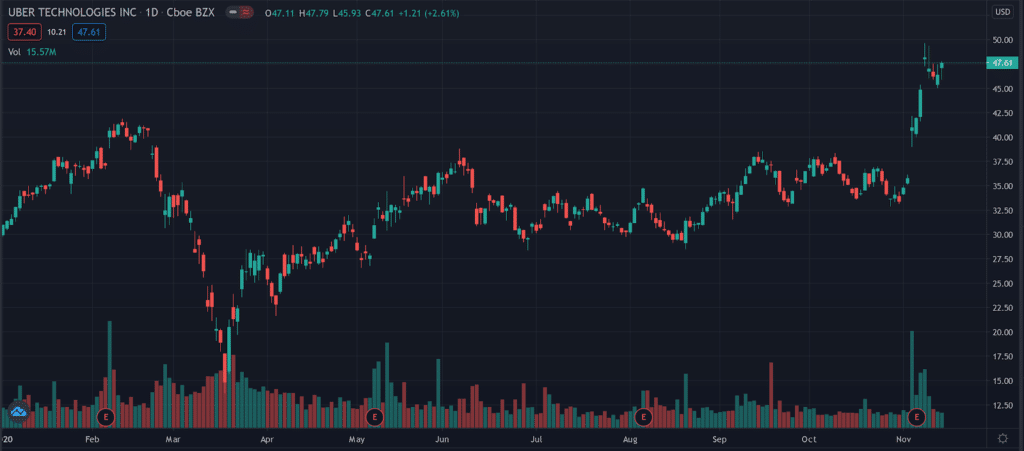 Go-Go (GOGO)
Gogo, is an in-flight internet provider, allowing planes to fly smarter, airlines to perform better and passengers to travel happier.

Even if this is a time where COVID has crippled the airline industry, Gogo has seemed to hold on despite a possible sale of the company came up

As airlines rebound when a vaccine is created, customers who start to travel will expect the luxury of the internet to be available to them in the skies

Technically, the chart of GOGO shows me buyers are here to stay, including large institutional holdings

Morgan Stanley now owns 3,635,822 shares of the technology company's stock valued at $7,707,000 after purchasing an additional 1,423,670 shares during the period

Holdings Lp Silver purchased 2,606,359 shares of Gogo stock in a transaction on Friday, September 4th. The stock was bought at an average cost of $10.14 per share, with a total value of $26,428,480.26.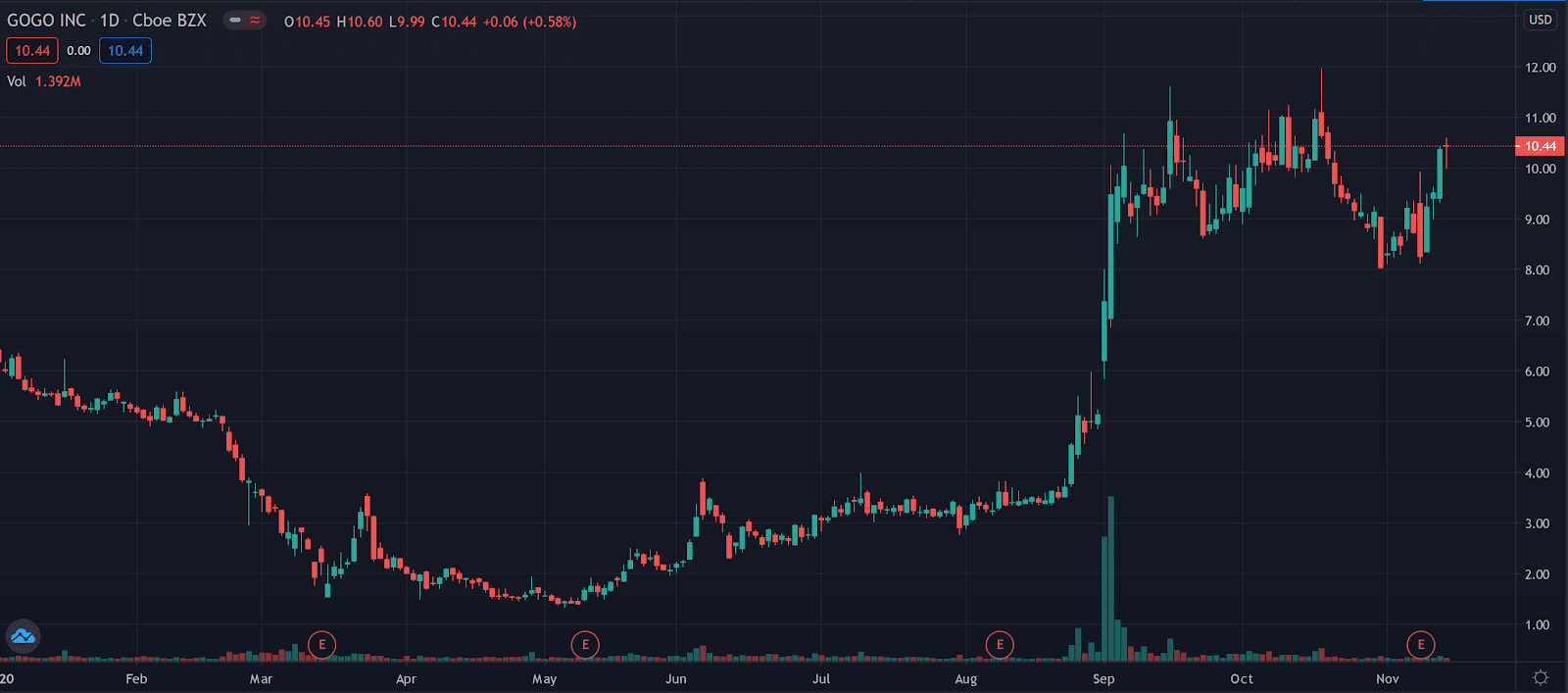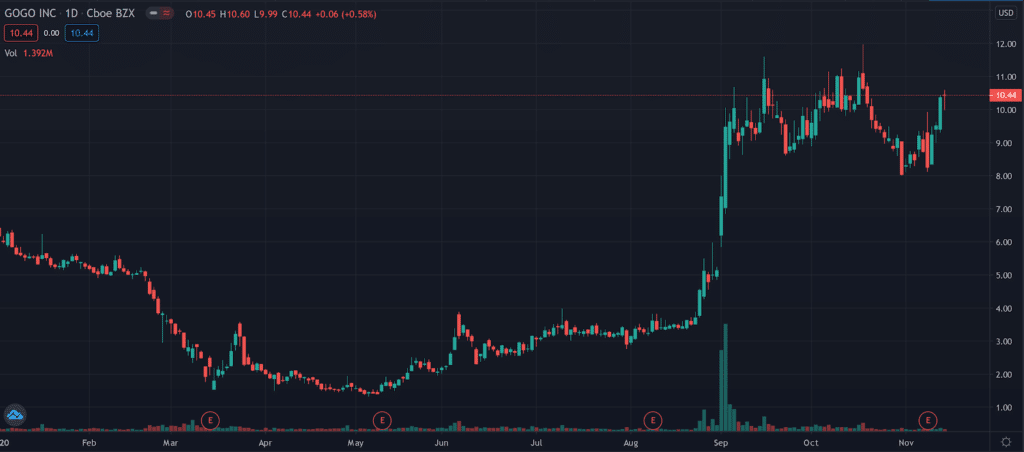 Learn How I'm Trading The Dark Pools
I'm expecting to see a ton of Dark Pool trading opportunities coming up after the election. And now that funds aren't nervous about the outcome, I'm hoping they open their wallet and increase their spending on stock bets.
But regardless of whether I decide to trade CHWY, UBER, or GOGO, or skip them entirely, there is a lot of opportunity to piggyback off of the "smart money" by monitoring the dark pools.
And so far this year, I've landed not only a bunch of 100% winners, but all the way up to a 500% winner just by following the order flow*
Now, I know this might not always happen, but in my opinion, I can put the odds in my favor by following the researchers who find these trades for the hedge funds.
Then all I need to do is sit back and watch the Dark Pool scanner each day as these trades hit.
And only when I find a trade that I want to be involved in, I will only be sending the alert to my Dark Pool Profits members.
So even though these 3 stocks are on my watchlist, that doesn't mean I will be trading them right away. I'll be sure to let premium subscribers know about my moves.
If you want to learn how to piggyback off of Wall Street's largest players, each and every day…. Make sure you join me at Dark Pool Profits