We've experienced an enormous digital transition over the past 8 months.
All of the sudden, we're interacting and transacting online more than ever before.
Prior to the whole world being forced to undertake social distancing measures, our experience was Physical First.
That meant we'd first meet in person, have a discussion, and then follow up with an email (Digital Second).
Now, more so than ever, it's the opposite— digital interactions precede in-person interaction.
So what does it mean for our trading?
It means that we have to keep an eye out for stocks that continue to support the digital economy.
But I'm not talking about stocks like Zoom (ZM), DocuSign (DOCU), and Paypal (PYPL)— all yesterday's news.
I'm talking about stocks in areas like cybersecurity, especially.
With more people online now, cybersecurity criminals are rampant right now.
Global cybersecurity is on pace to hit a market size of $208 billion in 2023, up from $150 billion in 2019.
So it comes as little surprise that McAfee, well-known computer security company, is going public this week.
I want to reveal what it's IPO potential is and how I'm potentially trading it.
McAfee All Started with… the Man, the Legend
McAfee was founded in 1987 by the notorious John McAfee.
He started the company as an antivirus platform that some of the worlds biggest companies started using, and it was quickly generating $5 million per year by the end of the 1980's.
He then resigned from the company in 1994.
McAfee a pretty wild guy and if you haven't seen our elite chatroom podcast interview with him, check it out here.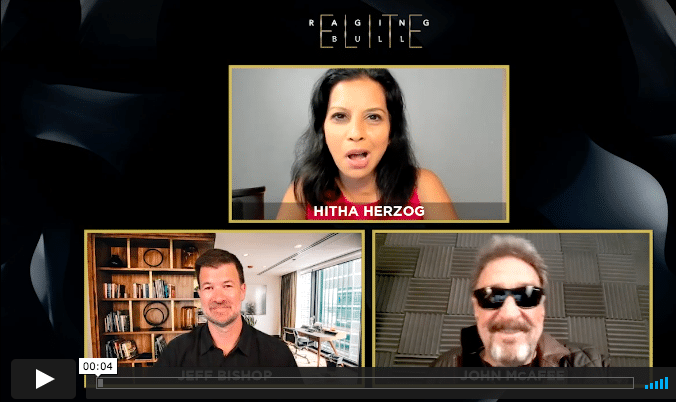 McAfee Goes Public Again— Is the Second Time the Charm?
This week isn't the first IPO go-around for McAfee though.
As you may remember, the company went public in 1999, in the heat of the dot.com boom.
It was then taken private in 2011 by Intel, which later sold a majority stake of $4.2B to TPG, a private equity firm.
With McAfee now going public again, there are a few features that could distinguish it this time around though.
And I'm not just talking about the fact that traders may get long on it because of the growth of the cybersecurity market.
The company serves a wide range of customers— from consumers to enterprises to governments.
On the consumer side, its products have protected over 600 million devices, as of June 27, 2020.
The McAfee products include:
IntruShield

McAfee Change Control

McAfee DAT Reputation

McAfee E-Business Server

McAfee Entercept

McAfee SiteAdvisor

McAfee VirusScan
On a larger scale, the enterprises that McAfee helps protect include many within the Fortune 100, Fortune 500, and Global 2000.
Because of such widespread use of its products, the company is currently profitable.
In the fiscal year of 2019, it generated over $2.6B in revenue.
That's quite unlike most tech IPO companies coming to market these days, which are significantly newer and not yet profitable.
Word has it that McAfee has been thinking about going public for over a year now, but the company finally decided to jump in amid the flurry of recent IPO successes.
How I'm Trading McAfee (MCFE)
McAfee intends to list on the Nasdaq under the symbol MCFE.
The company has some solid underwriters, including Morgan Stanley, Goldman Sachs, TPG Capital BD, BofA Securities, and Citi.
It plans to offer 37M shares at a midpoint price of $20.50 per share.
While I'm liking the topline revenue growth of McAfee, I'm not loving the company's debt load and how it plans to use the proceeds of its offering.
The company will use the proceeds to pay off debt.
That includes $525 million to repay its Second Lien Term Loan and $22 million to pay certain affiliates of their sponsors and Intel.
Given these circumstances, I'll be cautious before getting long on MCFE straight out of the gate.
Though I will be keeping an eye out for opportunities to trade the IPO short.
To learn exactly how I'm trading MCFE, if I decide to trade it, my IPO Payday subscribers will be the first to find out here.