Dark Pools are the wild west of the trading industry
It's where the whales go to trade
You see, for a long time this segment of the markets were a secret only spoken about in shady NYC restaurants with the mob standing out back
The first rule about dark pools is you don't talk about dark pools.
The second rule about dark pools is you don't talk about dark pools
It was kept a secret until the government stepped in to regulate this murky underbelly of Wall Street
Now I found a way to monitor the trade flow and what I've seen has amazed me.
Back in March, I actually witnessed the feds buying stocks with the stimulus money to boost the markets when over $1 billion dollars hit the dark pools
And it didn't stop there…I saw millions of dollars in Biotech stocks from hedge funds betting on a vaccine.
Now I've targeted this one stock that's set to rip higher any day now.
Dark Pool Profits
Dark Pools are the 'high rollers table' for the millionaires
It's these dark pools that offer some of the most secretive trading venues in the world for the uber wealthy to buy and sell stocks in.
And many of the major banks all operate their own dark pool in hopes of these hedge funds to trade in
Want to learn more? Stay tuned for more information where I dig deep into Dark Pools and how they stand apart from the other exchanges.
Let's take a look at trades in the Dark Pools that sent stocks soaring higher.
Stocks Trading On Dark Pools Have Explosive Moves
When a stock trades on a Dark Pool, it's for a reason.
And the trades are so large it's clear to me an institution is behind the transaction.
Just take a look at this whopping $54 million dark pool trade in PFE


It's not everyday a retail trader will enter the market and buy that type of volume.
Then right after they bought the stock, news broke about


Causing the stock to rocket higher of the course of 5 days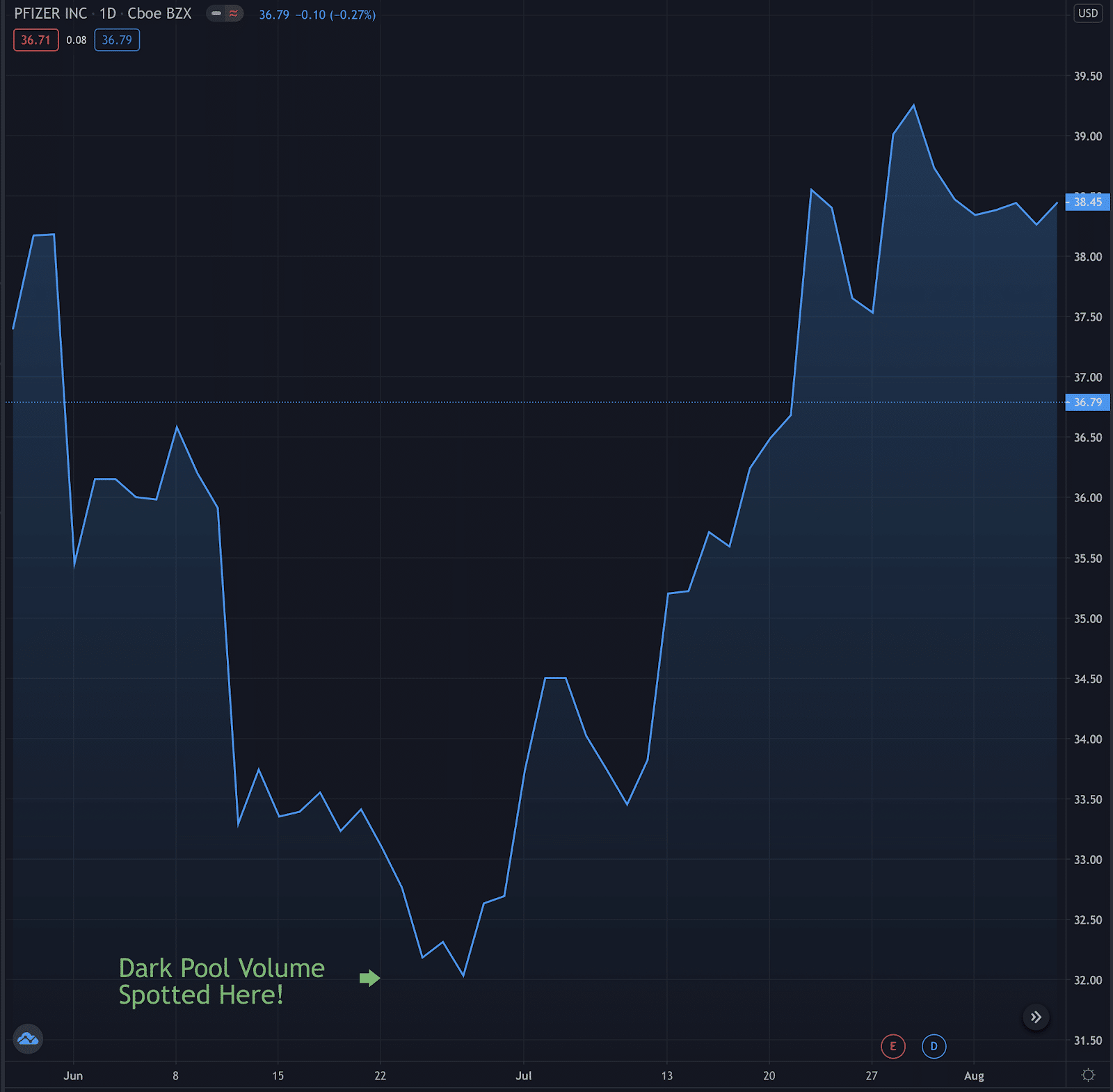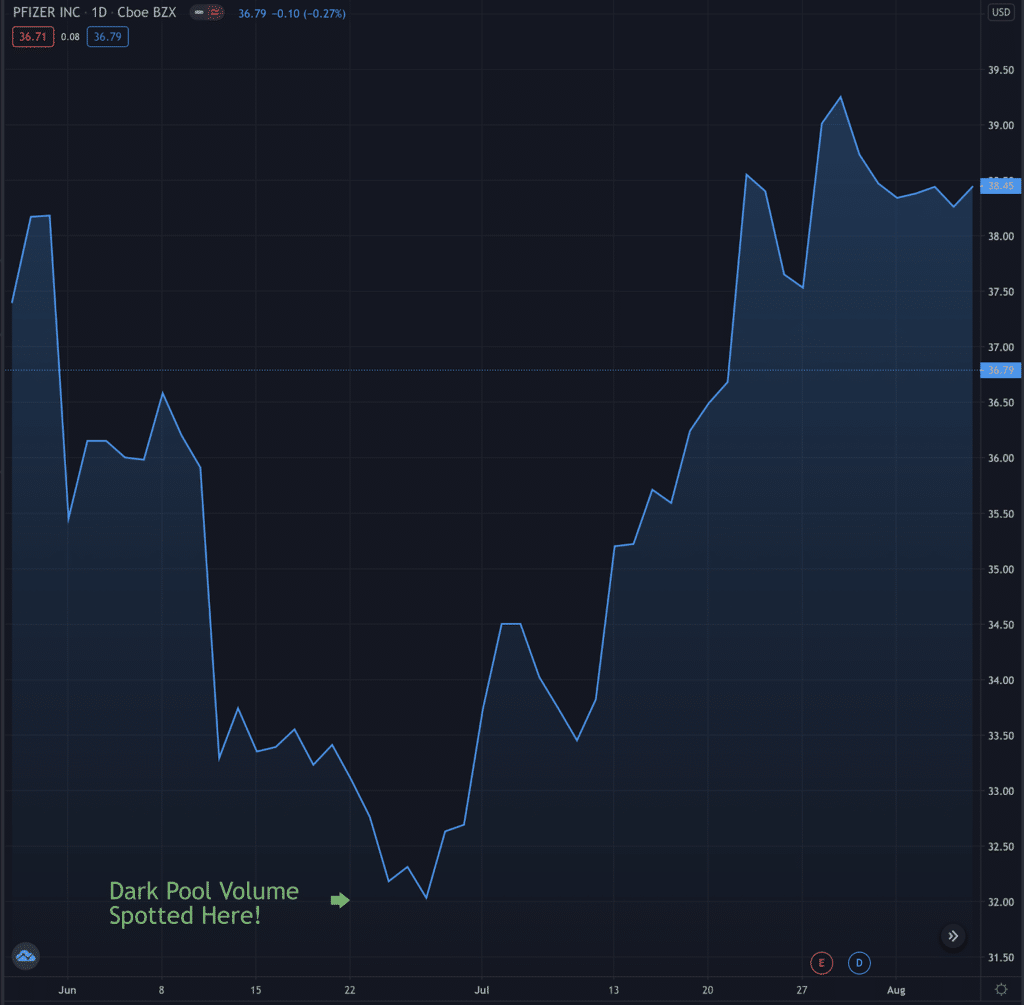 NIO For Massive Profits
News headlines read
Chinese electric car company, Nio (NIO) have seen shares soar 250% since its IPO in February of this year.
And electric vehicles are the way forward for the auto markets
So I knew that when this stock hit the dark pools, I had to pay attention
I sent this alert out on NIO the Dark Pool Profits members
NIO Sept 25 $19 calls — I picked these up on Monday on good activity on the scanner, unusual options activity, and a strong chart.
And before long, the calls erupted higher on huge volume in the markets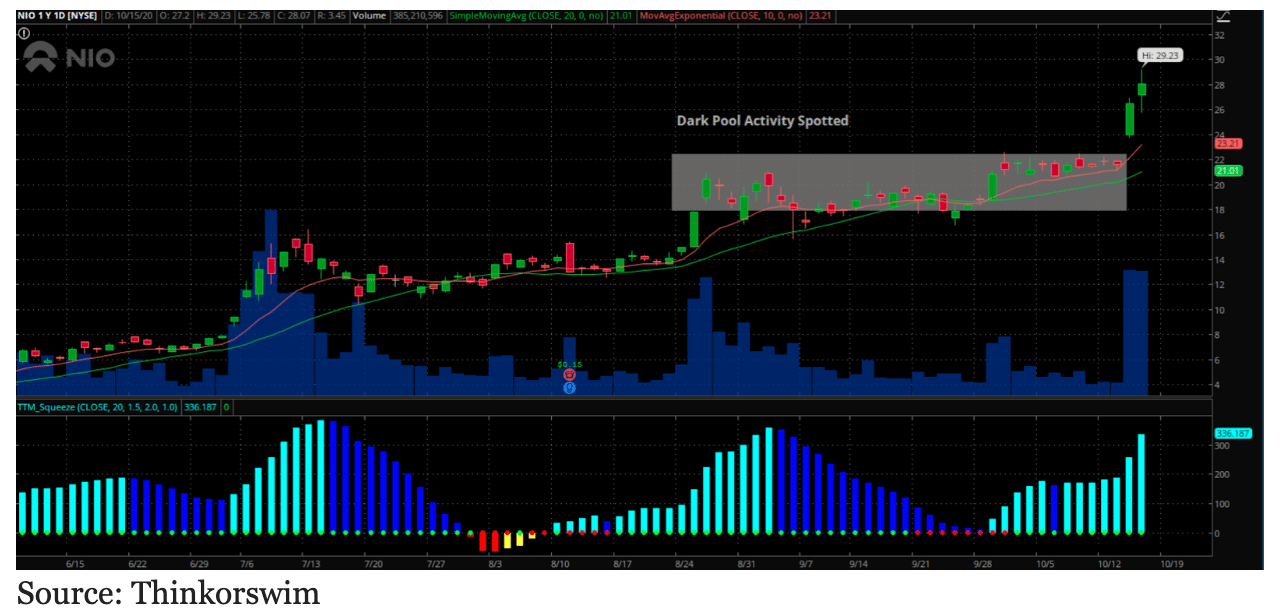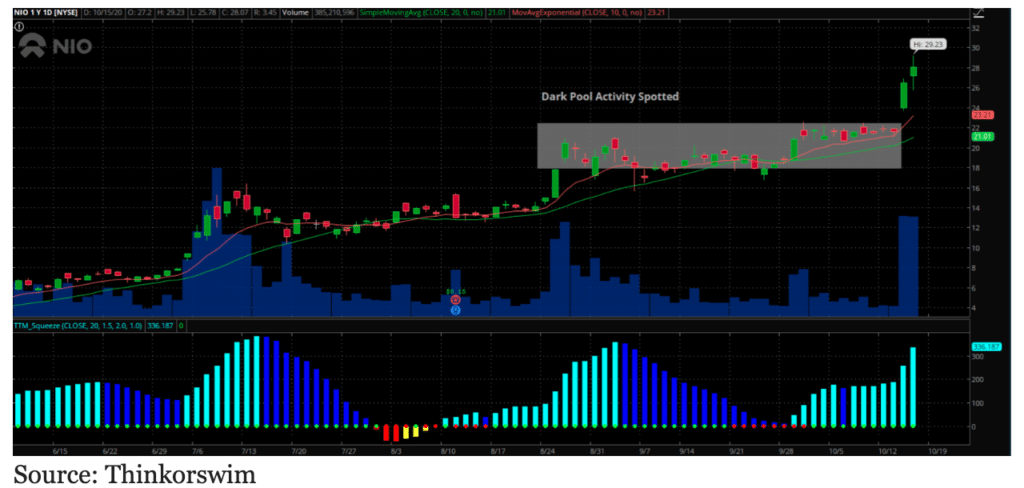 And the options were not far behind and I landed my best trade for 2020 with a massive 500% return!
Check this out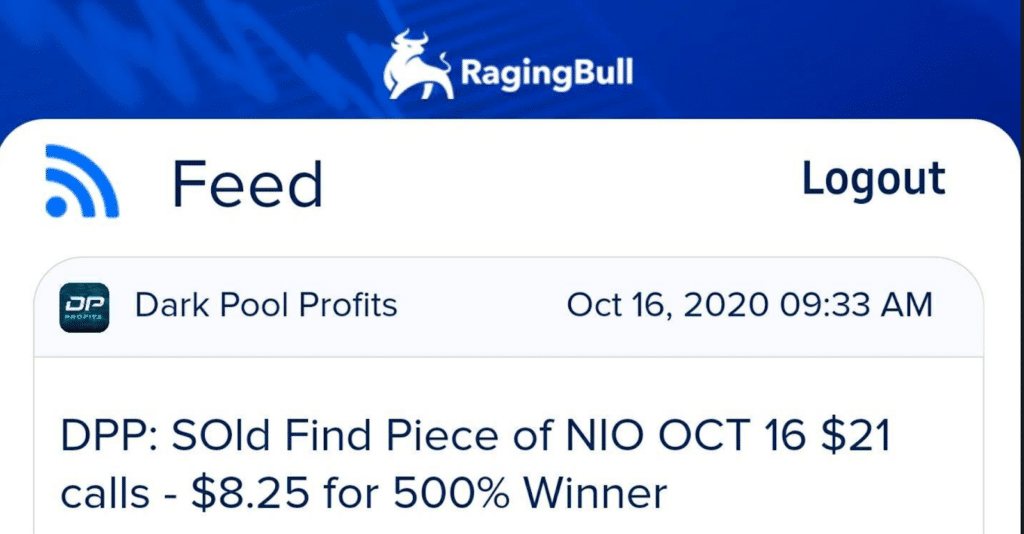 And recently, I've noticed this one stock that hit the Dark Pools and made me start to look deeper at what's going on.
MSFT Has Been Spotted Trading In The Dark Pools
And recently, I've noticed this one stock that hit the Dark Pools and made me start to look deeper at what's going on.
Over the last few weeks, I noticed that tech stocks in general were hitting the Dark Pools with higher than average volume
Now usually I wouldn't be worried as earnings season is about to begin.
But for Microsoft things were different
Not only has the tech sector been leading the market higher for most of the year, but I saw a squeeze on the Invesco QQQ ETF (QQQ) — an exchange-traded fund that tracks the price action of the tech-heavy Nasdaq-100 Index (NDX).
And MSFT is doing great fundamentally – the stock has one of the highest likelihoods of running into earnings over the past two years
So, last Friday I went ahead and added some MSFT calls to my Dark Pool Profits portfolio.


While this doesn't look as fancy as a JKS stock, I've made over 2x the profits
If you were to trade JKS perfect, you would have generated near 200% returns on that stock
But I was able to return 500% on MSFT when I traded options around Dark Pool alerts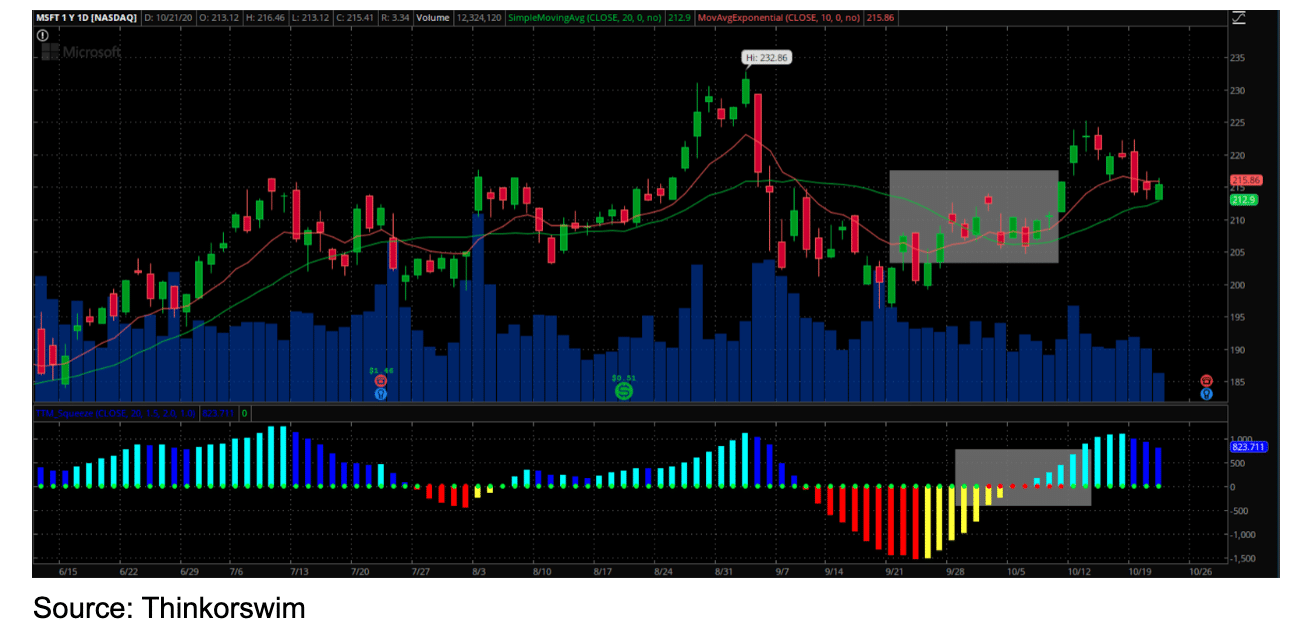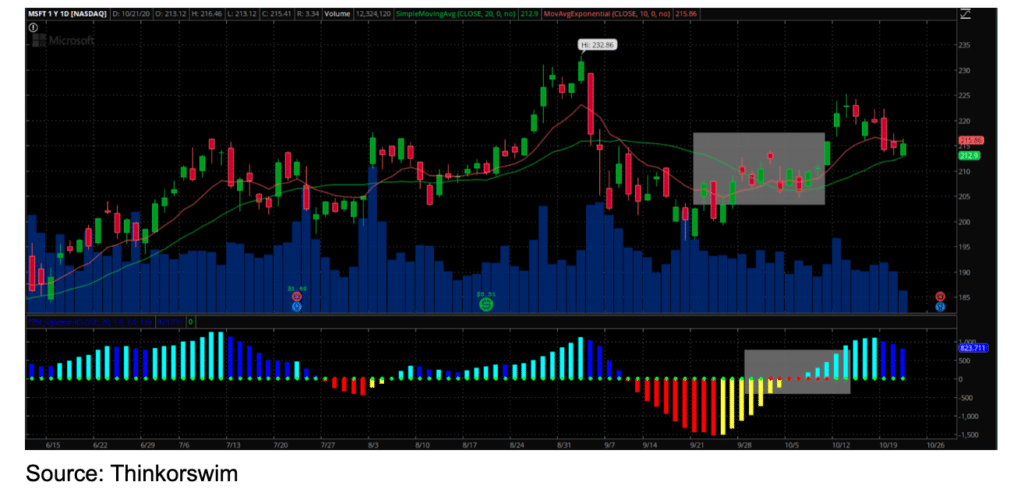 And MSFT has earnings coming up that has been exciting for the tech space in recent years.
Then…
News broke about a partnership with SpaceX for a huge "space cloud" buildout.


So while earnings are exciting, this expansion into the space markets is something that could be out of this world for MSFT.
Maybe it's SkyNet in real life.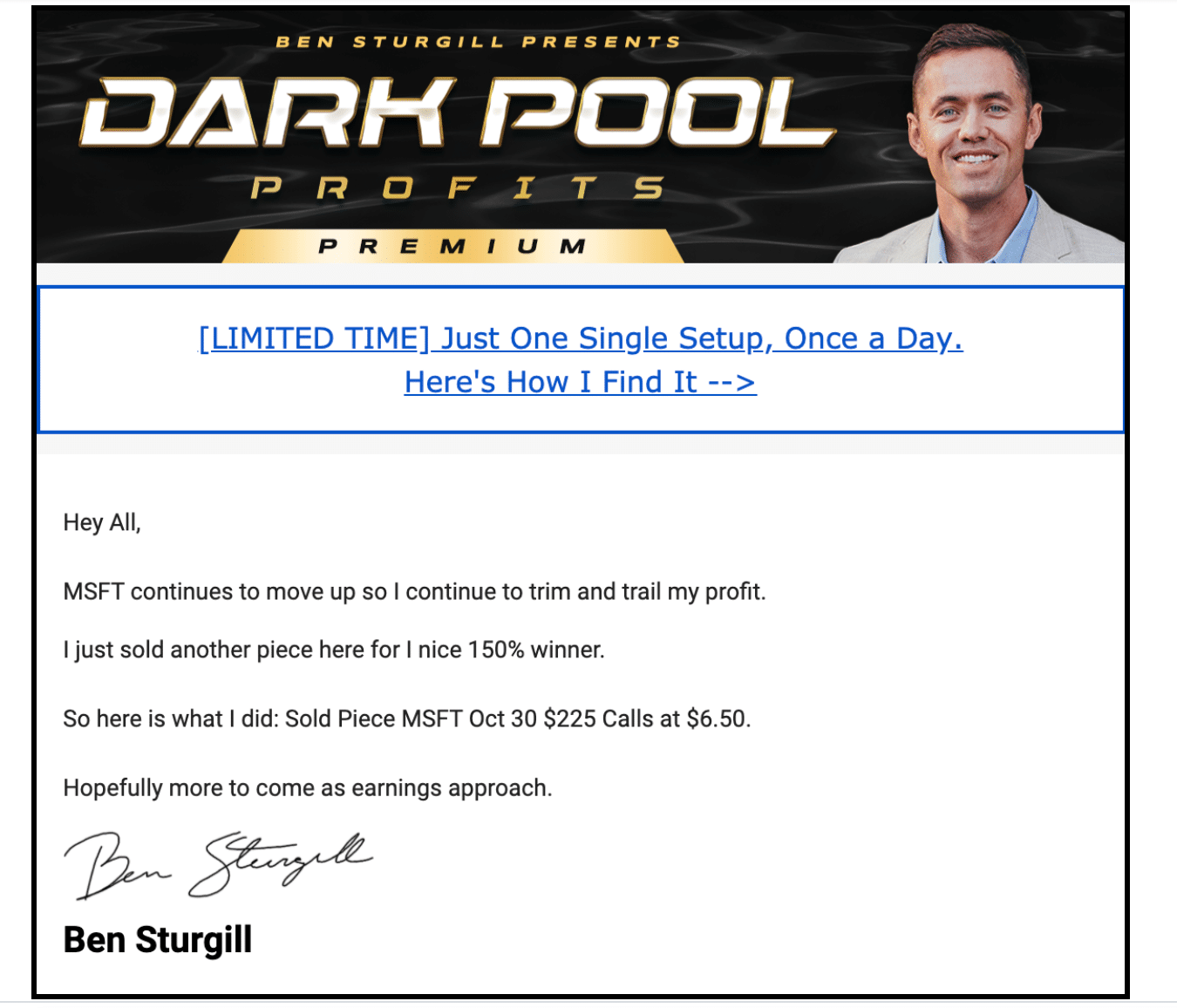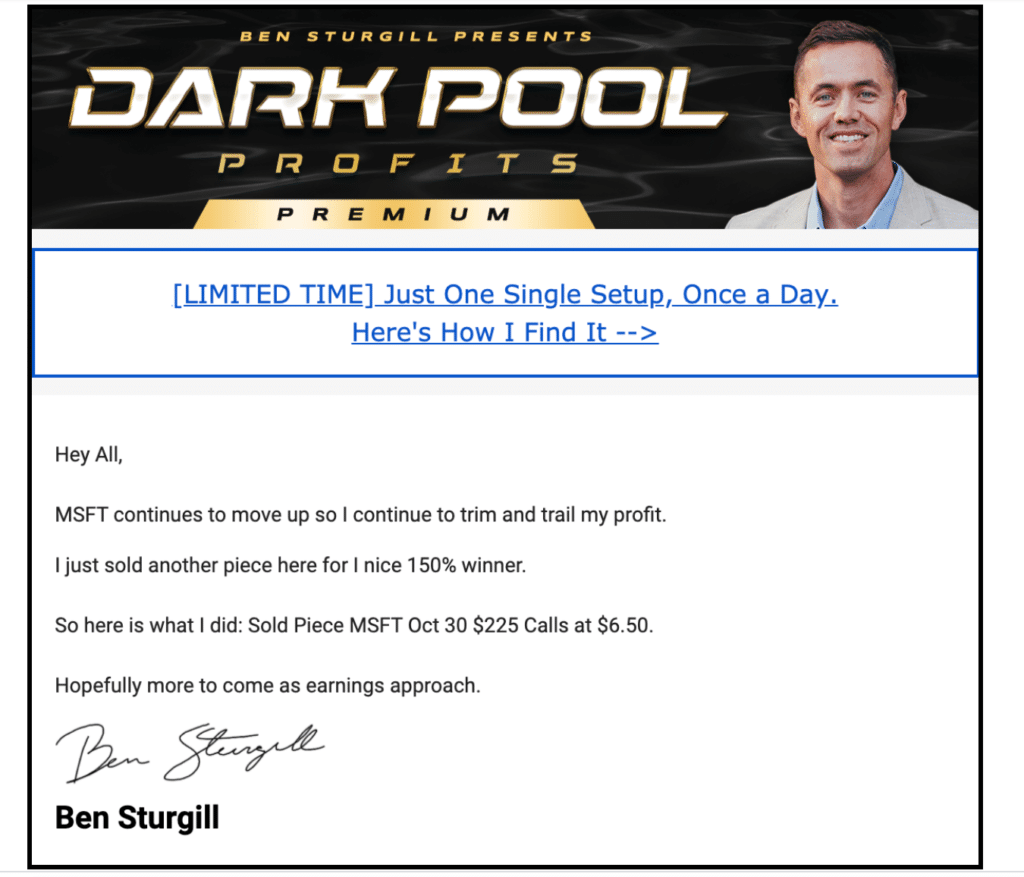 My HotList
Since I never know what stocks are going to pop, I maintain a watchlist that lets me focus on what's hitting the Dark Pools.
Here's an example of the stocks that are on my watchlist for a potential Dark Pool trade
PTON – A great lifestyle brand in general. With many people looking to exercise in new ways, PTON has lead the industry with their new app for yoga and bike community

AEO – Large volumes coming in, need to find support before trading higher

SNAP – Already moved on earnings, a pullback could signal a good entry on this stock

WORK – With a surge in work from home this year, Slack has been the leader in technology. With the right price action, you could see a break above the last pivot and higher prices to come.

BYND – Has been the silent mover lately and got away from me. I was looking for a breakout of $160 and missed the trade. With a pullback and the right price action, I might try to buy the dip in this stock

AMD – AMD has proven they could design a new processor and compete with the big dogs. Not only did they show up, they ate the lunch of INTL (their main competitor). If AMD shows more price action in the Dark Pools during a pullback, it might be a top candidate on my watchlist going into earnings next week.
So if I decide to add more size into MSFT or jump into any of those stocks on my watchlist, my Dark Pool Profits subscribers will be the first to know.
And to learn the exact strategy I'm using to trade stocks like these in real-time – sign up for Dark Pool Profits today