There's a whole lot of value to trading momentum.
When I see a stock moving past a previously established resistance level and breaking all-time highs, it's a signal to me to potentially jump in.
On Monday, we saw that happen with Keros Therapeutics (KROS). The stock popped 17% off Moderna's vaccine news, which was beneficial to the whole biotechnology sector overall. I'm looking for opportunities to enter KROS here.
Maybe you didn't realize, but I trade recent IPOs like KROS differently than most, thanks to leveraging the power of options. Like a few of my most recent wins:
CHWY: 200%*
SFIX: 109%*
PINS: 310%*
But there's another stock in the healthcare and biotech-related space that moved in the opposite direction of KROS this week.
The stock got hit pretty badly yesterday, along with some of its competitors, when Amazon announced it would be expanding into the pharmacy business with big drug discounts.
I don't always like to play rebounds, but when I do there has to be some solid fundamental reasons involved. I'm seeing that in this stock right now.
GoodRx Set For Potential Bounceback after Launch of Amazon Pharmacy
Amazon Pharmacy kicked off on Tuesday and offers prime members some pretty hefty discounts on pharmaceuticals— as much as 80% off generics and 40% off brand names.
That put big pharmacy brands in a tailspin yesterday— CVS Health (CVS), Walgreens (WBA), and Right Aid (RAD) all showed sharp declines.
Unfortunately, GoodRx (GDRX), a company that held its IPO on September 25, also got hit by the news. It tumbled by 19% to an all-time low.
Previously, investors had been thrilled with GoodRX following its IPO. It was one of the few profitable tech companies to go public in recent times— and with a pricing model that allows it to undercut big pharmacies by searching for prices in its online platform, what's not to like?
Case in point: a search on its platform for the generic version of the cholesterol drug Lipitor in Los Angeles revealed a price discrepancy of $19 at Costco all the way to $250 at Walgreens.
I even mentioned GoodRx would be a good stock to get long on when I wrote about it pre-IPO here back in September.
GoodRx looked highly appealing back then, but now Amazon is really cutting straight into the heart of its business model. Amazon could steal a significant portion of GoodRx's potential customers.
That said, up to this point, the numbers remain strong for GoodRx. The company boasted even more revenue growth in its most recent earnings report. GoodRx reported Q3 revenue of $140.5 million, up 38% from third quarter 2019.
How I'm Trading GDRX
I took a nice nearly 10% base hit on GDRX immediately before the Q3 earnings report. I don't like to hold through earnings, so I decided to take profits then for a modest gain rather than risk it.
But the opportunity setting up now is potentially larger than anything we've seen from GDRX in the past.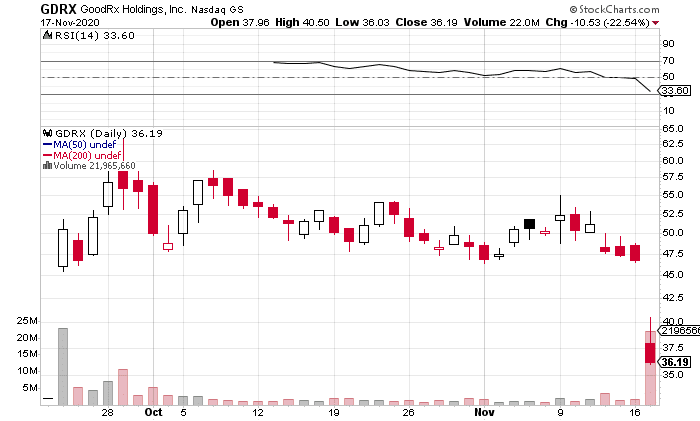 The stock is looking highly oversold on the RSI, though I'll want to see whether the stock can stabilize at the $36 level and begin to regain lost ground or whether this is actually the beginning of a bearish trend.
If I do decide to trade GDRX, my IPO Payday subscribers will be the first to find out here.