Zoom (ZM) crushed it's earnings expectations yesterday.
The company reported sales of $663.5 million, which handily beat the anticipated $500.5 million.
And unsurprisingly, investors liked the sound of it.
The stock hit a record high, which capped off a rally that's amounted to over 350% already this year.
While I don't typically buy a stock and hold through earnings, I was fortunate enough to takesome sweet triple-digit gains on the runup.
Could it go even higher from here?
I most certainly believe it will, though in the short term the stock is looking a little overbought.
The classic relative strength index indicator (RSI), which measures stock price change momentum, is nearing 80 for ZM… signaling it's "overbought."
I'd wait for the pullback to the 50 day moving average, since every time it bounced off that indicator over the last 5 months, it's rebounded to new highs.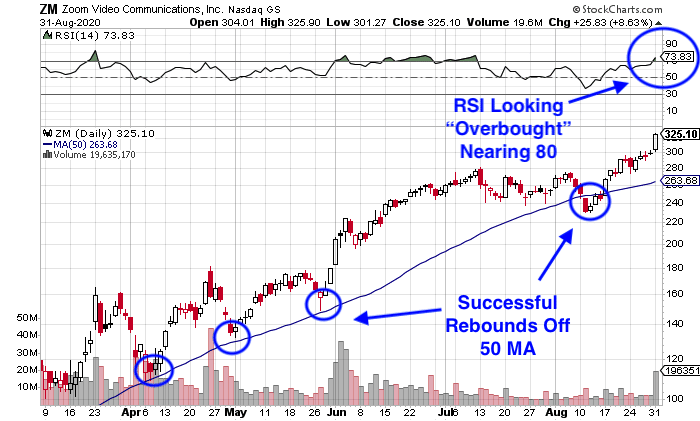 While ZM may not be on my watchlist today, I have my eyes out for sympathy plays in two other work-from-home stocks that also have earnings this week.
They could provide quick profit opportunities if they play out just like ZM.
Up first, CrowdStrike (CRWD) reports earnings tomorrow.
As a cybersecurity company, CRWD has seen a lot of growth as the world becomes increasingly digital.
The stock has seen a nice runup ahead of earnings, just like ZM.
In part, that has to do with analyst upgrades from Barclays Capital and RBC Capital, which both raised their price target on CRWD.
RBC said on Friday that it expected CRWD to report "strong earnings."
And Barclays evidently felt no different, raising their expectation to $130 per share yesterday morning.
Barclays said that their expectation of $53 million annual recurring revenue (ARR), though that's moderate compared to other bankers who expect as much $85 million.
Revenues expectations are expected to be up 82% at $188.5 million.
On the technical side, CRWD has already broken past its most recent resistance, so I wouldn't be surprised if there's more fuel in the tank today.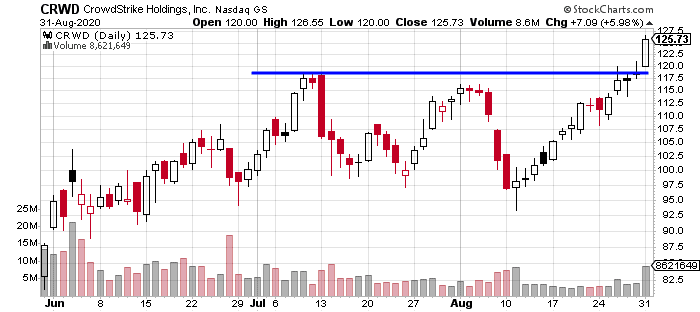 DocuSign (DOCU)
ZM may be king of the remote work stocks, but DOCU isn't far behind.
DOCU will report earnings this Thursday.
It's been a steady growth stock throughout the pandemic, given that hands free interactions are in big demand.
Everything from signing real estate contracts to new-hire paperwork has made big use of this company's digital technology.
There's just a whole lot to be said for that— or at least a bunch of the big hedge funds think so.
DOCU was in 57 hedge funds in June.
I'm currently keeping an eye out for smart money activity in DOCU through the dark pools.
Wall Street expects revenues to be $318.37 million, which is 35.1% higher than the year-ago quarter.
On the short term technical side, DOCU is showing a stair step pattern that could have more legs into the end of the week.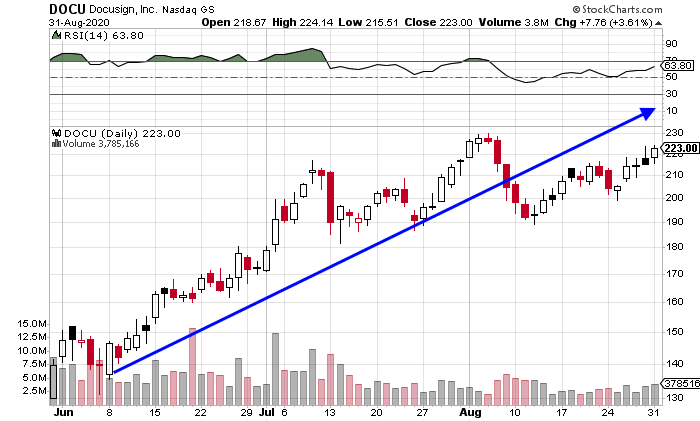 Sign Up For My Critical IPO Payday Alerts
Everyday, I'm releasing my real-time alerts regarding entries and exits in stocks just like Zoom (ZM).
My recent play on the ZM earnings run up turned out to be a spectacular IPO Payday.
It handed me 100% gains on the first half, 150% on the next quarter, and a home run 450% on an additional piece.*
If you're ready to get a piece of this exciting IPO market, attend my upcoming IPO trading workshop here.
*Past performance is not necessarily indicative of future trading results, and the results presented in this communication is not necessarily indicative of future results, and the results presented in this communication are not typical. Investing in securities is speculative and carries a high degree of risk; you may lose some or all of the money that is invested.