Everybody knows about TSLA and the massive waves it's been making in the EV world.
TSLA's "Battery Day" is coming up on September 22 and the stock climbing again after its recent selloff.
There's a whole lot of anticipation of the event— and "the many exciting things [that] will be unveiled," according to Mr. Musk.
That could include several aspects of the battery, such as technology, cost, reliability, and manufacturing capacity.
If you think about it, this event could really set a strong precedent for the EV community…
Up until this point, everything about most EV batteries are still more expensive than the alternative provided by traditional vehicle engines.
Most EV batteries can't stand the test of time, after being subject to the elements and recharged again and again.
Sales can't reach potential until manufacturers can support capacity.
New battery chemistries could improve through further investigation.
But while there may be a whole lot of excitement around TSLA and the battery day event, I recognize that TSLA is a pretty expensive stock to buy… and not without risks.
That's why I've been on the lookout for sympathy plays.
And I think I've found a good one— it has a few critical catalysts and I just spotted some dark pool activity in it.
Expectation of Record September Deliveries Could Push Chinese NIO to All-Time Highs
NIO has been the most notable player in the Chinese EV scene. Since March 20th, the stock has seen 692% increase in its share price.
That's in large part because NIO is cranking out vehicles like nobody's business.
NIO expects their monthly production capacity to reach 5,000 for the first time ever.
"As we continue to improve the production capacity for all NIO products, our monthly capacity will reach 5,000 units in September to support our future deliveries."
Not only that, NIOs cash position continues to improve.
If you remember from the very beginning of September, NIO held a second public offering… something I don't hesitate to take advantage of in my IPO Payday service.
NIO sold 88.5 million American depositary shares, 20% more than the 75 million it announced it would offer initially.
The stock popped because American investors were pleased with how NIO planned to use the money… to bail out debt from "NIO China," a subsidiary formed through a $1 billion deal with authorities in China.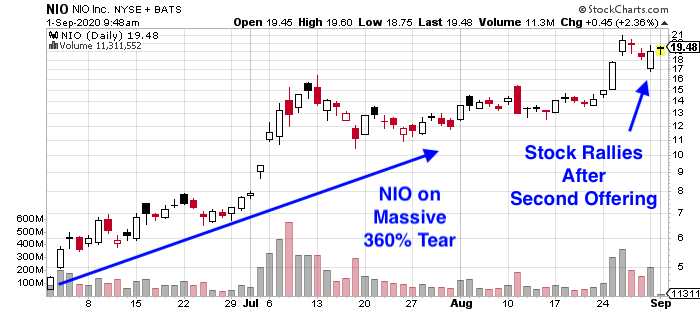 And there's one more NIO catalyst that traders should be aware of.
20 Chinese companies just signed a declaration that promotes the battery swap model.
THe battery swap model encourages battery charging, storing, and dissemination in a shared and centralized way.
This will reduce costs for EV players like NIO in China.
Last, But Not Least… A Little Dark Pool Activity in NIO
NIO hit my dark pool scanner three times a few days ago.
That means that what the big institutional "smart money" are seeing confirms my point of view.
Playing an option expiration just past TSLA's battery day could bode well.
To see exactly how I'm trading stocks with dark pool activity NIO, attend this brand new dark pools workshop that I'm launching today.