The race for a vaccine and treatment for the coronavirus is speeding up.
There are so many companies out there researching and developing potential treatments, that it's often hard to find which ones are the clear leaders.
With so much riding for biotech and pharmaceutical companies, there are trading opportunities to take advantage of.
How do I find the needle in the haystack?
Follow The Paper Trail
What do I mean by that?
Well, I look at the dark pool activity to see if there are any large orders placed in coronavirus names…
And yesterday, I noticed some dark pool activity in Moderna Inc (MRNA).
So what am I watching in MRNA, and can it go higher?
Are Financial Institutions Piling Into MRNA?
Here's what I sent out to subscribers this morning in the pre-market about MRNA.
This one had a nice run over 80 recently and is highly impacted by news of treatments and contracts around Covid-19. Yesterday they came alive and had a nice run even though the market fell apart. I think they could go even higher today and continue that momentum.
Not only did I notice dark pool activity in the name recently… but I asked Kyle Dennis if he noticed any options activity in MRNA.
He mentioned that someone threw down a $211K bet on MRNA.
Here's the specific activity Kyle mentioned…
780 MRNA July 24th $90 Calls
They Paid $2.71 For The Contracts
At the time of the trade, shares were trading at $73.59.
With those two bits of information, it provided me with a "smart money" trade idea.
The options trader believes the stock will explode before July 24th, and the dark pool activity also signaled the stock could run higher.
Now, for me personally, I want to look at the charts and wait for a clear pattern or signal to develop.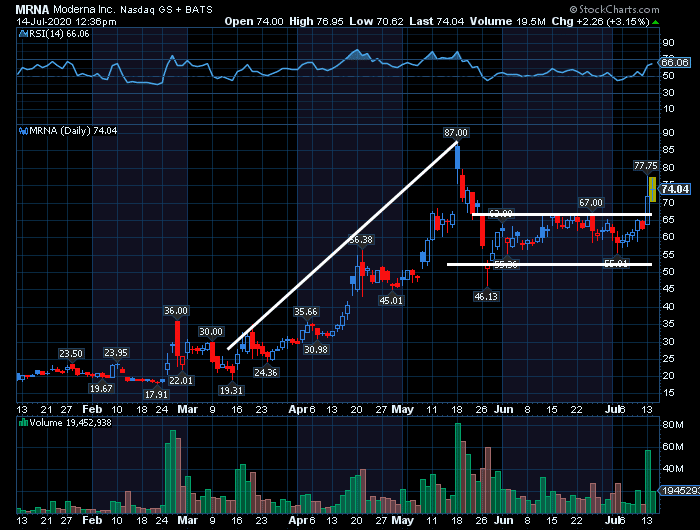 Source: StockCharts
MRNA broke out of a key resistance level, and right now I want to keep it on my radar.
With so much coronavirus treatment news, I wouldn't be surprised if MRNA continues higher take gets above $90.
Right now, MRNA is set to begin a late-stage coronavirus vaccine trial on July 27, and I think the stock can run up into the catalyst.
If there are any positive results or the treatment looks promising, the stock may explode.
Now, if you want to learn how I'm able to use dark pool activity to steal some of Wall Street's best ideas… then join now and gain access to my education suite.