NIO Inc. (NIO) just made all-time highs and it looks as if the run can continue.
The key indicators I'm watching now signal NIO can have some legs.
One of those indicators is dark pool activity.
Why?
Well, when there's dark pool activity, it's a signal that financial institutions, hedge fund traders, or anyone else with large financial backing…
May be piling into a stock.
With NIO, I noticed a large trade recently… and someone bought $4.733M worth in shares.
Since NIO has been hitting the dark pool scanner over the last week, I want to keep this on my radar and look for potential levels to get in.
What are my thoughts on NIO?
Why I Think NIO Can Run Higher
Here's what I sent out to dark pool subscribersin the pre-market this morning.

NIO gaps up two days in a row in a HUGE way. NIO has hit the scanner several times over the past week and I think now is getting these moves up in on breaks of recent highs and carry-over effect from other strong moves from electric vehicle stocks like NKLA and TSLA. NIO is really extended but holding and could move higher.
Here's a look at the hourly chart in NIO.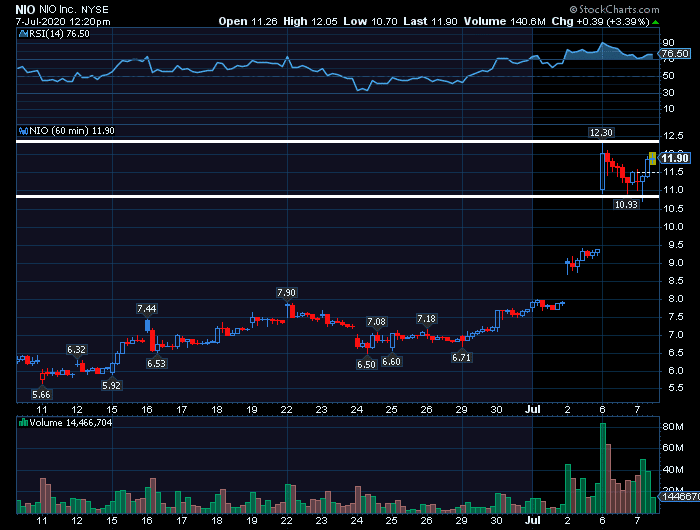 Source: StockCharts
This morning, NIO did pull back, but it held that gap right below the $11 extremely well in my opinion.
That signals to me that's a key support level. Right now, the recent high is at $12.30… and if it breaks above that…
Well, the momentum traders may look to pile in and drive the stock higher.
Now, NIO is a heavily-shorted stock.
There are 824.45M shares floating. In other words, the number of shares available for people to trade.
Of those 824.45M shares, 134.07M shares are short.
That means more than 16% of the float is short… and to me, that creates a potential squeeze opportunity.
If NIO continues higher… the shorts may no longer be able to take the pain and be forced to cover, in my opinion.
In turn, this can cause the demand for NIO to pick up…
And you probably know what happens when demand rises and supply remains the same…
Prices go up!
NIO is on my radar, and I'll be sure to let my subscribers know in real-time if I make any moves.
WE MAY HOLD SECURITIES DISCUSSED. RagingBull has not been paid directly or indirectly by the issuer of any security mentioned in the Services. However, Ragingbull.com, LLC, its owners, and its employees may purchase, sell, or hold long or short positions in securities of the companies mentioned in this communication.