Wow, what an insane move the market has made… at these levels, the S&P 500 is just under 14% off its all-time highs and more than 33% off March lows.
Right now, I've been pretty busy with my family because my wife gave birth just a few weeks ago… but that doesn't mean I've been on the sidelines the entire time.
I've actually been stalking the dark poolsfor potential trade ideas, and for the most part, I'm being highly selective when it comes to my plays.
Today, I want to talk to you about dark pools and reveal what they are, and whether they're affecting your PnL or not.
Over the years, the rise of trading activity in the dark pools has exploded, and it's benefitted the "smart money".
So what exactly is a "dark pool"?
Well, a dark pool is just one kind of alternative trading system (ATS) in the market for non-exchange trading platforms. More specifically, they're "private" marketplaces for traders to "hide" their orders.
The reason dark pools were created was to accommodate large buyers and sellers (think institutions and hedge funds) that are ready and willing to trade large blocks of shares without disrupting the market.
These alternative trading venues are considered "dark" because the information embedded in the orders on these "private" platforms is not published on the traditional lit exchanges (NYSE, Nasdaq, etc.)
In other words, everyday traders typically can't see the trade data — the price and the amount the trader(s) want to buy or sell — the way that lit exchanges do. However, dark pools do need to report information about trades that actually hit the tape.
Now, I know what you're probably wondering, do dark pools actually affect your trading?
Dark Pools And Your PnL
As retail trades, dark pools don't really affect us because it happens off the exchange. So, in theory, the activity that goes down in the dark pools shouldn't affect our profit and loss (PnL). However, I do believe there is activity in the dark pools that can signal where a stock can move.
My trading strategy revolves around dark pool activity, so whatever goes down in these "secret" trading venues actually affects my PnL. Let me show you what I mean by that with a trade I took based on dark pool activity.
Basically, I use a proprietary scanner that allows me to uncover dark pool trading activity, and it tells me where block trades go off.
In this specific trade, I spotted a 499K share block fire off at $61.50 in CrowdStrike Holdings (CRWD). In other words, someone dropped $30.68M on the trade.
When I looked at the chart…
The daily formation on the chart below is a floating island resolving upwards, which I LOVE.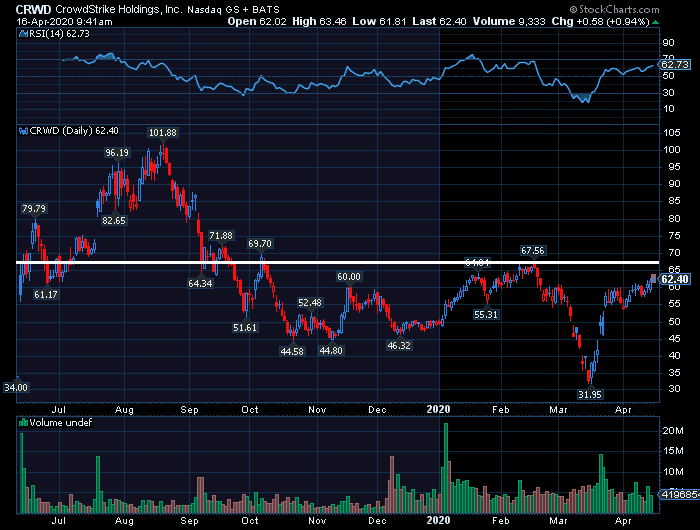 Chart Courtesy of StockCharts
Now, there was a key resistance level right around the $70 level, and at the time, I thought if CRWD broke above that, it could squeeze higher.
Here's what I sent out to my subscribers about my moves.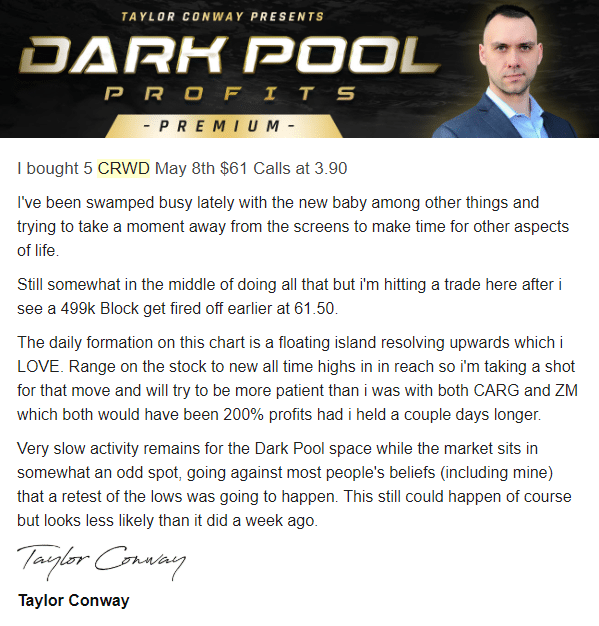 When I saw the position was up 33%, I actually decided to take my profits off the table, after the stock caught a pop…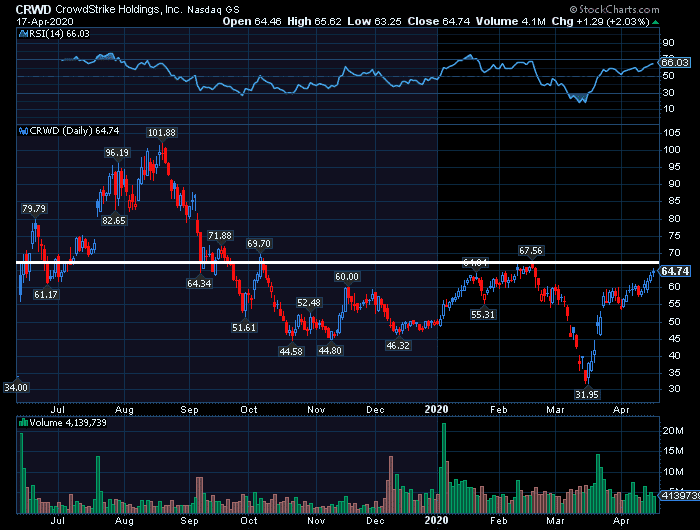 Chart Courtesy of StockCharts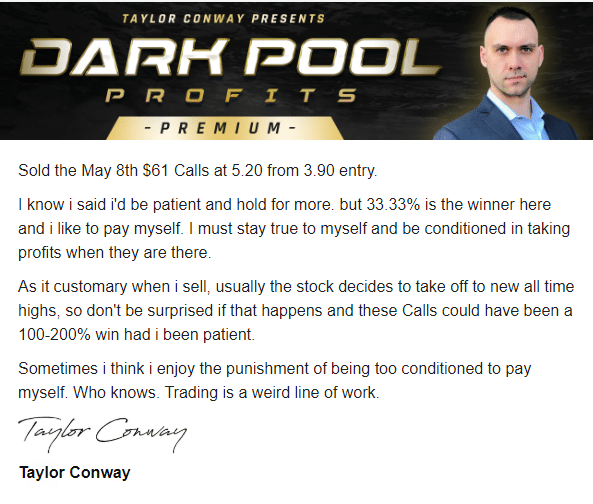 If you know me, you probably know patience plays a big role in my trading. However, with this specific trade, I locked in a 33% winner, but I could have held longer. Why did I take profits though? Well, I know as a trader, I must stay true to myself and be conditioned in taking profits when they are there… especially in this market environment.
The thing is, I see dark pool trading activity in the market frequently in the markets… and all I have to do is put the pieces of the puzzle together and execute. If you want to learn how I use dark pool activity to my advantage, click here to watch my exclusive training session.