You probably already know by now that dark pools offer powerful information.
Heck a few weeks ago, I mentioned to my subscribers how I kept noticing Caesars Entertainment Corp. (CZR) come up on the proprietary dark pool scanner I use.
Here's what I sent out this morning…

This has been on the master watchlist and done well (30%+) Since bringing it to your attention a few weeks ago.
The reason why I'm keeping a close eye on CZR is that there's a looming deal with Eldorado Resorts (ERI).
Today, I want to show you how dark pool activity allows me to come up with trade ideas and streamline my due diligence process.
A few weeks ago, I mentioned CZR came up on my dark pool activity scanner. Now, of course, to the untrained eye… this may have just looked like a sizable bet placed by the financial institutions to try to play the bounce in a casino stock.
However, behind the activity, there was actually a pending merger with Eldorado Resorts (ERI).
According to ERI, it believed its merger with CZR would close by June 30. At that point, if and when these companies merge… they may be in a position to start the re-opening of the properties.
Now, by looking at the dark pool activity and the details of the deal…
I came to the conclusion that CZR could continue higher and has room to the $13 area. Of course, that wasn't the only way to play this dark pool activity trade.
For example, with a pending merger… ERI also stood a chance to rebound.
You see, these two casino companies actually had positive synergies, and if and when they join forces, they can start to take a large portion of the market share.
Of course, the dark pool activity isn't all I need to do when I'm coming up with trade ideas… because as you can see above, I had to put the pieces of the puzzle together.
However, that actually gave rise to another trade idea in ERI.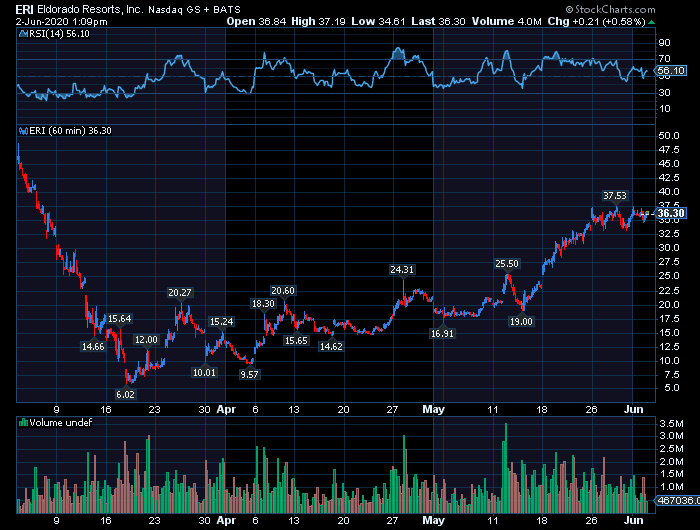 Chart Courtesy Of StockCharts
Not only that, but there is another potential trade idea here with this pending merger.
VICI Properties Inc (VICI) is a real-estate investment company that's a landlord to casino operators, which include CZR.
VICI actually collected 100% of rent in May, and it could support the deal.
Right now, there is still some upside potential in CZR… and some analysts believe it's valued around $13… so I think there is still some room to run here in CZR. Although ERI may continue higher, I believe it would be considered chasing at these levels.