You've probably seen the headlines by now…
Companies are pulling their advertising from Facebook (FB) — putting the company's revenue at risk.
While that's bad news for FB… it's great news for smaller social media platforms, such as Pinterest (PINS).
These companies may look to take their social media advertising business elsewhere…
And with more than 335M monthly active users (MAUs), PINS might make sense.
Now, if I told you I came up with this idea all on my own…
I'd be lying.
You see, this actually came up on my proprietary dark pool activity scanner.
All I did was formulate a thesis and trade idea.
Today, I want to show you what I'm watching in PINS, and why I think it can make a move soon.
Does Someone Know Something About PINS?
This morning, I sent out my dark pool profits watchlist to my subscribers.
Included in that watchlist was PINs.
Here's the note I sent out…

PINS continues to look like a strong one having trended up for the past several months bouncing off the 50 sma on the day again just yesterday. I would like to see PINs break $22.50 with a target of $24.50.
Now, I mentioned to you the positive catalyst in the works…
With this dark pool activity, it confirms my thesis that PINS could run higher.
You see, someone bought 1.312M shares at $22.04 yesterday after the close… and spent $28.93M to place that trade.
To me, only a financial institution or hedge fund would place a trade like that.
If you know anything about those players, they have an unfair advantage… and may know something we don't.
Of course, I don't just follow these trades blindly… I actually wait for a clear signal.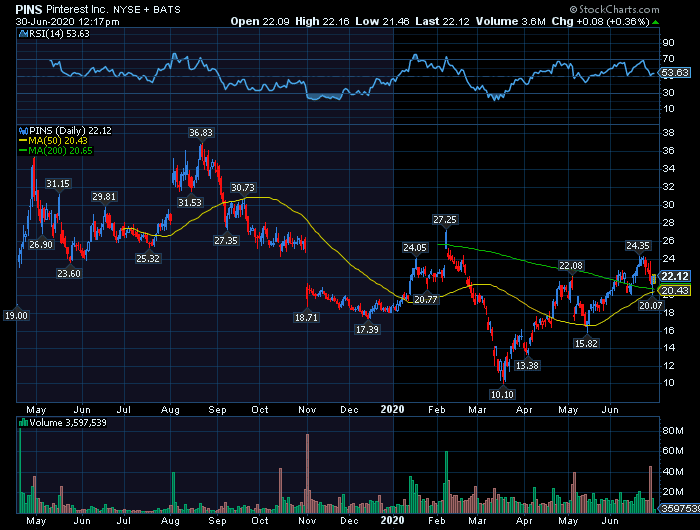 Source: StockCharts
On the daily chart, I noticed the 50-day and 200-day simple moving averages are key support levels.
With the stock holding at those levels… I wouldn't be surprised if buyers start to step in.
If the stock breaks above $22.50, I'll be sure to let subscribers know about my moves. I think it could get some momentum if it breaks above that level and reach recent highs at $24.35.
Will PINS announce positive news soon?
Who knows… but this stock is on my radar, thanks to the dark pool activity.
WE MAY HOLD SECURITIES DISCUSSED. RagingBull has not been paid directly or indirectly by the issuer of any security mentioned in the Services. However, Ragingbull.com, LLC, its owners, and its employees may purchase, sell, or hold long or short positions in securities of the companies mentioned in this communication.
DISCLAIMER: To more fully understand any Ragingbull.com, LLC ("RagingBull") subscription, website, application or other service ("Services"), please review our full disclaimer located at https://ragingbull.com/disclaimer.