As a trader, one thing that we have in common is that we execute orders at the NYSE, one of the most famous exchanges that still operates at its original location since 1903.
But you see, this is not where everyone trades.
In fact, many of your major banks never actually trade on the stock market
Instead, shady stock moguls trade on secretive bank-run exchanges off limits to the public
It's in these secret exchanges that traders place massive bets where nobody can spot them!
You see, these hedge funds place these huge trades when they have an edge and I want to be involved.
And this year I've discovered a way to find these trades when they hit the dark pools
Which led me to spot unusual Dark Pool trading activity happening in what could be the next Tesla.
Still skeptical?
I've been perfecting this strategy and I have been bringing down 50%, 100% or even more on a single trade!*
And just recently a 300% winner in NIO*


So throw away those moving averages and other technical analysis and start monitoring the Dark Pools, where Wall Street really trades.
Dark Pool Profits
Now that I have your attention, let's talk about what exactly a dark pool is and a little bit about how they work.
Dark pools are considered private exchanges for trading securities and are not accessible by the investing public.
They are also known as "dark pools of liquidity," the name of these exchanges is a reference to their complete lack of transparency – since no trade is reported to the public markets.
Why were these dark pools created?
Well, they were created to facilitate block trading done by institutional investors who did not wish to impact the markets with their large orders. Additionally, these traders were able to find liquidity for their large trades and obtain favorable prices otherwise not achievable in the "lit" markets, such as the New York Stock Exchange (NYSE).
Key Facts:
Dark pools are private exchanges for trading securities that are not accessible by the investing public.

Dark pools were created in order to facilitate block trading by institutional investors who did not wish to impact the markets with their large orders and obtain adverse prices for their trades.

As of February 2020, there were more than 50 dark pools registered with the Securities and Exchange Commission (SEC)
Why Would You Trade In The Dark Pools
Let's take a look at an example of a trade that would be targeting the dark pools.
Consider a trader who works for a large institutional investment firm, ie) hedge fund, bank, proprietary trading desk and they want to trade a large quantity of a stock without the markets finding out about it?
Where do you think they will turn?
Well, there are 3 options they can choose from to execute large order quantities:
Work the order though a floor trader over the course of 1-3 days and hope they give you a decent price

Split the order up over a week and trade it yourself by averaging your price with equal share sizing. ie) 200k shares at a block

Find a seller in the Dark Pools who will agree to take the full amount of shares at the price you both mutually agree on.
Well, I don't have to think too much about this, but I would say they are going to choose option #3, and trade this into the dark pools.
Ok, now are you still skeptical about someone really trading $50 to $100 million shares worth of a single stock?
Let's take a look at a real example of this happening a few months ago.
Examples Of Dark Pools To Trade In
When you are learning how to trade, there are many terms being used to describe the markets.
One term you might be familiar with is "Whale" – or a term that is used to describe a very large investor that enters the markets.
These are almost like ghost stories… everyone hears about them but nobody has actually seen them!
You see, the reason nobody has seen them is they are looking in the wrong place!
If you are simply monitoring the trades that occur on the "stock market", chances are you are just monitoring the "lit" markets, such as the NYSE, NASDAQ, and AMEX.
But you are ignoring the Dark Pools, such as Goldman Sachs' SIGMA-X, Credit Suisse's CrossFinder, Morgan Stanley's MS Pool, and Citibank's Citi-Match.
And these are only some of the Dark Pool venues that are available to large institutional traders and completely off limits to everyone else!
With a little bit of engineering and software development I was able to figure out exactly how to tap in and monitor these Dark Pools!
A 'Whale' Came In And Bought This Hot BioTech Stock
Once the Dark Pool scanning software was up and monitoring every trade in the dark pools, I started to notice some very interesting trading activity that was taking place.
And immediately, I knew that I had to be in this one trade I saw during the Chinavirus outbreak!


Remember how there were large traders that nobody has ever seen before?
Well, now I have spotted them!
Just take a look at this trade that a whale placed on PFE!
Some undisclosed trader came in and went deep on PFE within a few hours buying two huge shares

1.37M shares @ $31.80

361,945 shares @ $31.80
Now, let me ask you this. What retail investor has almost $54million to just toss around into a stock?
Probably not many!
But I am sure some trader at a large institution had some really good information, and I'm willing to bet it wasn't some VWAP either!
Then days later…
Breaking news on PFE during the Chinavirus outbreak about a potential vaccine

Think this is coincidence?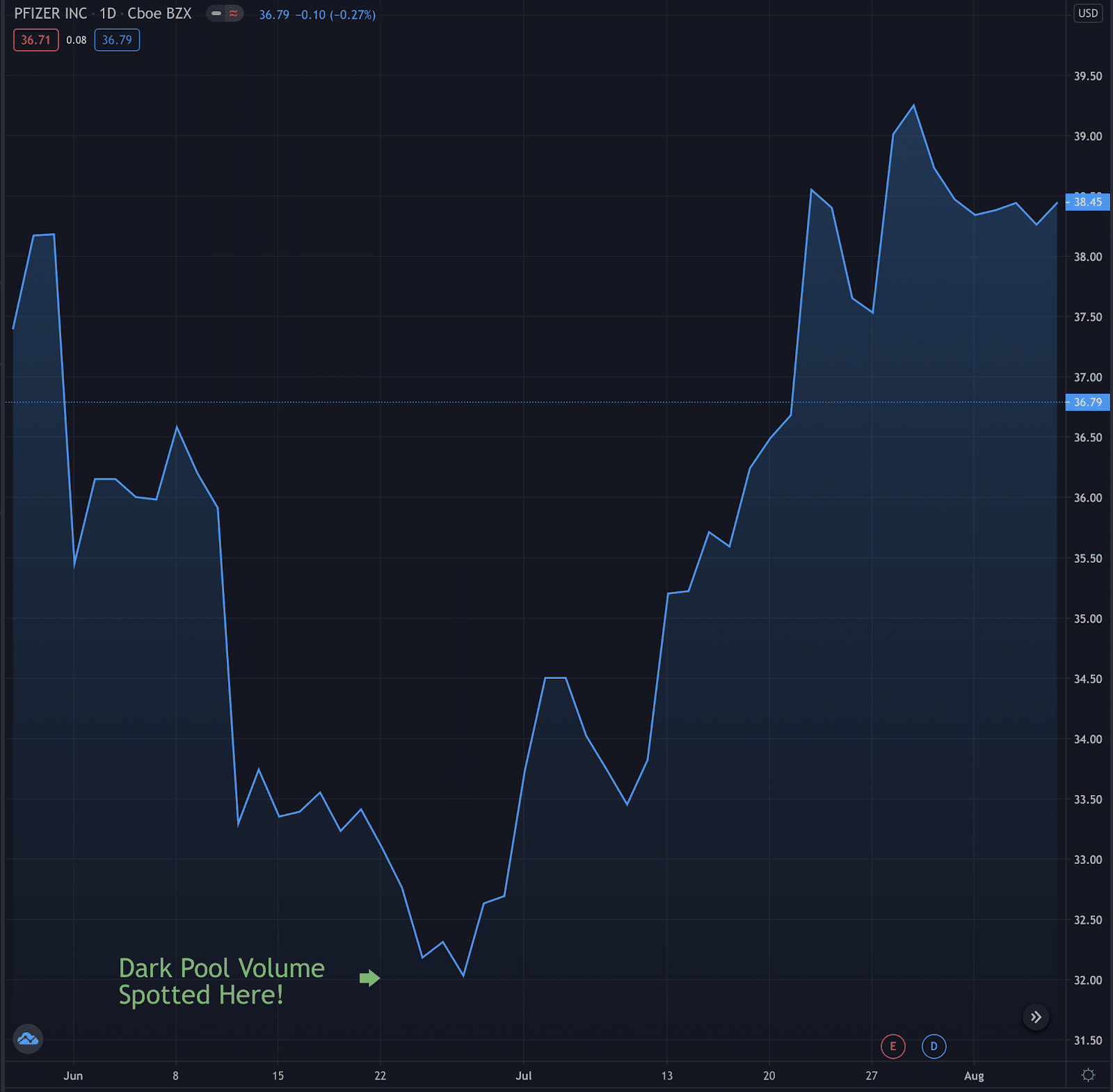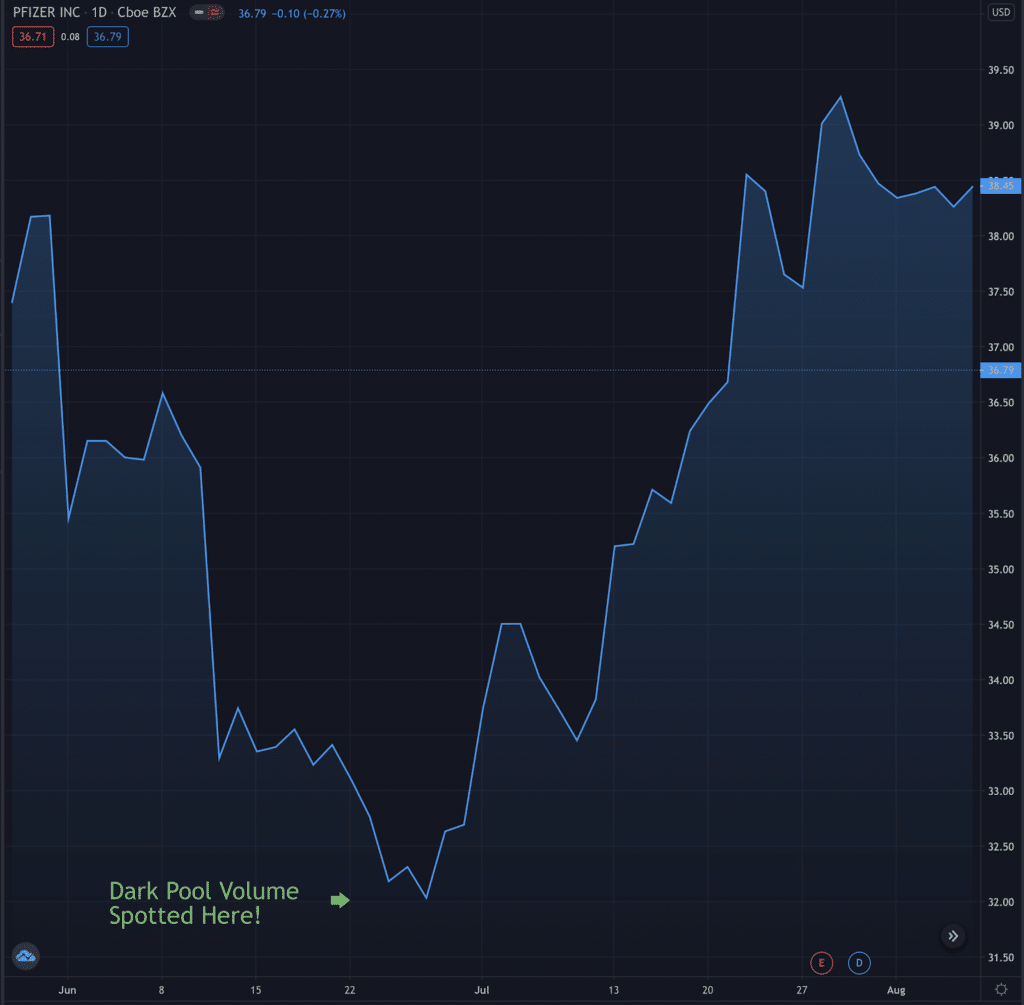 Think it's still a coincidence? I doubt it!
Someone at this institution knew something was going to be released in advance! After all, these are the same firms that pay millions of dollars each year for the best financial analysts and researchers to find them stocks to trade.
And that alone makes it important to listen to what they have to say!
As you can see, the stock was in a selloff, and then a trader stepped in and bought $54m worth of shares around $31.80 right at the market bottom!
And then news broke about a possible vaccine by PFE and caused the stock to push higher and not look back once!
Dark Pool Trade In NIO For A Huge Win
I've been spotting NIO being traded in the Dark Pools since June when it was trading near $5 per share and have been waiting for a pullback.
But I quickly noticed that it was such a strong stock being driven by high demand that I had to get involved and trade it.
And then in July, I'm noticing even more trades hitting the dark pools as I sit on my hands
Here's an example of a $5 million trade hitting the dark pools on a casual Tuesday afternoon.

Who could be tossing around $5 million that casually?
Well, it's definitely not a retail trader!
The Tale Of The Tape
Chinese electric car company, Nio (NIO) have seen shares soar 250% since its IPO in February of this year.
As the markets kept pushing NIO higher, I kept looking for clues as to when to get involved.
My initial trade in NIO:
NIO Sept 25 $19 calls — I picked these up on Monday on good activity on the scanner, unusual options activity, and a strong chart.
And I knew I had a winner on my hands, but it was just trying to determine WHEN it was going to make its move higher!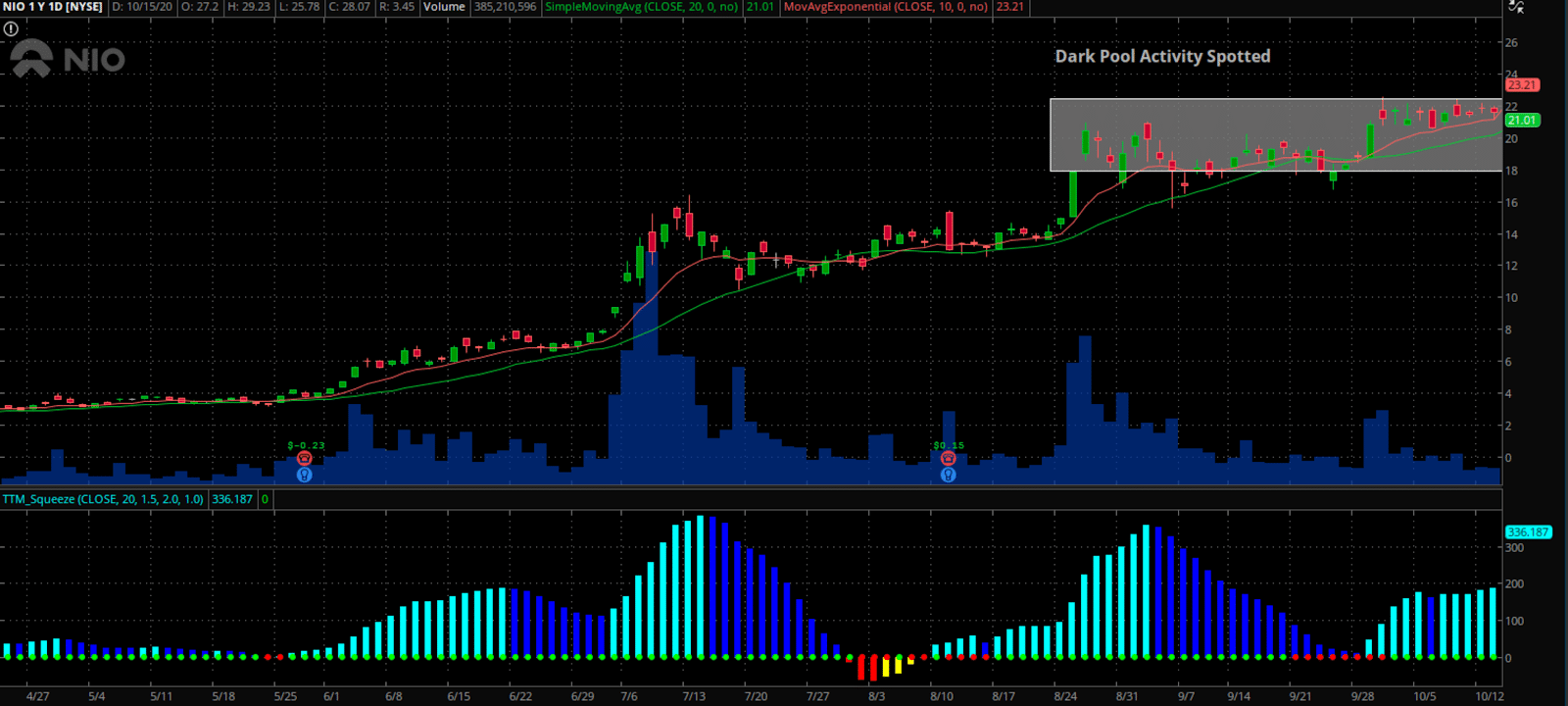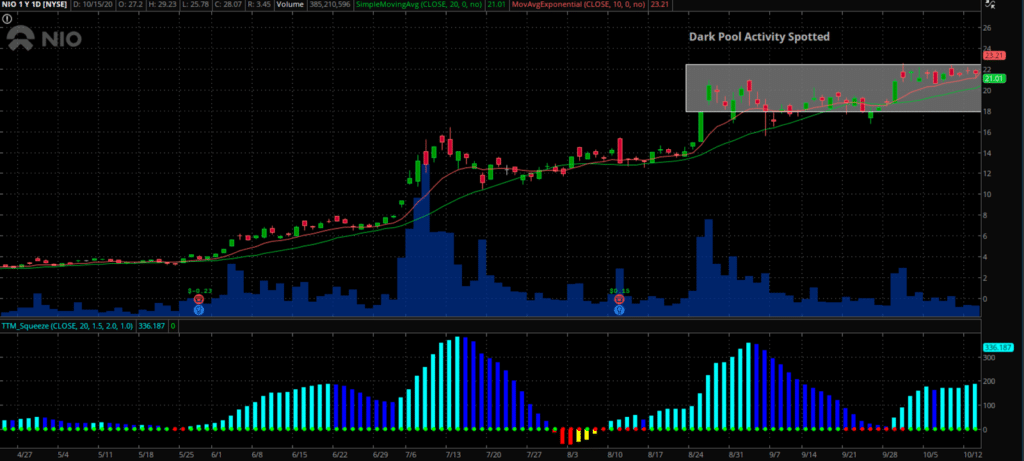 Source: Thinkorswim
But the stock continued trading sideways and I was worried that NIO might still need more buying from large institutions before it will make its move higher.
So I rolled out the calls to buy more time on the trade.
NIO Oct 16 $21 calls — I bought these in order to give this a little more time to work out.
And then just the other day, this trade struck gold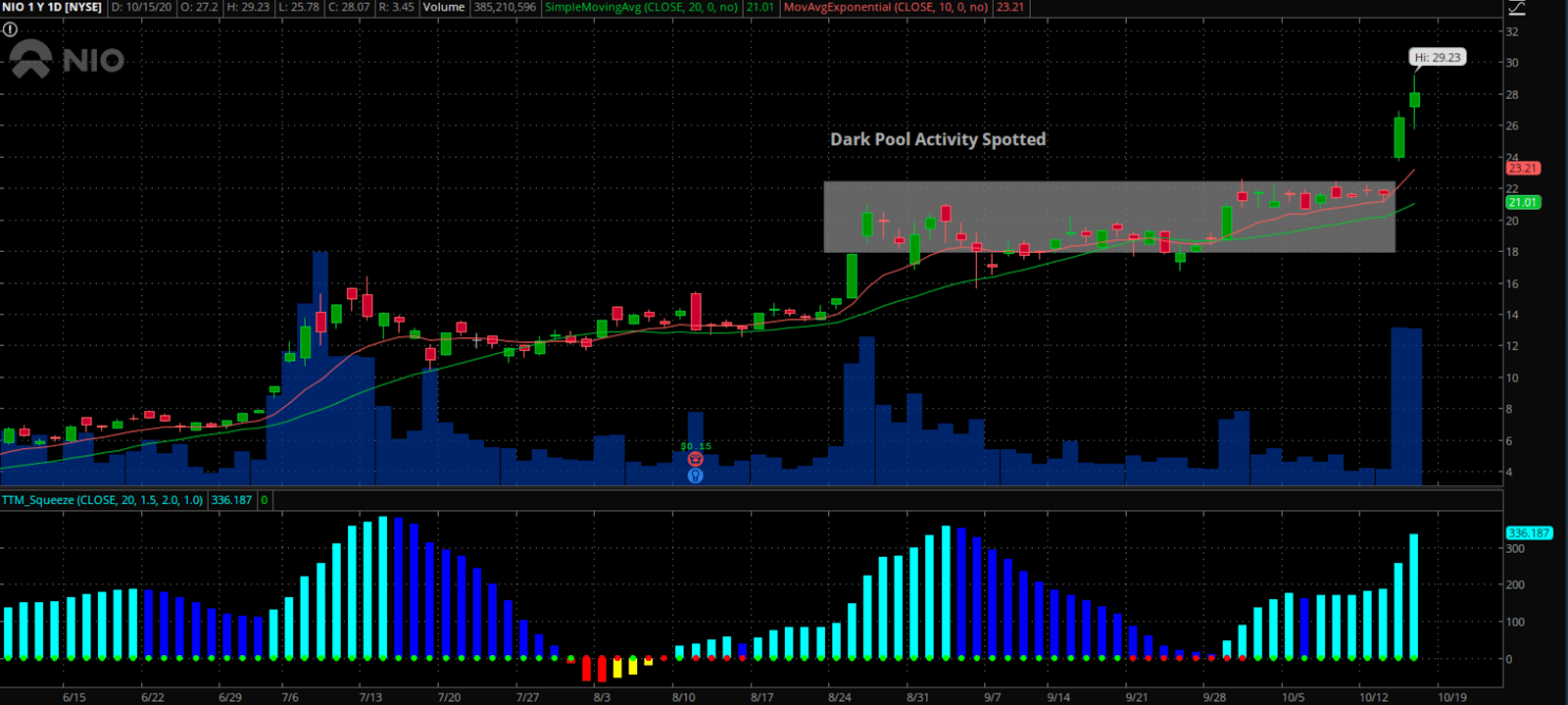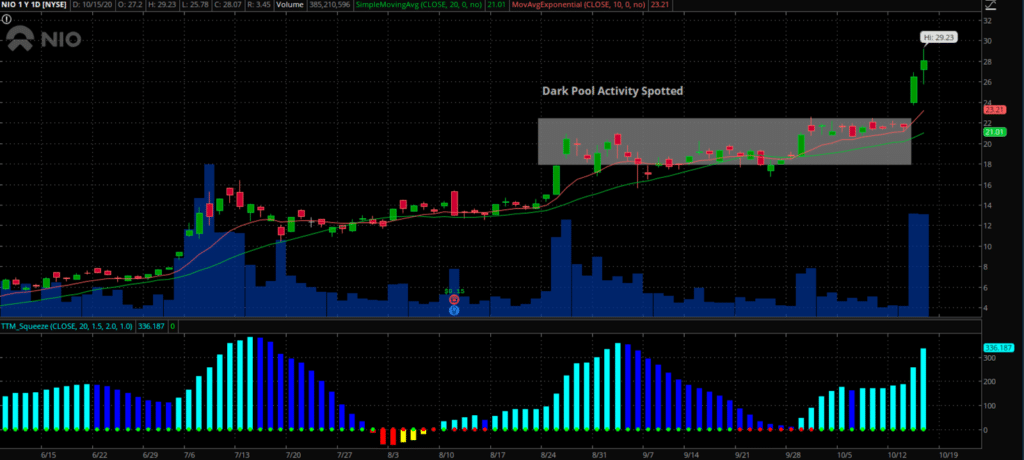 Source: Thinorswim
Then these calls erupted in price for a 300% winner on this position!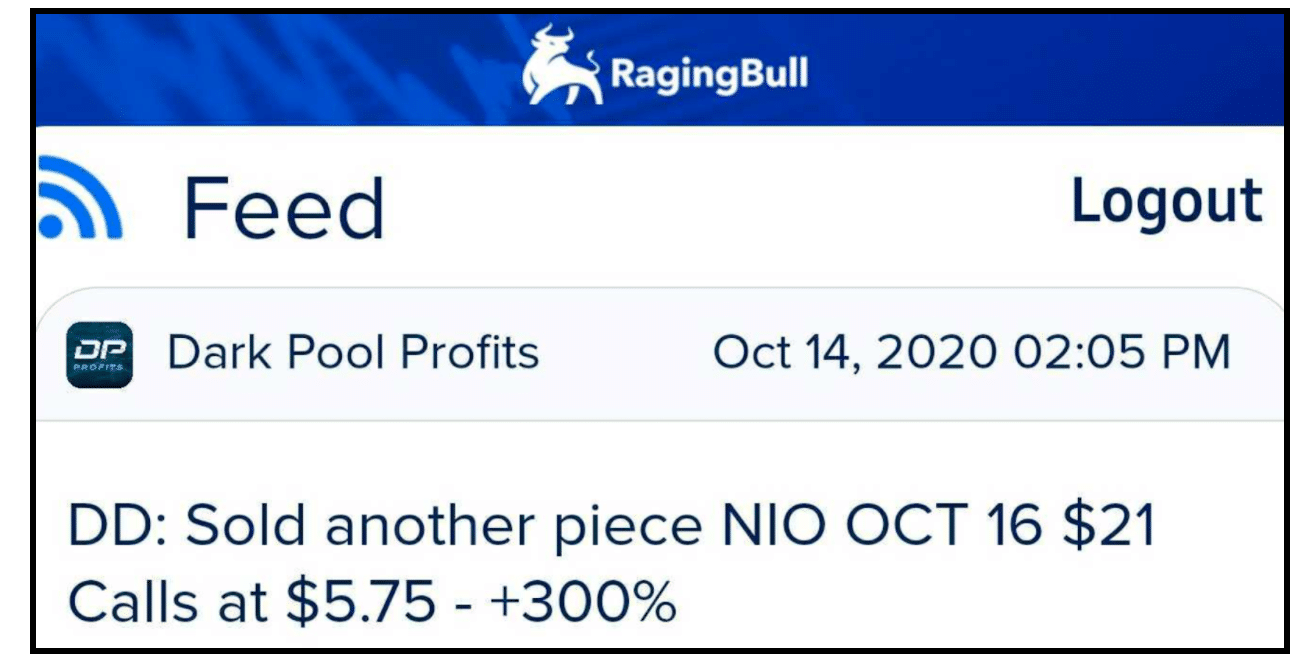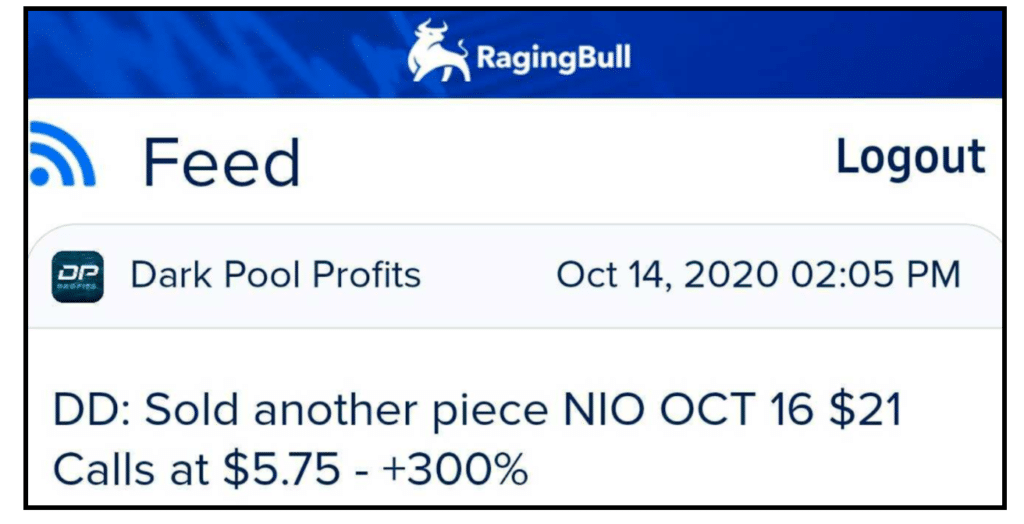 Putting It All Together
Just by monitoring the dark pools for these large traders to come in pick the stock for you, it's almost like shooting fish in a barrel.
And what makes this better than trading off of some funky technical analysis is that someone else has done the hard work for you once the trade hits the dark pools.
By knowing where these big traders put their money to work, you can follow along for the ride and grab huge profits
And it's trades just like these that I want to be in to ride the wave the 'whale' traders leave behind as they buy up stocks.
So what are you waiting for…a new indicator to fall in your lap?
Simply monitoring these trades can help you focus on what actually matters in the markets – supply and demand forces!
Now let me show you exactly what I am looking for each day in the Dark Pool markets and how I find these trades
Click here to sign up to Dark Pool Profits!