Well, the torch has been passed, and I'm so stoked to show you what I've been working on with dark pool trades.
Now, the other day, I mentioned a dark pool trade I saw in GrubHub (GRUB)… and if you missed that trade idea, I'm sorry to hear. However, I expect more to come.
Today, I want to show you how I look at dark pool activity and spotted the trade in GRUB… as well as give out some stocks on my radar right now.
The trade was so interesting, it was actually sent out on Sunday… and on Tuesday, the stock actually got a buyout offer from Uber Technologies (UBER).
So how did I uncover this opportunity?
The other day, I mentioned how I noticed some block trades go off in GRUB on Friday that amounted to about $41.6M (a whopping 903,940 shares went off).
What was so interesting about this trade was someone came in at 10:24 AM and purchased a 602K share block at $45.72. Thereafter, I noticed another 150K block at $46.29… then another 151,400 share block at $46.825 (after the market closed!)
I don't know about you, but that's pretty interesting to me.
Someone was buying GRUB and it looked as if they were planning to hold over the weekend.
Now, if you look at the white horizontal line in the chart below… that was around where those dark pool trades went off.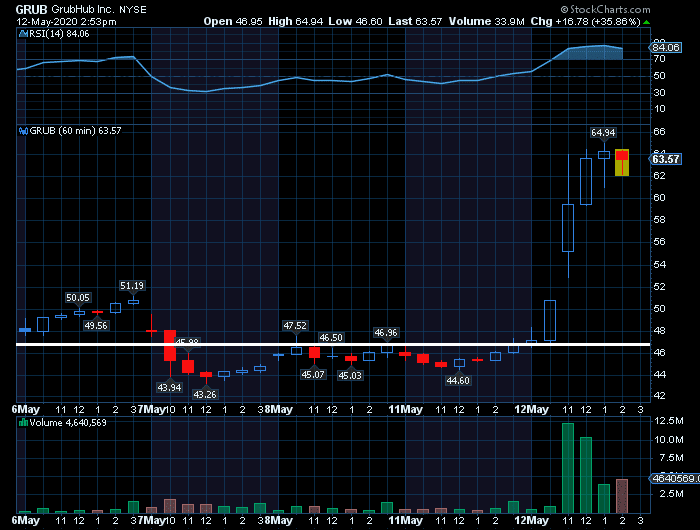 Chart Courtesy Of StockCharts
Now, for me personally, I think if the stock breaks above that… it's an indication the stock could continue higher.
Guess what GRUB did?
Well, on Monday shares rocketed higher and broke above a key psychological level — the $50 level.
On Tuesday, Uber Technologies (UBER) came out and said it approached GRUB with a takeover offer.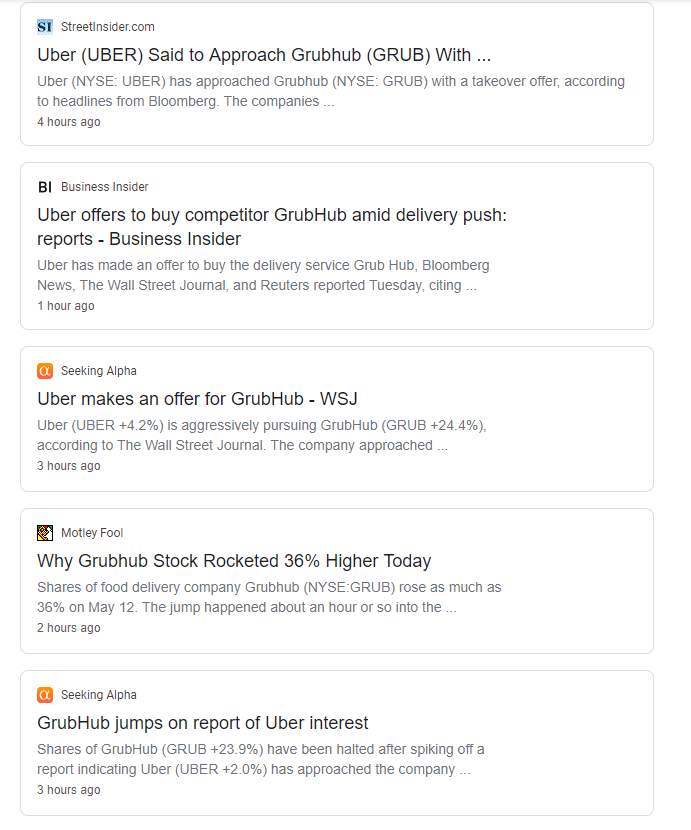 That sent shares rocketing higher!
Now, the dark pool activity may have signaled that… and I'm hearing Kyle Dennis's scanner also picked up on this trade.
Apparently, there was an options player that threw down over $218K ahead of the news… and that trade could've been a 10 bagger.
Of course, I'm intrigued about following the "smart money"… so you better believe I'll be in attendance on May 14 at 8:30 PM ET, when Kyle reveals how he uncovers these opportunities.