Stocks got smoked on the last day of January as coronavirus fears grew. The Dow finished down more than 600 points, while the S&P 500 and Nasdaq were both down more than 1.5%. With so much risk on the table, it's getting a lot harder to find trade ideas.
Do you buy the dip, or short the market right now?
Who knows… to me, that's a gamble right now. For the most part, I like cash because you don't have to worry about waking up on the wrong side of the market. However, that doesn't mean I'm not looking for trades right now.
Rather than try to find plays correlated to the market, I've been on the hunt for smart money plays.
Why?
Well, if you know anything about the smart money, they only place bets on high-probability setups. The best part, I don't have to do a lot to find these setups.
How exactly do I follow the smart money?
How To Find Smart Money Trade Ideas
The way I follow the smart money is by looking to the dark pools. Basically, all I have to do is look at a proprietary scanner that detects massive block trades. If I notice buying in a specific stock, I'll put it on my watchlist and decipher the information. Thereafter, I develop a trading plan.
Let me show you how it all works with a trade idea that I provided to my clients.
I noticed an interesting dark pool trade in Party City (PRTY). A Wall Street whale came in and scooped up 2M shares of the stock. That meant they threw down more than $5M on just that block trade alone.
Do we know who's behind the trade?
Absolutely not. All we know is someone threw down a massive bet, and they may know something. But I'll tell you this, I don't think anyone is throwing down millions of dollars on a trade just to gamble.
So what did I do when I noticed that dark pool trade paint the tape in PRTY?
I quickly looked to the charts to see what was up with the stock… and it's got an interesting setup now.
Check out the daily chart in PRTY below.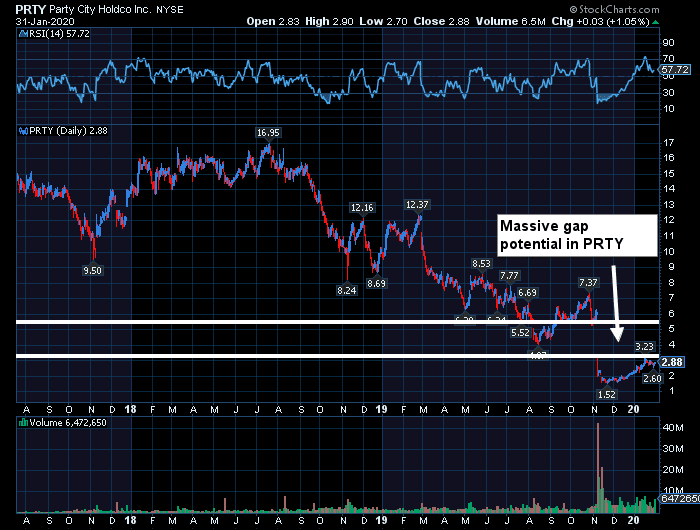 If you look at the chart above, you'll notice PRTY is right around a key resistance level (around $3.30). Not only that, but there is a massive gap above that level. If it could break above $3.30 and get into the gap, the momentum buyers may flood PRTY and push it higher… until it completely fills the gap.
Now, I don't just blindly follow these plays. I actually devise plans to take part in these high-probability setups.
For example, I let my clients know there are two ways to play this name. 
The first way to play PRTY for a potential runup: You could look to buy shares outright if PRTY breaks above the key resistance level.
The second way: Look to the options market. I'm looking at the Feb 21 $2.50 calls as a cheap way to play PRTY, and reduce my risk while maximizing my profit potential. With that being said, PRTY is on the top of my watchlist for Monday.
While it is difficult to figure out the overall market direction, following dark pool trades allows us to effortlessly generate trade ideas.
You may be wondering, Taylor, does this actually work?
You tell me…
Just sold SPCE calls for +36% Thx Taylor! ~ Gary T.
Same here Gary out SPCE +38%, Thanks Taylor ~ Dave
first 1/2 of MRK calls sold +30% Thx Taylor ~ Gary T.
MRK st up at 38%, will trail out at 50% ~ Ben E.
+50% on SPCE ~ Robert
same here for 40%, excellent… ~ Lee
jeez MRK ST up 25% ~ Lee S.
first 1/2 of MRK calls sold +30% Thx Taylor ~ Gary T.
MRK st up at 38%, will trail out at 50% ~ Ben E.
first half of MRK out at 50% ~ Ben E.
second 1/2 of MRK sold +45% Thx again Taylor ~ Gary T.
Thnx Taylor I'm back over 10k! ~ Mark S.
Out at +50% on MRK…thanks, TC! ~ Chad E.
had a trailing stop on MRK as I had to step away, got 46.2%, thanks Taylor! ~ Kevin S.
My clients have found success with dark pool trades… and that's the power of following these Wall Street whales. Sometimes, we uncover some seemingly well-timed trades, in which the company actually releases news after!
Dark pools are filled with information that allows us to rake in massive profits, and if you're not using them now… then you might be leaving profits on the table. 
If you want to put yourself in a position to profit in any market environment, then check out this exclusive training session and I'll show you how you can use dark pools to your advantage.