The other day I dimed out a trade idea in Pinterest (PINS).
Here's what I mentioned…

PINS continues to look like a strong one having trended up for the past several months bouncing off the 50 sma on the day again just yesterday. I would like to see PINs break $22.50 with a target of $24.50.
On Thursday, PINS actually hit my target fairly quickly…
The reason for the pop?
Facebook (FB) shut down its rival app.
Although I didn't trade PINS, I want to show you the process I used to uncover this quick winner… and why I believe it's so important to follow dark pool activity.
Now, if you refer to the dark pool activity…
Here's how I look at it.

PINS dark pool order went off at $22.04, they purchased 1.312M shares at 16:02:08 (4:02:08 PM ET). The total order size was $28.93M.
To me, if someone is placing an order in the after-hours…
That's worth $28.93M, it probably means it's a financial institution, hedge fund, or just someone with a large financial backing.
If you know anything about these players, they have an unfair advantage, in my opinion…
You see, they have so much money, they can spend a lot of money on research and technology.
It's not a level playing field…
And that's why I use a dark pool scanner.
Why?
Chances are, whoever is placing a bet in the dark pools would be considered "smart money" and elite traders.
That means I can see where they're placing their bets.
However, that doesn't mean I'm following them blindly… I actually conduct my research.
With PINS, there was actually news in the social media space.
Facebook received a lot of backlash from its control of hate speech on its platforms… and some advertisers pulled their spend.
Consequently, I figured these companies may look to other advertisers may look to other social media companies to advertise.
Well, although the catalyst I thought of wasn't right…
There was some news…

Facebook announced it confirmed its plans to shut down Hobbi, PINS competitor.
That means more market share for the stock… and potentially more revenue.
Consequently, the stock exploded on Wednesday and continued its run on Thursday…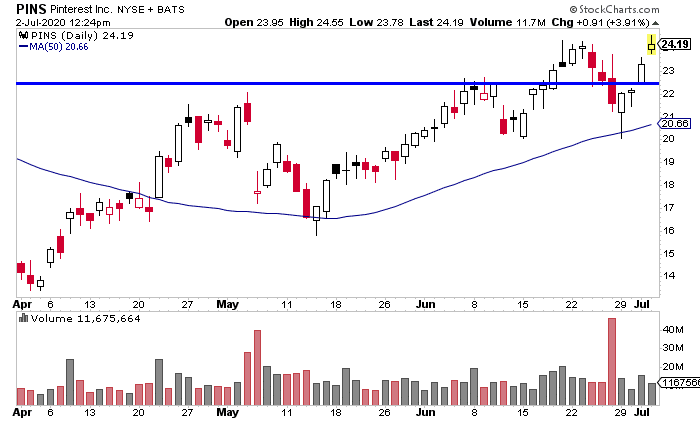 Source: StockCharts
The stock hit the target of $24.50… and for those who took the trade idea, I'm so stoked… even though I didn't take it.
PINS could continue to run from here if FB continues to lose companies advertising on its platforms.
Now, if you want to receive my watchlist and alerts to learn how I use dark pool activity to my advantage… then click here and join now.