Sell the rip and be a contrarian trader… or buy into the momentum and follow the herd? That's the one question many traders have on their minds right now.
It's getting more difficult to make sense of this market, especially when we see a negative news headline come out… and the market runs higher. I don't know about you, but finding ideas related to the overall market is a fool's game.
Rather than struggle to find trade ideas in this environment, I let the Wall Street whales do all the grunt work.
How?
I look to the sandbox where the smart money place their bets — the dark pools.
You see, these guys don't trade on traditional exchanges as you and I do. Instead, they try to operate, covertly… hiding their best ideas in these trading venues. However, what they probably don't know is the fact there are proprietary scanners out there that detect their every move…
If you can spot these plays, you'll have an unfair advantage in the market. Best of all, you can effortlessly generate trade ideas.
So how do I find trade ideas in the dark pools?

We all know how the smart money has an unfair advantage in the markets. They have state-of-the-art technology, research we're not privy to, and an army of analysts. Of course, the playing field isn't level.
However, there's one tool I used to gain an edge in the markets — a dark pool scanner. Basically, I use a tool that identifies where the whales are making money moves… and I develop a trade idea based of that. Instead of trying to filter through thousands of stocks to find the right ones to trade…
The heavy work is done for me. All I have to do is look for a chart pattern, and execute… that's about it.
Let me show you how it all works… and I think it's a good idea to look for plays with upcoming catalysts, especially with earnings season right around the corner.
How To Find Smart Money Trade Ideas

Take this trade in Bed Bath and Beyond (BBBY) for example.
Check this out, I spotted a massive block trade in Bed Bath and Beyond (BBBY).

Source: Bloomberg

A 500,000 share position worth $6.75M. That's a trade idea right there… and I didn't have to do anything, I just had to look at a proprietary scanner.
A whale was sweeping up shares in BBBY ahead of a major U.S. shopping holiday. The dark pool trade told me the "smart money" was getting in… and BBBY could potentially pop. Maybe they had access to non-public information, or maybe they're just amazing stock pickers.
Who knows?
All I knew was the order flow told me the stock could explode higher.
I actually spotted that block trade in real-time… and piled in. Here's what I sent out to my clients…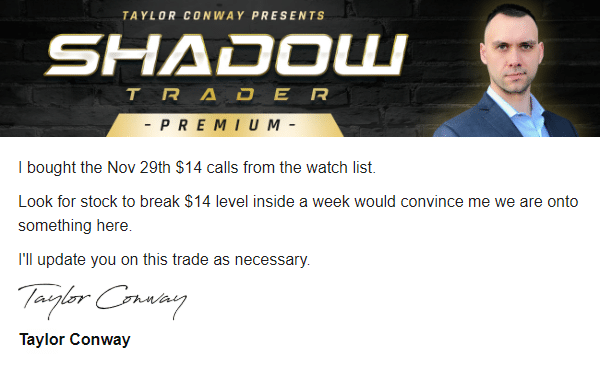 Rather than buying stock outright like the smart money (who have "unlimited" resources), I use the options market to trade off dark pool information because they offer massive profit potential in the shortest time possible.
Just a few hours after I placed the trade… the options exploded and I locked in an 83% return!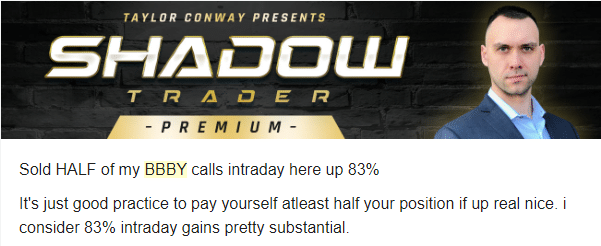 You might think that's a one-off trade… but let me hit you with another example.
I noticed an interesting order that hit the market in Virgin Galactic Holdings Inc (SPCE). A massive player came in and bought up 560K shares of SPCE at $10.20 in a dark pool. That's a trade worth more than $5M.
I don't know about you… but if someone is throwing down that amount of money on a trade… they have a high conviction.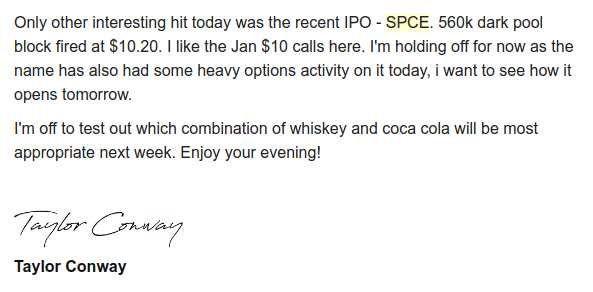 Once I saw that massive trade go off, I placed it on my watchlist and waited for the perfect entry.
Just a few days after the initial block trade went off, I saw more bets placed in the dark pools… that signaled to me something was up.
It could've been the same player from the initial trade loading the boat… or another smart money trader… who knows. It was an interesting play for sure, so I decided to put the trade on.
Again, I didn't look to buy the stock… instead, I decided to stick to the options because it provides me with more leverage and allows me to generate high returns, fast.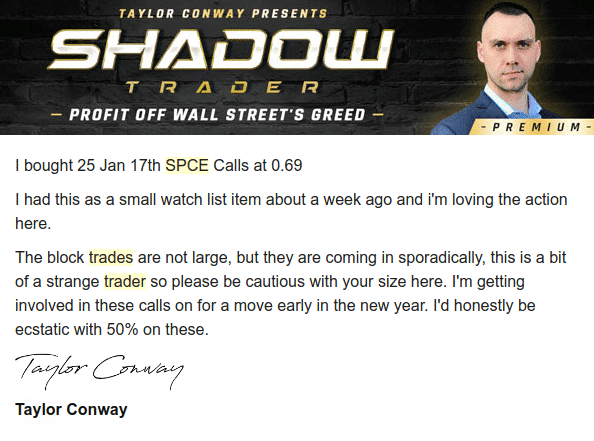 This was an interesting, yet weird play… so rather than putting my full position size on, I decided to play things safe and size down a bit.
Here's what the stock did after I got into the trade…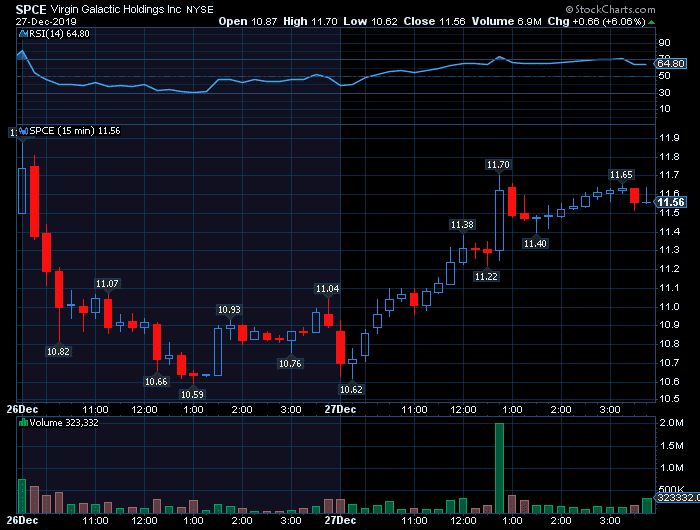 I alerted the trade on Dec. 27, and it started to trend higher that day!
If you know anything about options, you could probably imagine what those calls were doing. If you don't, they exploded and it got right to my profit target!
Now, when I hit my profit targets, I think it's a great idea to take some off the table. That way, you lock in a winner and could still let the rest ride. Remember, just someone decides to sell half, it doesn't mean you have to follow them. Make the trade your own.
Maybe you're satisfied with locking in the entire position for 50%. Trade the way that makes you feel the most comfortable and at ease.

Pretty simple, right?
If you just follow the paper trail, you too could effortlessly generate trade ideas. That's why I love using dark pool information to trade… it provides me with an edge like no other… and my clients are finding a lot of success with my strategy.
Just sold SPCE calls for +36% Thx Taylor! ~ Gary T.
Same here Gary out SPCE +38%, Thanks Taylor ~ Dave
same here for 40%, excellent… ~ Lee
+50% on SPCE ~ Robert
We see trades like these go off in the dark pools ALL the time. If you're ready to legally and ethically steal trade ideas from Wall Street's brightest minds, click here to see how you can profit off their greed.