With the market so wild at these levels…
I'm focused on my edge and remaining highly-selective right now.
What I mean by that is I'm specifically looking for dark pool activityand pairing it with the charts.
Now, the other day, I mentioned how TEAM was on my radar…
And today, I want to follow up on that trade idea and provide you with updates.
Despite the market selloff on Friday, TEAM actually finished positive, and the stock is forming a bullish pattern, in my opinion.
So what are my thoughts on TEAM, and where do I think it can head?
Are Wall Street Whales Playing For A Break Out In TEAM?
I noticed TEAM on my dark pool activity scanner.
Here's what I saw on Monday, to refresh your memory…

As you can see from the order above, someone spent 71 million dollars on the stock.
You heard that right… someone bought 386.1K shares when the stock was trading around $184.56.
Do they think TEAM can break out?
I think so.
Do they know something about the stock that we don't?
It's a possibility, but who really cares.
The only thing I care about here is that there is a fresh trade idea for me to look at and potentially play.
Of course, I don't just blindly follow these Wall Street whales… I actually look for a setup.
Take a look at the daily chart in TEAM.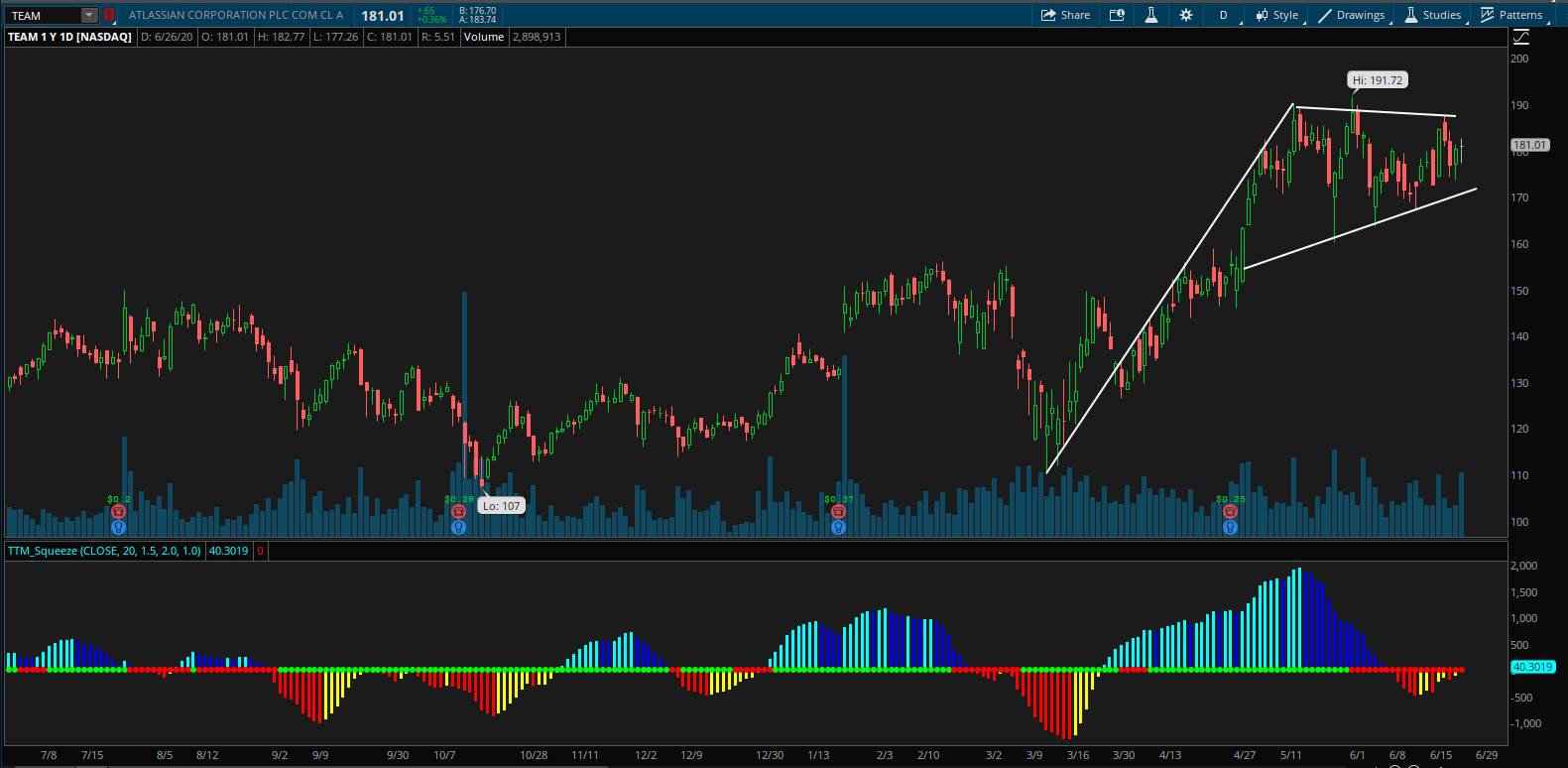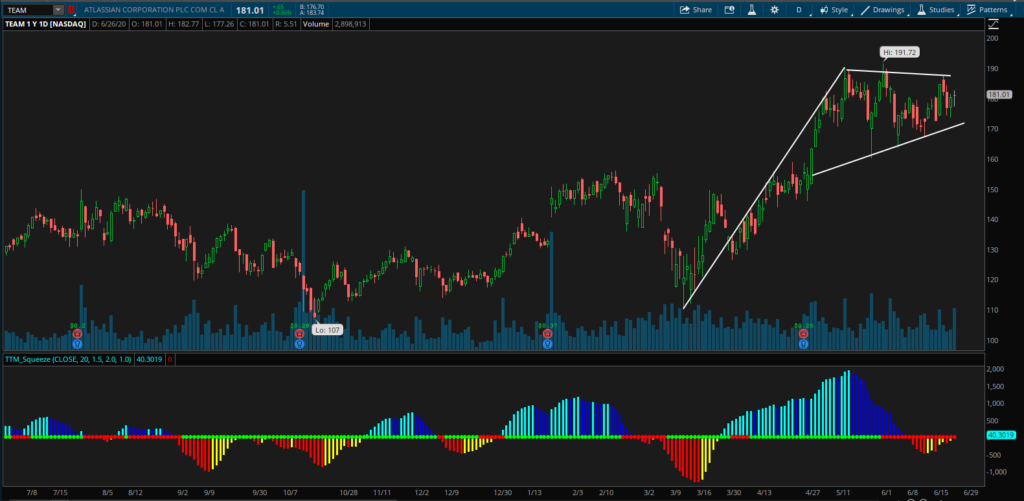 Source: thinkorswim
If you notice, the stock is forming the bull pennant / flag pattern here.
Right now, it's in the pennant portion or consolidation area, and typically… I want to get in around this area.
With the stock consolidating right now, there can be upside momentum very soon,
Why?
Well, take a look at the TTM Squeeze indicator below the chart.
Notice the red dots on the zero-line and the bars below?
Well, if bars break above the zero line and the dots change from red to green, it's a signal to me the stock can run higher.
Right now, I think that could be a possibility… but I'm going to wait until I see a clear signal before I decide to establish a bullish opinion on the stock.
Here's what I sent out to subscribers on Friday…
TEAM- Team has a strong looking chart with daily squeeze that looks to be firing long and it was picked up on the scanner by a strong intermarket sweep order. I think this stock but reach new all time highs soon and someone is positioning for that.
I'll be sure to alert my subscribers if I make a move… and if I have another trade idea, I may let you know about it very soon.
WE MAY HOLD SECURITIES DISCUSSED. RagingBull has not been paid directly or indirectly by the issuer of any security mentioned in the Services. However, Ragingbull.com, LLC, its owners, and its employees may purchase, sell, or hold long or short positions in securities of the companies mentioned in this communication.