We all know how there are shady players on Wall Street… and it actually helps to learn how they think.
I know, I know… Taylor, why in the world would I want to tap into the mindset of these dirty players?
Well, it's simple… these guys have to hide their trades somehow, right?
Especially if they have access to non-public information or are committing fraud.
The thing is, if we figure out how they make money moves… it becomes really easy for us to piggyback off their trade ideas — legally.
Today, I have uncovered a story about a shady CEO who was caught red-handed as he made $14M in illicit profits. This insider trading case will make you grind your gears, but there's a lesson to be learned here.
SEC Charges Ex-CEO With $17M Settlement
There's nothing worse than a company founder and CEO who provides false information to his investors for their personal gain.
It's not good enough the CEOs get paid hundreds of thousands — sometimes millions — of dollars to run the ship… many are still hungry to make more money.
Take mobile payment company Jumio's CEO for example.
This crook flat out lied to investors and employees… and acted as if everything was all fine and dandy.
In 2014, CEO and founder of Jumio decided to step away from being real with employees and letting investors know exactly what was going on behind the scenes.
Jumio is a private mobile payment company that verifies customer's IDs and credit card information. Although we wouldn't have been able to actually trade the stock… It helps us when it comes to publicly-traded companies.
Back in 2011 and 2013, the company received funding to keep it afloat and help it continue to grow operations.
Too bad they didn't fund the company to oust its CEO.
How Jumio CEO Raked In 8 Figures In Illicit Gains
Around Spring 2014, Jumio CEO began to sell his shares in a covert operation. He dumped a large portion of his shares to secondary market investors, allowing him to earn revenue from his stake in Jumio.
However, to pull it off he had to throw the actual Jumio investors under the bus. Talk about dirty.
In order to manipulate the stock price and maximize his profits, Jumio CEO Mattes supplied investors with financial statements that he personally doctored. That's right, investors received false statements that indicated the company was in outstanding financial health.
The CEO overstated his company's revenue and omit expenses.
Get this… he multiplied the company's revenue by 10 fold! 
To add this false impression of financial wellness, on at least one occasion, he told an investor that he was holding on to his Jumio shares. His exact wording was "there was lots of great stuff coming up" and that "he'd be stupid to sell at this point". 
… completely lying his face off. 
Mattes's theatrical performances were far from over.
He went on to conceal his sales of shares from his company's board of directors. Going as far as making blatantly false statements to specific Jumio lawyers who had to sign off on all Jumio share sales.
By being a dirty player, Mattes made $14 million in profits from selling his Jumio shares to secondary market investors.
However, karma got to him and the SEC was onto his scheme… the company not only went bankrupt in 2016… but the CEO also had to empty his pockets. He needs to pay over a $16 million disgorgement plus interest and a $640,000 penalty. Hope he held on to that $14 million from screwing over Jumio investors.
Sure, this went down in the private market… and it's hard for us to find information there… however, what you may not know is there are dirty players on Wall Street, and they've figured out ways to covertly trade off non-public information.
Profit Off Wall Street's Greed
In order to figure out what these dirty players are doing… I turn to the dark pools.
Of course, we don't know the information whatsoever… all we know is someone is buying and they may know something. It may be a corporate insider, investment bank, hedge fund, or Wall Street whale… who knows.
The only thing we do know is these guys don't lose, and we can legally "steal" their trade ideas.
Let me show you how it all works.
I spotted a dark pool trade in Merck & Co (MRK)… and that was a signal the stock could run up.
MRK – 2m at 88.65 – Jan 17th $89 Calls watching close in the morning for a potential trade
Someone dropped a whopping $177.3M on the trade above… and I don't know about you, but I don't think someone is dropping $100M+ on a trade if they're not confident it's going to pop.
When I saw a Wall Street whale hammer MRK shares at $88.65, I just knew I had to keep an eye on it, so I let my clients know it was on my watchlist.
The trade went off right at a key support level, and I realized the smart money was looking for the stock to take out recent highs…
So what did I do?
I followed them into the trade.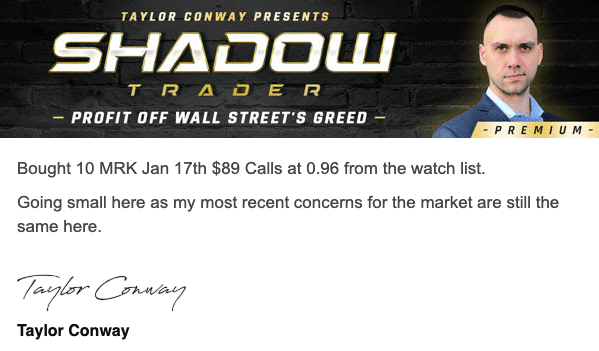 Dark pools are filled with some of the best trade ideas in the game! Want to start using this information to your advantage? All you have to do is watch this training session and you'll know why this could be your #1 edge.
However, I didn't buy the stock because that would've eaten up at my buying power. Instead, I turned to the options market.
Shortly after, I was sitting on some hefty profits, and I locked in a 54% winner…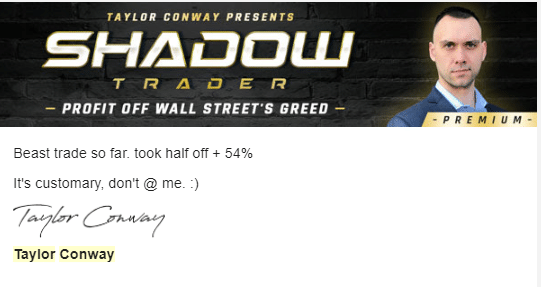 However, I wasn't the only one who profited from this trade… many of my clients also locked in a monster winner.
jeez MRK ST up 25% ~ Lee S.
first 1/2 of MRK calls sold +30% Thx Taylor ~ Gary T.
MRK st up at 38%, will trail out at 50% ~ Ben E.
first half of MRK out at 50% ~ Ben E.
second 1/2 of MRK sold +45% Thx again Taylor ~ Gary T.
Thnx Taylor I'm back over 10k! ~ Mark S.
Out at +50% on MRK…thanks, TC! ~ Chad E.
had a trailing stop on MRK as I had to step away, got 46.2%, thanks Taylor! ~ Kevin S.
That's the power of following these Wall Street whales… and sometimes, we uncover some seemingly well-timed trades, in which the company actually releases news after!
Dark pools are filled with information that allows us to rake in massive profits, and if you're not using them now… then you might be leaving profits on the table. 
Click here to find out how dark pools work and why you can effortlessly generate trade ideas by just looking at order flow.