Would you risk a $30 million dollar payday to receive an extra, yet illegal $2 million? As a trader, the risk-reward is just not there for me to even consider doing hard time to make money… and I don't think you would risk it either.
However, the Wall Street insiders are so greedy, they will do anything to just make a quick buck.
Not everyone makes smart choices like you and me. Case and point: the CEO of a Silicon-Valley fiber optics company decided that that $2 million in illicit profits was worth going down in history as the worst and most embarrassing inside trader.
This guy was getting paid a hefty salary to run a publicly-traded company (at the time), yet… he needed more money on top of his $30M windfall. 
Today, I want to expose a cringe-worthy insider trading case, and show you how you could legally and directly profit off the backs of Wall Street's largest players.
Enter Peter C. Chang. 
Chang was CEO and president of his company, Alliance Fiber Optic Product Inc. (which previously traded under the ticker AFOP) from its birth in 1995 till it was acquired by Corning Inc in 2016.
Chang would be an honest CEO for 10 years. However, by 2015 everything changed.
As part of Chang's role as CEO, of course, he had steady dealings with nonpublic information about his company's earnings results and financial performance. What stood out about 2015 was the anticipated acquisition of AFOP. 
Chang's position in the company allowed him to be privy to restricted information. However, under securities laws, he had special restrictions placed on him. These restrictions were specifically designed to keep people that had access to this information from using it illegally to their advantage.
Not only that, but AFOP had an insider trading policy. The policy prohibited employees AND immediate family members from trading on nonpublic info. It specifies that the CFO would have to pre-clear all employees AFOP trades.
Moreover, the company also had trading blackout dates that specified that 1 month prior to the fiscal quarter up until two days after the earnings release was a no go for trading AFOP. Chang also signed a deal-related agreement. This agreement specifically said that Chang had to keep the Corning acquisition confidential.
Chang held the largest amount of AFOP stock and as part of the federal securities laws, he was required to disclose his ownership of all AFOP securities.
How The Shady Dealings Went Down
Chang was sitting on a goldmine of non-public information… and while most CEOs won't even consider using it to their advantage, there are plenty of bad apples in the market.
Chang was one of those bad apples who decided to abandon his moral high ground and start secretly trading under his wife's and brother's name. He would do this repeatedly. And he had the AUDACITY TO DO IT FROM HIS AFOP WORK COMPUTER immediately after board meetings and during blackout periods! 
Wrap your mind around the fact that Chang was placing insider trades from inside his office. It's like he was begging to get caught! Did he really believe that using his wife and brother's name on the brokerage account would be too complex for the authorities to figure out?
Chang's brother, who lived in Taiwan, had a P.O. Box address in California which surprise, surprise Chang owned. The account also had a California phone number attached to it which Chang paid the bills for.
Chang also jumped on the phone to relay this highly secretive nonpublic info to his brother in Taiwan. Chang's brother in Taiwan just so happen to trade his own AFOP shares (terrible that we have differentiated his own trading and his brother Chang's trading). His brother traded close, suspiciously close the trades Chang made. 
Chang's wife's brokerage account worked the opposite of Chang's brother. Her account was opened at Scottrade Taiwan, and his wife, a US citizen, was shown as a citizen of Taiwan.
Because one big and I mean BIG thing Chang seemed to forget about was actually a little thing ── IP addresses. Both Chang's wife and brother's account logged the IP address that named what network and device access that account. 
Two of the locations that came up were the AFOP office and Chang's lovely home.
Of course, it didn't take long for people to catch on.
A hold was placed on Chang's brother's account to which Chang tried to lie his way out of it claiming Chang was common last name. However, this brokerage service was having none of that crap. The brokerage gave Chang 30 days to transfer services. But within 2 weeks of this notification, all the remaining AFOP shares in the account were sold.
Chang's insider trading scheme was greedy and STUPID. 
He was already going to get $30 million from the acquisition of his company through legit stock and options. But he decided to risk it all to make a measly $2 million in illicit profits. 
The thing is… we still see insider trades like this one to this day. However, now, we have the necessary tools to spot these trades ahead of time, all without knowing the news. What that means is we could follow these insiders into the trade, and it's 100% legal.
Let me show you how it all works…
[Case Study] How I Spotted A 50% Winner In The Dark Pools
The elite traders use dark pools to hide their best ideas… but I use a proprietary scanner to sniff out their every move.
Take a look at this trade alert I sent out to my clients.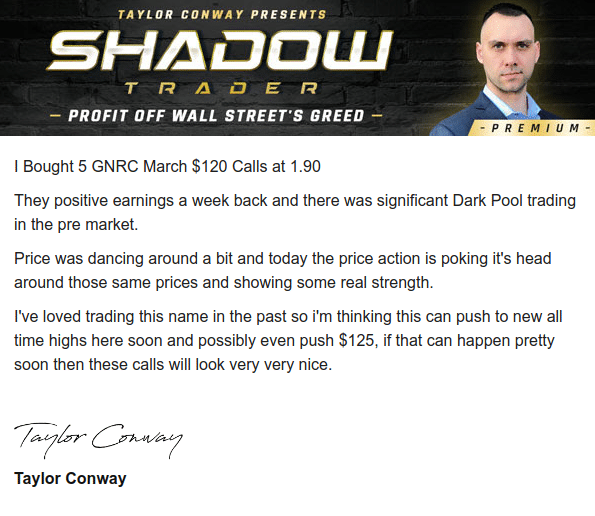 Generac Holdings Inc. (GNRC) reported positive earnings… and I noticed significant dark pool trading activity in the pre-market the day I traded it. That was a signal to me someone wanted in and they didn't want people to know about it.
The scanner alerted me about the trade, and all I had to do was plan the trade and execute. Pretty simple, right?
Guess what happened the very next day?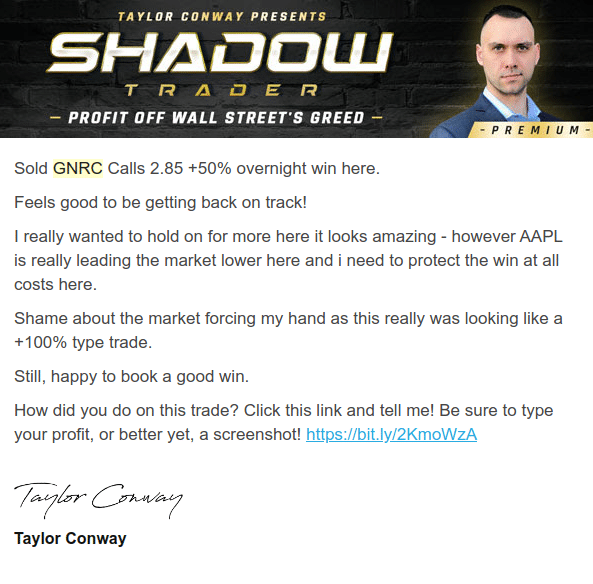 I locked in a 50% winner overnight! If you missed out on this monster winner, don't worry… because there are plenty more to come. However, I want you to understand how this strategy works before you consider using it to your advantage… so click here to watch this exclusive training session.
Related Articles: