If you haven't heard by now, shares of Luckin Coffee (LK) — what some called the Starbucks of China — has been halted since April 7.
LK was trading at more than $25 a share… but there were fraud allegations, and that sent the stock down to less than $5 a share. Of course, those who held shares of LK probably woke up in a panic, as they may have lost a bulk of their investment.
The thing is, there is fraud going on all the time, and that's why I stick to trading stocks and look to the dark pools.
Today, I want to show you what was going on in Luckin Coffee, and how to potentially avoid companies like this.
Luckin Coffee was the new kid on the block by way of coffee kingdoms. 
The company was founded in 2017, and its ascent was remarkable, as it grew from 9 stores to 4,500 at the end of 2019. 
And while Luckin may have been striving to outdo Starbucks in China it instead ended up flat on its face, despite still serving up hot cups of joe.
In January, the Chinese coffee company was rocked by scandal and it has only gotten worse from there.
The thing about lying is…. someday that lie…. is gonna rear its ugly head. 
That is exactly what is happening with Luckin Coffee.
Early this year it came to surface that Luckin could have been greatly inflating the number of items sold in its shops per day. And supposedly there are over 11,000 hours of video footage to support the allegations.
This information came by way of a mysterious 89-page report to Muddy Waters Research.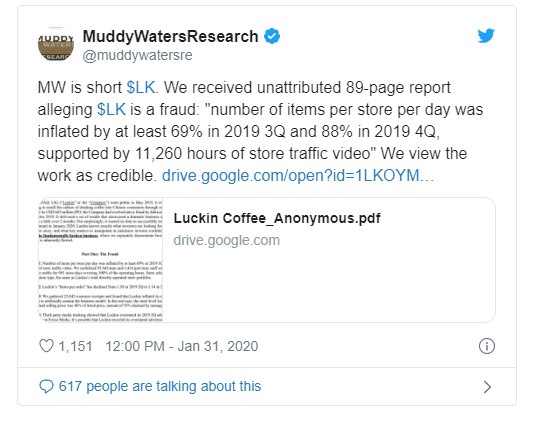 Which in itself is shady hell to me.

Luckin Coffee's Investigation
Luckin let the cat out of the bag when it was revealed that the company had concluded its own investigation into its Chief Operating Officer Jian Liu. 
The results confirmed that that good old Liu did inflate sales in 2019 and by as much as $310 million.
The internal investigation revealed that not only did COO Liu falsify sales, but he had the help of a few other Luckin employees. 
Currently, Jian Liu and his accomplices have been suspended. Luckin Coffee is fully prepared to take legal action against the guilty parties involved.
But there is still ongoing speculation. Many believe that an inflation scheme this size could have hardly been carried out by only a single executive and a handful of subordinates.
However, Luckin Coffee's drama was far from over.
April 7th trading for Luckin Coffee was halted and it would become all too clear why.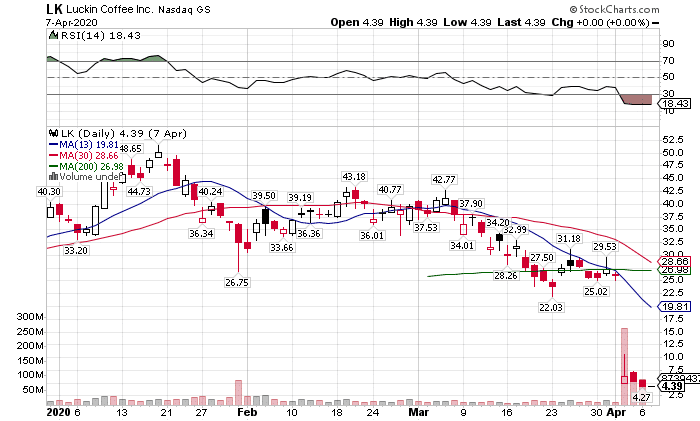 Chart Courtesy of StockCharts
Defaulting on a loan can be a disaster for any normal person's credit. 
Luckin's CEO Jenny Zhiya Qian and Chairman Charles Zhengyao defaulted a $518 million margin loan. Now the duo is paying for it with their Luckin Coffee shares.
610,800,752 class A shares and class B shares to be exact, were used as collateral for the massive loan. 
Multiple banks are listed on the loan: Goldman Sachs, Morgan Stanley, Barclay, and several more.
Goldman Sachs didn't even hesitate to snatch up the shares it was owed. The question is, what the company will do with them now?
Goldman Sachs explained that if the Luckin shares are sold, Chairman Zhengyao's voting interest will pretty much remain unchanged. However, CEO Qian's interest would tank.
So far Luckin Coffee has kept its head down and has yet to comment on the defaulted loan by its CEO on Chairman.
The key takeaway here is to conduct due diligence and look for clues anywhere you can get them. Now, I didn't actively look for dark pool activity in LK shares, as I was busy with my wife and family (and our newborn).
The thing is, I wouldn't be surprised if there was some shady activity in the dark pools ahead of the news. If you're interested in learning more about dark pools and how to spot potentially large moves in specific stocks, then I think you might want to check out my Dark Pool Trading Masterclass.
Related Articles: