Stocks are finally rebounding after last week's bloodbath… and many are trying to figure out whether to buy the dip or sell the rip.
If you let someone manage your money, you've probably heard comments such as, "This is just temporary, the market should bounce back" or "You should consider this investment opportunity, it's a value play at these levels".
Well, there's a reason I handle my own money because no one will treat it with the love and care it deserves. You see, these money managers are focused on lining their own pockets… and the worst part is they're just satisfied with annual returns of 10%.
Today, I want to expose the way some portfolio managers operate and prove to you that you can outperform these dirty players.
How One Portfolio Manager Fixed Rates And Raked in $3.6M
This SEC case involves a New Jersey portfolio manager (PM) who was driven by greed. This PM was mispricing private fund investments just so he could receive a juicy personal bonus amounting to millions.
Not once did he care about investors or the company's reputation. That's what I'm talking about when these large players will stop at nothing to make money.
Here's how this PM went behind investors backs…
In the spring of 2015, the adviser wanted to boost the fund's profits in a variety of interest rate products. This was the time when the fund decided unfortunately to bring Swapnil Rege on board. 
Rege seemed to be just a regular guy in his mid-40s from North Brunswick, New Jersey. 
Rege was brought on as a portfolio manager to trade interest rate products for the firm.
For the most part, the firm was satisfied with his performance. By the end of 2015, he had somehow made the fund $4 million in profits. This was worth celebrating and the company rewarded Rege with a whopping $208,000 bonus.
Because of these profits the fund decided to make a change to Rege's bonus for 2016 and boosted his bonus to 8% of his profits.
The Portfolio Manager Started To Get Greedy…
We can suppose this was just the fuel Rege needed to start committing fraud. 
In 2015 Rege had convinced the fund adviser he worked for, to stop using counterparty quotes. He suggested using fair value pricing for the interest rate swaps. 
Now the catch here was the inputs could be altered by the fund adviser. The company agreed with Rege's idea but wanted Rege and the other portfolio managers to only use the default settings and inputs.
But what's a crook to do?
Between June 2016 and April 2017 Rege was hard at work changing the default setting on the pricing model on specific swaps and swaption positions.
Rege was using differing discount curves on positions that were almost identical if not extremely similar to the underlying terms. The fund adviser records should have, keyword here, should have shown these offsetting or almost offsetting values.
Rege instead created fake gains for the fund adviser which showed record profits that in reality never existed. 
Guess what happened?
His portfolio reflected gains of over $44 million for just 2016. 
Rege's anticipated bonus for 2016 was going to be sitting around $3.6 million, a sexy sum in itself… but especially so for no real profits.
On the last day of 2016 the fund cut Rege a check for $600,000 from the company's bonus pool. The remaining $3 million would be paid out after the fund had completed its annual audit.
Of course, this PM's lies caught up to him… and he did face the consequences. The thing is, this is just one of the many cases of dirty players in the game. However, we can directly profit off the backs of them… and best of all it's 100% legal.
If you don't know already, the largest players need to hide their best ideas… and they do so in dark pools. This is where I piggyback off their ideas… let me show you how it works

I spotted dark pool activity in Generac Holdings (GNRC) and the most interesting part was the stock had positive earnings just a few weeks ago… and it broke above a key resistance level.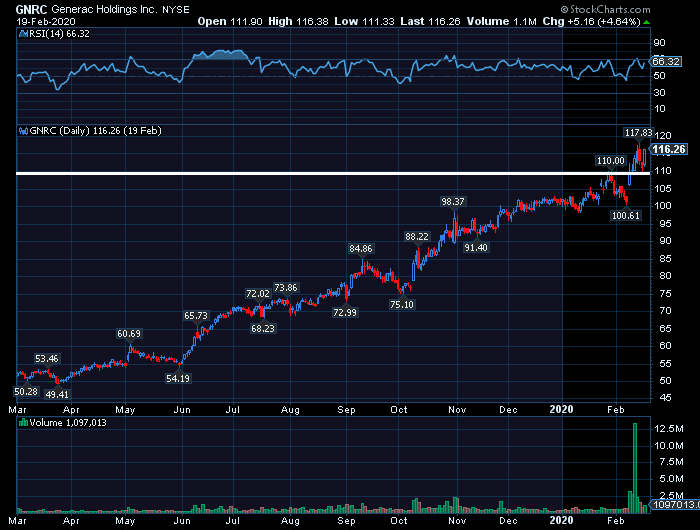 I figured the stock could continue higher… and the options would explode given the dark pool activity. That was good for a 50% overnight win!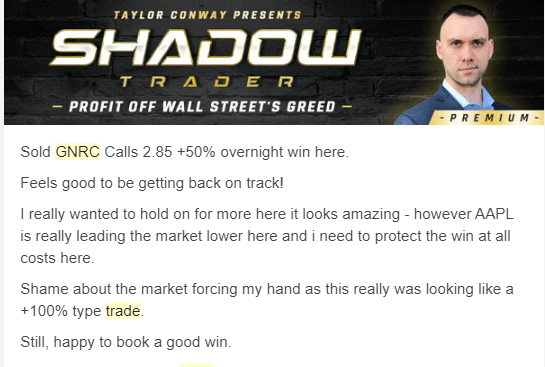 Now, this isn't a one-off trade. In fact, I spot trades like this consistently, and if you want to learn more about my dark pool strategy, click here to watch this exclusive training session.
Related Articles: