If you've been in the trading and investing game long enough, you probably know Wall Street is riddled with scummy players. There are people who will stop at nothing to make a quick buck, and today, I've got a story that might make you blow a gasket.
Ever heard of the New York Stock Exchange (NYSE)?
Well, if you haven't, companies listed on NYSE go through stringent requirements to trade on it. Stocks need to be completely transparent, and obviously, they can't lie to investors. However, that's the exact opposite of what Agria Corporation did.
The company hid its losses from investors, and the executive chairman manipulated the company's share prices to meet NYSE reporting requirements.
Those were actions investors didn't even fathom. The thing is… if those investors had access to the right technology and spotted the order flow, they could have potentially figured out what was actually going on behind the scenes.
So what can we learn from this insider trading case in Agria Corporation?
Agria Corporation is a global agriculture business  — at one point, the company was listed in NYSE… until it was delisted at the start of 2017. Before we get into how these dirty players stole from investors and traders, I need to cover some background information.
Let's go back to where it all started… 2010.
Agria had an obscure deal with P3A, its Chinese operating company. If you know anything about Chinese stocks, there isn't as much information out there like your traditional blue chips or U.S. companies. That was red flag #1 about this stock.
As I delved deeper into this case, I found Agria traded its partial ownership of P3A to the company's president in exchange for president transferring his partial ownership of Agria back. Additionally, Agria received 13,500 acres of undeveloped land in beautiful mountains of China's Shanxi Province.
Pretty shady dealings between these two companies.
While it sounds like Agria got a great deal on 13,500 acres… but there was no actual value there.
The Terms Of The Wacky Deal
Agria didn't have legal consent to use the land from the lessors that P3A had.

Eight out of nine of the lessors didn't even have valid title certificates themselves for the land. 

Two of the lessors had lease agreements that went

over

China's law for leasing periods.

Seven of the nine sections of land weren't registered with the local government. And the icing on the cake. 5: The soil of all 13,500 acres quite frankly sucked.
Despite the many issues with the land Agria claimed it could legally sublease the land to a third party. If you think about it, there were so many red flags right then and there, and all these investors had to do was read between the lines.
The truth was Agria couldn't use the land commercially nor could Agria sell or lease it. Heck, Agria probably couldn't have even given it away.
But Agria, with more than mountains of red flags looming, continued to record the value for this land in their financial statements in both 2011 and 2012.

The Web Of Lies
In 2013 Agria claimed this land was worth almost $60 million. By VASTLY OVESTATING the value of this land Agria hid what would have been a huge loss from investors.
That wasn't even the only thing Agria was overstating. Agria had already inflated the value of its stock by $17 million!
That wasn't the end of the scandals at Agria.
Lai Guanglin was an executive chairman of Agria's board of directors. He also served as the company's CEO and Co-CEO from time to time.
Lai owned over 40% of Agria's shares… and when there's so much ownership in a Chinese company in the hands of one person, it spells trouble.
When Agria shares first traded on the NYSE they were worth $16 per share.
As time passed, the short-sellers flooded in and brought the stock down. By July 2011 NYSE informed Agria, that it was no longer up to the Exchange's standards. The NYSE gave Agria 30 days to keep its closing price of OVER $1.
A year later Agria received this warning for a second time.

Agria CEO's Dirty Dealings
Now think of Lai sitting, knowing he owned over 40% of Agria's shares that went from a promising $16 to not even a dollar…. Not a fun spot to be in. However, these insiders are able to purchase shares on the cheap, heck they could've been virtually free.
However, instead of selling, Lai went the illegal route that would only further damage the company.
March 7, 2013, Lai put his scheme to raise Agria's share price into motion.
Lai used 2 US brokerage accounts under 2 different associates' names. He then used family members and even employees as his go-between to fund the accounts. Even Lai's personal assistant was used as a middleman to transfer $2.3 million into one of the accounts.
Then on Lai's orders, his associates began to make large limit orders for Agria. By doing this he raised Agria share from $0.73 to $1.14 in the first 24 hours of his scheme.
And for the next 30 days, this continued. The goal is only to keep the share price over one dollar. These trades accounted for 46% of Agria total trades between March 7th to April 23, 2013.
Agria's share prices during this time were constantly under Lai's influence. However, in a press release, Lai would lead the public to believe the good fortune came from "organic growth and efforts".
Eventually, all Agria and Lai's shady business would come to the surface.
Agria will be paying a $3 million penalty for being a dirty Lair.
Lai will be paying a $400,000 penalty along with receiving an officer and director bars for the next 5-year for his manipulation of Agria's share price and his lies.
The thing is… we see this happen in the market still to this day — Wall Street's dirty players have only gotten better at this game. They trade on "secret" venues that the elite have access to and try to hide their trades in that sandbox.
However, there are actually tools out there that help to detect their every move.
Let me show you what I'm talking about.
A few weeks ago, I spotted some interesting activity in GNRC. The company had positive earnings and there was a lot of dark pool trading activity in the pre-market. What that signaled to me was someone may have known something, or they had high conviction GNRC could run higher.
Who knows.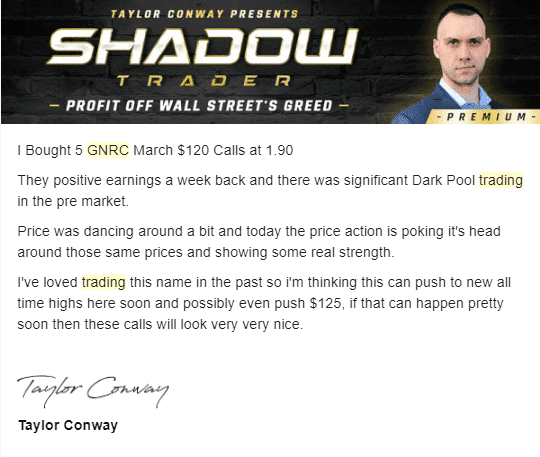 I spotted dark pool activity in Generac Holdings (GNRC) and the most interesting part was the stock had positive earnings that propelled the stock higher… and it broke above a key resistance level. Who in their right mind would buy the stock at those levels especially when the market was volatile.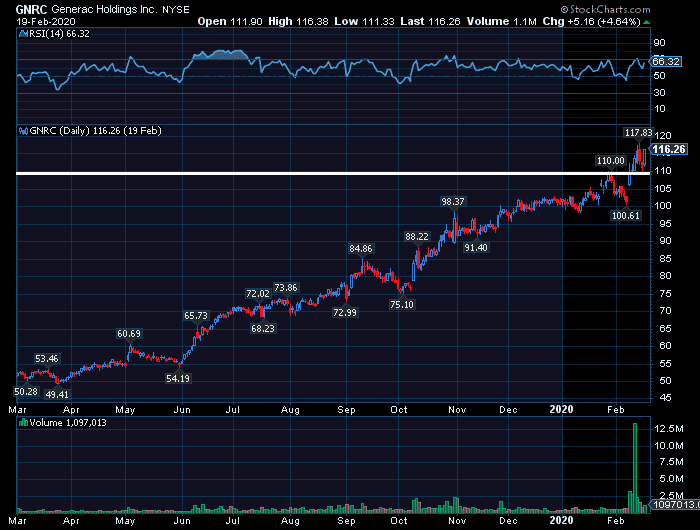 I figured the stock could continue higher… and the options would explode given the dark pool activity. That was good for a 50% overnight win!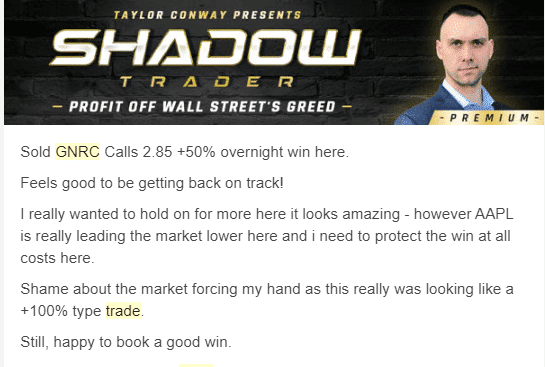 Now, this isn't a one-off trade. In fact, I spot trades like this consistently, and if you want to learn more about my dark pool strategy, click here to watch this exclusive training session.
Related Articles: