We all know how the street is filled with shady players who will stop at nothing to just make a quick buck. Typically, innocent investors don't know they've been caught in a scheme… until after the fact.
That's what happened with 3,000 innocent people. 
In a span of 4 years, a trio stole more than $300M from investors… and they used three different ways to steal from them.
So far, the CEO of this company was charged by the Securities and Exchange Commission for his part in the Florida-based cash advance scam, as well as the salesman who trolled for investors. But Alan G. Heide the CFO of 1 Global Capital LLC head is now on the chopping block.
How did this elaborate $322M scheme start… and what did they do with all that cash?
Today, I will expose the trifling trio, and more importantly, I will provide you with a unique way to profit off Wall Street's greed.
How The Trifling Three Stole $322M From Investors
Back in 2014, 1 Global Capital, a relatively new company started slinging unregistered securities offerings. The company would do so for 4 years till it got caught.
The trio victimized thousands of investors ─ the worst part is most of them sunk their retirement savings into the investments. Ouch… imagine thinking you'll make a fortune and live off your retirement account, only to get taken for a wild ride.
Here's how it all went down.
The Florida based business enlisted Henry J. "Trae" Wieniewitz III to sell its unregistered securities through his firm Wieniewitz Financial. Here's the kicker: he sold to investors all over the U.S, with only a few states spared from the scheme. 
The pitch that lured so many in was simple, short-term financing to small and medium-sized companies. If you know anything about investing… these are the types of companies that offer explosive returns.
Of course, the promise enticed thousands to fork over their cash. Not only that, but the investment firm pitch included high-returns and low-risks. 
Here's where the scheme gets interesting…
1 Global used the money from investors to give short-term cash advances, called merchant cash advances. These advances would go to businesses that couldn't obtain normal financing like bank loans. That's a red flag in itself.
What really happened is that more than 3,600 people in the US suddenly had something in common ── Getting swindled, many losing their retirement savings.
The money for the merchant cash advances went to operating expenses for 1 Global and the 78-year-old founder and CEO's luxury lifestyle. 
The CFO knew all about the shady crap going down and still went ahead and signed the investors' monthly statements. Heck, he knew the numbers on the statements were vastly overstated. Alan even went as far as claiming that 1 Global had an independent auditor that made sure that all the investors' returns were calculated correctly. Alan would have a hand in the misrepresentation of certain aspects of 1 Global marketing materials.
The scam ultimately left the 1 Global Capital LLC bankrupt, with hundreds of millions of dollars owed to investors.
What did the 78-year-old CEO Carl Ruderman do with the investor money?
$35 million is known to be misappropriated by 1 Global and Ruderman. At least $28 million of the investors' money went directly into the Ruderman Family Trust and other entities that he controlled, businesses run by family members, and of course some good times. 
What is known is the fact Ruderman took a lavish family vacation to Greece. He made continuous monthly payments on his plush ride, a Mercedes Benz. And paid his household staff.
Former CEO and 1 Global founder, Carl Ruderman has been charged with fraud. He is permanently barred from securities registration, broker-dealer registration provisions, and from violating antifraud federal securities laws.
Not only that, but he is being held responsible for a $32 million disgorgement for ill-gotten gains and received a civil penalty of $15 million. He will be coughing up about $750K in cash as well as giving up 50% equity in his luxury multimillion-dollar condo.
The slinger of the unregistered securities, Henry J. Wieniewitz the 3rd was charged for his unlawful sales of the 1 Global securities and he settled. He is responsible for a $3.5 million disgorgement and $150,000 civil penalty. He is too enjoined from broker-dealers registration provisions of the federal securities laws and from violating the securities registration.
There is a huge lesson to be learned here. Always check the background of the person who is trying to sell you an investment. Even touching base with other more experienced investors to see their thoughts on it. 
A little leg work would have gone a long way here. Over 3,600 investors all made the same mistake and together and got taken for $322 million.
The sad part is the company that slang the unregistered 1 Global securities had sold unregistered securities before. 
All this loss could have been prevented with a little investigative work or a good mentor.
If you think this only goes down in the private markets…sorry to say, but you're dead wrong. We see Wall Street "insiders" swindle traders all the time, but in a different fashion. They get an upper hand in a different manner, state-of-the-art technology, an army of analysts, and potentially non-public information.
How To Use Dark Pool Information To Your Advantage
The thing is… Wall Street's largest players leave clues in the markets. More specifically, you can find them in dark pools. However, it's not actually illegal for us to trade off that information. 
You see, there are special filters out there that detect massive block trades that go off on dark pools. This helps us effortlessly generate trade ideas, and legally steal ideas from the large banks on the street.
In order to spot these trades, I use a proprietary scanner.
Let me show you with a case study.
I noticed an interesting order that hit the market in Virgin Galactic Holdings Inc (SPCE). One whale came in and bought up 560K shares of SPCE at $10.20 in a dark pool. That signaled to me the stock could run higher.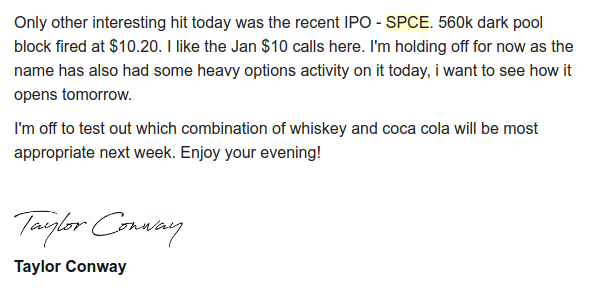 When I see a massive options order go off on the dark like SPCE, I place it on my watchlist… waiting for the perfect entry. Just a few days later, I saw more block trades hit the market and figured something was up. It could've been the same player from earlier scooping up more shares of a potential catalyst, who knows. It was an interesting play for sure, so I decided to put the trade on.
However, I didn't buy the stock… I decided to stick to the options because it provides me with more leverage and allows me to generate high returns, fast.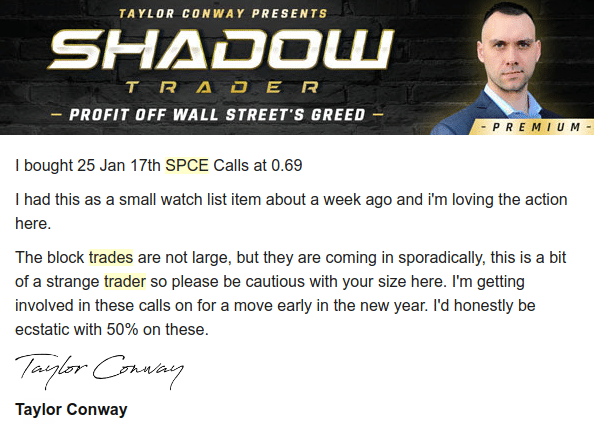 Since this was a strange play, I decided to size my trade a bit smaller than usual, just in case things went sour. 
Here's what the stock did after I got into the trade…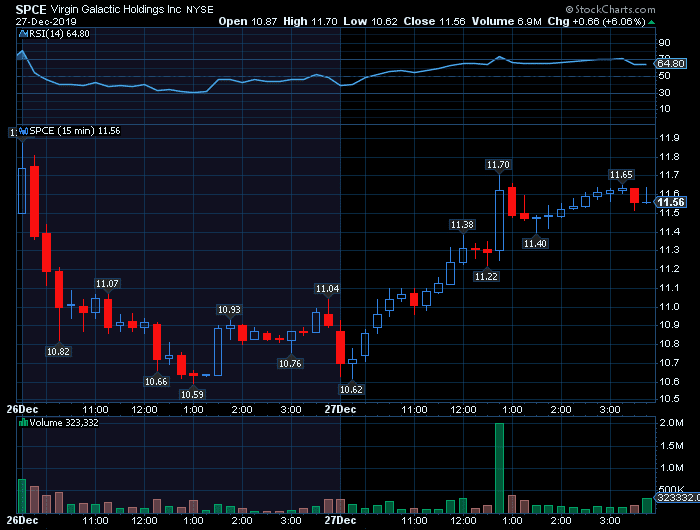 I alerted the trade on Dec. 27, and it started to trend higher all day!
As you would expect, the calls were running up that day… and it got right to my profit target! When I hit my profit targets, I think it's a good idea to take some off the table, and let the rest ride. Remember, just someone decides to sell half, it doesn't mean you have to follow suit.
Maybe you're satisfied with locking in the entire position for 50%. Do what makes you feel comfortable.

I decided to hold the rest to try to juice some more profits out of it… but no cigar. However, it was still a very nice trade overall. Here's a look at what I sent out to my clients when I closed out the last portion of the trade.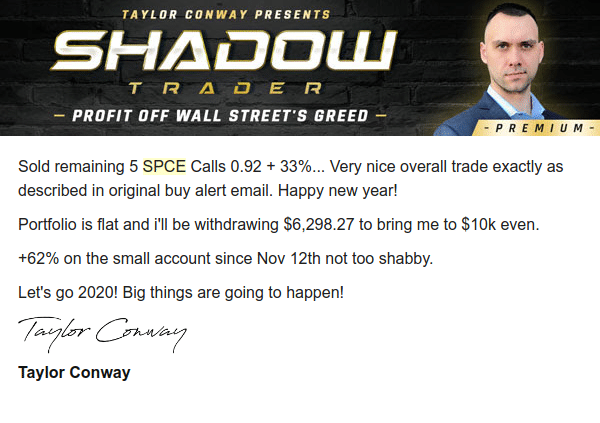 That's the power of using dark pool information, and my clients are finding a lot of success with my strategy.
Just sold SPCE calls for +36% Thx Taylor! ~ Gary T.
Same here Gary out SPCE +38%, Thanks Taylor ~ Dave
same here for 40%, excellent… ~ Lee
+50% on SPCE ~ Robert
There are a plethora of trades going off in the market just like these… and all you need to do is be there to execute the trade. If you want to start profiting off Wall Street's greed, click here to see how to do just that.