It's been a wild market today, as many stocks were halted this morning — all major indices were down more than 7% at one point amidst the surprise price action in oil. Heck, stock trading was halted shortly after the opening bell.
In times like these, patience is key. Sure, I can be a part of the "buy the dippers" and pile in at these levels… or I could trend trade and short stocks. However, that's not my trading style — I look for dark pool activity and follow the smart money.
For the most part, cash is king to me at these levels… especially since I swing trade for the most part. On the other hand, it's day traders galore with all this volatility. I'll be sidelined for the most part until I see more actionable ideas on the dark pools.
If you got lit up or struggle to find trade ideas in this market environment, I want to walk you through some quick tips and tricks today.
If you have no conviction on any trade ideas, it's okay to be on the sidelines. I haven't seen any high probably setups right now, so I've remained in cash… and I'm okay with that. I never want to put on gamble trades because at the end of the day, it's my hard-earned cash and just throwing up long shot bets is one way to get knocked out of the game.
If you're already in positions, don't fret and risk manage properly. The smart money traders remain calm, cool and collected no matter what the market is doing.
I know It's very easy to get caught up in the emotions and deviate from your plans.
For example, examining crazy technical indicators doesn't fit into my trading style. Now, I'm not knocking you, if you use it… but now's not the time to make excuses if a trade goes against you.
Especially over the past few trading sessions… you've probably heard traders say, "I'm getting into this trade because the 200-day simple moving average (SMA) is a support level and the stock bounced off of it… I think it's going up."
Just take a look at the daily chart in the SPDR S&P 500 ETF (SPY).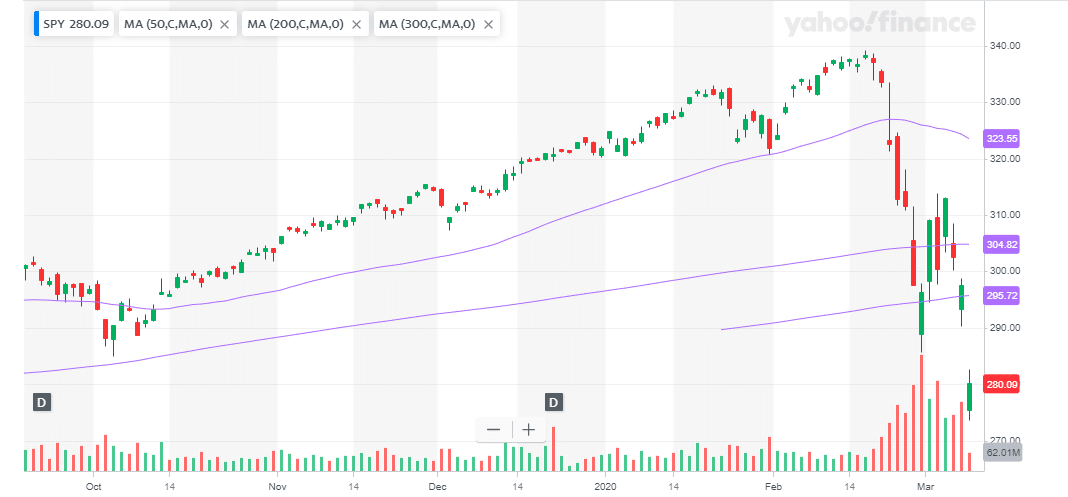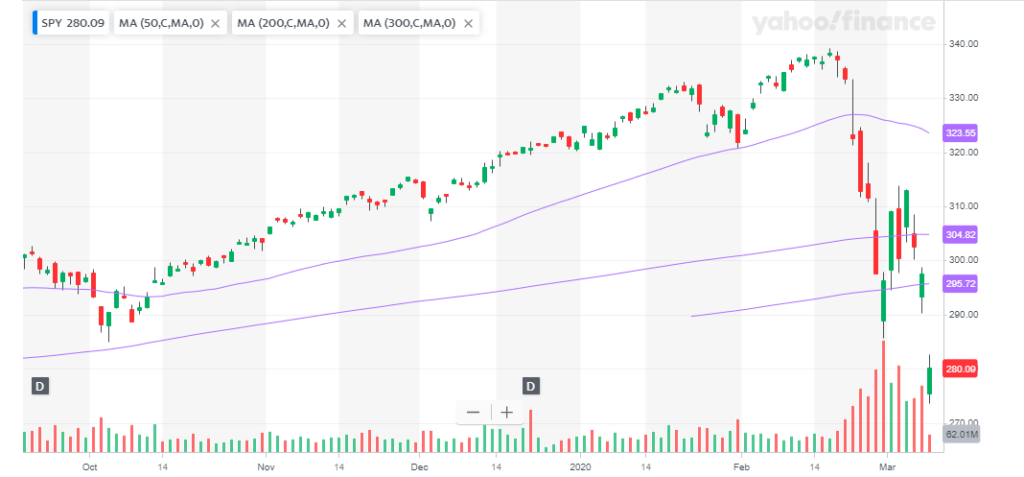 Source: Yahoo Finance
Just imagine if you just kept a losing position and continued to buy as it moved against you… you'd be in a world of pain.
I can't tell you how many times I've seen traders do this with moving averages… only to see the stock break below that… and for them to say, "Well, I could place my stop at the 300-day moving average, that's the next support level." 
Then, the stock breaks below that level… and they continue to make excuses and use technical indicators as the reasoning behind why they are stuck in a losing position and giving up their income.
They continue to make excuses when the market breaks key levels.
Right now, if you really want to develop the mindset for navigating the markets amidst this market selloff is to look for key levels and have a trading plan in place.
No matter what strategy you use, make sure you have:
A thesis. The reason you're getting into the trade.

Buy, stop-loss, and target areas. Execution is one of the most important factors of trading, and you should know what prices you want to get in, sell in case things go against you, and take profits.

A watchlist in place. I definitely don't want to randomly buy stocks or options in this environment, so I find having a basket of names to watch helps.
Knowing how to execute trades is also extremely important. If you are considering to place trades, make sure to watch the bid-ask spreads… and if I do decide to put on trades, I definitely won't be using market orders.
I'll be stalking the dark pools to try to legally steal some of Wall Street's largest players' best trades ideas. If you want to learn how to effortlessly generate trade ideas, then click here to watch this exclusive training session.
Related Articles: