The market has been extremely crazy… and we've seen limit up and limit down trading. If you've been caught on either side and took it on the chin… don't sweat it because there are different ways for you to protect your trading account.
Earlier this week, I hopped on the WealthWise Podcast and gave my thoughts on the market. If you missed it, click here to listen. Of course, there are different indicators you could use out there to uncover opportunities… but I'm not part of that camp.
Instead, I'll stick to my guns and remain patient when it comes to finding trades. You see, the last thing I want to happen is buy the dip and wake up to another day or limit down trading. 
Today, I want to explain to you why it's okay to be on the sidelines and miss out on some opportunities… and how to prepare yourself for what's to come.
Cash is always a position… and it's okay to remain on the sidelines until you figure things out.
Of course, if you've been stuck long stocks… it's been painful. But the thing is, if you're holding for the long term (say for 20+ years), chances are this could just be a blip and it would just be a talking point down the road. If not, I've got bigger things to worry about… if the markets don't recover.
However, if you're a trader and getting sliced up… it helps to pick your shots, just as I've been doing. 
The number 1 reason I've seen traders fail when there's heightened volatility is the fact they get lured in by fear. Whether it be the fear of catching the bottom… or the fear of their positions moving significantly against them.
When you let fear take over, you end up digging yourself into a whole… and let me show you a quick example. If you follow charts and technical indicators (I don't), but I've heard so many traders just start buying the dip and thinking the moving averages are support levels.
If you look at the chart below, it doesn't look like any of those lines (the yellow, green, or turquoise) served as support levels. Yet, so many traders bought into and got decimated by the market selloff. Getting in with this whacky price action would be considered the fear of missing out.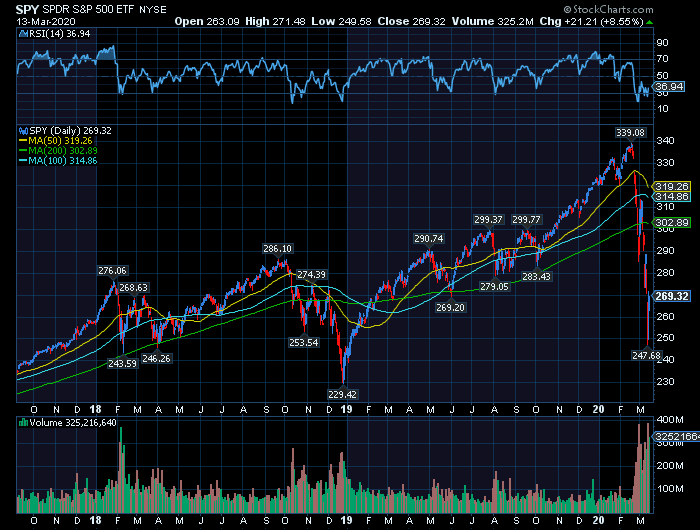 I've found during extremely volatile markets, stocks and exchange-traded funds (ETFs) don't respect these technicals. What I've found to be helpful is to develop a feel for the market.
You see, in the beginning of 2020… I reassessed the market and found that on every dip… traders were buying. That "foolproof" strategy was going on for years. That ultimately fueled the bubble. Of course, I figured it couldn't continue in that fashion and at some point, it would pop.
Instead of buying into the dips, I actually started to scale back my trades and move to cash. When I don't have my money in the market… and it's been selling off, I've been able to remain calm. 
Why?
Well, obviously, I have nothing on the line… but I can still look for high-probability setups. Even if I don't find any, I get into the habit of being patient and ready to strike when opportunity comes knocking.
I know what you're thinking, "Taylor, you were fearful when others were greedy… is it time to get greedy because of the panic?"
Of course, I can't tell you what to do with your money… but for me personally, I won't be buying into this just yet. There's just so much uncertainty and I don't want to get into positions and wake up to another day of limit down trading. 
Since I don't have a great read on the market, I'm going to remain in cash… but I'm still on the hunt for trades, but I will do my best to not get caught up in the silliness or fakeouts where the market looks strong then bulltraps everyone into oblivion (again).
Related Articles: