The set-up: With the market at all-time highs – record closes on the Dow Jones Industrial Average, the Standard & Poor's 500, the Nasdaq Composite and the Russell 2000 for two days in a row – you might think there's not much more room to run to the upside without a breather.
There's no denying that things are getting extended across the board and there aren't many good set-ups out there, but the market is the master and it tells us what it is going to do and right now it says the Nasdaq is making a fresh breakout.
The chart: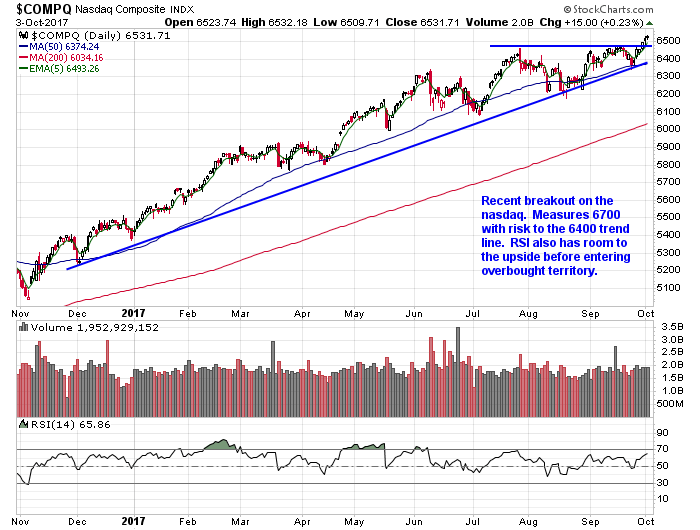 The chart shows a purely technical trade here – in fact, it could have been made Tuesday – with the Nasdaq breaking through 6,500. It measures up to 6,700 – and with the Relative Strength Index at reasonable levels, there is enough oomph to get it there — and the risk is back down to support at 6,400. That means you have up to 200 points on the upside, and 100 points on the downside, and that's a risk-reward worth considering at a time when there aren't many favorable opportunities.
The play: The PowerShares QQQ ETF (QQQ) is the obvious pick here – with stops set at the 6,400 level for the index — but you could also add some juice to this trade using your favorite leveraged ETF on the Q's. My RagingBull colleague Jeff Bishop of TopStockPicks.com favors the PowerShares UltraPro QQQ (TQQQ) for this kind of trade on the Nasdaq.
#-#-#
Jason Bond runs JasonBondTraining.com and is a swing trader of small-cap stocks.
Related Articles: