People often look to the stock market to invest or trade their capital to potentially become "financially free." This day trading for dummies guide walks you through how to research brokers. If you're looking to trade stocks, one of the first things you need to do is open up a trading account. Before you even start investing in your education, you need to bite the bullet and figure out which brokerage account to look for, the costs of trading, different types of accounts and what you'll need, as well as questions you should ask yourself when you're deciding to open up a brokerage account. This is how you'll be able to learn how to start day trading.
Now, even learning about the basics of how to start day trading for beginners is a daunting task for many. However, when you break it down and know what you're looking for in a broker and trading platform, you'll be well on your way to start trading. Let's look at the key information you'll need to select a brokerage suiting your needs if you have capital lying around that you're willing to trade stocks with.
What Is Day Trading?
Day trading is buying and selling stocks within a short time period, usually one day. The goal is to make small gains that compound over time into larger amounts of capital.
Day traders employ a variety of strategies and techniques, including brokers and day trading platforms, to maximize profits.
Day Trading for Dummies: The Right Broker
Before you get started on deciding which brokerage firm you would use to trade stocks with, you should know the pros and cons of some widely-used brokerages for retail traders. Now, you would need to figure out which brokerage would work best for you to get off the blocks and figure out how to start trading. For example, if you plan to trade a lot during the week, you may want to opt for one with lower commissions and any other fees. On the other hand, if you do not plan to trade as much and only want to trade with a small account, you might want to opt for those with lower account minimums. The list goes on.
Now, there are a few questions you should ask brokerage firms when you're conducting your due diligence, including:
What are all the services offered if I open an account with the brokerage firm?
What are all the fees related to the accounts?
How much are the commissions, and are there any other transaction or service fees?
This is a starting point, and if you have any other questions, you should never hesitate to call and ask the brokerage questions.
If you've already made up your mind and want to invest or trade a part of your savings, it's time to choose the broker. Choosing a broker is a highly important step on your road to trading. The broker you choose could eventually shape your trading priorities and style. That said, you should conduct due diligence on the criteria you should consider and the list of brokers that meet them. You've probably seen ads for TD Ameritrade, eTrade and Robinhood. These are some of the most popular platforms for both beginners and professional traders.
Day Trading for Dummies: TD Ameritrade is a Widely Used Broker
TD Ameritrade is one of the most liked brokerage services and for very good reasons – traders get a wide selection of assets, including over 2,000 transaction free-fee mutual funds, 2 distinctive cutting-edge platforms, up to $600 bonus plans, and more. This broker and platform could be useful for those who want a "professional" platform and want to learn how to start trading. In fact, if TD Ameritrade were a university, it would probably be something like Harvard. Now, Jeff Bishop uses this platform and finds the tool offerings to be beneficial to his trading style. However, that doesn't necessarily mean you should opt for this platform.
TD Ameritrade can boast with two great platforms that are built-in with some of the best technical tools one can imagine. Both platforms are available for free for those who already registered with the broker and both don't require any active trading limit. Each system has its own particulars.
TD Ameritrade Platforms
For example, thinkorswim is created for professional traders who already have some knowledge about how the markets work. It's an advanced platform with many technical analysis instruments and features. With thinkorswim, you can get access to over 300 technical studies suitable for each chart. Moreover, you could personalize each study to fit your needs. Imagine how many research and analytical options you can get!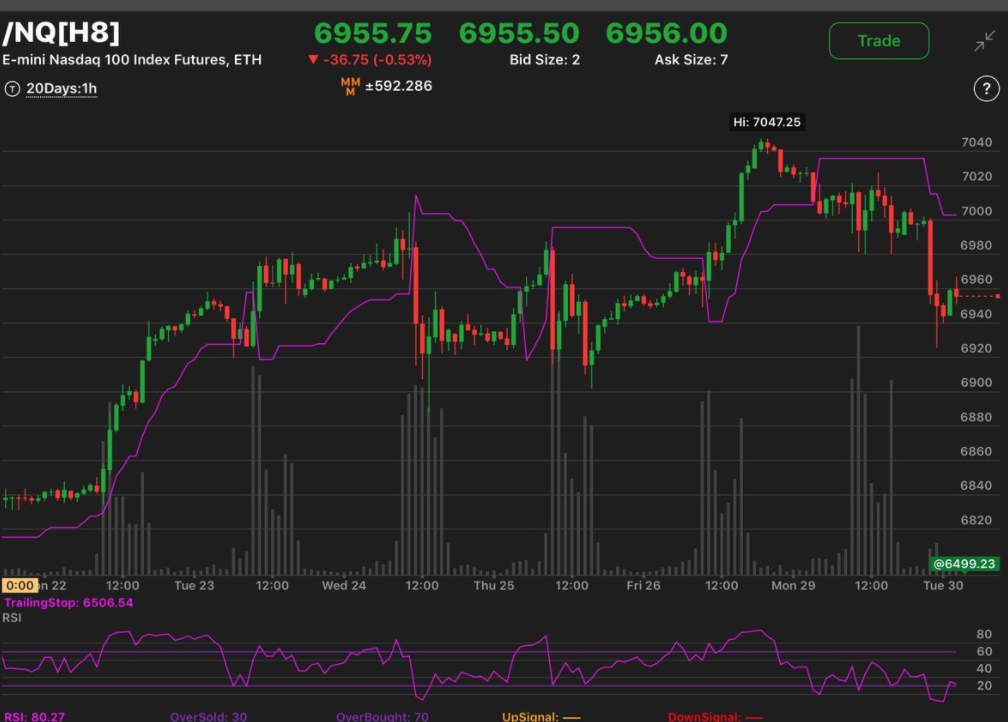 The second day trading platform is Trade Architect. This one is created for both beginners and professionals. The tools and interface are made to be simple and intuitive. The platform is web-based and has some good features that you can enjoy all at no cost. One of them is the built-in chat support, which helps you get in touch with a customer service member and share your screen pictures. There are also over 30 technical indicators (RSI, MAs, MACD, Stochastic, Volume, etc) and easy-to-analyze charts.
Here's a look at the Trade Architect platform.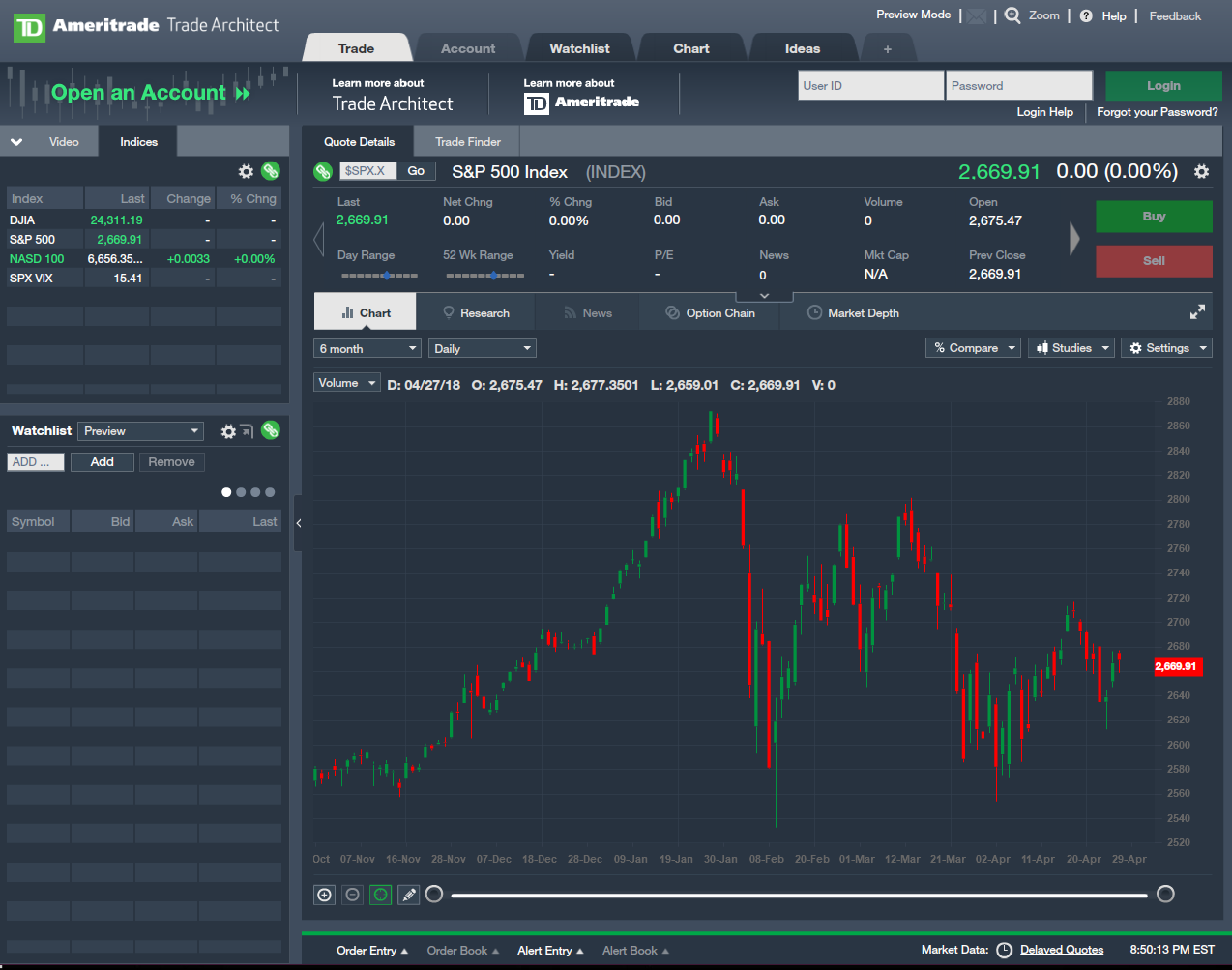 Source: TD Ameritrade
TD Ameritrade also offers mobile applications, which is great for those who are on the go. Moreover, it could be useful if you're in a position and some negative news comes out. You could buy, sell and manage your positions nearly anywhere and any time during market hours, as well as pre- and post-market.
TD Ameritrade Fee Schedule
Moving on, let's take a look at TD Ameritrade's fee structure.
Here is the new basic price package offered by TD Ameritrade:
Stocks/ETFs – $6.95
Mutual Funds – $49.99 for no-load ($0 for NTF mutual funds)
Here are some of the main pros of TD Ameritrade:
Probably best platforms out there – and the two are free of charge
No fees for inactivity or maintenance
Free-fee IRA accounts available
Virtual trading for practicing purposes accessible
Over 100 ETFs without commission
Advanced routing technology providing market participants with better price improvement, high liquidity and fast order fills
No minimum to open a new account. Those who want to be considered for margin and options need to deposit at least $2,000.
Although TD Ameritrade offers some benefits, there are some drawbacks including:
Higher than average commissions
Margin rates are higher than average
You cannot trade on international markets
eTrade
eTrade is another popular brokerage service for both beginners and experienced traders. With eTrade, both beginners and experienced traders could open individual and IRA accounts for all kinds of trading styles. The great thing about IRA accounts is that there is no minimum deposit requirement. Funding individual accounts requires no less than $500. Jason Bond and Kyle Dennis both use eTrade, but again, that doesn't mean you should be using this platform too.
It is a large trading company offering a wide array of useful features and instruments to help you organize the research and trading process. There are different chart tools, portfolio analyzer, risk assessment tool, and more.
eTrade offers a few trading platforms, just like TD Ameritrade. It's got an advanced trading platform, OptionsHouse by E*TRADE. This is a highly robust platform for active traders, built by traders and for traders. This platform has over 100 technical studies and over 30 drawing tools.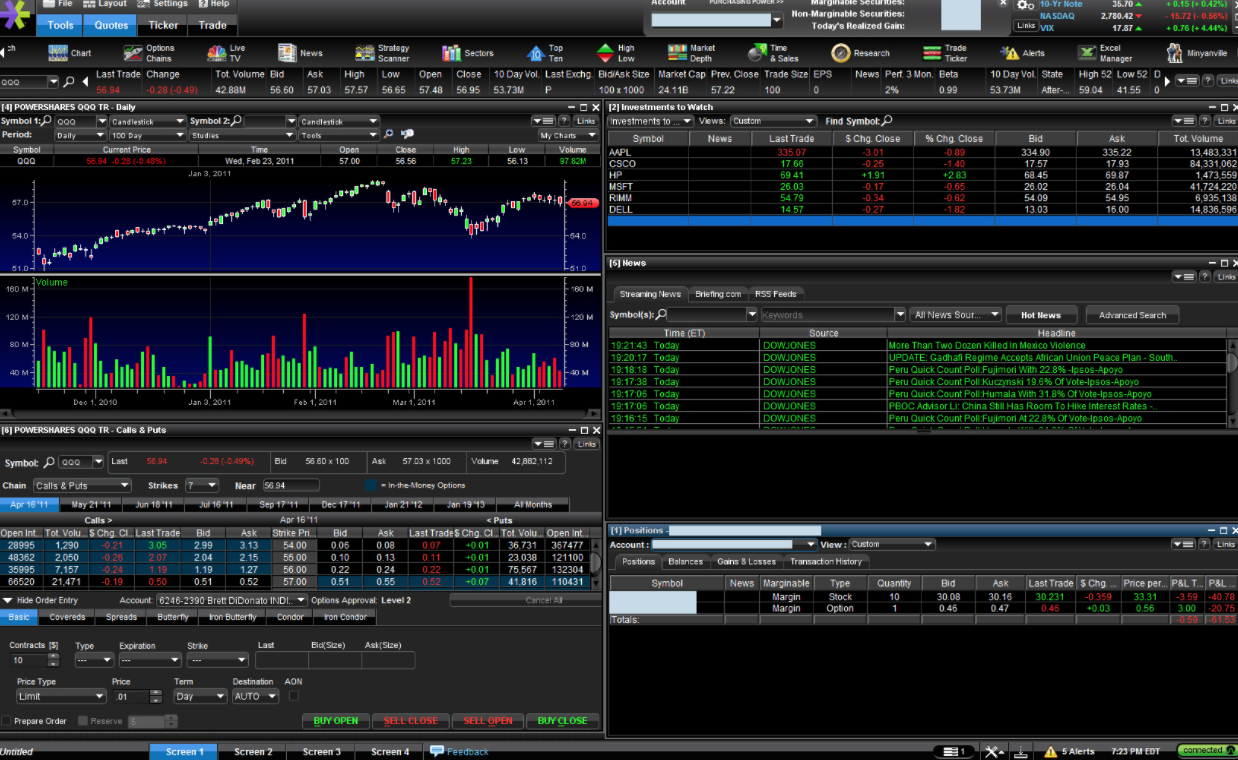 There's also the E*TRADE web platform. This platform is right at your fingertips and allows you to trade stocks, ETFs, options, mutual funds and bonds and has a user-friendly order ticket. Moreover, it offers some third-party research from Thompson Reuters, Credit Suisse and TipRanks, which are used by professional traders.
Similar to TD Ameritrade, eTrade offers The OptionsHouse app, an innovative and powerful mobile trading platform. Again, you could trade on the go and quickly enter orders on a single trade ticket. Moreover, you could check on your positions and look at news, earnings, streaming quotes and much more.
eTrade Fee Schedule
Now, let's get into the eTrade commissions.
Stocks/ETFs – $6.95
Options – $6.95 + $0.75 per contract
Mutual Funds – $19.99 ($0 for no load)
If you're planning to trade more frequently, then your fees drop, which is great for active traders. Here are the fees for those who place more than 30 trades per quarter:
Stocks/ETFs – $4.95
Options – $4.95 + $0.50 per contract
Here are the main advantages of trading or investing with eTrade:
You can trade a wide range of assets, including Forex pairs
eTrade has great platforms for PC and mobile devices. There are many advanced tools
Free streaming quotes available
You can join the eTrade community of traders
You can enjoy eTrade banking services
Some automated trading tools are available
Here are some of the drawbacks:
eTrade doesn't offer the lowest prices, even though they've lowered them these months
There is no demo account where you could play virtual money before trading
Robinhood
Robinhood has become a popular stock trading platform and is a great day trading for beginners tool for those who want to learn how to trade on the go. The distinctive feature about Robinhood is that it requires no payment or commission per trade. Basically, you can trade individual stocks for $0. You might be wondering, "How is this possible?" You might also be thinking of jumping the gun and just opening this account because there are no fees.
Although there are no trading costs, Robinhood could monetize by other means, such as not paying interest on funds left in or account or charging interest if you decide to trade on margin. Beginners not only enjoy free commission per trade, but also get no low limit for deposits and amount per trade.
The free-trading service comes with a sacrifice. Robinhood offers a very basic application for iOS and Android devices. The data and charts are not filled with the full palette of technical tools, but you can still enjoy great features like the Watchlist for example. The research tools are quite simplistic as well – it's about almost mandatory data for a trading app, such as volume, market cap, and so on. That said, Robinhood may not be suited for those who utilize a plethora of tools for their trading.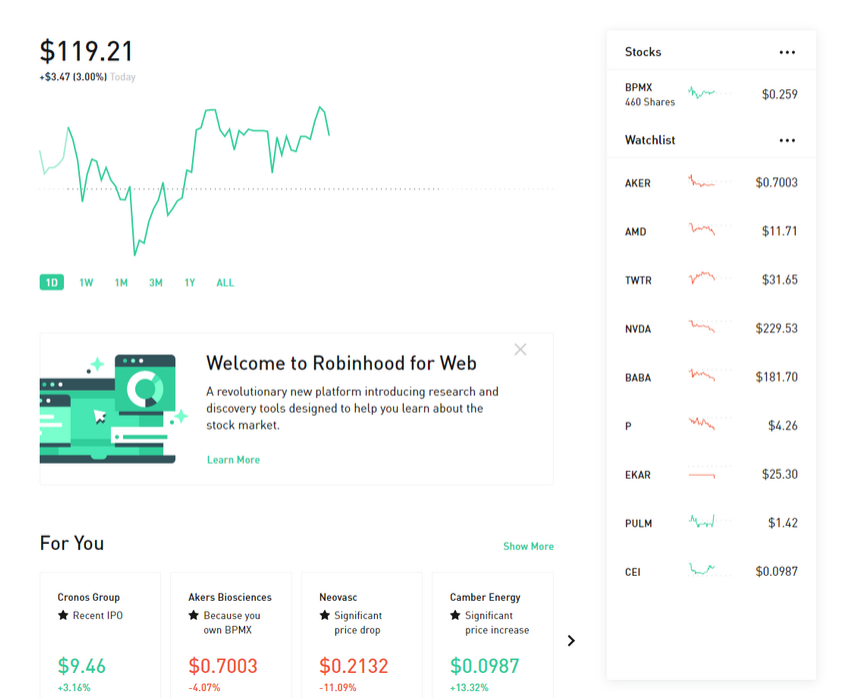 How to Trade Stocks – Robinhood In Depth
Since Robinhood caters to the new generation of traders and wants to revolutionize the trading activity, their experiment is focused on popular and solid assets. You cannot trade OTC stocks, options, Forex pairs, mutual funds, bonds, and other assets with their app. Also, you cannot go short the tradable stocks. All you can do is to conduct the basic orders – like buying and selling at market price, place limit orders, stop loss or stop limit orders. Those who use more advanced order types might want to shy away from this platform.
If you want to have more freedom with Robinhood, you can apply for their Robinhood Gold version. This goes like a premium product. Investors would be possible to enjoy pre-market and after-hours trading, margin trading, and easy reinvest options. However, there is a fee to pay for these advantages. The monthly pay differs from $6 per month for a $2,000 deposit with $1,000 buying power, to up to $200 per month for over $50,000 deposit and $50,000 buying power.
How to Trade Stocks: Robinhood Offers Commission-Free Trading
In short, here are the main pros of Robinhood:
Commission-free trading
The mobile platform is quite intuitive because of its basic set of tools
There is no minimum deposit requirement and there is no minimum amount per trade requirement
Here is the list of drawbacks – make yourself comfortable as the list is wider at this time:
You cannot trade a list of common products like mutual funds, options, warrants, OTC equities, and more,
You can't short the stocks or ETFs.
You're unable to open IRA accounts – only individual accounts are available.
It doesn't support Quicken, Mint, or Personal Capital.
The chart and research tools are quite basic.
Pre-market and after-market trading is available only for Robinhood Gold app.
Now, there are still a plethora of platforms, but these could be suited for those who are just looking to get started with trading. There are still a few more things you'll need to learn before you get started trading.
Information needed to open a brokerage account
When you've figured out which day trading platform you want to use, there will be paperwork involved. You would need to fill out a new brokerage account application, or new account form. You'll need to provide some basic information such as,
Tax Identification Number or Social Security Number. The Securities and Exchange Commission (SEC) and Financial Industry Regulatory Authority (FINRA) require brokerage firms to ask for this information to verify your identity and tax purposes
Driver's license, passport information or information from other government-issued identification
Employment status, financial information
Contact Information
Citizenship status
Account type you wish to open with the brokerage
Here's a look at the information you would need to fill out to open an account with TD Ameritrade:

Source: TD Ameritrade
Similarly, with eTrade you would need to select your account type, enter personal information, verify your identity, select your investment profile and then you're on your way to trading.
With Robinhood, you need to be 18 years or older, have a valid social security number (a Taxpayer Identification Number could not be used to open a Robinhood account), have a legal U.S. residential address, and be a U.S. citizen, permanent resident or have a valid U.S. visa.
The Bottom Line
Choosing the right day trading platforms and understanding the fees and services provided is very important when you're learning how to start trading. Keep in mind, these are not the only brokerage platforms out there, and you could select any broker that suits your needs. However, you need to make sure the brokerage firm is reputable.
Here's what you should consider:
If you're just starting out and just trying to understand the basics of trading, Robinhood could be suitable since it doesn't have any commissions.
 On the other hand, if you're serious about trading and considering to actively trade, you might want to opt for brokerage firms offering more support and advanced platforms like eTrade and TD Ameritrade.
At the end of the day, the choice is yours and you need to make sure the brokerage firm is the one you would be comfortable trading with.