You've probably noticed stocks that have doubled or tripled in a short amount of time. This lets you know there's something different about the capital structure, and it means you need to start doing some digging. If you look into these stocks, you'll probably notice something different. They're generally smaller companies with a low float and high short interest. Consequently, these stocks experience a high degree of volatility. When there's a high degree of volatility, it's great for day trading stocks.
For example, during the global financial crisis when the economy was in turmoil, day trading stocks was a great way to generate income. However, it doesn't mean there needs to be weak economic growth for day trading stocks. There are stocks to day trade all the time, but you just need to know how to find them.
What Is Short Interest?
Short interest is a number of short-sale stock shares that have not yet been closed out by the investor. NASDAQ short interest stocks are reported twice monthly, while others may only report monthly. This data can help you gauge a particular stock's market sentiment based on short sales.
What Is Low Float?
Floating stock describes the number of shares of a given stock available for trading; if the numbers are small, it is considered a low float stock.
Day Trading Stocks: Why Short Interest Matters
If you already know a bit about day trading stocks, the next thing you need to learn is how to find stocks to day trade. There are tons of free tools out there to help you filter for stocks to potentially day trade. Now, if you have a professional-like brokerage platform, they would probably have filters for you. If you're just learning how to start day trading stocks, but don't have a brokerage platform yet, you could use Finviz, Morningstar, and SEC filings to see whether a stock has a high short interest.
Now, we get into the fun part.
When you're looking for stocks to potentially day trade, those with a high short interest tend to have larger moves with positive catalysts. However, it doesn't need a catalyst every day to have a massive move. If a high-short interest stock has a positive catalyst and runs higher, shorts are forced to cover, leading to a short squeeze. This could be a highly profitable strategy.
You're probably wondering, "How can I make money off of this?" Well, it's pretty simple, but you always need to have a trading plan and learn how to risk manage your positions. Once you understand how to do that, you're well on your way to start day trading stocks. That in mind, let's take a look at some examples of massive short squeezes and why you need to focus on short interest.
Day Trading Stocks – Filtering for Stocks with High Short Interest
We're going to be using Finviz for filtering stocks. It's a free tool that's very powerful. It helps to generate ideas, and thereafter, you can conduct more research into the company.
Generally, if a stock has a short interest of over 20%, it's considered high. That means if you're day trading stocks with high short interests and they have positive news, they could experience a meteoric rise. Before you start day trading stocks with the potential for a short squeeze, you need to create a watchlist.
Now, you can use Finviz's screener to create a watchlist for day trading stocks with high short interests.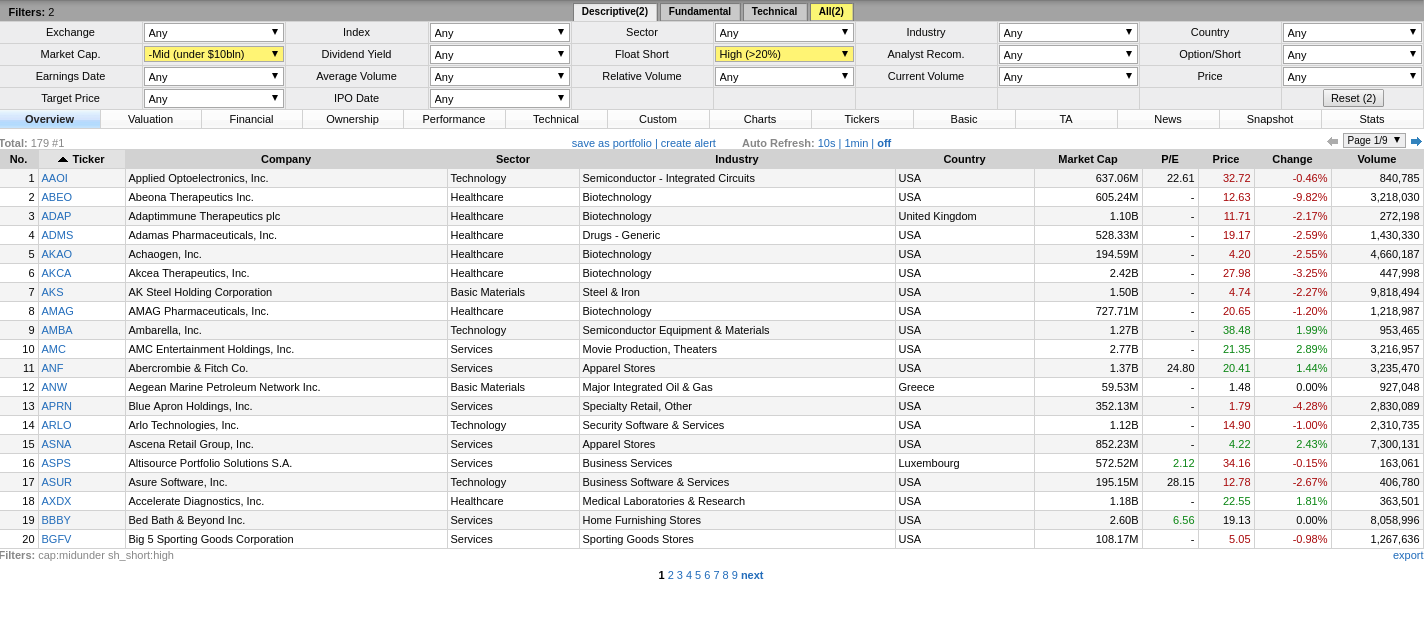 You could also filter by fundamentals, technicals and other descriptive statistics as well. Here, we filtered stocks with a market capitalization under $10B and short interest greater than 20%. Small-cap and some mid-cap stocks tend to experience short squeezes.
If you can catch potential changes in a company or industry, you could potentially get long a stock before it experiences a short squeeze. That said, let's take a look at some stocks that have experienced a short squeeze.
Day Trading Stocks – High Short Interest Stocks Examples
If you haven't heard, the cannabis industry was getting hot. Pot stocks were moving with the news of Constellation Brands (STZ) investing $4B in Canopy Growth Corporation (CGC). This was an indication there was a fundamental change in the industry. Moreover, Canada was looking to legalize marijuana for recreational use. Typically, when a catalyst event is known, stocks run up into that event.
Well, this was the making for a great short squeeze if you were able to find the one cannabis stock with a high short interest.
Remember what we said earlier. If there's a catalyst, a stock could go bananas.
Take a look at the short interest of this stock.

Even if you didn't know the ticker, you could probably figure out this stock could be due for a short squeeze. The tell here is the stock only had a float of 16,2M. Consequently, this stock would be considered a low float. Moreover, the stock had a short interest over 20%, and the number of shares short nearly doubled within 2 weeks.
Well, this is a cannabis stock that recently conducted its initial public offering (IPO). Tilray Inc (TLRY) only traded for a few weeks and went on an epic run. It's not a good idea to IPOs, especially when there are positive catalysts in the industry.
Not only was the stock in a hot industry, it also had company-specific news. Consequently, this stock experienced a meteoric rise.
Here's a look at what the stock did in a matter of weeks.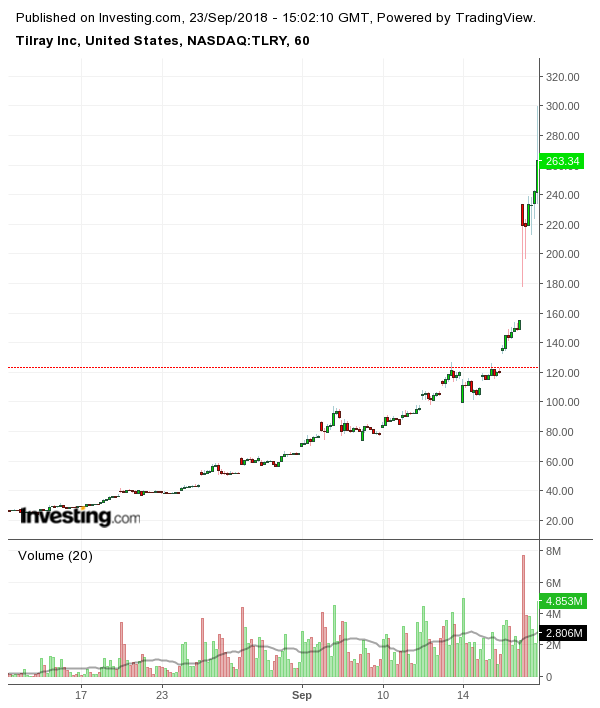 Tilray Capital Structure
You could've done some more digging into the company. If you looked into the SEC filings, you would notice Privateer Holdings, a private equity firm that invests in the legal cannabis industry, owned more than 80% of the shares. In other words, they were in control and pretty much controlled the float. The float, or shares available to trade, is a great indication of whether a stock could be poised for a short squeeze. However, you have to keep in mind there also needs to be a high short interest and a positive catalyst.
If you want the inside scoop on the life of a day trader, join Wall Street's ONLY FREE CHAT ROOM with Taylor Conway,  where you can see firsthand the thought process, strategy, and execution behind day trading stocks.
The Bottom Line
When you're day trading stocks, it pays to read into the capital structure of the company. In other words, if you're trying to buy a stock and looking for an explosive move in a short period, you should look at the number of floating shares, as well as the short interest.
Typically, a stock with under 100M shares could be considered a low float, but some traders will use different variations. Basically, you need to figure out what works best for you. If you find that stocks with a float of 15M shares and a short interest over 20% work well, use that. Moreover, you need to understand catalysts and whether they're positive for the company.
#-#-#
Taylor Conway is the lead day trader at PennyPro.com. He is a short-term day trader of stocks and ETFs.
Related Articles: