When you're just stepping foot in the world of day trading stocks, one of the most important things to learn is charting. Candlesticks are widely used amongst day traders. So if you're talking to people who are day trading stocks, you need to know the lingo. For example, if a day trader says, "This stock just made a doji formation." You need to know what that means. Otherwise, you'll be lost trying to figure out what they're talking about and potentially miss a trade. That said, let's take a look at what a doji pattern is and how it could help with day trading stocks.
What Is a doji Pattern?
A doji is a candlestick formation that indicates there is indecision between traders. In other words, the bulls and bears are at a standstill. Typically, we see doji formations at the end of a trend, and could indicate a potential reversal. However, a doji could also be an indication of a continuation.
Day Trading Stocks: The doji Pattern
There's one thing to keep in mind when day trading stocks: charting is an art, and not all patterns are set in stone. Therefore, you'll need some practice, and remember that not all patterns work; they just indicate that the stock might have a high probability to move in that direction.
Let's get back to the doji formation.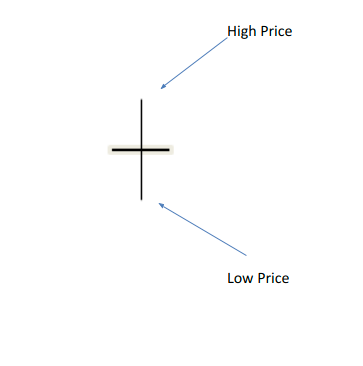 Now, if you notice, the real body of the doji pattern is very small, and the open and close are typically very close to each other. That said, there were bulls and bears buying and selling, respectively, and neither side clearly won. Consequently, this indicates that the market is indecisive.
Let's take a look at some doji patterns in some stocks.
Day Trading Stocks: doji Pattern Examples
Checkout the daily on the iShares NASDAQ Biotechnology Index Fund (NASDAQ: IBB).
If you notice the chart above, IBB was initially trading lower, and the bears were clearly winning. However, you'll notice the doji formation. This was an indication that there was indecision between the bulls and bears, and there could be a potential reversal. Moreover, it looked like IBB found some support.
After the doji pattern, you'll notice that the exchange-traded fund reversed and continued higher. Again, the doji formation does not necessarily indicate that a stock has a high probability of reversing. The doji formation just simply indicates that there is indecision between buyers and sellers.
Let's take a look at another doji formation. However, this time, the stock didn't reverse. Rather, it continued in the same direction.
Check out the daily chart on Cara Therapeutics Inc (NASDAQ: CARA).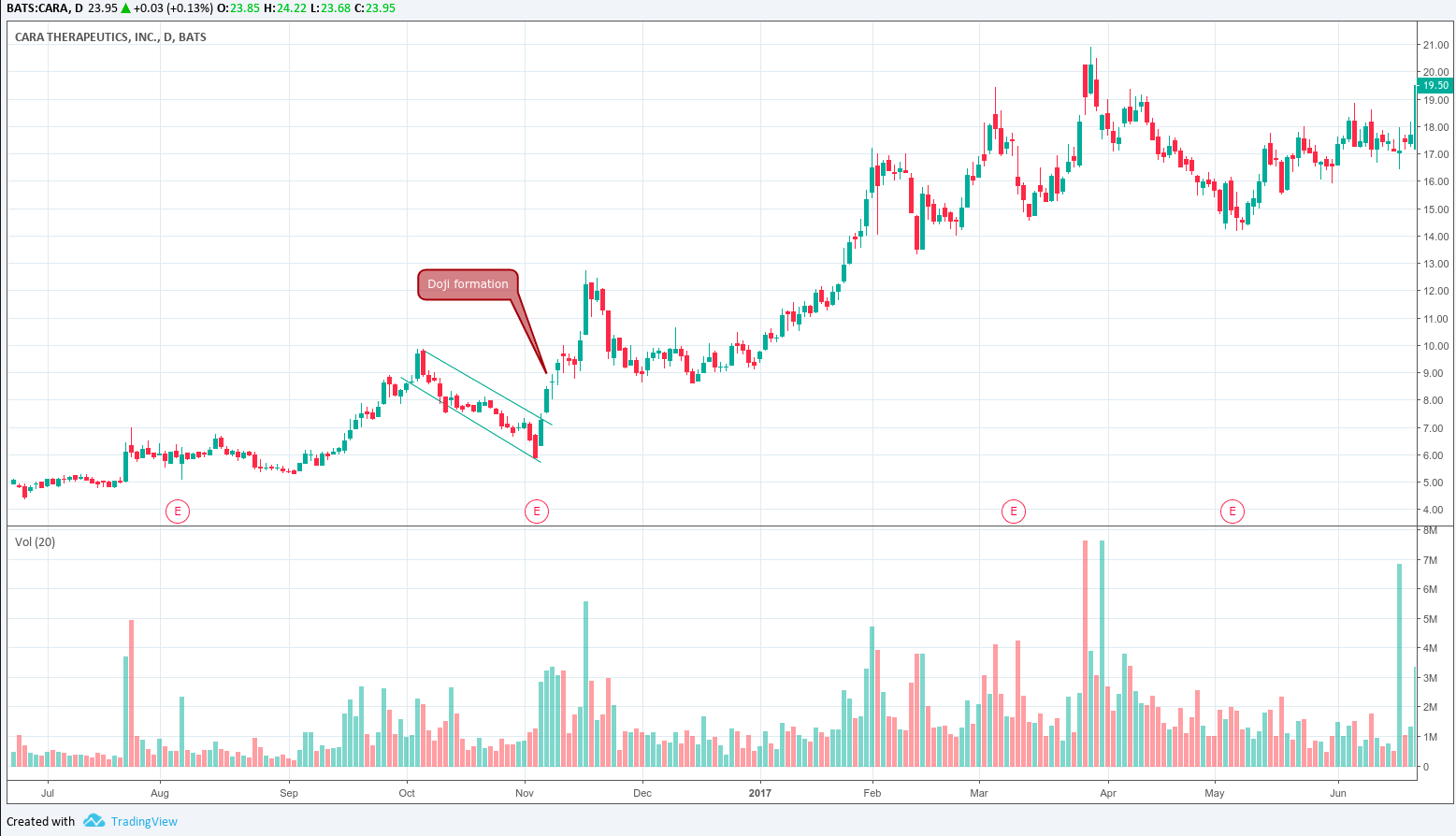 If you look at the annotations, you'll notice two doji formations. Prior to these formations, the stock came out of a downtrend and reversed and have multiple days of bullish action. For you days, the stock was up over 15% in just two trading days, and the following day, a doji stock pattern formed. This indicated there was indecision between buyers and sellers. However, the following day the stock traded higher, but formed another doji the following day. Again, bulls and bears were indecisive. CARA pulled back for two trading days slightly. However, the stock ultimately traded higher to above $12, from the $9 to $10 range.
The key takeaway here is that the doji formation just indicates that traders are indecisive of which direction the stock could be headed.
Day Trading Stocks: Filtering for doji Patterns
Now, you could filter for stocks exhibiting doji formations, using www.finviz.com, which is free to use. You just need to click on the screener tab, then technical. On that page, you could change the candlestick patterns and select doji. Here's a snippet of what you might see when you select stocks that have a doji formation.
When you're day trading stocks, you need to plan accordingly. Therefore, if you filter for stocks with a high-probability pattern it helps a lot.
For example,  we filtered for stocks with a market capitalization over $300M and average daily trading volume over 1M with a doji pattern.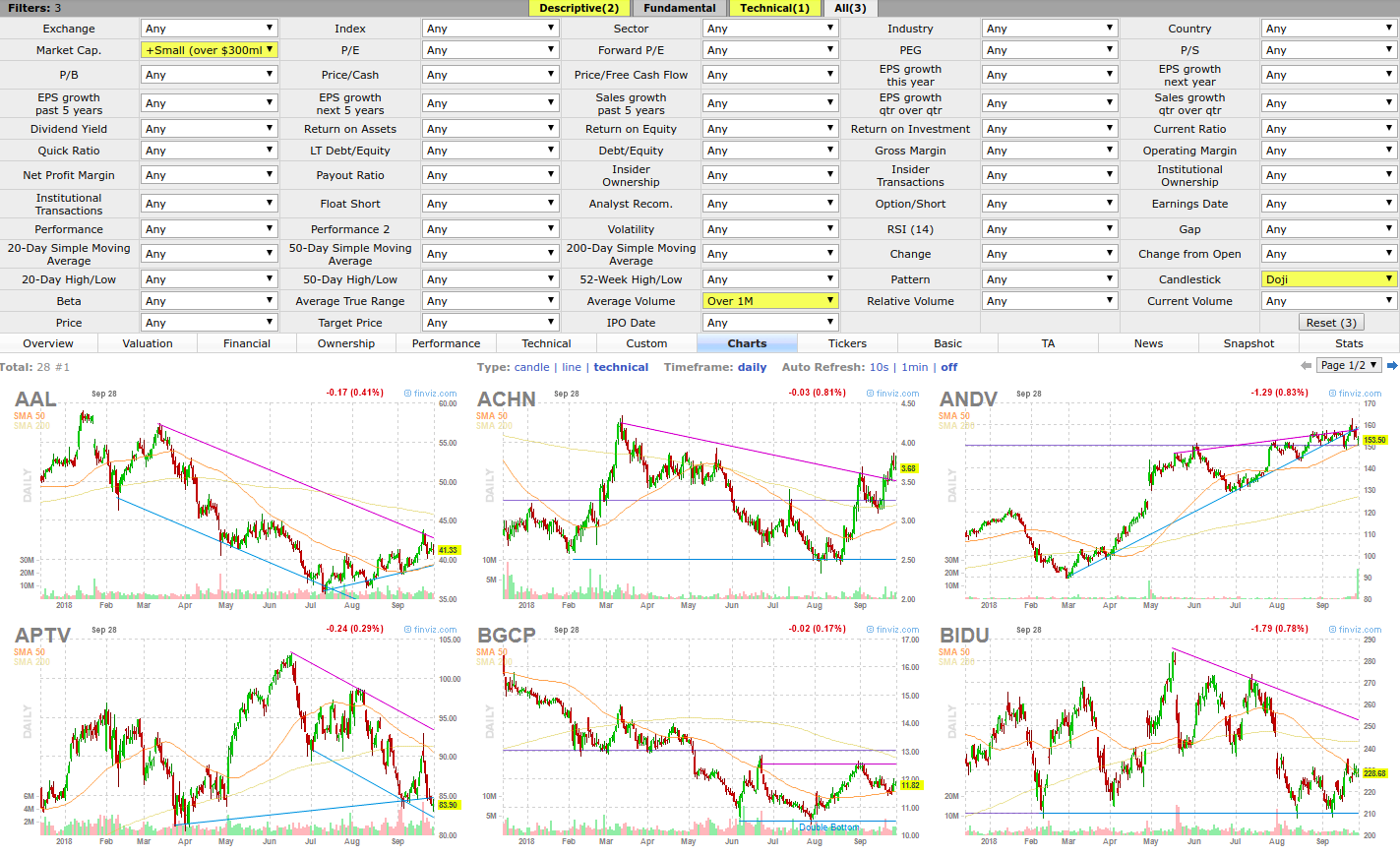 Now, if we like how these charts look, it will go on our day trading stocks watchlist.
If you want the inside scoop on the life of a day trader, join Wall Street's ONLY FREE CHAT ROOM, where you can see firsthand the thought process, strategy, and execution behind day trading stocks.
Day Trading Stocks: Final Words About doji Pattern
Again, when you're day trading stocks it helps to learn the lingo. The doji pattern is widely used by technical traders, and if you're looking to use charting, you should understand the common patterns out there. Remember, the doji pattern indicates a period of indecisiveness. However, if it's found within an uptrend or downtrend, it could signal a potential continuation.
Related Articles: