Traders often ask themselves and me, "How do I find stocks to trade?" This is a common problem for many traders, especially beginners. Now, depending on your trading style, there are various ways to look for stocks to trade. One size does not fit all here, and you need to tailor your filters to fit your trading style. That said, here are some tips on how to look for stocks to trade.
How to look for stocks to trade
Again, when you look for stocks to trade, there are various ways to filter for your setup. It could be technicals, fundamentals or catalysts. Whatever the case may be, you should always find a few stocks to trade, rather than a bunch of random stocks because that would just be gambling.
Filtering for descriptive statistics
There are plenty of free tools out there to filter for stocks to trade. Moreover, your brokerage platform might offer some tools to filter for stocks fitting your criteria.
Now, I like to use Finviz to screen for stocks to trade. When you click on the "Screener" tab on the homepage, you should see something like this: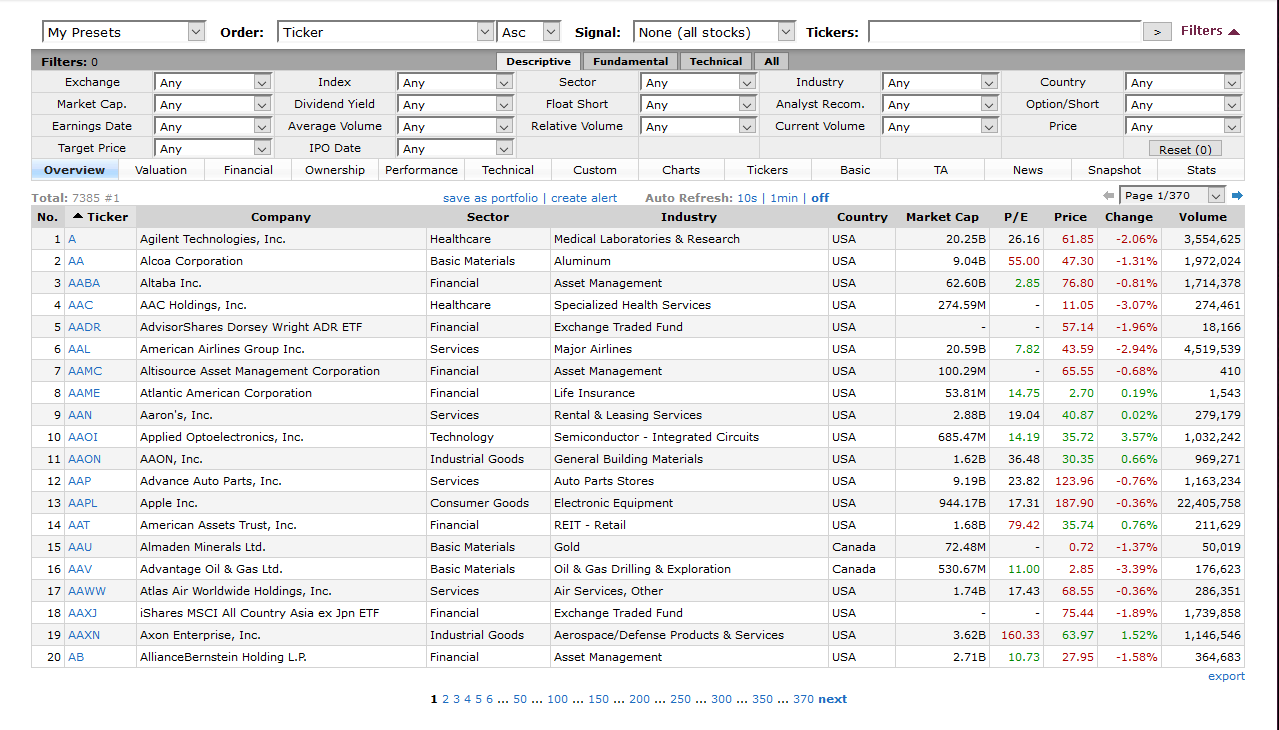 Source: Finviz
There are so many stocks out there, so let's bring this list down. I generally look for stocks with at least an average daily volume of 750K because that's an indication the stock is fairly liquid. Next, I stick to my bread-and-butter, biotechnology stocks. Let's add another layer of filter and screen for stocks trading under $10.
That list is cut down to only 63 stocks.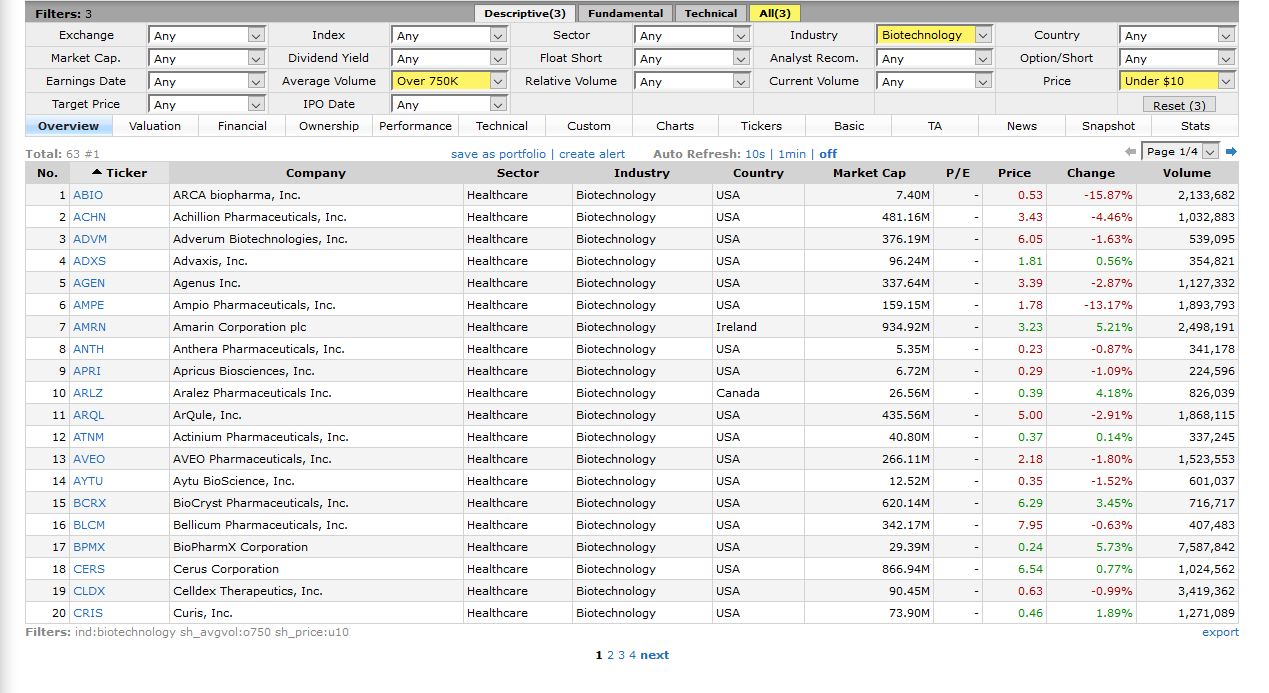 Source: Finviz
You don't need to necessarily follow the way I just filtered for these stocks. If you find you like to trade stocks with an average daily trading volume of over 2M shares, do that. If you don't care about the industry, leave that filter out. Finding the "right" stocks to trade is all dependent on your trading style. Another way to look for stocks to trade is to screen for chart patterns.
Using Technicals to Look for Stocks to Trade
Rather than looking through dozens of charts to find the handful of stocks to trade, you could use the Finviz tool, again. Continuing with our previous screener, select the "Technical" tab and find the pattern you have found success with. Here, we're going to filter for stocks in the "Channel Up" pattern.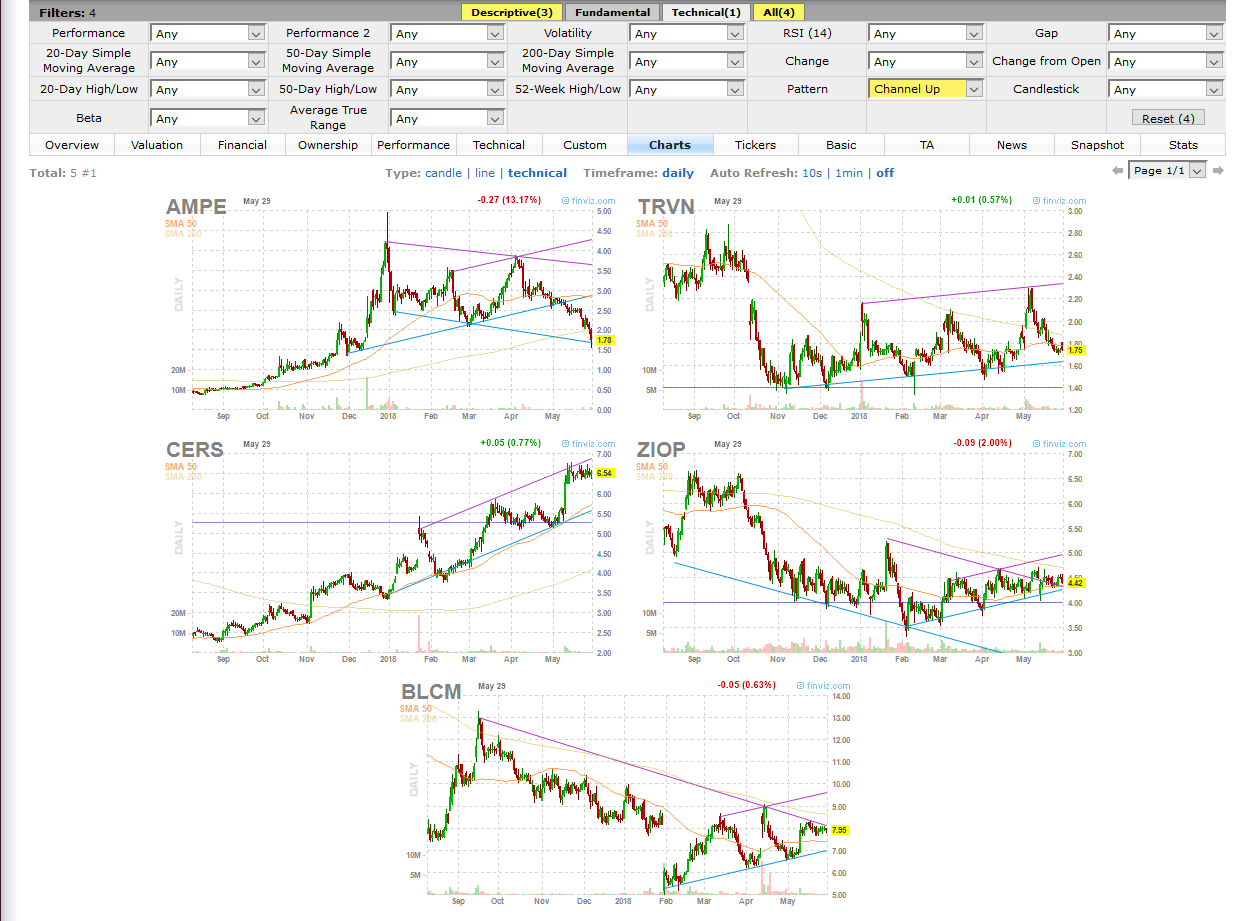 Source: Finviz
Our previous list of over 60 stocks is now just down to 5 tickers. You could do some further digging and examine each chart in depth. That sure beats looking at a bunch of stocks every night.
Catalysts
Generally, you need a catalyst to move a stock. This could be a news event, earnings releases or any other key piece of information. For example, you could use Finviz for news, Bloomberg and CNBC for news. Moreover, you may look at the company's website for press releases and earnings results. I find trading with catalysts is necessary in conjunction with any other analysis you may conduct.
For example, after I scan for stocks to trade, I'll look for catalysts. Since I primarily focus on biotech stocks, I'll use BioPharmCatalyst to see any upcoming events, which are crucial to large moves in biotech stocks. If you spot a bullish chart pattern and the company announces good news, chances are the stock will rise, and vice versa. That in mind, it's highly important to spot catalyst when you're looking for stocks to trade.
Final Thoughts
it's not difficult to learn how to find stocks to day trade, or how to find stocks to invest in, if you know what you're looking for. Depending on your trading style, you may want to focus on catalysts and then technical patterns, as well as fundamentals. Additionally, it helps to find a good stock screener to filter for the setups that fit your strategy.
#-#-#
Kyle Dennis runs Kyle Dennis' Biotech Breakouts (biotechbreakouts.com). He is an event-based trader, who prefers low-priced and small-cap biotech stocks.