The situation: Earnings season is always a good time to invest. Something is moving in one direction or the other every day based on the news.
You may not have insight into an earnings surprise, but you should never be surprised about when companies are actually making their earnings announcements, especially if you're carrying positions overnight. Your broker should be able to let you know when companies are reporting earnings.
I checked earnings announcements for companies both last night after hours and this morning premarket as I am holding three open swing trades. There was nothing to move my positions in green or red directions so, concerns addressed, I stuck to my plans to hold my positions.
What's happening now: Let's review companies reporting earnings pre-market today. You'll see a few big bank names reporting before the market opens. Those will move markets, particularly the financial sector.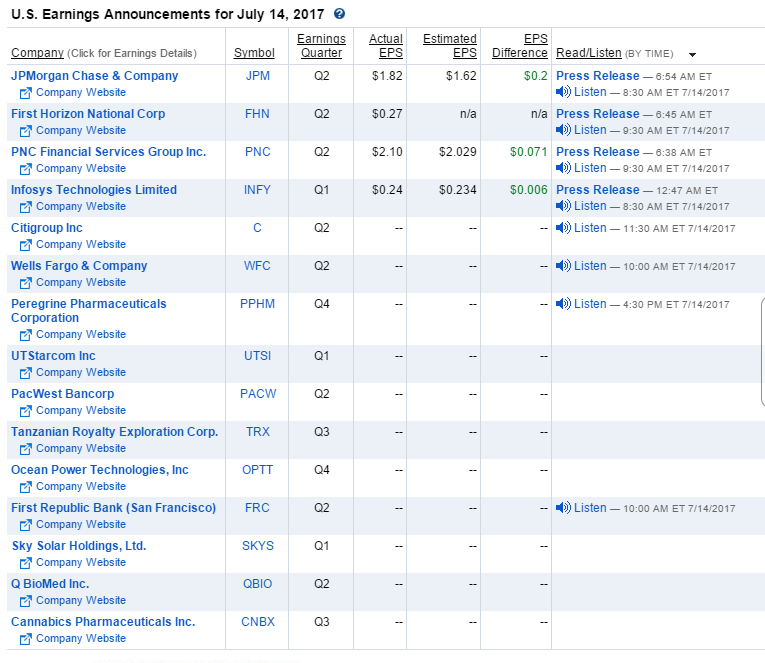 JPMorgan Chase (JPM), Citigroup (C) and Wells Fargo (WFC) are large-cap companies whose earnings results will move the price of both their stocks and the financial sector, as measured by the Financial Select Sector SPDR (XLF). Anyone with open positions in either stock or options on those names can expect movement (either good or bad) this morning.
How to play it: Holding through earnings is something I never do. Yes, I play earnings, but I don't alert earnings trades held overnight to members of Daily Profit Machine. It's way too high risk. You could lose your entire investment.
The lesson: During earnings season, protect your capital by checking on which stocks/sectors are reporting earnings before entering a position.
#-#-#
Davis Martin is the lead trader at Dailyprofitmachine.com. He trades SPY Calls and Puts and swing trades mid-large cap stocks and stock options. He has no open positions or open orders in anything related to the financial sector, but will watch how the stocks and sector trades off news today for potential plays next week.
Related Articles: