The back-story: As a trader, you can complain about market conditions not giving you much to look at, or you can do something about it by looking at more inputs. I have noted recently that there hasn't been much to trade, so I used that down time to research additional news services and options scanners.
See Taylor Conway's piece on not trading due to no market action
Ultimately, I bought Trade the News and Trade-Alert, additional resources on top of my Benzinga Pro and Trade Exchange.
The result: Trade Alert, the options flow-scanner, alerted me to call volume coming into Lowe's Cos. (LOW) yesterday, right in the area I have circled on this chart.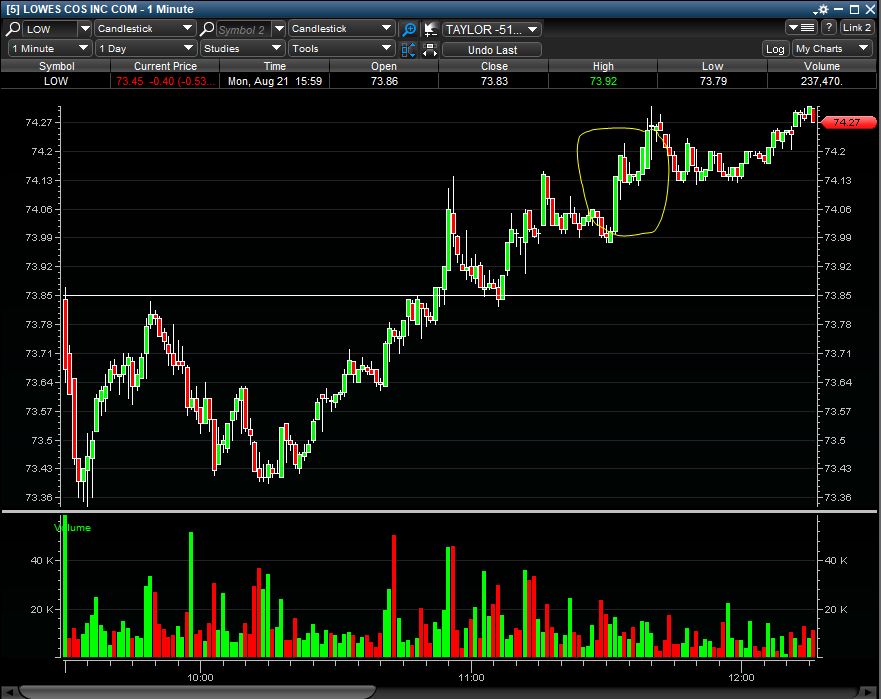 .
I combined that with a double-top breakout chart pattern and bought 2,500 shares of stock at $74.07, selling those shares at $74.19 for a nice, quick and easy $300 profit.
Read Taylor Conway's previous market lesson — on the virtues of patience — here
Market lesson: Don't chase trades; instead, spend slow times looking at potential new sources of information and testing them to see if they can reliably help you find more and better trades.
#-#-#
Taylor Conway is the lead day trader at PennyPro.com. He is a short-term day trader of stocks and ETFs. Prior to Monday, he had never before traded Lowe's Cos.; at the time this article was published on RagingBull.com, he had no shares, options or open orders in LOW.