The backdrop: The US dollar has been selling off heavily this week. The PowerShares DB US Dollar Bullish ETF (UUP) had a huge candle down on Tuesday and was weak again on Wednesday, and the media and the talking heads are getting bearish.
Why I disagree: The UUP is nearing some pretty big support, and the Relative Strength Index (RSI) on the ETF is approaching seriously oversold territory. I don't think the bad sentiment right now is enough to break through, so I'm expecting a bounce.
The chart: When you look at the chart, and connect the support and resistance lines dating back to early this year, you can see a falling wedge pattern emerge. That's a bullish pattern, and it leads me to believe this bounces and that the UUP could quickly start re-testing the major moving averages.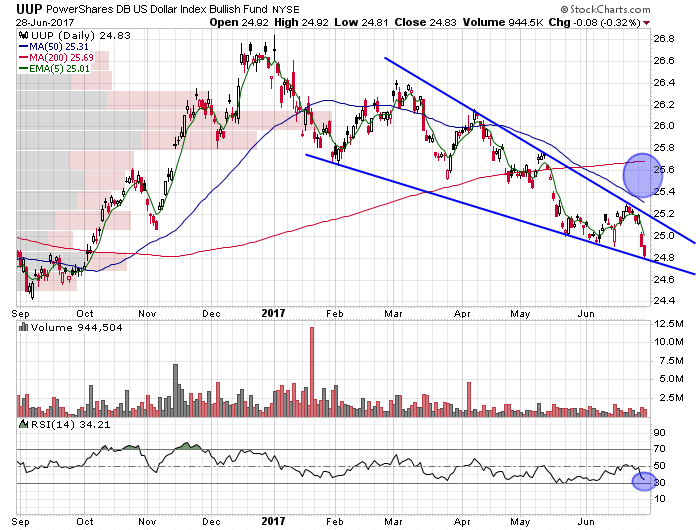 Moral of the story: I think the dollar bears are about to step into a trap. Don't be so taken in by momentum and news that you ignore the market forces that show up in the charts.
#-#-#
   Keith Kern has been a full-time day-trader for 17 years; he moderates the Lightning Alerts chatroom at BiotechBreakouts.com. He does not trade the dollar or in indexes at all – focusing his day-trades on individual stocks – but analyzes the market from the top down looking for his daily trading ideas. As a result, he has never held nor shorted the UUP or any other dollar play.
Related Articles: