The set-up: A positive volume pattern is a strong signal to me when I am looking to go long buying to-open call options on stocks. It's a stock-specific pattern, due to the less-liquid options chain of stocks; the high liquidity of ETF options makes volume less telling and less worthwhile there.
A positive volume pattern occurs when there is more green volume on green days on daily charts for the security than red volume on red days on daily charts. (If the situation was flipped and there was more red volume on red days, it would be a negative volume pattern.)
The example: I recently applied this approach to Alibaba Group Holding Ltd. (BABA) on Oct. 20 $175 call options, buying to open on Sept. 11 for a continuation swing trade. It worked; with me (and my members) taking profits the next day.
The chart: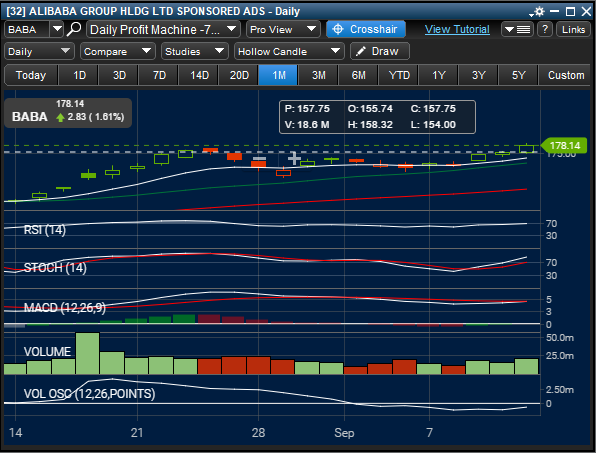 Notice how the green volume bars on green days are larger in dollar volume than the red candles on red days.
What's next: I'm always looking for positive volume patterns, seeing if they apply to stocks where the rest of the picture shows me solid swing-trade potential. BABA, specifically, still has this pattern in play, so it remains on my master watch list; depending on the market, it may be BABA options may be a play on the next pullback or breakout.
#-#-#
Davis Martin is the head trader at Dailyprofitmachine.com. He trades SPY calls and puts and swing trades individual stocks and stock options. He currently has no options, shares or open orders on BABA, having last traded the stock using Oct. 20 call options on Sept. 11 and 12 for a profit, as described in this article.
Related Articles: