What I see in the chart: The Standard & Poor's 500 index (SPX) is technically breaking out here. You won't hear that anyplace else because it's not at all-time highs – which the mainstream media needs to be convinced — but the chart clearly shows a "coiling pattern." This happens when resistance and support areas are converging on a crash course.
When that happens, there is an imminent breakdown or a breakout. Wednesday saw a significant breakout, which tells me that buyers are winning over the sellers.
The chart: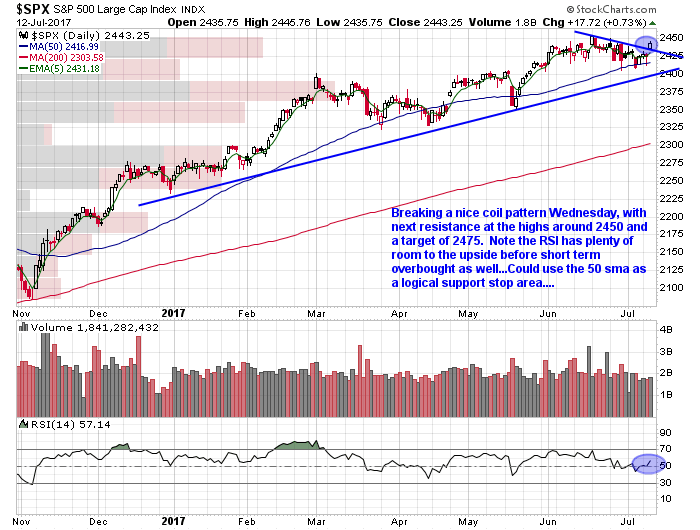 What I expect to see next: Wednesday's close confirmed this breakout. The next significant level is the all-time high on the SPX of around 2,450; if we get there, we're looking at 2475.
The Relative Strength Index – also in the chart – has been range-bound on the SPX, not close to either extreme; that confirms that there's room to run to the upside before it becomes short-term overbought and runs out of steam.
What's the risk: The 50-day moving average is around 2,417 and that is a significant support area, so the risk in this play would be down to that level to hold. The upside, again, is 2,475, so not a really big breakout, but a move nonetheless, and one that everyone else will be excited about once the index hits new highs.
#-#-#
  Keith Kern has been a full-time day-trader for 17 years; he moderates the Lightning Alerts chatroom at BiotechBreakouts.com. He does not trade in indexes or ETFs at all – focusing his day-trades on individual stocks – but analyzes the market from the top down looking for his daily trading ideas. While he sometimes trades stocks that are members of the S&P 500, he did not have any shares, options or open orders in any such stocks at the time this commentary was published.
Related Articles: