The shipping industry is a crucial component of the global economy. In the U.S. the shipping industry is valued at $700B and is projected to grow to $1.3T by 2020, according to the U.S. Department of Transportation and Research and Innovative Technology. If you're into trading penny stocks, then you'll love shipping stocks. Shipping companies own and operate vessels and offshore assets. As you can imagine, the health of the shipping industry is dependent on the global economy and trade.
Economic tension between the U.S. and China has made shipping stocks vulnerable to volatility shocks. Also, the Brexit negotiations have made matters worse for shippers in Europe
Nonetheless, some shipping stocks deliver higher-than-market-average dividend yields to investors. However, there are also penny shipping stocks that are like the wild west. More on that later, but here are five of the most popular stocks in the space. After that, you'll learn a neat trick that can be used to trade shipping stocks.
Container Ships
Triton International Limited
Triton International Limited (NYSE: TRTN) owns the world's most extensive portfolio of containers, and it controls 27% of the global shipping market with more than 5.5 million units deployed annually. It claims to be the top supplier to most of the top 10 global shipping lines.
Triton has a utilization rate of 98% on its ships, more than 70% of its containers are on long-term lease with an average remaining lease duration of 44 months.  Furthermore, Triton may start to see benefits from the International Maritime Organization, new regulations that reduce the amount of sulfur allowed in vessel emissions. That said, fuel with lower sulfur content will increase the operational expenses for shipping lines. Which could make leasing more favorable then owning assets.

Image Source: Triton
By the numbers, Triton pays its investors a $2.08 annual dividend, making a top high dividend yield stock.
Seaspan Corp.
Seaspan Corp. (NYSE: SSW) prides itself as the largest independent charter owner and manager of container ships. It currently operates 89 of the 114 vessels it owns, and it has another ten vessels under construction. It primarily charters its containerships with long-term, fixed-rate time charters to various container liner companies. More than 90% of the firm's revenues come from these type of arrangements.
Besides, the company has about 100 containers ships based in Hong Kong that are used connecting the Asian market to the rest of the world. Investors are paying attention, as trade war tension between the U.S. and China continues. Nonetheless, equities research analysts are projecting that Seaspan Corp. will post robust sales in the coming quarters.
Shipping Stocks- Crude Oil Tankers
GasLog Partners LP
GasLog Partners LP(NYSE: GLOP) is a relatively new company in the shipping industry. But, it is becoming a favorite among investors because of the handsome dividend it pays out. It pays a $2.12 annual dividend, which yields 9.58% (as of February 8, 2019). The company was formed in 2014 by GasLog and some partners to facilitate its liquified natural gas operations. Presently, the partnership owns 10 LNG carriers, which are chartered under multi-year contracts to oil and gas giant Royal Dutch Shell.
Gaslog Partners has a low-risk profile since its cash flow comes directly from fixed-fee contracts. In other words, it's less volatile than some other stocks in the sector. Many investors expect the company to deliver stable revenue from its contracts. Furthermore, making this shipping stock a dividend darling.
Nordic American Tankers Limited
Nordic American Tankers Limited (NYSE: NAT) is the largest independent owner of Suezmax crude oil tankers. It currently has 33 vessels in its fleet and another three tankers under construction. What makes Nordic different is its approach. For example, it chooses to own the same type of ship. Which allows it to streamline maintenance and keep costs down across its fleet. Besides, it leverages its operational standardization to remain profitable when shipping rates drop. The strategy allows it to earn more operating profit than its competitors when the market bounces back.
However, unlike Seaspan Corp., Nordic American Tankers does not offer any long-term charters for its ships. Therefore rather, it has full exposure to the spot market. Furthermore, Its cash flow levels fluctuate with general shipping rates
Cargo Vessels
DryShips Inc.
DryShips Inc. (NASDAQ: DRYS) is one of the most volatile stocks in the stock market. In 2017, the stock's trading price crashed by 99.9% to practically negligible prices. However, DryShips has propelled itself back to the fast lane. It now owns and operates ocean-going petroleum cargo vessels around the world. The company is located in Athens, Greece, and operates a fleet of 36 vessels through four divisions, which includes Drybulk Carrier, Tanker, Gas Carrier, and Offshore Support.
However, the fundamentals matter less to traders. And when it comes day trading stocks, DryShips should be in the hall-of-fame.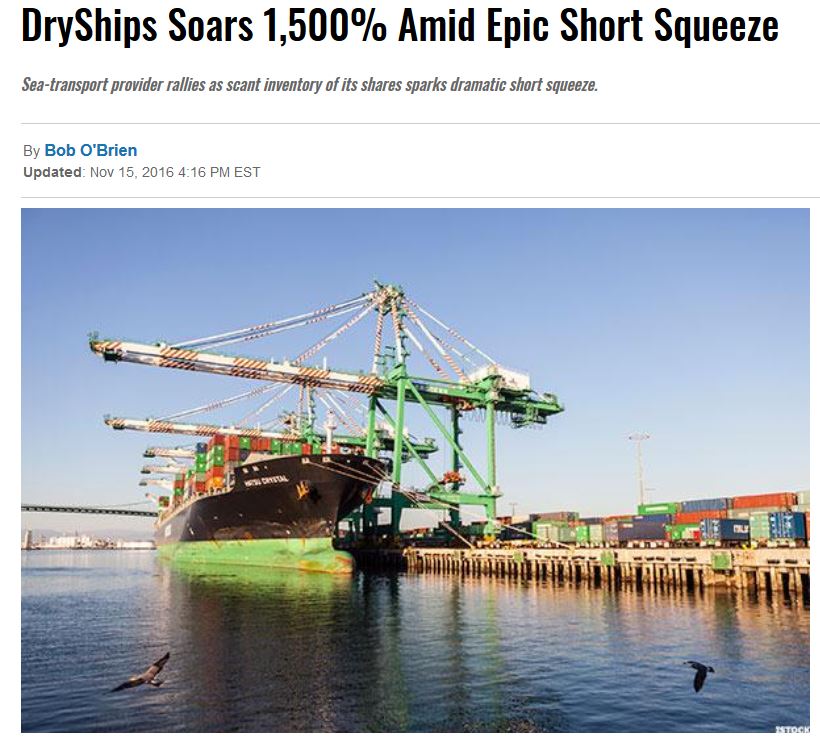 Source: the street
Shares of the stock skyrocketed, moving from $5 to as high as $100 in about five days! That said, when DryShips is running, you better believe other stocks in the space are too.
Shipping Stocks- The Sympathy Trade
Jason Bond is one the best penny stock trader around. In 2019, he nearly doubled his $200,000 trading account in the first month.
The sympathy trade is pretty straight forward. If one stock in a closely-related sector has a positive catalyst, similar stocks in the industry will rise too. It happens across many different sectors, especially shipping stocks. Here is an excerpt from an alert that Jason sent to his clients, letting them know that the sympathy trade was on.
Now, GLBS is up nearly 100% here in the after hours on good news. This is likely to take other shipping stocks higher in the morning, so I bought TOPS which is basically the same pattern but hasn't run a lot yet. DCIX is another to watch.

This strategy is called a sympathy trade where essentially a rising tide lifts all. Goal is 10%+ profit on it. I bought 20k shares at $1.64, goal $2+ if it gets really juicy which is entirely possible when you look at these two charts.

GLBS news winner

TOPS sympathy trade
Next day – Sympathy Trade
Here's what Jason wrote to his clients the following trading day.
Good morning,

My sole role in this newsletter is to teach my clients how to spot easy money making opportunities. After I resigned from my teaching career, a decade of teaching / coaching, I put together an extensive library of lessons on concepts like Split and Squeeze, Fibonacci Friday's and you guessed it, Sympathy Trades.

So last night when GLBS erupted nearly 100% on news, I jumped into TOPS as soon as I saw the move in GLBS. I also mentioned DCIX as a good option as well.

Sure enough, Tuesday morning rolls around and 4 of the top 5 stocks leading Wall Street, are trading under $10, and are shipping stocks. Here's my EquityFeed scan I've been running for 7-years. PXS, TOPS, DCIX and ESEA are all shippers and all out front.

As I'm typing my screen is showing +$3000 in TOPS. I could easily be up  as much if chose any of the other 3 names in the sector. It's little tips, tricks and secrets like this that have helped me crush the S&P 500 year after year.

And I see no reason why you can't take advantage of this stuff too. But you've gotta watch the video lessons and practice. Once it clicks, the sky is the limit.

The diary of a real $ trader,


Jason Bond
JasonBondPicks.com
Of course, the sympathy trade can happen in any sector. For example, weed, cryptocurrency, and blockchain stocks will have sympathy trades too.
Bottom line
Shipping stocks are considered somewhat riskier than other types of logistics stocks. Therefore, fear, uncertainty, and doubt often prevent investors from exploring opportunities in the shipping industry. However, many of the top stocks in the space do payout extraordinary dividends. That said, from time to time, shipping stocks can make for excellent day trades. If you'd like to learn more winning day trading strategies, check out this presentation.
Exclusive System Tracks Wall St. Insiders
"Dollar Ace Simply Exposes Information That Wall Street Wants To Keep Quiet" Said Kyle Dennis
"One member, Wesley M., has already reported 360%+ gains in just a few short days. Don't miss this!"
(Reserve Access Now)
"What Recession?!" Jason Bond nets $55,060 in realized profit in One Day
After going 6 for 6 on profitable trades recently, we caught up with Jason to ask how he did it.
Check out Jason's exclusive interview revealing this tightly guarded strategy. (Watch Now)
RagingBull.com Co-Founder, Jeff Bishop, Launches High Conviction Trade Service
"We listen to our clients and we give them EXACTLY what they want, so we designed a service to deliver 1 trade, 1 time a week, with a 100%+ PROFIT TARGET, directly to your inbox every Monday before the market opens. (Read More)
Be a Better
Stock Trader, Starting Today
Get the expert insights, tips and strategies you need to optimize your trading skills and profiles
START NOW