The set-up: This is a simple story shown on the chart, where the SPDR Dow Jones Industrial Average ETF (DIA) has been in what I call a tight coil, where resistance and support are converging. I call it a coil because,it is like a coiled spring, ready to let loose one way or the other.
The chart: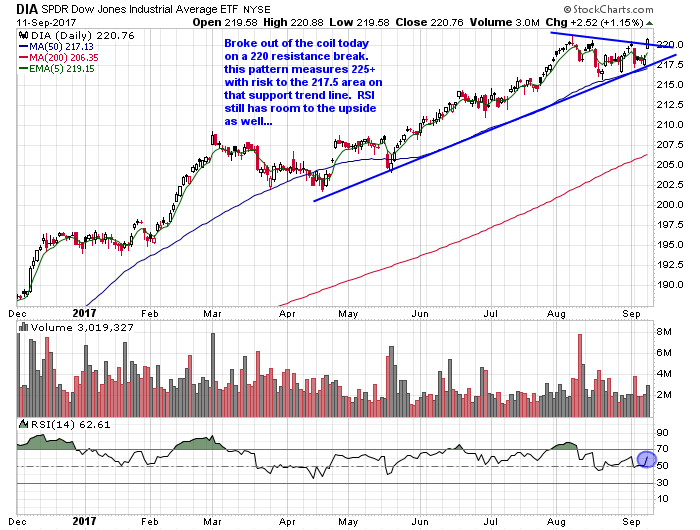 Whatever you call it, this has been a slow grind to the upside, and we finally saw a break through $220 yesterday. That means to me that the path of least resistance is going to be up.
That is helped out by the Relative Strength Index; the RSI is at the edge of overbought, but it's still neutral so it's not going to stop this move.
The play: Take the depth of the pattern – about $5 – and add it to the breakthrough point. That gives you from $220 to $225. I'd set my stops at $217.50, and that gives me a 5-point reward with a risk of 2.5 points, a good enough r multiple to make this trade.
If you want to go a little bit bigger, you could use a leveraged ETF like ProShares UltraDow 30 (DDM) or the ProShares UltraPro Dow 30 (UDOW) which are 2X and 3X ETF plays on the Dow.
#-#-#
  Jason Bond runs JasonBondTraining.com and is a swing trader of small-cap stocks.
Related Articles: